When it comes to sewing, there are tons of accessories that are available in the market and help us in our sewing work in one way or another.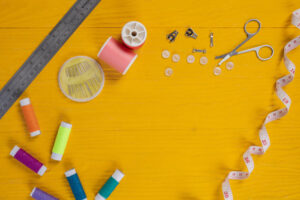 However, you cannot just go out and buy all the accessories available out there; nobody has that kind of money or even space to keep all that stuff.
Moreover, it would help if you only were buying things you will need frequently.
In this article, I will tell you about the top 20 must-have sewing accessories and how they are a must-have for every sewer.
Being a beginner, it's pretty challenging to sort such accessories, and this article will help you do this just the right way.
So, let's start without any further ado.
1. Sewing Scissors
Unarguably, this is one of the most necessary accessories needed in the toolbox of sewers, and none of them can go a single day without scissors.
However, keep in mind that this tool is something that you will be using most frequently, so make sure you get the best quality available if you don't want to keep buying them again and again.
2. Sewing Chalk
Whenever you are about to do something to fabric, you first make the marks onto the fabric to make your measurements right, and something cut the cloth from where it's supposed to be done.
Chalks come in very handy in all such tasks, and their marks are easy to remove as well. So, make sure you don't skip them.
3. Sewing Pins
There are essentially a lot of different pins available, and frankly, I have found various kinds to be very useful for tasks such as keeping a pattern on top of the fabric.
There are quilting pins, silk pins, ball-point pens, etc. Make sure you get all you need and have them in different colors.
4. Seam Ripper
How can we forget seam ripper when we are talking about the necessities of sewing, right?
Well, they do make up an important part of your sewing box, especially if you are into embroidering as well.
However, make sure you buy a seam ripper with a very sharp tip that stays like that for long.
5. Iron
An iron with an appropriate ironing board is another thing you should keep around while your sewing work goes around.
However, whenever you iron the fabric, make sure to set the heat settings to the appropriate level, according to the fabric you're dealing with.
6. Measuring Tape
A measuring tape can conveniently be used in a variety of different scenarios.
Whenever you follow any design or style, you will need to keep track of the measurements if you want the work to turn out well.
However, keep in mind you get the tape with the right metrics.
7. Spoon Huggers
Chances are, you might know about these if you are a beginner.
But for me, they are no less than any accessory I have listed here. Necessarily, they are little things made from rubber or plastic, which you can connect to a thread and easily keep track of them.
You will probably realize how useful they are when you once use them.
8. Thimbles
Thimbles are another major tool that is very popular amongst people who love sewing by hand.
Nevertheless, they can also be excellent if you are using a sewing machine. They protect your fingers while you are inserting needles and make the whole process a lot easier.
9. Needles
No matter how many good-quality needles you buy, they are destined to break or get useless sooner or later.
So, it never hurts to keep a bunch of needles alongside you while you do your work. It will save a lot of your time if your primary needle breaks down at any moment.
10. Hand Sewing Needles
If you are a hand sewing person or interested in things like cross-stitch or hemming your pants, these hand sewing needles will always be needed.
They are available in different sizes, which can be used in different projects, so pick them according to your needs.
11. Rotary Cutter
This is usually preferred by people who are into quilting as well and not just sewing.
There are different sizes available in the market and are best when dealing with multiple layers of fabric.
However, it can be a bit hard for you to get used to them at first if you are a beginner, but when you do, it will be worth the effort.
12. Rotary Mat
If you decide to use a rotary cutter to cut layers of fabric, a rotary mat will be necessary, and you should never forget to lay it underneath the fabric when you are cutting the fabric.
Otherwise, whatever is below the fabric might also get damaged due to the sharpness of the rotary cutter.
13. Sewing Threads
The sewing thread is the most important thing when you are sewing.
Without them, sewing is non-existent.
However, the reason why I am mentioning them here is that you should always keep different types of threads along with you as a good sewer and use them according to the fabric you're working with.
14. Pin Cushion
You might be wondering what a pin cushion might be, right?
It is nothing but a place where you can blindly throw all your pins when not in use.
It doesn't sound like a necessity at first, but when you get used to it, you will feel it saves a lot of your time instead of keeping all the pins separately.
15. Bobbins
Bobbins are an integral part of sewing and something you cannot ignore.
They come in different materials and styles. They used to feed the thread at the end of stitches.
Always choose them according to the nature of your work.
16. Rulers
Rulers are essential when you are cutting them a cloth and making them the right size according to the design you are trying to achieve.
I would personally recommend the see-through rulers as making marks is much more comfortable with them.
17. Tracing Wheel
Tracing wheels are used by a lot of pro sewers in making their designs a lot more concise and accurate.
Using some tracing paper in them, they are used to transfer the pattern marks to the fabric.
18. Marking Pen
A marking pen is essential, and before you cut the cloth to make it the right size, you need to make the marks first to help you determine where you would be cutting the cloth from.
Make sure to get a good pen that has multiple colored nibs to be visible on different colored clothes.
19. Lamp
Often, you will find yourself working in the dark or conditions where the lighting is not enough for you to see properly.
So, instead of pausing your work and wasting your time, you should always carry a portable mini lamp that could provide some backup to you.
20. Kit
All these accessories we talked about, it's pretty hard to keep them along with you at all times without organizing them properly.
Well, therefore, you need to get an appropriate sewing kit that could efficiently house all your accessories so you could carry them anywhere and retrieve them easily whenever you like.
Conclusion
So, we have seen a nice list of all the must-have accessories a sewer should always have available.
However, this article is intended for only the basic sewers, and if you someone more inclined towards specific tasks such as hand sewing or quilting, there might be some additional things you need.
Nevertheless, these accessories would still come in quite handy.
Read Also: