The best accessory you can get for your sewing machine is a table. Sewing tables are multi-functional tables that feature a drop for your machine and allow for maximal comfort for working through long hours.
With convenient features such as adjustable heights, mobility, and extra storage, these tables are a step in the right direction if you want to take your experience to a whole another level.
In this segment, we'll be going over the best sewing tables currently available in 2021. However, before we get there, there are a few things that you'll need to keep in mind.
Buyers Guide
When choosing the right model for yourself, it is very important that you pay extra attention to detail and a multitude of factors.
Working in conjunction, these factors will make sure that the model you get is suitable for you.
Here are a few things that you should keep in mind!
Dimensions
The first thing that you should consider is the dimensions of the model.
Make sure that the table you get can easily accommodate the sewing machine you currently own and intend to get.
For this purpose, you must have your machine's dimensions with you as well.
On top of that, also assess the area where you intend to have the setup made.
This will give you a good idea of what to shoot for.
Material
As always, I always highly advocate for eco-friendly material that has been sourced using ethical practices. On top of that, it's a good idea to get something sturdy and durable.
Along with sustaining damage with ease, this will also make sure that the model you get isn't susceptible to vibrations.
Mobility
Mobility is one issue that users often complain about when working with sewing machine tables. Since these tables require careful assembly, it's a good idea to pre-determine where you need them set up.
However, things don't work out all the time, and you end up moving the table. In those cases, mobility is one feature you wish you thought of earlier.
Always ensure that you get a table that comes with wheels on the bottom, or has a clip-on. This will allow you to move easily and freely without any hassle, issue, or worry in the world!
Foldable Top
A foldable top will give you the privilege of storing your already-assembled sewing table with ease.
This feature effectively reduces the surface area and allows us to get the model somewhere compact.
Likewise, a foldable top also means that you can have access to extra space at the click of a button.
Storage
The last but not the least important feature is storage. When choosing a model, make sure to get something that has small cabinets and shelves.
This will allow you to keep track of small things here and there when you're working in the zone.
Furthermore, this also serves as a double for storing extra stuff and can help you de-clutter your workspace from time to time.
Top 9 Sewing Table Reviews
Getting to the heart of the segment, I have now briefly reviewed the top 9 sewing tables.
To help you make better whole-rounded decisions and as a summarizing note, I have also mentioned a few pros and cons that will help you down the road.
Without further ado, here are the top 9 sewing tables of 2021!
1. Sew Ready Comet Sewing Table
Kicking off this list with my premium choice for you all, the Sew Ready Comet Sewing Table is a great multi-functional model to consider.
Fit for sewing machines and your keyboard, this model allows for platform adjustment that can help you fit both.
It's also quite durable, owing to its heavy-gauge steel construction, and features additional stability due to its levers.
The only downside is that the table might vibrate a little, and then the drop-down area is rough to handle.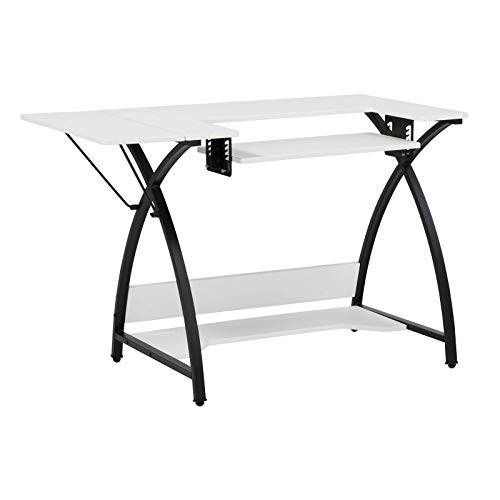 Pros
Versatile
Stability
Easy assembly
Heavy-duty built
Cons
Occasional vibrating
Drop-down area handling
2. Costway Adjustable Sewing Craft Table
My follow-up premium pick, the Costway Adjustable Sewing Craft Table, is a great model geared towards both hobbyists and professionals.
Its best features include its space-saving design, which allows you to get this fit wherever you want.
Along with the steel frame and the adjustable platform, the Costway Adjustable Sewing Craft Table also has a drawer that you can use for additional storage.
However, assembly is a little challenging, and the instructions didn't help either.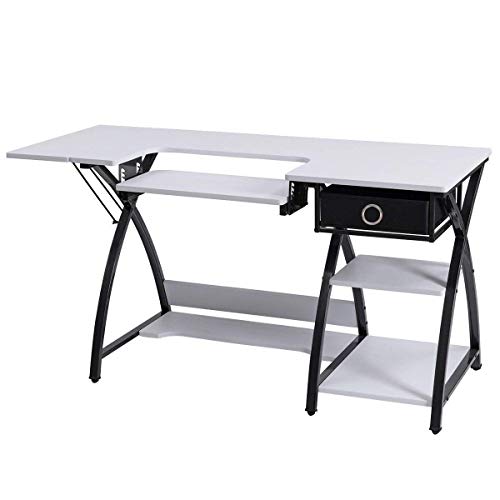 Pros
Large storage
Sturdiness
Includes drawer
Minimal vibrations
Cons
Challenging assembly
Bad instructions
3. South Shore Crea Craft Table
If you're looking for something elegant and classy, then let me interest you in the South Shore Crea Craft Table.
Manufactured from eco-friendly laminated particleboard, this sewing table offers vast storage options. On top of that, it's also quite easy to move around due to its wheel insertions.
The best part about the South Shore Crea Craft Table is that it is also scratch-proof, a major plus for versatile use.
However, assembly is a little tough, and the drawers aren't as deep as the cabinets.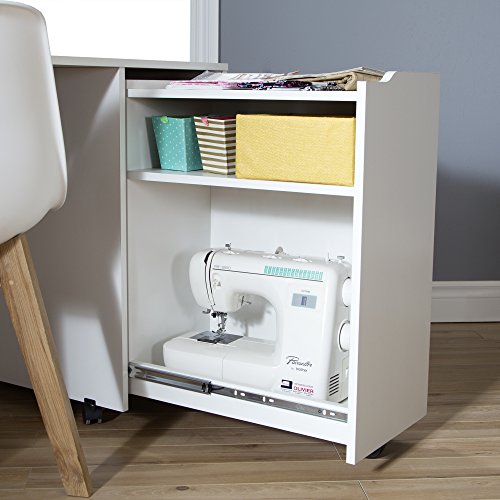 Pros
Environmentally-friendly
Water-resistant
Scratch-proof
Easy maneuvering
Cons
Tough assembly
Drawers not deep
4. SewStation 101 Portable Folding Sewing Table
Straightforward and built for direct use, the SewStation 101 is a good choice for serious buyers.
This model allows for a decent workplace and can also double as a cutting table, effectively making it two for one.
Furthermore, it's also scratch and marks safe, so you won't have to worry about any damage being left behind.
Saving the best for last, this model is also foldable and can be easily stored. However, it doesn't allow any adjustments and might shake a little on higher RPMs.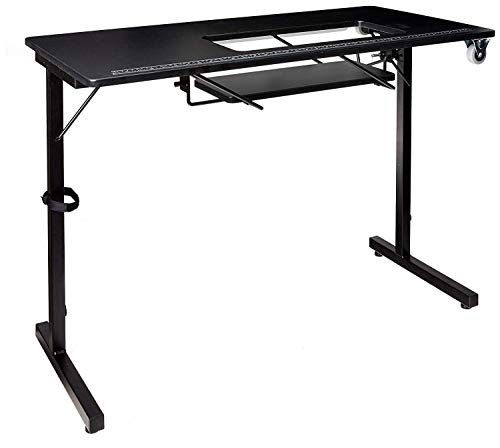 Pros
Foldable
Scratch-safe
Easy set-up
Sturdy built
Cons
Vibrations
No adjustments
5. Arrow 601 Gidget I Sew-Much-More Folding Sewing
Simple and classy, the Arrow 601 is a smart model to consider if the dimensions suit your feel. With the openings made for precise work, however, this model isn't for everyone.
The Arrow 601 allows for adjustable heights and features a strong and sturdy construction that can take a hit. However, maneuverability is a little bit of a hassle.
Plus, you can't have that much height adjustment. So if you're on the taller side, it's best to consider something else.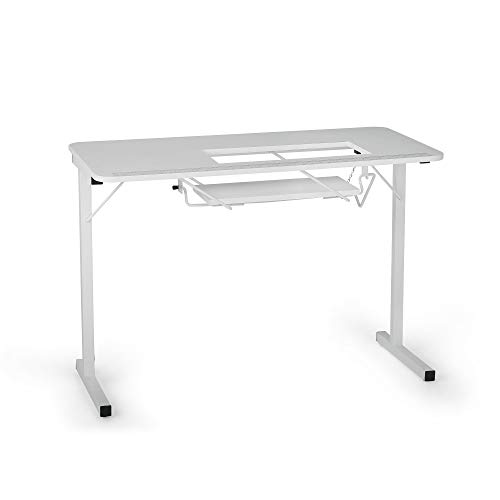 Pros
Durable
Sturdy
Precision-based setup
Adjustable manual lift
Cons
User-specific
height adjustment
6. SEI Furniture Eaton Expandable Rolling Sewing Table
Versatile and high capacity, the SEI Furniture Eaton Expandable Rolling Craft Station Sewing Table is an excellent model to consider if you want a spacious workshop.
Its highlight feature includes is mobility, owing to the wheels underneath. Requiring an easy and simple assembly, this model can handle a good amount of weight and is best for versatile household operations.
The only qualm is that the instructions aren't that good, so make do with online resources for the setup.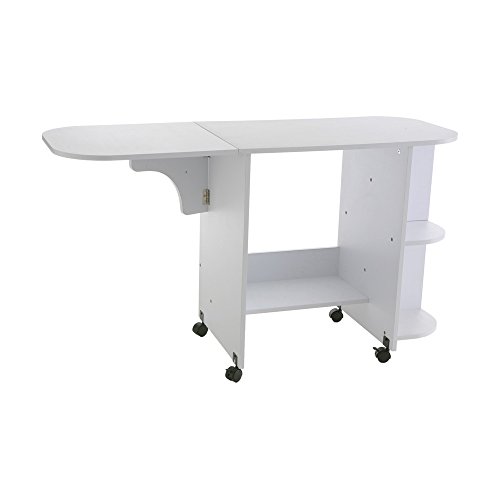 Pros
Versatile operation
Mobility
Expandable use
Easy setup
Cons
7. BAHOM Adjustable Sewing Craft Table
Staring off the bottom half of this list, we now have the BAHOM Adjustable Sewing Craft Table. This model features a foldable top, which will allow you to save space and allow easy storage.
Manufactured using eco-friendly material, the BAHOM also has an adjustable platform design, so that you can prioritize comfort as well as functionality.
There aren't many downsides to it, functionality-wise, but make sure that you keep an eye for out the sharp edges.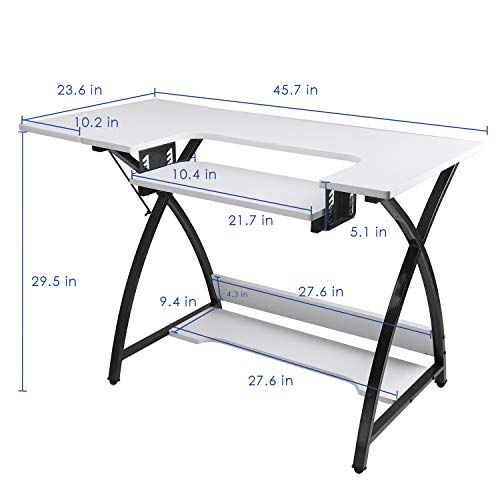 Pros
Eco-friendly
Adjustable
Foldable top
Sturdy/stable frame
Cons
8. Studio Designs Eclipse Sewing Machine Table
Manufactured from heavy gauge steel, the Studio Designs Eclipse Sewing Machine Table ensures optimal stability for all types of sewing operations.
This is also supplemented by the floor levelers, all meticulously crafted to be even and distribute the weight well.
The Studio Designs Eclipse Sewing Machine Table also has an adjustable platform to ensure that you can work comfortably.
The only downside is that the bottom shelf is a little challenging to put together and scratches easily.
Pros
Heavy-duty
Stability
Easy assembly
Helpful manual
Cons
Requires frequent adjustment
Challenging bottom-shelf setup
9. Holly and Martin SEI Lydia White Sewing Table
Last but not least, we have the Holly and Martin SEI Lydia White Sewing Table. This model is reputed for its mobility and its foldable top.
The latter is a pretty sweet feature to have on hand because it means you can have access to extra workspace in seconds.
The model is durable and sturdy, but there are two main things to keep in mind.
The Holly and Martin SEI Lydia White Sewing Table are a little challenging to assemble, and the instructions don't make it any easier either.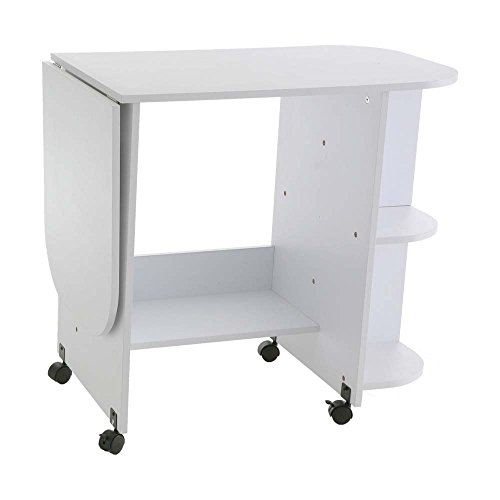 Pros
Foldable top
Mobility
Sturdy construction
Minimal vibrations
Cons
Bad instructions
Hard to assemble
Frequently Asked Questions
What is a good height for a sewing table?
The height of the sewing table depends on one factor that is often overlooked. That is height.
However, that aside, the average height which falls under the good spectrum has a height of about 28 inches. In most cases, you can adjust and get this number up.
How do you drop a sewing machine table?
The easiest way to allow for this adjustment is by measuring the distance from the base of your sewing machine to the sewing surface, and then working from there.
What makes a good sewing table?
There are several factors that go into consideration when making a good sewing table that is both reliable and sturdy.
The first feature is that the table should have enough surface area to accommodate the machine and additional space for extra material.
This will allow for pinning, cutting, basting, and ironing.
What size should a sewing cutting table be?
When drawing up the dimensions for the ideal sewing cutting table, a lot of factors need to go into consideration, such as enough working space and additional accessories.
With that in mind, the idea table is supposed to be about three feet in width, four feet tall, and has to be a minimum of six feet long.
What are the benefits of having a sewing table?
The main benefit that having a sewing table will provide you is by giving you a genuine workplace that you can devote to your art and craft.
Furthermore, you can also double the sewing table to accommodate different tasks and needs, which is entirely up to you.
Are sewing tables hard to move around?
Generally speaking, yes. This is because they're quite heavy and have a design that is focused on reducing vibrations and promotes equal weight distributions.
However, don't worry. Find a model that comes with wheels, and you won't have to worry about a thing.
Is the sewing table multi-purpose?
Not necessarily. Most models are made for the sole purpose of accommodating sewing machines, nothing more or nothing less.
However, with the current influx of the latest brands, some sewing tables can also accommodate keyboard shelves and other features, which make the whole prospect diverse.
What are sewing tables made of?
Sewing tables are made from any material that can be effectively used for making a desk.
However, due to their frequent exposure to vibration, they're often made from metal or steel components to provide additional support and resistance to breakdowns.
Conclusion
A good sewing machine table, at the end of the day, will make you look back and be thankful for the experience.
So it's best that you choose the right model for you, rather than what others have to say.
If you like any of the models mentioned above and have feedback, or have any general recommendations or suggestions, do share them in the comment section below!
Read Also: