When it comes to sewing, people would spend thousands on the right sewing machine but would neglect spending on another crucial part, the sewing chair.
The real sewing geeks know this issue, and they invest appropriately in the sewing chair.
The best sewing chair is very ergonomic and makes your hours sitting and sewing comfortable and cherishing.
Say goodbye to back pain and neck ache as we have gathered a list of some top-quality sewing chairs which you can choose from according to your taste and needs.
Buyer's Guide
One of the important things before making a purchase is to equip one's self with all the needed data on the factors that need to be kept in mind while separating certain products from others.
The buyer's guide is consisting of all the necessary things you should consider while buying something.
Here's what's important in a swing chair:
Dimensions
Dimensions are the key. They help you know whether you will fit perfectly in the chair. You also must consider your room space while buying a sewing chair.
Generally, you can go for a wider chair if you are smaller in height and vice versa. You should be in complete comfort while sitting.
Backrest and Seat Size
Without a proper backrest, people tend to slouch on the seats while working, which is bad for spinal cord health.
You should refrain from this and get a chair with an ergonomic rest that you can work without getting tired for hours.
Seat size is also important. The height of the seat should be as much that your feet can easily touch the floor.
Padding
You will have to sit on your sewing chair for hours. If the chair is not comfortable enough, you'll get tired easily and quickly, which is highly undesirable.
The chair you get should have enough paddings on both the backrest and seat. They should be firm enough to keep their shape over time and soft to give you maximum comfort.
It not only helps in comfort but saves you from different pains by maintaining blood pressure, relieving pressure points, and controlling back pain. Make sure that it's not too hard.
Design
Design is also one of the essential factors while looking for a sewing chair. Many features can be included in the design.
Consider adjustability, whether your chair has a lever for adjusting the height according to your needs or not. This is a very desirable feature.
Another important feature is the arm. Some people would prefer chairs with arms, but the armless chair is more famous for sewing as you get more space to move around.
Don't forget chair wheels. A chair without wheels is rather cheaper and easy to assemble, but a wheelchair is more convenient as you can move around without having to get up.
Weight Capacity
You may not have to worry about this one if you have a normal weight. But more massive people need a chair with an extended weight capacity.
Most have a capacity of 200 lbs.; however, you can get stronger ones with capacities of 330 lbs as well.
Extra Features
A little extra is always better. These features increase efficiency and comfort, but at the same time, they come with a price.
You must consider your budget and then go for the features you can afford.
For example, a mesh back chair is more breathable, and your back won't get all sweaty in hot weather.
Top 7 Sewing Chair Reviews
Now that you have gone through the buyer's guide, you are ready to start your search and make a choice.
There is a deluge of brands out there very difficult to choose from. Keeping that in mind, we have made you a humble list of the top 7 picks in the market, which you can easily choose from.
Let's start without any further ado:
1. Arrow H7013B Adjustable Sewing Chair
This is a state-of-the-art chair with exceptional features and a high-end price.
Arrow H7013B is a very elegant and powerful hydraulic chair which works well for all type of sewing and craftsman's needs.
It is made from sleek heavy-duty Riley Blake fabric, which gives your workspace a certain charm.
Height is adjustable with a range of 18-22 inches with easy controls. Not to forget the armless design and the added wheels for ease in moving around.
To top all this, there is a compartment added in the chair for your small belongings. Seriously, what else do you want?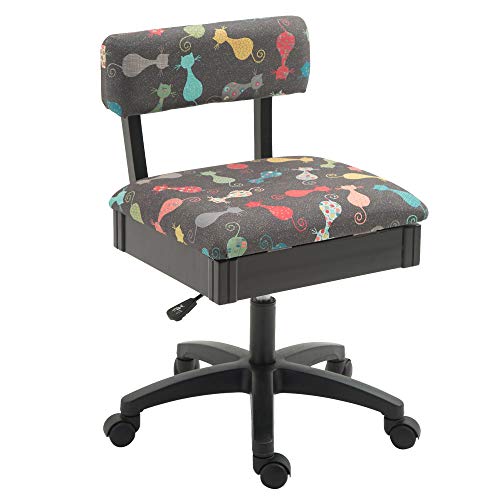 Pros
Elegant look
Convenient design
Added storage
Adjustable height
Cons
2. Arrow 7000B Wood Sewing and Craft Chair
This is yet another masterpiece from Arrow with classic looks and great features. The design of this chair is unique with the looks of a conventional chair.
However, there are wheels added, which is a win-win situation. The chair comes with great comfort due to its ergonomic design. There is lumbar support for good posture, and the chair is made of strong wood.
Colorful and elegant upholstery fabric makes the chair even more charming. There is a hidden storage space in this chair too.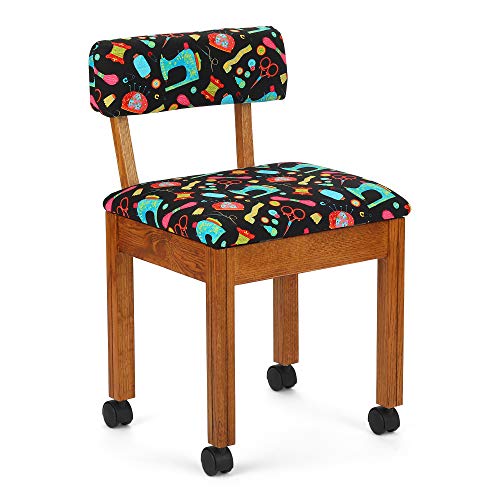 Pros 
Storage compartment
Heavy-duty upholstery fabric
Comfortable
Lumbar support
Cons
No height adjustment
Expensive
3. Reliable Sew Ergo Ergonomic Task Chair
Sew Ergo is a dominant brand in the line of home accessories based in Canada. The ergonomic task chair is very carefully designed for the sewers and the craftsmen.
The comfort of this chair is matchless with a properly stuffed backrest in a contoured cushion that is very thick and heavy-duty wheeled carters for easy moving around.
Adjustability is another key feature of the chair. You can adjust to three settings to the one which suits you the best. The assembly of the chair is also simple.
The waterfall seat edge of the seat gently tapers down to release pressure on the back of the thigh, eliminating the numb feeling after long hours. So, what are you waiting for? Go for it!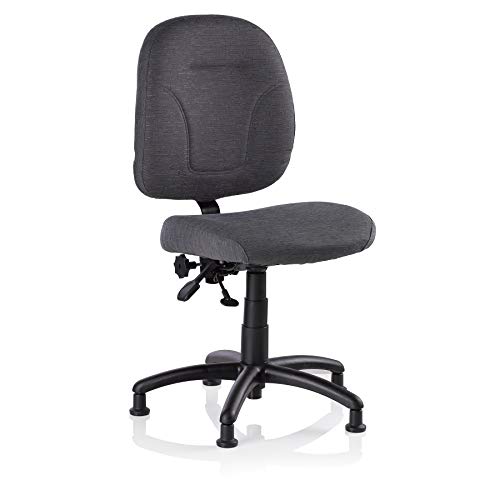 Pros
Thick pads, contoured cushions, and waterfall edge design
Easy assembly
Three adjustments
Affordable
Cons
Glides feel interruption sometimes
Back adjustment knob difficult to reach
4. Alvin, DC310-40B, Prestige Artist/Drafting Chair
Alvin Prestige Artist/ Drafting chair is one of a kind. Sturdiness and comfort are the key features of this chair with a premium quality ergonomic design.
Features are very elite, including height adjustment, backrest height, and depth adjustment, and a polypropylene seat. It is a hybrid chair for both sewing work and another desk work.
This is surely one of our best choices on the list; if you like the features, then you should go for it!
Pros
Affordable
Adjustable height and backrest
Easy installation
Hybrid chair
Cons
Backrest draws back over time
5. Modway EEI-1422-BLK Drafting Chair
Modway produces some top-of-the-line chairs which are very well received by the customers. The Attainment Vinyl drafting chair is very classy with modern looks and sturdy as well.
This model is versatile and can find its purpose in many places, such as a studio, a reception desk, a sewer workspace, or a craftsman's work area.
Drafting stool is very good for people who like to stand while working but like to sit occasionally. The height has a huge adjustment from 22.5-30". With 330 lbs.
Weight capacity, breathable mesh back, generously padded foam, and many other features, this chair will make its way into your home before you are aware.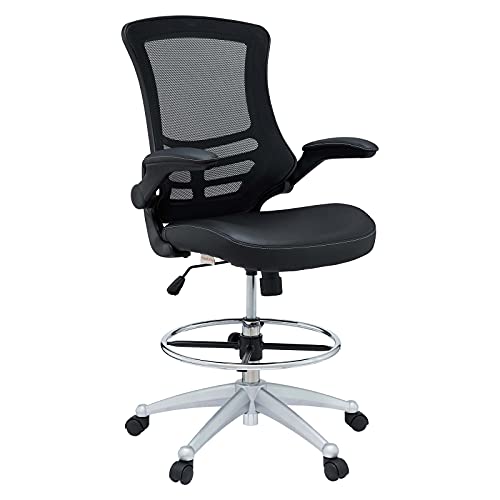 Pros
Flip-up arms
Adjustable height
Ergonomic seat and backrest design
Cheap
Cons
6. Boss Sewing Chair
An ideal choice for petite sewers, this chair is very affordable with amazing contoured ergonomics.
The arm-less design makes it easy to move around, and lumbar support also increases comfort. This light-weighted chair has a sturdy nylon base and pneumatic height adjustment from 18.5 to 23.5 inches.
Waterfall seat edge design keeps your thighs well above the water so you can work comfortably for hours.
Back depth is also adjustable, so you don't have to worry about having the same posture for a long time- what else do you need?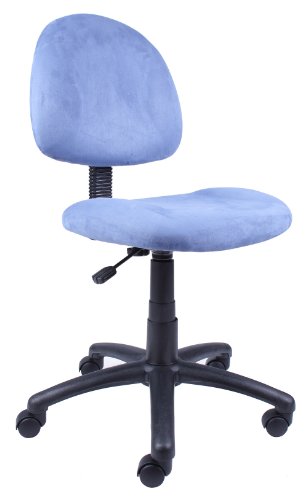 Pros
Contoured cushion and waterfall edge design
Cheap
Ergonomic design
Stable nylon base
Cons
Only suitable for Petites
7. Amazon Basics Low-Back Sewing Chair
Amazon Basics is one of the leaders in the market for producing home accessories. This very affordable chair with a low-back design has a contoured mesh back for comfortable sewing.
The seat has 2-inch thick padding for easy sitting, and there is a pneumatic adjustment as well.
The low-back design works very well for shorter people but can be unsettling for people who are quite tall because they have larger backs.
It is also BIFMA certified and all in all a very good choice for anyone and everyone. You should really give this product a try. We're sure that you will love it!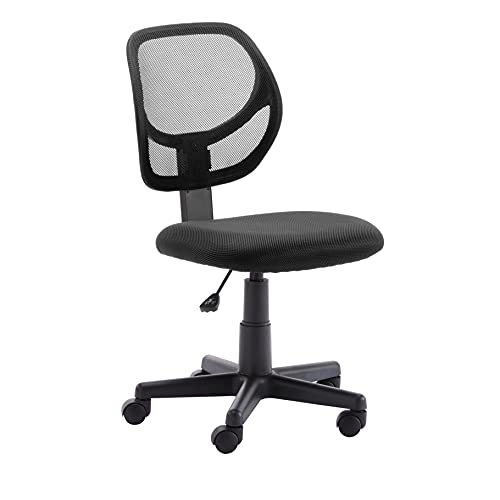 Pros
Mesh backrest
Easy assembly
Cheap
Height adjustment
Cons
A little flimsy
Not best for tall guys
Frequently Asked Questions
Should a sewing chair have arms?
This is dependent upon your preferences. Arms are there to provide extra support while sitting.
While some people would like their chairs to have arms, armless chairs are greatly preferred for sewing purposes as you get more space to move your arms around.
Why do we have to maintain a good working posture while sewing?
A good working posture will keep your back and neck muscles healthy while sewing for hours.
The best pose is your backrest upon the chair and not slouching. Slouching results in back pain and neck ache in the long haul.
What does good posture feel like?
A good posture means that your muscles and bones are upright and balanced. This means you should feel relaxed and easy.
You sit straighter than usual, but you can work for long hours without feeling tired.
How do you know if you have bad posture?
If you are using a bad posture while working, you will be tired before you are supposed to be, and you will also encounter occasional neck and back pains.
How do I stop slouching?
You can practice the shoulder blade pinching technique i.e., while keeping shoulders down, squeeze them together.
Hold it for 10 to 20 seconds each time. Also, try to sit straight as long as you can.
What do I need in my sewing room?
Apart from a sewing machine and a good sewing chair, you should have good lighting, excellent storage, an extension table, and marking tools as well.
Do I need adjustment in my sewing chair?
Adjustment of height and backrest is a very good feature in a sewing chair. It is for your comfort and occasional resting needs.
You can have these adjustments made occasionally and acquire the pose ou feel most comfortable in. That way, you'll not be tired soon.
Do you need a special table for a sewing machine?
A good table makes sewing easy. The table gives you adequate space for working while sewing, and you don't have to worry about a quilt or sewed piece slipping away.
Conclusion
We hope we have provided you with all the necessary information and a golden list from which you can find the sewing chair of your dreams.
Always refer to the buyer's guide before making a choice so that you are clear about what your distinguishing features are, and you can correlate them with your budget as well.
A good sewing chair can cost you a fortune, but if you can afford something extraordinary, then do not settle for less. We wish you all the luck in the world!
Read Also: