If you're a novice in sewing, you probably know how much importance sewing rippers have in your sewing tools.
However, it's not always very easy to pick the best seam ripper given the wide variety available in the market.
So in this article, we will be guiding you all about different factors you should note about seam rippers and our top picks for the best seam rippers so you can choose in a very short time.
Buyer's Guide
Before locking in your choice, there are certain features of seam rippers and certain points that you need to consider.
Make sure you go through all of them.
Type
Choosing the type of seam ripper, you need is probably the first and foremost step in making a purchase.
There are two major categories that people usually opt for. The curved blade ones and the forked head ones.
While the former one is also used a lot, but the latter is certainly the more popular choice among the customers.
Safety Cap and Ball
As you know, seam rippers are quite sharp on the edges, especially if it's the curved ones.
So, if you have kids playing around your place all the time, it's never safe to leave them around such things.
Seam rippers come with a cap that protects you and your family when they are not in use. So, make sure you get one with a cap.
Dimensions
The dimensions of the seam ripper are very important when working for longer shifts.
A bigger seam ripper would be very hard if you work for a long time, while a too short one could also be ineffective.
So, choose what fits your hand perfectly, so you don't get tired even if you work for a long period.
Handle
As we just discussed, you will often need to use your seam ripper for a long period, which makes it's the level of comfort very crucial.
The handle of the ripper needs to be very easy and comfortable to hold. You should prefer ergonomic handles in case you have any issues with your hand.
Pieces & Accessories
Seam rippers come in a variety of packings.
Some are sold as individual pieces without any additional thing provided in the package.
In contrast, some are sold as sets of rippers that feature other things as batteries with them as well, so you don't have to buy anything separately.
Make sure to analyze this before you make your choice.
Top 12 Seam Rippers Reviews
Now that we have seen how to buy the best seam ripper let's see some of the top models available in the market so you could easily choose one from them.
1. CampTek Seam Ripper and Thread
Often being tagged as the best seam ripper for jeans, this kit by CampTek contains two sizes of seam rippers.
There are caps provided with both the seam rippers, so it is safe for when it's not in use. The two different sizes are each 3.5-inch and 5.5-inch long and could be used for different scenarios.
Both sizes are very comfortable to hold and are made from high-quality material, so don't worry about your life.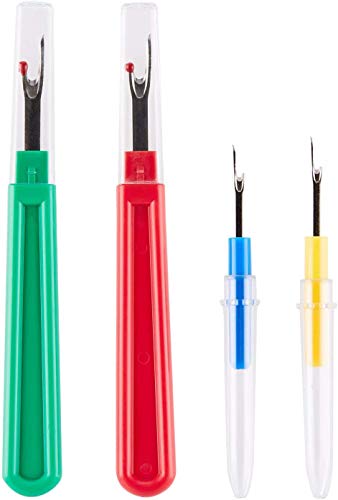 Pros
Two different sizes
Cap for protection
Comfortable handle
Easy to use
Best for jeans
Cons
Design is not the most durable
Delivery is not perfect
There are better choices for embroidery
2. Ultima 6-Piece Colorful Seam Ripper
Ultima seam rippers come in a very colorful set of 6 pieces that are not just catchy but very effective at work as well.
There are two sizes among the four-seam rippers and different colors in the package, which is a very convenient zippered case.
A nipper is provided as well can, which be easily used for small usage. All the sizes are very easy and ergonomic in usage, and you won't get tired even in long sessions.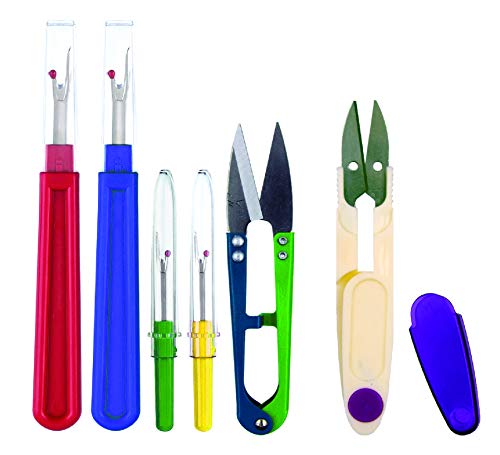 Pros
Versatile
Very attractive appearance
Come In zipped case
Easy to use and hold
Two sizes
Cons
3. Singer 47325 Comfort Grip Seam Ripper
When it comes to sewing and the activities related to it, Singer is always a huge contended and always has 2 two products in the top 10.
This case is no different, and this product by Singer is often known as the best seam ripper for sewing.
Being very easy to hold and use when dealing with buttonholes and snaps, it comes with a safety cap as well, which makes it safe.
There are two pieces in the set, with one small and one large seam ripper.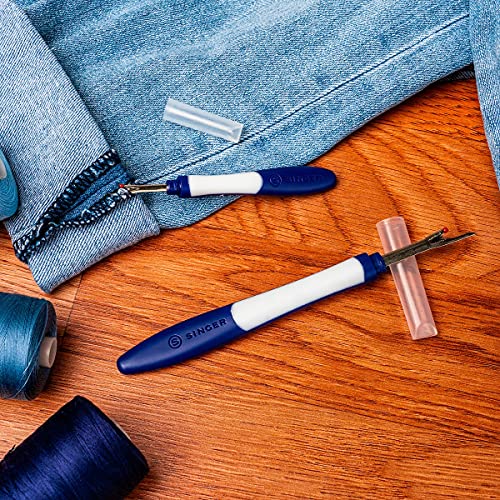 Pros
Multipurpose
Best for sewing
Grip handles
Easy to use
Two sizes
Cons
4. SEWTRU Premium Ergonomic Seam Ripper
Even though this seam ripper is quite rare and is not found on most of the reviews on the internet, we were impressed enough after reviewing that we couldn't skip it from our list.
With a very sharp and effective tip made from high-quality stainless steel, it doesn't only work perfectly but also has a long life.
There is an ergonomic handle available, which makes its use extremely easy and comfortable. You won't feel any tiredness even after long hours of using it.
The body is made from bright colors, which make its appearance very catchy and easy to work with, even in low lighting conditions.
Pros
Stainless-steel blade
Ergonomic grip handle
Very easy to use
The bright body; good visibility
Multipurpose; can be used for quilting as well
Cons
Only a single size
The safety cap is not durable
5. Clover Ergonomic Seam Ripper
Clover is another major brand that makes high-quality seam rippers.
Having a very sharp tip, this ripper can slip easily under the threads and has a non-slip handle for easy usage.
It has a high-quality body that will go on for a long time and can be used for a variety of purposes.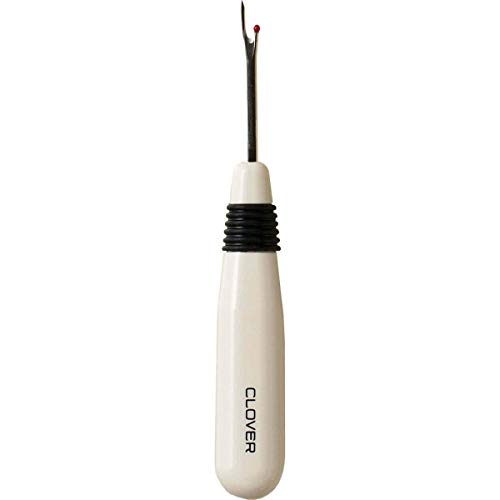 Pros
Very slim tip
Non-slip handle
Multipurpose
Good quality body
Easy to hold
Cons
Not suitable for heavy fabrics
No cap
6. JoyFamily 12-Pieces Seam Ripper by BESMELYIN
Coming as 12 pieces, this product by BESMELYIN turned out to be one of the best products we reviewed.
With a sturdy build and solid tips, they are very effective in working and will likely have a long life.
However, they all come in the same size of 5.5-inch, so that is a drawback; the rest is top-notch.
Pros
12 pieces
Cover provided
Versatile
Sturdy build
Cons
7. Dritz Bulk Package Deluxe Seam Ripper
With a sharp and rust-resistant metal blade, this model by Dritz has a high-quality build and is very handy to use with a sharp blade.
It comes with a safety cap for safety when the seam ripper is not in use. It features a safety ball as well, which protects your fabrics while doing the work.

Pros
Safety ball
Safety cap
Rust-resistant sharp blade
High-quality build
Ergonomic design
Cons
8. Aipker 2-Piece Seam Ripper
These seam rippers are sold by Aipker as pieces of two, with both having different sizes so you can use them for different purposes.
They are not very well known; however, they are amongst one of the best when it comes to their effectiveness and durability.
Made from hardened steel, the blade is as sharp as its durable and will last you a long time.
Non-slip ergonomic handles make them easy to use and hold, so you don't get tired easily.
Pros
Two sizes
A durable and sharp blade
Comfortable ergonomic non-slip handles
Very good for sewing
Come with a mini ball making them safe for fabric
Cons
Not the best cover
Not suitable for heavy-duty usage
9. Clover 463 Seam Ripper
Another great product by Clover is the seam ripper 463. While it can also be used for a variety of other tasks, it is mainly known for being very effective with buttonholes.
Having a cap for when it's not in use, it is very safe and features an easy-to-hold design that fits your palm perfectly.
The tip is fine enough to go under the smallest stitches, and the body is made from durable plastic.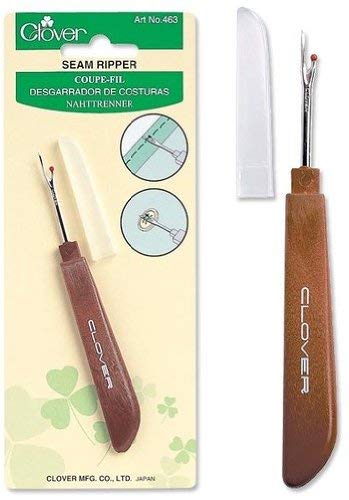 Pros
Sharp blade
Best for buttonholes
Easy to hold the handle
Safety cap
Cons
The handle isn't ergonomic
10. Fabric & Fabric Quick Electric Seam Ripper
Are you always doing work that requires ripping out stitches, and you need to achieve the most efficiency? Well, this electric seam ripper can be the one for you.
With its extremely fast speed of ripping the stitches, it saves you much time, hence increasing your productivity.
Although it can also be used with sewing, it is voted as the best for usage with quilting.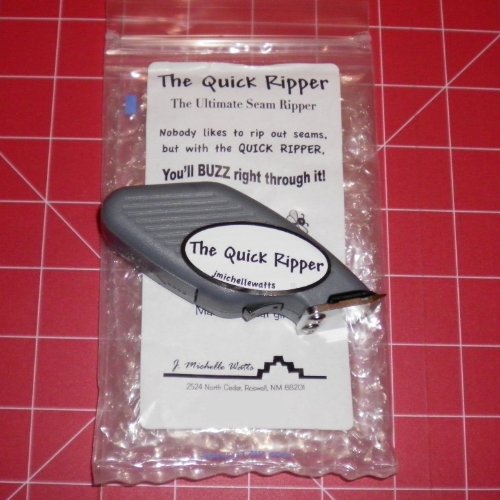 Pros
Saves time; very quick
Electric so doesn't require force
Suitable with hard fabrics
Compact
Easy to use
Best for quilting
Cons
Doesn't work very consistently
The motor is not so powerful
11. Galaxy Notions Electric Seam Ripper
Do you need an electric seam ripper to save your time but don't always have a power source around?
Well, this one could always work due to its feature of being battery operated, you can use it anywhere you want, with the availability of electricity or not.
With being immensely useful for quilting, it can be used for other purposes as well.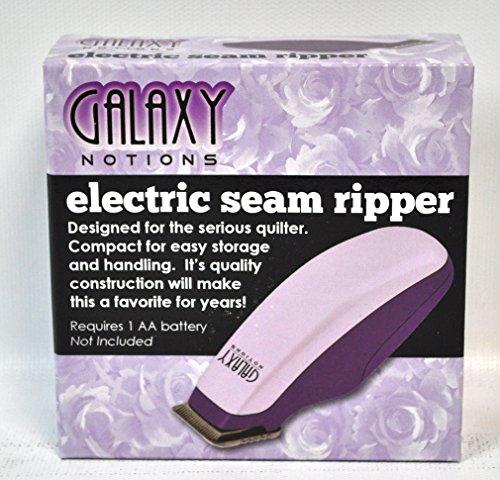 Pros
Battery operated
Easy to use
Powerful motors
Durable
Adjustable blade
Cons
Batteries need to be replaced fast
Not for machine embroidery
12. Ultima Razor Sharp Surgical Seam Ripper
This product is the best if you're looking for something which is two in one for both a seam ripper and a seam cutter.
With a very high ripping power, it can rip through many stitches with a single push.
With a durable plastic build, it can last you for years and provide very good quality work, especially with embroidery.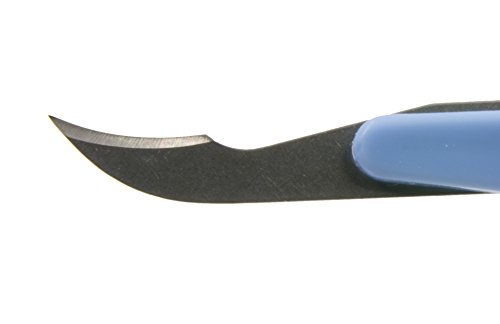 Pros
Best for embroidery
Very sharp curved blade
Easy to use
Durable build
Set of four
Cons
Single size
Too sharp sometimes
Frequently Asked Questions
Let's see some of the most frequently asked questions by the beginners and the novices.
Do seam rippers get dull?
Yes, just like every other product where a blade is used, seam rippers also go dull after some time. However, you can sharpen them using a special tool called a bead reamer or steel wool.
What can I use in place of a seam ripper?
Anything that has pointy blade tips can be used as an alternative. The blades should be sharp enough to go under stitches. Embroidery scissors are one example.
Can you sharpen seam rippers?
Yes, there is a tool called a bead reamer, which can be used for the sharpening of seam rippers. They can be found at most sewing or hardware stores.
What does a seam ripper do?
It's a simple sewing tool that is mostly used for ripping stitches. You can also partially cut stitches through them or buttonholes.
How do you use a seam ripper?
It's very easy. Just pass the blade under the stitch you want to rip off, when it's properly gone through it and is out from the other side, pull the ripper, and the stitch would come off.
How much is a seam ripper?
This totally depends upon the maker and the model. There are different packings, and single ones are cheaper, but there are sets of different sizes which could be more expensive.
Is a seam ripper safe for children?
Yes, they are generally safe for children above the ages of 12.
However, you should not leave your seam ripper unsupervised without a cap with younger children as it has a very sharp blade.
Conclusion
Seam rippers make up an essential tool not only in sewing but in other activities also such as embroidering. However, there are a lot of them available in the market, so you should be careful when choosing one for yourself.
Our top picks contain the best seam rippers available so you can go through all of them to make your choice, but don't forget to read the buyer's guide first.
Read Also: