Sewing machines, contrary to popular belief, are quite low-maintenance.
If your priority is to make sure that your machine's performance is flawless and geared for the long run, then the best sewing machine oil should be your right-hand man.
A good sewing machine oil will ensure that your model is fit to function through thick and thin and help you perform as good as new as the day of the unpacking.
Buyers Guide
When choosing the best oil for yourself, there are a few things that you'll need to keep in mind at all times.
Here, I've compiled a small checklist that you can refer to help you through the difficult part of settling on something permanent.
Let's get right into it:
Type
Generally speaking, there are three types of oil that you should be on the lookout for.
Petroleum-based oils are the most versatile and, along with your sewing machine, can also be used on other household appliances. This type is optimal for fighting against corrosion and abrasion.
Mineral oil and synthetic oil, on the other hand, are less versatile but more targeted. If you're looking for something product-specific, it's good to choose something from this category.
Odor
The oil should virtually have no odor or smell to it.
Since you'll be dealing with fabric, this is a good thing to consider. You don't want your clothes smelling in a particularly funny way, do you?
Viscosity
Viscosity, generally speaking, refers to the thickness of the oil that you're planning on getting.
When settling on this feature, make sure that you know what the model requires since different models require different viscosities to function properly.
Remember, the higher the viscosity, the thicker the substance is.
Volume
Lastly, note the volume of the container you're getting.
This is a feature that will ensure that you've packed for the long run and will help you settle for a package you can turn to from time to time.
If you're a frequent user, safe to say, you should look into a model that has a higher capacity.
Top 12 Sewing Machine Oil
Briefly reviewed below are the top 12 sewing machine oil.
Along with the reviews, I've also highlighted a few pros and cons with each product that will complete their basic description, shortcomings, and highlights.
Without any further delay, here are the top 12 sewing machine oil of 2021!
1. Zipperstop White Sewing Machine Oil
Let's start this list with my premium recommendation for you all. The Zipperstop Sewing Machine Oil is arguably one of the best oil currently available in 2021.
With a capacity of 1 gallon, it's fair to say this oil is expected to last the long run for you.
Functionality wise, it has low viscosity without any color interference, making it ideal for sewing machine use.
As far as downsides or any de-merit are concerned, there's none, so you're in for a good ride with this pick.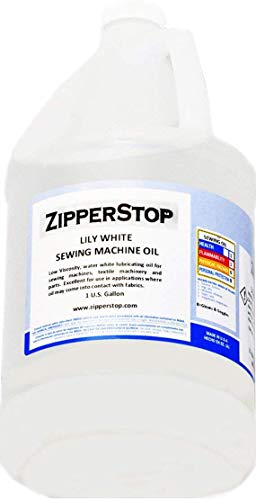 Pros
No odor
Versatile
High capacity
Low-viscosity
Cons
2. ZOOM-SPOUT Crystal Clear Sewing Machine Oil
The ZOOM-SPOUT Sewing Machine Oil is something more specialized and geared for targeted audiences.
It has a smaller capacity but is a great choice if you're in for oil that is designed especially to be used on sewing machines.
However, it's fair to note that the ZOOM-SPOUT Sewing Machine Oil isn't noted for its versatility, can't be used on other household material.
Another small downside is that the plug of this oil's container is of subpar quality, so keep that in mind.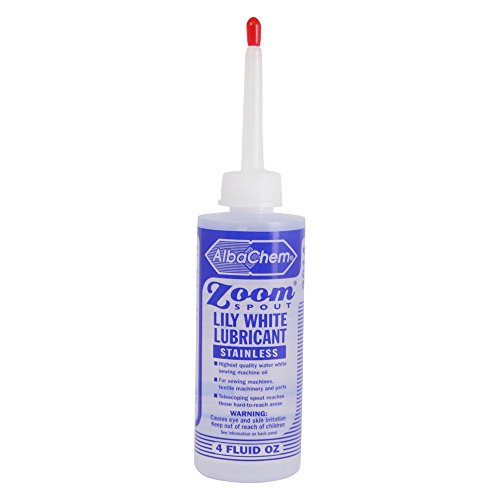 Pros
Product-specific
Best for moving parts
Easy use
Non-detergent
Cons
3. Singer Sewing Machine Oil
For all the Singer fans out there, this is the pick for you.
Following the footsteps of their excellent products, the Singer Sewing Machine Oil is also a great choice.
Suitable for all-purpose, this model can be used on other household stuff as well that equip small motors, such as hair clippers.
There aren't any major downsides to it, except that the manual isn't that helpful, and the cap isn't replaceable. Other than that, the Singer Sewing Machine Oil is as good as it gets.
Pros
Versatile
Smart-drip
Easy use
Consistent performance
Cons
Non-replaceable cap
Bad manual
4. Juki Genuine Defrix Sewing Machine Oil
The Juki Genuine Defrix Sewing Machine Oil is more geared towards users who are looking to get a big bulky container to last them through the season.
Note that this is a Japanese manufacturer, so you might have trouble with the instructions and labels.
However, besides that, the Juki is a good option to go with if you want a smart lubricating agent that can make your machine brand new.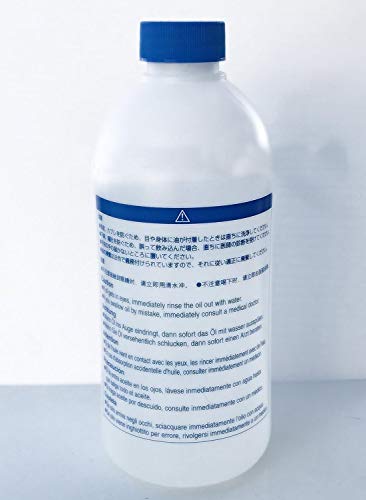 Pros
Large capacity
Efficient formula
No odors
Optimal viscosity
Cons
5. Liberty Sewing Machine Oil
Non-staining and model-specific, the Liberty Oil is a great synthetic oil that can help strategically reduce friction in your machine and help you get the performance you're after.
The best thing about this model is that it is safe to use and can be virtually applied everywhere.
On top of that, it has a pointy tip that ensures you apply to get the oil just exactly where you want without any leaks.
The only downside to it is that if the pin comes out, you're in for a hassle getting it back in.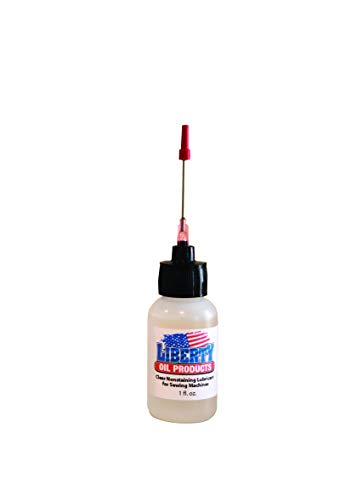 Pros
Synthetic
Non-staining
Precision tip
Safe for plastic
Cons
6. Helmar Colonial 29 Super Lube Machine Oil
If you're in the market for something more versatile and equipped to handle other machines as well, then you should definitely consider the Helmar Colonial 29 Super Lube Machine Oil.
Multi-purpose and versatile, the Helmar caters to a multitude of needs with ease.
On top of that, the liquid doesn't have any odor to it either, making it perfect for sewing machines.
The only con is that the bottle is perpetually oily due to the drip.
Pros
Versatile
Capacity
No odor
Easy use
Cons
7. WarmShine Sewing Mahcine Oil
Perfect for the DIY enthusiast, the WarmShine comes in a bundle of 4 with each bottle having a capacity of 120ml.
Leak-proof and unbreakable, the model also features an ergonomic hold to it that ensures that the model is comfortable to the touch.
Plus, the plastic casing is also quite flexible. As far as functionality is concerned, WarmShine delivers quite well.
There aren't any noticeable or important downsides to consider, so if you chose this model, you're all set for the long run.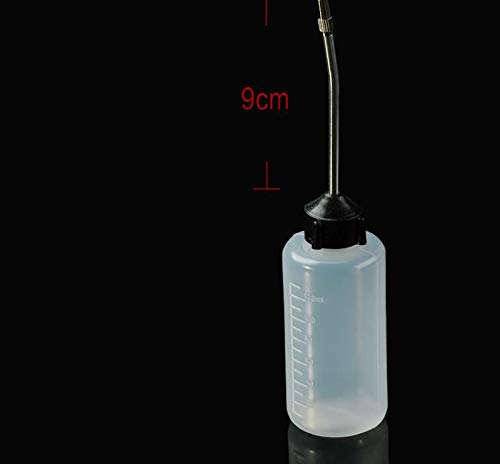 Pros
Four bottles
Comfortable grip
Unbreakable plastic
Flexible
Cons
8. Dritz 902 Machine Oil
Presentation is always key. Coming in a nice packing that showcases performance and elegance, the Dritz 902 Machine Oil is geared for long-term use.
With specialized machine oil that ensures optimal lubrication, this model is geared for heavy-duty use and is recommended for all users out there.
The model has a smart design that enables you to get too tight spots easily, again making the whole thing easier. The only downside to it is that the dispenser is a little hard to control.
Pros
Presentation
Precision drip
Rust prevention
Clear and helpful instructions
Cons
Sensitive dispenser
Overflows easily
9. Plastic Point Nozzle Sewing Machine Oil
If you're looking for something old-school and old-fashioned without any technicalities, then the Plastic Point Nozzle Sewing Machine Oil bottle is a good choice.
This model doesn't really feature any oil and focuses more on the bottle instead. Coming in a pack of two, these plastic bottles are durable and can take a hit.
Plus, they feature a nozzle as well that will help with the delivery. However, the issue is that this model isn't environmentally friendly, strictly speaking, and the nozzles are of inferior quality.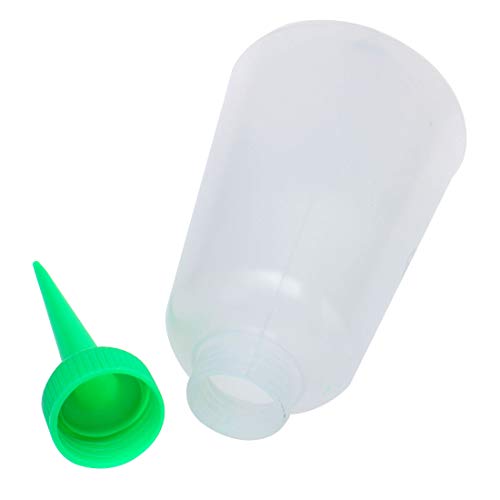 Pros
Pack of two
Minimalistic
No leak
Easy use
Cons
Bad nozzles
Not environmentally friendly
10. 4 oz. Sewing & Serger Machine Oil by Garment Center
Elegant, functional, and best for all, the 4 oz. Sewing Machine Oil by the Garment Center is a great choice.
Allow this model to help you keep your machine working smoothly, and you won't be disappointed.
Feasible with every and any part, this is a great choice if you're looking for around the clock performance.
There aren't any downsides to this model either, so you're definitely in for a treat if you chose the 4 oz—Sewing Machine Oil by Garment Center.
Pros
Effective spout
Easy use
Smart design
All metal part use
Cons
11. Universal Sewing Machine Oil
Featuring lily-white oil, the Universal Sewing Machine Oil is a great choice to consider for your sewing machine.
This model is crafted specifically for sewing purposes and can effectively be used wherever you want.
Plus, it has a spout that enables reaching into those hard to reach places as well.
The only downside is that the bottle might leak from time to time, and the design isn't that aesthetic either.

Pros
Excellent viscosity
Can reach hard-to-reach-places
Easy application
Good packaging
Cons
12. SCHMETZ Sewing Machine Oil
Last but not least, we have the SCHMETZ Sewing Machine Oil. With main features including its aesthetics and all-purpose application, this is a model that is a definite must-have.
The SCHMETZ Sewing Machine Oil can be effectively used on your sewing machine with ease and is also fit for use on other small machinery around the house.
One small issue is that the bottle isn't transparent, so you won't be able to tell when you're almost out.
Pros
Aesthetics
Multi-purpose
No leak
Easy

application
Cons
Opaque bottle
No instructions
Frequently Asked Questions
What kind of oil do you use on a sewing machine?
The oil that is best suited for sewing machines has three distinct qualities, which indulge light viscosity, its clearness, and no apparent smell.
All these features ensure that the oil doesn't collect on the gear and hinder the usual function.
Does sewing machine oil go bad?
Yes, eventually, it does. Sewing machine oil can easily last up to 5 years. However, if you're not careful enough with their storage, this lifespan can decrease by a significant amount.
Can I use olive oil for my sewing machine?
Yes, you can use olive oil as a lubricant for your sewing machine. It can be used separately or in conjunction with some additives to get the best results. This, of course, is entirely up to you.
Where do I oil my sewing machine?
Generally speaking, most models and their manuals require that you oil the hook race and the housing of the sewing machine.
As an extra measure, it's also a good idea to oil the outer ring of the bobbin hook.
Is the sewing machine oil silicone oil?
Not necessarily. Sewing machine oils often require healthy substitutes, oil that falls in the category of natural oils. This can include silicones well.
However, not all silicon machine oil has to fall in that category.
Is there a substitute for sewing machine oil?
Many natural oils can serve as a substitute for the traditional sewing machine oil that is frequently employed.
Furthermore, what's even better is that you can make these oils at home or using ingredients found in the kitchen.
How often should I oil my sewing machine?
This depends a lot on how often you use your machine.
If you're a frequent user, lubricating once a week is a good option to work with.
However, if you're an infrequent user, once a month will do as well.
Conclusion
A good sewing machine oil will be your best friend when it comes to ensuring that your favorite model lasts the longest.
If you have feedback on any of the oil above or have any general recommendations, do share them in the comment section below!
Read Also: