Having a top-quality sewing thread is as necessary as it has a good sewing machine for completing your projects in a perfect manner.
However, the presence of a wide range of products available in the market gets people confused, which is not that surprising given the degree of similarity in those threads.
However, in this article, we will go through the top 10 picks for the best sewing thread along with their pros and cons, along with a buyer's guide.
This way, it will be a lot easier for you to speed up your choosing by avoiding going through all the additional products and jumping straight to what you need.
Buyers Guide
Before you are capable enough to make the perfect choice according to the needs of your project, there are certain factors that you need to be aware of, the points you need to consider to choose the best item on the table. Let's see!
Tensile Strength
If you have ever been good with physics, there's a chance you might recall this term from high school.
Well, if you can't, it's a term used to refer to the amount of stress that anything can withhold, a thread in this case, before it breaks apart.
So, unarguably, it is one of the most important factors which makes or breaks a thread.
Spool Size
Spool size essentially determines how long the thread will be usable for you, and after how long you will need to be buying a new one.
However, in most of the cases where you are working on a basic project such as making yourself an outfit, you won't be needing to buy a new thread, so spool size gets irrelevant.
In such cases, it is recommended to go with smaller sizes as they are easier to manage. However, if you are an enthusiast who sews a lot of fabrics, spool size is something you should consider.
Color
There is a large variety of colors that the sewing threads are available in.
Ranging from cyan to various shades of white, colors of threads isn't something to be ignored as without the proper color scheme, your project would be as good as nothing.
However, if you intend to be doing your project on one color, a single white-colored thread would suffice. Otherwise, plan accordingly.
Fabric
The fabric you would go to be working on is another major factor that could make things easy for you.
Certain different kinds of fabrics have special types of threads that are proven to work best on them.
Using other types would result in many problems such as thread breaking, mainly due to the fabric being thicker and thread not being strong enough.
So, make sure you know in-depth about your project and consider it before buying the thread.
Top 10 Sewing Thread Reviews
We have extensively reviewed a whole lot of popular and in-demand sewing threads out in the market and after some careful analysis as well as going through the customer reviews of all the products one by one.
Here is the final list of our top 10 picks for the best sewing thread along with their pros and cons.
1. NEX 60 Piece Sewing Thread Kit
This sewing thread kit doesn't sit at the top of our picks for no reason. The primary reason for its popularity among the customers is the fantastic variety of colors it comes with.
No matter how many colors you need to use in your projects, there is a very slight chance that you will not find the color you need in this kit as there are more than 46 colors altogether.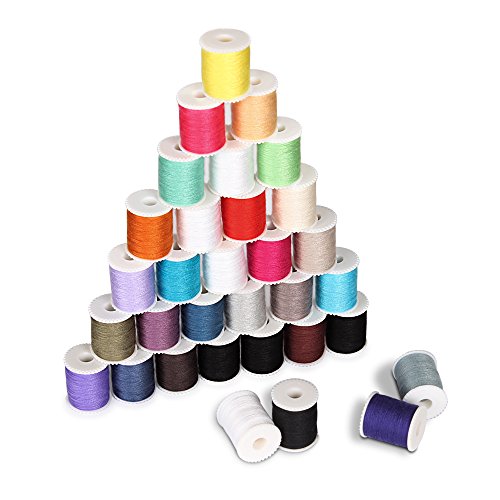 Pros
60 pieces
46 unique colors
33 yards spool size
High-quality cotton and polyester
Cons
Gets wound up on the bobbin sometimes
2. Candora Sewing Thread Assortment
Being made from polyester, this thread is very much suggested for the projects where you need the tensile strength to be very high.
The thread can manage any fabric easily, no matter how hard it is. A single package of the set contains 30 pieces of different colored threads, with all of them being uniquely colored and having a total size of 250 yards.
However, if these colors are not enough for you, you can also opt for the 60 color set, which is more than enough and fulfill your needs just fine.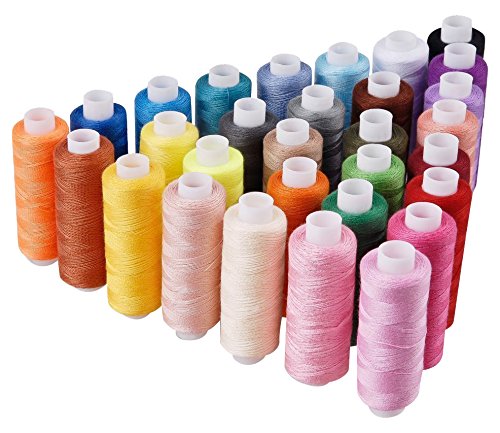 Pros
Each spool contains 228.6 meters
Polyester made
Great for hand sewing
Cons
Trays and knots are found on the spools sometimes
3. Gutermann Multi-Color Thread Set
Gutermann is a top-rated brand when it comes to sewing threads and has always kept its customers satisfied.
It is claimed to be providing the top quality threads to its customers for a long time now, and this thread kit is no different.
Coming in a box of 20 thread spools, each spool comes as a 100m thread length and is made from 100% cotton.
So, while the thread is of perfect quality, it is not suitable for use with thicker fabrics as cotton doesn't have great tensile strength.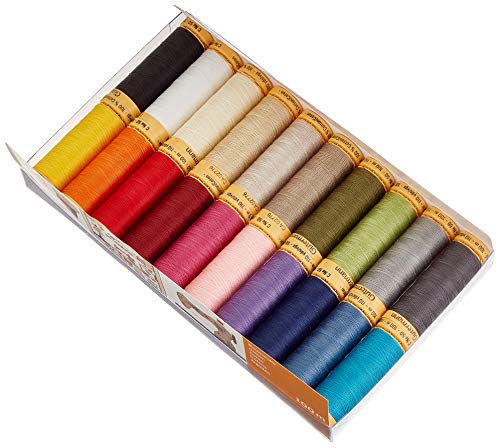 Pros
100% cotton; no mixing
High quality
Great colors
Cons
Pricey
Not suitable for thick fabrics
4. Coats XP All Purpose Thread Kit
This is one of the best thread kits you will ever come across for a lot of reasons.
As the name suggests, the kit is all-purpose and hence can be used irrelevant of what your project is, you can rest assured that this thread will be a good pick.
The thread is made from polyester, so the strength is high, and you will never face issues like thread breaking.
Each spool has 125 yards of thread in it, and there are multiple colors served in the kit. All these features make it one of the best and worth trying out.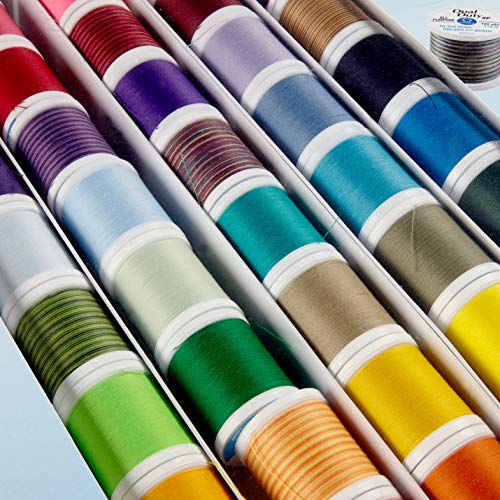 Pros
Versatile
125 yards per spool
Polyester made
Affordable
Cons
Suitable for beginners only
Box quality is inferior
5. Aurifil A 1050-2024 Mako Cotton Thread
Having one of the best strengths with excellent tensile strength, this spool comes with amazing quality and can be used for heavy-duty tasks such as quilting.
The spool is quite large and won't be finishing anytime soon. However, on the downside, it is just a single piece with a single color, so if you want multiple colors, you might need to look at some other product.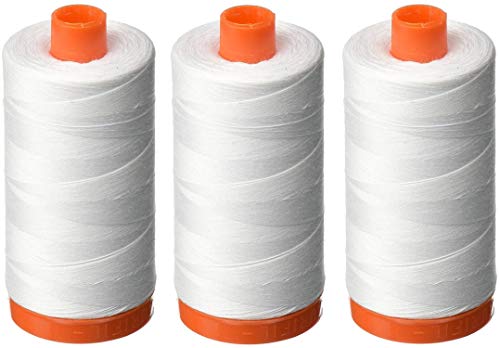 Pros
Egyptian cotton
Great for quilting and serging
Large spool
The perfect neutral color and low lint
Cons
6. Connecting Threads Thread Sets
Connecting Threads is a major manufacturer that enjoys high confidence amongst customers for producing probably the highest quality thread available in the market.
The best selling point is that 100% cotton thread is offered, which is as pure as you can get.
Having a set of 10 spools, you get ten different colors that can be put into various applications, plus the spool sizes are enormous so that you won't run out of them soon.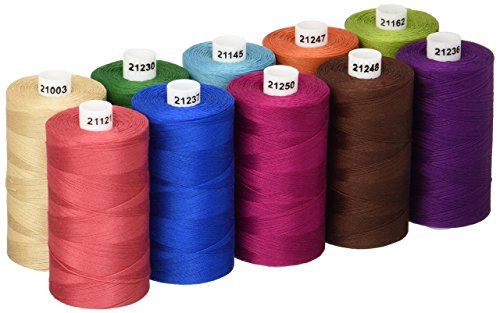 Pros
100% cotton
Fit almost all machine models
Great colors
1200 yards per spool
Cons
Not suitable for thick fabrics
7. Guitermann 26 Spool Thread Box
Yet another thread box from the same manufacturer we have seen earlier, you probably have realized how effective the maker is in manufacturing the best sewing threads.
Having 100% polyester content, the thread is one of a type and provides seamless performance. It is great for various tasks that require high thread strength.
There are a lot of colors included, and you get 110 yards per spool.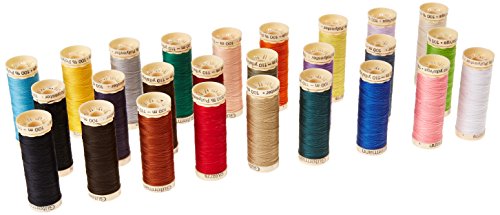 Pros
Many different colors option
Very high tensile strength
Good for quilting
110 yards per spool
Cons
Some buyers claim broken holders
8. King Do Way 24 Colors Polyester Sewing Thread
This is a highly underrated model and was perfect enough to cut into our top picks. Having each spool of 1000 yards, you get 24 of them, with each of them having a different color and high durability.
The material is 100% polyester, which means there will be no problems even if you do heavy-duty tasks with the thread such as quilting or hand-knitting.
So, get your hands on this amazing product as it is also one of the best when it comes to high value for the price.
Pros
100% polyester
No breaking; very durable
Best for knitting
1000 yards for each spool
Cons
Plastic bobbins are not very durable
9. Tacony Corporation Madeira Rayon Thread
Tacony Corporation has carefully picked the most essential 18 colors that are available on the market and has made a great thread kit based on those.
Having a spacious amount of 220 yards on each thread, you get amazing quality and eye-catching colors which enhance your projects.
You can use the threads for heavier tasks as well, such as embroidery.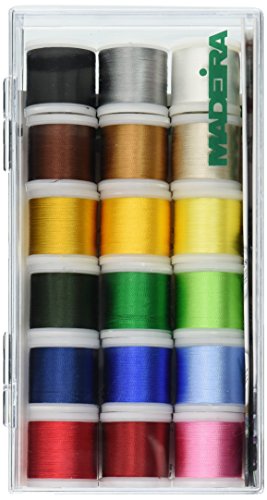 Pros
220 yards for each spool
Great colors
Can also be used for embroidering
Transparent assortment
Cons
Very thin for some customers
10. LA Linen Cone Serger Thread
Even though there are multiple colors you can choose from, you can only get a single thread spool for each buy as this doesn't come as a set.
Coming to the quality, the thread is made from 100% polyester and is one of the best when it comes to heavy-duty tasks such as serging.
However, as there is only a single color available, the versatility is significantly reduced, so they are mostly chosen by people who work on only some very big parts of projects.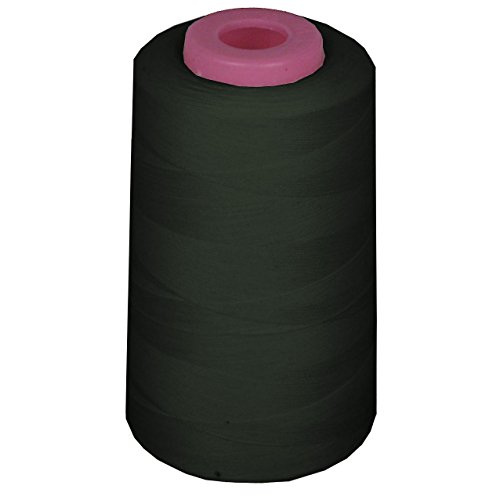 Pros
Over 6000 yards of thread
100% polyester
Best for serging
Cons
Adjusting the tension is tricky
Frequently Asked Questions
Let's go over some of the most frequently asked questions by beginners and briefly answer them so that it may be helpful to you.
What is the difference between cotton and polyester thread?
While both have their areas of application, the most basic difference between a cotton and a polyester thread lies in their tensile strengths.
Polyester is mostly a lot stronger than cotton.
How do you make threads stronger?
There are many ways to make a certain thread stronger than it is at a particular instant. One of the most common ways is to use rolled threads.
Can you use a sewing thread for stitches?
Yes, you can use the sewing thread for stitching purposes without any worry.
What weight is a normal sewing thread?
There are different answers to this question; however, the most common ones are 35, 50, and 60.
Which thread to use for sewing?
Cotton thread is known to be the perfect companion for you while sewing. However, there are some jobs where polyester might be preferable.
Does sewing thread get old?
Yes, threads do get old, just like everything we use. This can lead to thread breaking or uneven coloring, so make sure you change it before it becomes an issue.
Why is my top thread breaking?
First off, check if the tension is correct. Make it to the best thread setting or less than that to make sure it is not the cause.
Make sure the spool is installed correctly, and the bobbin is wound around 80%, and the thread is evenly wrapped.
How do you read sewing thread size?
The first number is the number standard of the thread, while the second number refers to how many plies of thread are twisted together to make that specific thread.
Conclusion
So, here we are. After going through the top 10 picks for the best sewing threads, we hope that you would have arrived at a conclusion about which sewing thread you should be buying in order to make the best of it.
Also, don't forget to read the buyer's guide before making your final choice.
Read Also: