You can now get a hassle-free operation of your sewing machine with impeccable control over your speed performance and energy efficiency with a compact, lightweight servo motor.
Servo motors are the driving force that adds different colors to your projects by choosing different functioning, power consumption, and motor speed.
Best sewing machine servo motors are therefore cherished by sewing enthusiasts.
The motor only works when your foot is in contact with the pedal, so energy consumption is minimized with a cut down on your bills.
It is time to manifold the quality of your work by getting the best motor out there!
Buyer's Guide
Wait a minute; there's something more to it than just going for a purchase.
You need to have yourself equipped with some necessary information which you're going to imply while going for a specific product and distinguishing it from others.
This is where a buyer's guide comes in, let that information sink in people:
Motor Speed
One of the essential properties of a servo motor is speed control.
In contrast with a clutch motor, a servo motor offers more versatile speed options, letting you control the speed and quality of your work.
Some motors work better at slow speeds that come out to be helpful in single stitch sewing.
With these motors, you can easily control the speed using a knob or a button and choose the right pace for your project.
They can also offer higher RPMs for finishing projects quickly.
Installation
The installation also grades for an essential feature in your sewing machine.
When it comes to servo motors, installation is generally a piece of cake, but it is always better to have a little extra, say an instruction manual, and tools needed for installation that'll save a lot of time.
Most motors are generally designed to fit a specific sewing machine, and it will need some adjustments to connect with other machines.
Noise-Free Operation
When you aim to sit for a project for long hours, the last thing you want to welcome is that irritating noise that'll kill your morale and make you want to quit. The latest models are almost noise-free.
People tend to pay higher rates for noise-free operations. Those grinding and humming sounds, especially at higher paces, are really unwelcoming.
Weight
Convenience has a direct relation to the weight of equipment. A serving motor should bring quality to your machine; a lightweight machine will be easy to use and portable.
Weight also depends upon your usage. To select the right one, you need to filter your preferences and guide yourself.
Safety
Last but not least, safety is one of the crucial aspects of a servo motor. It's good if the company cuts you some slack by adding extra safety features to aid in the smooth operation.
An example is a motor that automatically switches off when there is a change in the current. This guarantees that the fabric won't burn in the wake of a mishap.
Top 8 Sewing Machine Servo Motor Reviews
Now that you have acquainted yourself with all the necessary information needed for a good purchase activity.
I think it's time you came across the best picks in the market gathered in a golden list, which I prepared with absolute honesty and unbiased judgment.
Let us start without any further ado:
1. Enduro 550 Watt Electric Servo Motor
The enduro servo motor is a major seller in the market and has earned the respect of the customers in terms of 5-star ratings due to amazing performance and eye-catchy features.
The built-in adjustable motor speed control knob is there to provide you easy control over the sewing pace. This 550-watts motor has a speed of almost 3450 rpm-giving your industrial sewing experience.
Virtually noiseless experience is promised due to the smooth operation of this amazing machine.
Save up to 70% from your electricity bill by using this servo motor bagging versatility in the form of both high and low-speed sewing options.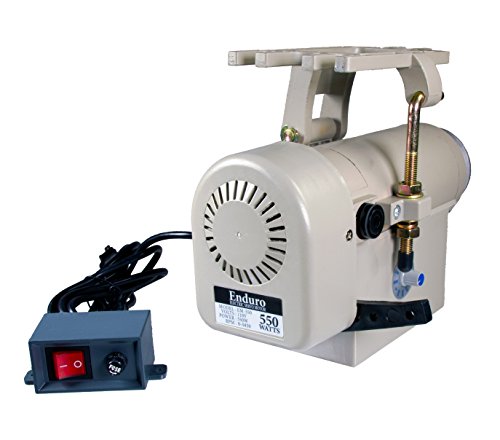 Pros
Portable, durable and strong
Great and vast speed control options
Super quiet operation
Ideal for industrial sewing
Cons
No needle positioner
No treadle rod to connect the foot pedal
2. Rex Industrial Sewing Machine Servo Motor
REX servo motor speaks for itself with its amazing 550 watts operation with an adjustable speed of up to 3450 rpm.
Known for its quality and precision in the sewing industry, 14 pounds REX servo motor takes a lot less energy while working than a conventional clutch motor.
This easy-to-install, lightweight, and portable motor offers enough speed to work on some heavy industrial projects. All in all, this is a product of your dreams.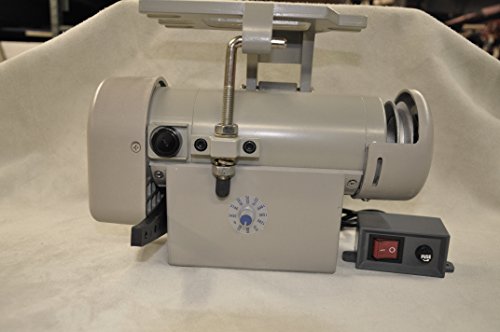 Pros
Portable, durable and sturdy motor
Excellent speed control
Noiseless
Energy efficient
Good for industrial projects
Cons
No needle positioner in the package
No robust connection with the foot pedal
3. Consew Industrial Sewing Machine Servo Motor
Genuine Consew servo motor is one of its kind, the state-of-the-art motor with striking features and well-earned customer response.
The 10 to 12lbs servo motor is a heavy-duty motor with minimum electricity usage.
Installation is easy with this noiseless operating motor, which also comes with a needle synchronizer for smooth operation.
Select one of the four-speed options with a range of 200 rpm with this 550-watts servo motor.
With this motor, the machine keeps aligned with the fabric, and control is excellent. This feels like a dream come true and worth your time!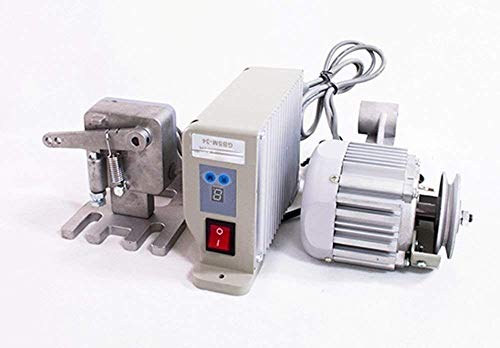 Pros
Works silently and smoothly on many fabrics
¾ HP of brushless servo motor
Includes needle positioner
Four-speed options
Good safety features
Smooth operation
Cons
No user manual included in the package
4. Genuine Consew CSM1000 Servo Sewing Machine
This is yet another masterpiece from our amazing seller Consew. ¾ HP servo motor works wonder with lighter as well as thicker fabrics.
With the ability to function smoothly at high speeds, you will enjoy a quick and noise-free operation.
You get a speed peak of 2000 rpm with 90% torque retaining capacity and a sturdy build with no vibrations.
There's a safety fuse to avoid any mishaps, and speed control knobs add to the quality features. This is most expectedly the best deal you could get!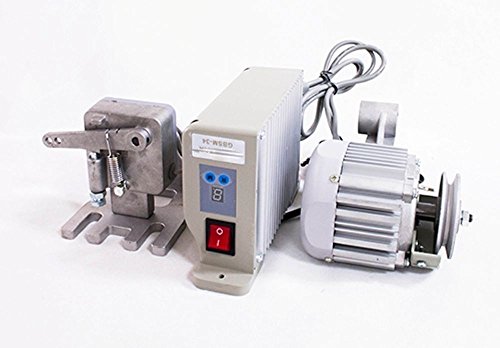 Pros
Speed adjustments
Torque maintenance at higher speeds
Safe operation
Quiet, robust, and sturdy motor
Cons
No manual included
No needle positioner
5. FESM 550C Servo Motor 3/4HP
FESM 550C is the best of the best with a powerful ¾ HP operation and a dial speed control to help to control the speed very efficiently.
With a humongous speed range of 0-3300 RPMs, this 550-watts motor has a very budget-friendly design and easy installation features.
Work on exceptionally thicker fabrics with industrial accuracy with this work of the art motor with a lower limit of 5-7 stitches per minute.
In short, it has almost all the features one could ask for.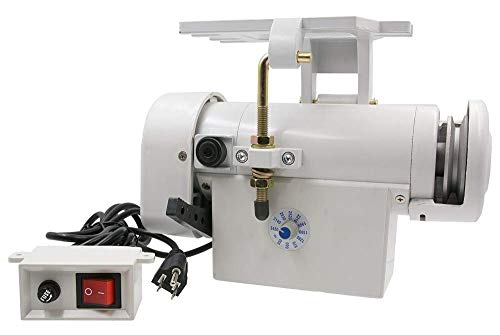 Pros
Budget-friendly
Sturdy, powerful, and reliable
Quiet, higher torque, and good control
Vast speed range
Cons
Some pieces are defective delivered
6. Sewtco Industrial Sewing Machine Servo Motor
Sewtco servo motor has a unique design, and it differs in looks from other motors. It has some striking features, the top of which would be a lightweight body with ¾ HP strong operation for industrial level sewing.
No noise and power saving are the foremost promises of Sewtco, and it never gets back on it. This easy-to-use heavy-duty motor is perfect for heavy projects.
Add-ins like belt guard, pulley, and mounting hardware make this product even more desirable.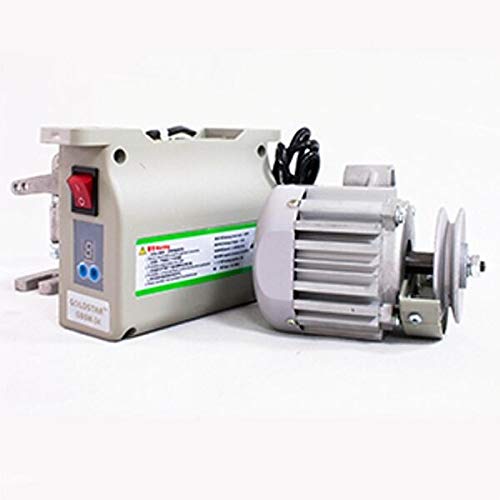 Pros
Heavy-duty industrial sewing
Comes with needle synchronizer
Easy adjustment and speed controls
Highly compatible
Cons
belt tightener might be too short
7. Mophorn 110V Sewing Machine Servo Motor
Mophorn gives a huge competition to all the other servo motors in the market with its hunky appearance and macho performance.
This baby delivers 750 watts of power with a speed control of up to 4500 RPMs, making it a very heavy-duty exceptional industrial sewing machine motor.
1 HP motor performs timelessly with ultra-reliable features due to pure copper coils embedded. The LED display is to top all this, and the metal frame gives a sturdy and robust design.
Assembling is also a piece of cake with needed tools and a manual included in the package.
Seriously, this is an industrial giant and is ready to add charms to your big projects.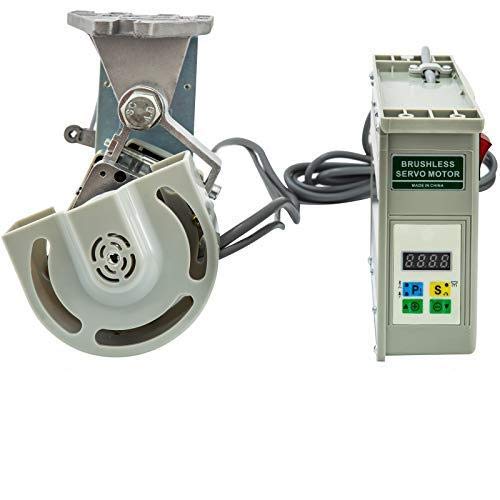 Pros
Ideal low/high-speed industrial machine
Single-phase motor
Brushless servo motor
Adjustable speed
Stable, durable, and quiet
Cons
May need guidance while installing
8. Eagle EL-550 Sewing Machine Servo Motor
In contrast with other servo motors, Eagle EL-550 has a sleek silver-colored design. 550-watt powerful motor delivers 110 volts and boosts up your energy efficiency.
With a nominal weight of 15.5 lbs., you get high torque industrial sewing experience with this amazing product.
Smooth operation offers a noiseless motor, which means no irritation while working.
This package has a huge customer demand and applauds- worth your money and time!
pros
High torque
Good for industrial usage
Noiseless
Stable and powerful
Cons
No needle positioner
No connection with the pedal
Frequently Asked Questions
How do you adjust a servo motor on a sewing machine?
The procedure is simple; you just need to connect some equipment with the tools mostly available at home and, if not, in the package.
The motor has a belt adjusting bolt needed for belt tension. Adjust the position of the brake shoe using a bolt. Adjust the pedal effort with the wing nut and loosen the clutch.
Connect the pedal with a clutch arm using a rod. Mount sewing motor on the table and bolt the adjusting pedal. Fix hinge pin with screws, and you're all set!
What are the characteristics of a servo motor?
A servo motor offers exceptional speed control, energy efficiency due to pedal control, and noiseless operation due to smooth construction.
Are servo motors AC or DC?
Cutting a long story short, servo motors can be both AC and DC. Both can be used depending upon your requirement and connectivity.
What are the types of servo motor?
A servo motor can consist of many different types depending upon the basic principle used in them to transfer energy.
They can be either positional rotation, continuous rotation, and linear.
How many wires does a servo motor have?
A typical servo motor has three wires. A power wire, a ground wire, and a signal wire.
The power wire is normally red and should be connected with 5v Arduino. They are basic electrical wires.
Why are servo motors so expensive?
An upgrade is supposed to be more expensive than the previous model. As compared to the clutch motor, the servo motor has much smooth and efficient functioning.
The parts used are higher in quality; there are better grade plastic gears, higher tolerance, better potentiometer, and a much better controller circuit.
How fast can a servo motor move?
There are machines with very high RPMs and speed. You can get rpm as high as 4500, and the speed can be 0-60 mph.
There is 0-60 degree time. Lower the time, the higher the speed.
What is the weight of a typical servo motor?
Servo motors are especially lightweight for portable operation. They can range from 12-15.5 lbs. in weight, which is pretty desirable.
Conclusion
I hope that all your queries are satisfied and all the information you needed is in your brain pocket by now.
All you need to do is make a decision depending upon your preferences and budget, and you're good to go.
Wishing you all the luck in the world!
Read Also: