There is always an intimate relationship with you and the things which pass everyday events with you. Such a relation exists between a sewer and their sewing scissors.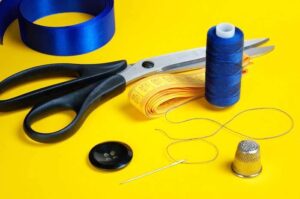 You want your scissors to be so smooth that they cut the fabric in one single straight motion with absolute precision.
For this, you need to choose very carefully as there is a deluge of brands out there.
Noticing the fuss in the market about which best sewing scissors are for you, I have prepared a golden list of some top picks out there.
Buyer's Guide
One always needs some mentoring in order to become a veteran.
The buyer's guide gives you enough counseling to become able to choose the best product for you.
It consists of the essential factors that need to be kept in mind while going for an individual choice.
Here's what's essential in a sewing scissor:
Convenience
If your scissors are not easy to use, you might as well just throw them out the window. A good pair of scissors will make your work ultra swift and little to none time-consuming.
It will increase your time efficiency, and you'll get work done effortlessly, and you'll never get bored with the impeccable finishing.
Accuracy
You need your scissors to be as precise as they can be.
A major reason for investing more to get a quality scissor is the timeless finish you're going to achieve with them.
A good scissor will cut a piece of fabric with utter ease, and there will not be any fray like when working with conventional scissors.
Blades
To get a precise finish in a little time, blades should be your primary focus. You can get corrosion-resistant, durable stainless steel. They will work fine and last long.
However, high-carbon steel blades are harder, healthier, and sharper, and better at obtaining sharp edges. But these can corrode if not coated properly.
Handle and Screws
If the blades are connected by screws, they become easier to manage. You can separate them whenever you want and clean them. You can also adjust them easily.
The handle especially has to be ergonomically designed. It should be soft and comfortable so that your hands won't induce any pain while working.
Weight
Lightweight scissors are sometimes favorable over heavier ones.
With light scissors, you can move your hands around quickly and conveniently without interruptions.
But with medium to heavyweight scissors, you'll be able to achieve more excellent stability and leverage while cutting, which means increased efficiency.
Durability
Durability is a significant concern if you're investing in something. A good pair of scissors is built to last long so that you'll end up-leveling your investment with less no of scissors per a specific time period.
Top 10 Sewing Scissors Reviews
I think now you're ready to do some real-time analysis of the list of top picks I have prepared here.
You should choose very wisely as not every product is best for everyone and there's one best for everyone.
Let's get you started:
1. Pro-Master Leather Craft Sewing Scissors
This baby is one of the top picks in the whole list with a striking five-star rating on Amazon from the well-satisfied customers.
Made from high carbon steel, these scissors can deal with even the toughest of fabrics. Industrial grade craft scissors will provide you heavy-duty cutting experience even at home.
The grip is quite ergonomic and comfortable to handle with no pain in fingers and hands.
These top-quality scissors are guaranteed to cut through a whopping 16 layers of fabric in a single go!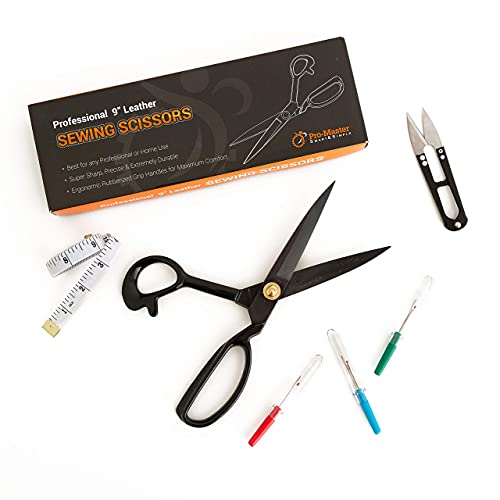 Pros
Heavy-duty industrial scissors
Great performance
Cuts 16 layers of fabric
Quality guaranteed
Cons
2. Singer 00561 8-1/2-Inch Sewing Scissors
SINGER is a veteran of home appliances and has deep roots in the customer's hearts.
This Heavy-duty bent sewing scissors are also giving tough competition to all other scissors out there with a five-star Amazon rating.
Heavy-duty scissors have a rubberized convenient grip for your ease. With the ability to cut through multiple fabric layers with ease, you can do perfect crafting and sewing.
Blades are specially tempered and grounded from both sides for an increased length. Do not miss out on this one!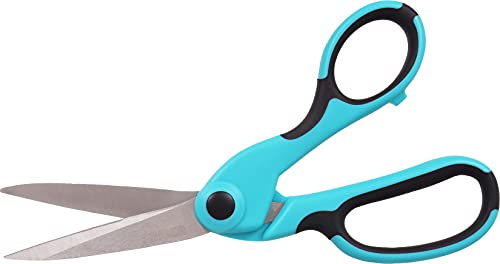 Pros
Heavy-duty projects
Comfortable cutting
Affordable
Durable
Cons
Cannot sharp them
Not the most durable
3. Titanium Soft Grip Scissors Set for Sewing
Titanium produces some good-quality accessories boasting amazing features. Soft grip scissors are perfect for use in all types of projects.
Apart from this versatility, you get three scissors in a set, and an ergonomic grip keeps your hands free from pain.
The blades are incredibly sharp, strong, and exceptionally durable with a lifespan crossing normal stainless steel blades.
With all these features, you get an amazing look to charm yourself every day!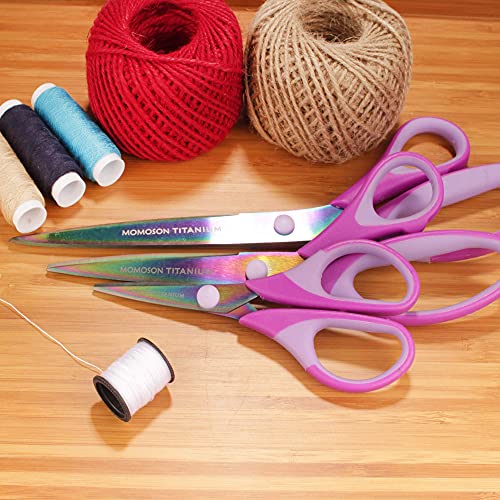 Pros
Precise cuts
Sleek design
Set of 3
Durable
Affordable
Cons
4. Galadim Dressmaking Scissors
Galadim overwhelms us with its elegant ebony impeccable looks. But that doesn't mean only the cover is good; the book will also amaze you!
The 9 inch scissors are high in quality, very sharp, and precise. Plastic handles are very efficiently designed and good for hands.
Professional heavy-duty scissors are suited for righties only and are very versatile with the ability to cut through any fabric- almost everything you need!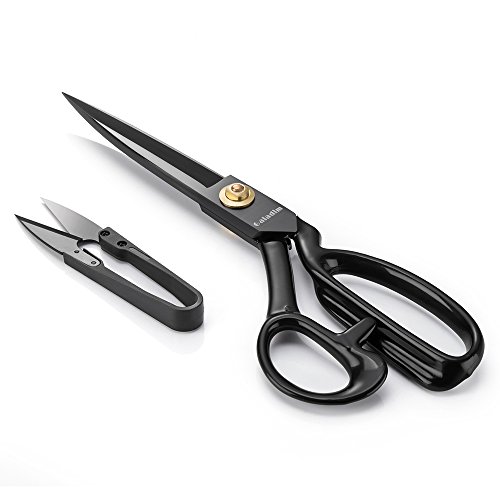 Pros
High quality and durable
Comfortable
Professional and personal use
Catchy design
Cons
Expensive
Only for righties
5. Honoson Stainless Steel Tip Stork Scissors
These are high-quality scissors for every type of use. Streamline portable crane embroidery design gives them a matchless vibrant look.
Vintage scissors are made from stainless steel strengthened by alloying, making them even more durable.
Five-set scissors offer an amalgam of durability, lightweight, quality, precision, and looks. This is a great deal at a great price, which one gets seldom!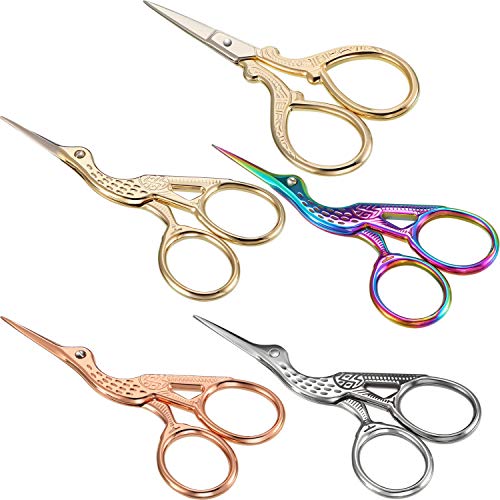 Pros
Cheap
Vibrant looks
Durable and strong
Cons
6. CCR Comfort-Grip Sewing Scissors
CCR scissors are extremely cheap and exceptional in quality.
Professional quality scissors are equipped with an amazing design with a fine quality stainless steel blade that will give you sharp and clean cuts.
An ergonomic soft grip gives you very comfortable handling and can be used by both lefties and righties.
No need to worry about getting another pair for a long time as there are 12 pairs in this one!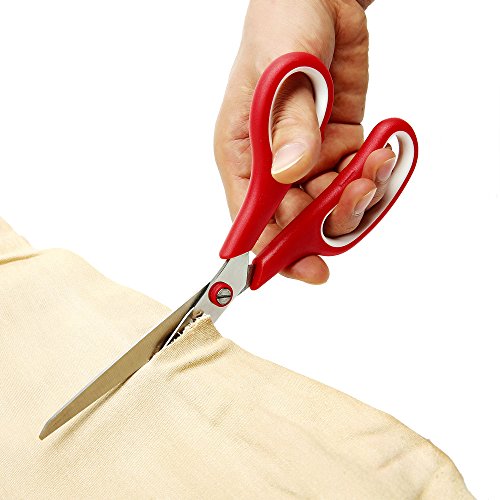 Pros
Very affordable
Satisfactory usage
Durable and convenient
High quality
Cons
7. LIVINGO 2 Pack Premium Tailor Scissors
LIVINGO scissors bag a very classy eye-catchy look, which makes us fall in love at first sight.
These are very durable and strong stainless steel blades made by forging press manufacturing processes rendering high density.
They are ultra sharp and very versatile that can cut through 16 layers of fabric with matchless ease.
With strong, durable make, they are titanium coated for extra performance i.e., resistances to adhesives.
The soft ergonomic grip also gives unparalleled comfort. You're surely going to love this one!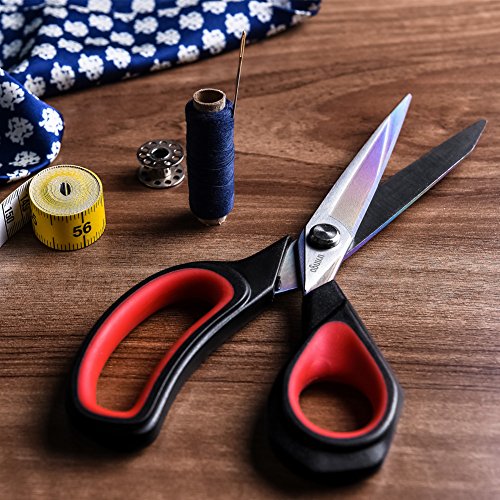 Pros
Durable and efficient
Versatile
Sleek looks
Very strong
Cons
8. Clear Cuts Titanium Scissors
Titanium scissors are not only best by name but by performance too! Enjoy seamless, clean cuts through any fabric with titanium bonded durable, strong blades.
They are ideal for embroidery and sewing due to their very sharp blades. Enjoy three times longer life than conventional SS scissors and extra precise, efficient cuts.
Titanium scissors give the best performance on the long cuts with no interruptions. Possibly, the best deal you could get!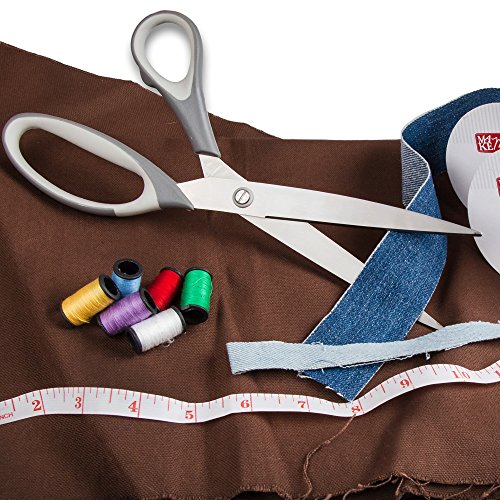 Pros
Lightweight and ergonomic
Professional scissors
Excellent performance
Heavy duty
Cons
Not much sharp
Not the best design
9. OneSquare 9 Inch Sewing Scissors
These are state of the heavy art duty very elegant-looking scissors with striking features.
Extremely professional scissors make you wonder with their capabilities and extra-durable industrial strength high carbon steel build.
Enjoy a very precise cut with oiled blades especially made to last very long. The comfortable ergonomic grip keeps your hands away from any type of trouble.
These versatile scissors can cut many layers of fabrics easily.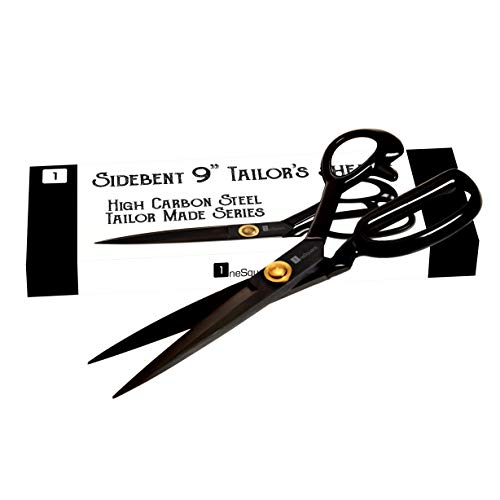 Pros
Durable and versatile
Ergonomic grip
Pain-free smooth cutting
Good for both light and heavy projects
Cons
Only for righties
Not very affordable
10. Handi Stitch Tailor Dressmaking Scissors
Another great choice which you have luckily come across. Handi stitch scissors are professionally sharp blades giving sharp razor cuts.
Very lightweight and ergonomic in design, you get a very comfortable and smooth experience too.
Versatile scissors can cut through any surface, and you get heavy-duty industrial experience with them.
This is a one-of-a-kind deal and certainly not the one you should miss.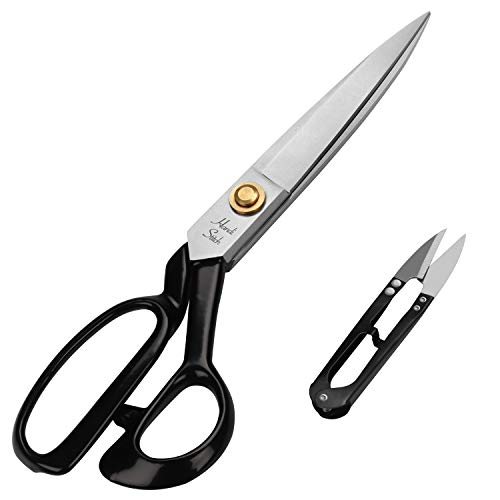 Pros
Lightweight and ergonomic
Accurate and precise cuts
Ergonomic and versatile
Instructional pdf
Cons
Construction gets chipped sometimes
Made in China
Frequently Asked Questions
What's the difference between scissors and shears?
The major difference is that scissors have symmetrical, equally sized finger holes and are generally under 6" blade length whereas shears have finger holes of unequal sizes and are of larger lengths.
How do I sharpen my sewing scissors?
You can easily sharpen your scissors by using DIY techniques.
With the help of a simple knife sharpener or scissors sharpener and a little effort, you can achieve the best results you have been wanting.
Can you enchant shears?
You cannot enchant your scissors with conventional enchantment tables; however, you can use Anvils and Enchanted books for this purpose.
Hopefully, you will be able to do it without much trouble.
What angle do you sharpen scissors?
Usually, scissors are sharpened by keeping at an angle much steeper than the average knife.
To maintain control, you need to hold the handle, and the angle should be 70-80 degrees.
Can I use scissors instead of pruning shears?
No, with a little adjustment and wits, you can replace your average pruning shears with a pair of scissors, but sooner or later, you will have to get in the field and use the right tool for the right job.
How do you restore rusty scissors?
The drill is not very easy but possible.
You need to mix full-strength vinegar with glass material and then dip the scissors into a glass container. Wipe them dry clean after it's done.
How do you keep scissors from rusting?
You can keep scissors from rusting with a little care and effort. Spray the blades and hinge with WD-40.
Open/close the scissors for a few times and to distribute oil and then wipe dry clean.
Conclusion
I hope I've cleared all your confusion on the matter and made you capable of getting the best product for yourself.
Always consider the buyer's guide before making a final verdict. If you act smartly, I'm sure you'll end up with a product with value to money.
Read Also: