It is time that you bring some innovation to your regular quilt-making practices and introduce a rotary cutter to your collection. A rotary cutter is a wheeled blade mounted on a plastic handle.
With a rotary cutter, you can cut a straight line on your cloth with excellent efficiency and decency. It is the right tool for this job.
The best rotary cutter for quilting beats scissors in quilt making as it doesn't nudge with the cloth and keeps your hands out of the way.
In this article, we're going to discuss some top-notch rotary cutters for your collection.
Buyer's Guide
Before moving straight to the selection phenomenon, we would like to give some advice regarding the factors of consideration while going for a rotary cutter.
Blade Size
The choice of your blade size depends largely upon you. The sizes range from 4-60 mm. Larger blades can cut more fabric in a small amount of time.
If you must work on a large project which is going to require a large amount of cutting, then you ought to go for a bigger blade.
Smaller blades are used for more defined and constrained work. It is used to do little and intricate projects. If you are a designer who often deals with complicated stuff, you need a smaller blade.
There's a middle way, though. A 45 mm blade does the drill for large projects and is yet manageable for small projects. It's most common among the users.
Construction
The material from which the blade is made is of prime importance too. You need to get the best blade, which in turn would be made from the best material.
Blades usually come in titanium and steel making. Steel blades cost rather less, but they are not as durable or long-lasting as the titanium blades. Titanium blades are expensive and robust.
Safety Features
Cutter blades are quite sharp. So, you need to keep your hands safe. It'd rather be useful if you buy a cutter blade with a safety latch that can be manually removed.
Handle
Rotary cutters have different designs of handles from straight and curved to ergonomic designs. If you have trouble putting a load on your wrist, go for the ergonomic ones, which are specially designed for comfort.
However, ergonomic ones could be a little difficult to work with due to their tricky designs. You can go for other versions as well, including the ones with padding for ease.
Add-ins
You might want to look for a little extra feature along with the rotary cutter you are buying. They don't seem too important but add charms to your experience.
One such example is a cutting mat. A cutting mat is scratch-proof, so you don't have to worry about the surface you are working on.
Another addition could be a non-stick ruler for hand protection.
Top 12 Rotary Cutter for Quilting Reviews
We have tried to make life easy for you by gathering a list of the top 12 rotary cutters available out there, which you should be choosing from.
Now, without further ado, let's begin with the narrowed down to the top 12 lists.
1. Olfa 45mm Deluxe Handle Rotary Cutter
This premium quality rotary cutter from Olfa is one of its kind. The ideal 45 mm blade makes it suitable for both detailed and large projects.
The dual-action safety lock keeps you safe from the sharp blade when you are not using it. It has an ergonomic design and is fit for any type of user.
It has a sharp tungsten blade and uses a rubber handle for a firm grip and smooth cutting. This is one of the best models in the market.
Pros
Suitable for both lefties and righties
Ergonomic design reduces pressure
Cuts up to 6 layers of fabric
Quick and accurate
Cons
The Tungsten blade is not durable and might need replacement.
2. Fiskars Classic Comfort Loop Rotary Cutter
Fiskars Classic is an ideal pick for beginners who need an easy-to-use tool with accurate functioning. This cutter is just the right thing for such people.
The curved shape loop handle gives you control and comfort.
It has a feature of blade extension by a button and then covering it as well, which makes the process a lot safer. It can cut through multiple layers of fabric.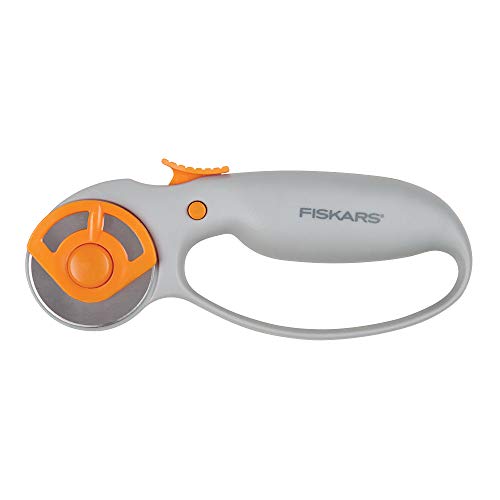 Pros 
Unique design
Smooth and precise cuts
Sturdy and durable titanium blades
They are ergonomically designed for disabilities like arthritis.
Cons
A large handle could detour the focus
A safety mechanism might be inconvenient for some.
3. WA Portman Rotary Fabric Cutter
This is hands down one of the best products out there. The classic stainless-steel blades provide you with efficient and strong cutting.
There are five replacements as well that accompany the package. The tool is convenient and easy to use. This is a safe design with a dual-action safety mechanism.
This is an ergonomically designed cutter suitable for both left-handers and right-handers.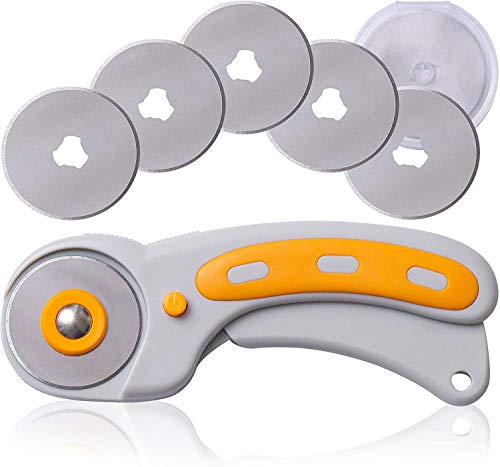 Pros
Easy handling
Five replacements
Safe and efficient
Cons
Problems with thicker fabric
Less durable
4. OLFA RTY-2/C 45mm Splash Rotary Cutter
This is one of the most convenient and classy-looking designs out there. It is simple but decent. The vibrant aqua handle is very dashing and comforting.
There is a blade cover for safety. The grooves at the end of the blade head prevent finger slipping.
This is a rather affordable cutter that provides you versatility and comfort.
Pros
Suitable for both left and right-handers
Compatible with 45 mm replacement blades
Sturdy and lightweight
Cons
Might need replacement soon
Blade is dull and can pop off.
5. Quilting Bee 45mm Rotary Cutter
This is an excellent value for money. Quilting Bee's 45 mm rotary cutter features comfortable handling with an optimal design for both left and right-handed people.
This product also comes with five replacements of its diligent and durable tungsten blades.
It can cut through 6 layers of fabrics. This is an ideal pick for new users and moderate workers.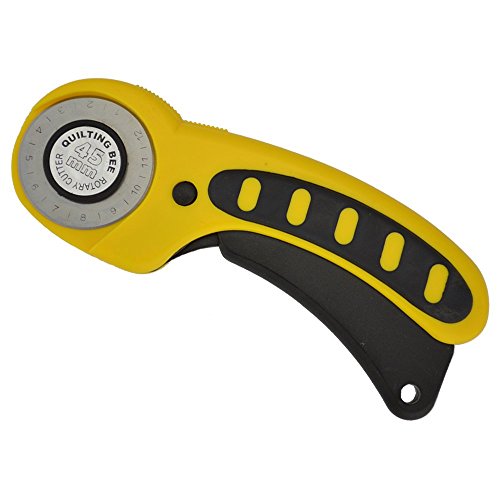 Pros
5 Replacements
Easy and comfortable handling
Cuts through 6 layers of fabric
Cons
Dull blade
May need a replacement early.
6. June Tailor 45mm Rotary Cutter
Talk about modern designs. You can never miss out on June Tailor's rotary cutters.
This model features a strong and sharp blade with a retracting mechanism for safety.
It has a cushioned grip for convenient handling and easy application of force. It cuts through many fabrics with ease.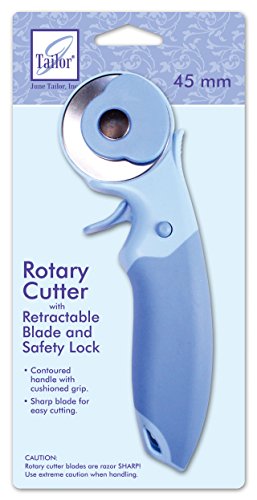 Pros
Compatible with any replacement blade
Sharp razor
Safe and convenient
Cons
Safety method may be inconvenient for some
No replacements available
7. Fiskars Crafts 01-005875 Rotary Cutter
This model of Fiskars is specially designed for those who have large projects needed to be done. It has a strong 60 mm titanium blade, which would cut through any fabric with ease.
It has one replacement available. It has a unique curved design featuring a loop handle for comfort. The soft grip makes the experience smoother.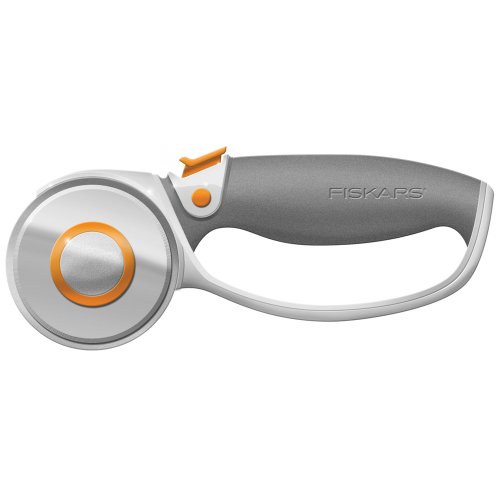 Pros
Strong and durable
Both for lefties and righties
Easy and convenient
Cons
Can't deal with intricate tasks
Difficult to use for beginners
8. Fiskars 197980-1001 Stick Rotary Cutter
This model is designed for those users who are involved in detailed and complex quilting practices. They could be fashion designers in large firms.
It cuts through multiple layers of fabric. It has a high-grade premium steel blade, which is durable.
The simple design makes it usable with both right-hand users and left-hand users. It has a robust safety mechanism.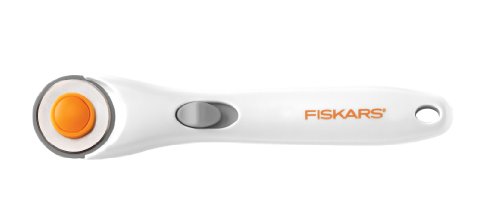 Pros
Very durable
Highly affordable
Can cut plastic
Cons
Lacks an ergonomic handle design
Not applicable for curved cuts
9. Kai RS-45 Rotary Cutter
This is an ideal choice for beginners. Kai RS-45 is comfortable to handle with a very soft grip. It has an ergonomic design for both left and right-handed individuals.
It is compatible with any 45 mm blade. This is one of the most easily affordable blades.

Pros
Light and easy to use
Good protection
Easy to use
Cons
Not very sharp
The material can be stuck sometimes.
10. Arteza 45 mm Quilting Rotary Cutter
This is one of the easiest to use and a sharp blade cutter. The Japanese tungsten steel is durable and robust.
The ergonomic design makes it convenient for all types of users. It has six replacements as well.
It has enjoyable and relaxed usage. It has a safety lock and can be easily replaced.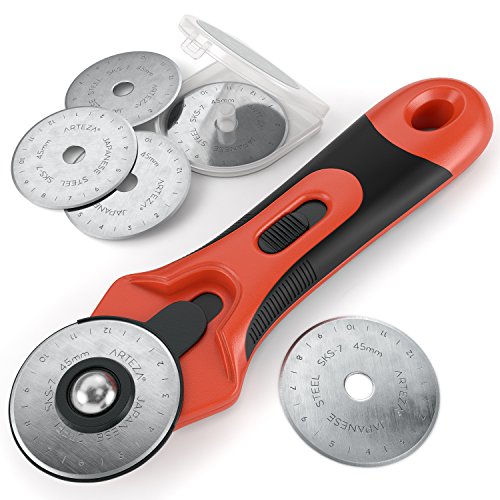 Pros
Easy-grip
Blade cover
Different edged blades
Cons
Blades might be dull
Skips with layers
11. AGPTEK Pink Rotary Cutter
This is a premium quality rotary cutter with an amazing design. The soft and easy grip makes it comfortable to use. The lock feature is very efficient and keeps you safe.
It is ergonomically designed and supports all kinds of users. It has four blades for straight cut, 2 for curved, and 1 for dotted.
With sharp stainless-steel blades, you can cut with many layers of any fabric.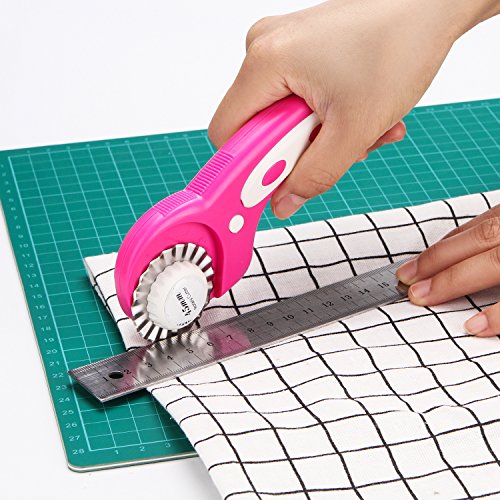 Pros
Seven extra blades
Reduces joint fatigue
Strong and durable
Cons
12. Martelli Ergo 2000 45mm Rotary Cutter
This design is different from all others and is quite easy to use. The classy look makes it more attractive.
It is made for right-hand users and has a very convenient shape. It also features easy blade replacement.
It has a robust 60mm blade for large projects. It also has a spring-loaded guard for safety.
Pros
Easy replacement
Great precision
Ergonomic design
Cons
Not for lefties
Hard to maneuver
Frequently Asked Questions
Are rotary cutters better than scissors?
Both have their uses. Scissors have two blades, which means they can be used in several places like cutting garments, sewing patterns, cutting extra threads from fabric, and they also cut curves easily.
In contrast, rotary cutters provide effortless straight cutting with high precision. The choice, therefore, depends upon your needs.
How many layers of fabric can a rotary cutter cut through?
It largely depends upon the strength of the blade you are using. Durable blades like titanium can cut through numerous layers of any type of fabric.
Materials like tungsten and SS can cut through as much as six layers of fabric.
How often should you change your rotary cutter blade?
This is measured by the durability of the blade being used.
Some dull and weak materials like tungsten need to be replaced after a small amount of time, whereas strong materials like titanium can last for quite a long time.
What size rotary cutter do I need?
This choice depends upon what it is you want to do.
If you have to work on intricate and complex projects, you should go for small blades, whereas large projects require strength, hence large blades.
If you lie in between both categories, you can go for a 45mm blade.
Will a rotary cutter cut leather?
Yes, a rotary cutter can cut through most of the fabrics, including leather, with great ease.
Why does my rotary cutter skip?
There can be a few reasons for skipping rotary cutters. One of which is a weary blade that offers more friction. The second reason could be unevenly applied pressure.
Do I need a rotary cutter for sewing?
You can use a rotary cutter for sewing purposes to make it easy.
You can cut out an entire sewing project without shifting the mat around. Plus, a rotary cutter makes more accurate cuts than scissors.
Can rotary cutter cut paper?
Yes, a rotary cutter is a very versatile machine, and it can cut through delicate materials like paper as well.
What precautions can I take while using a rotary cutter?
You should use a non-stick ruler to protect your fingers. You should stand while cutting and avoid an even pressure so that blade doesn't slip.
Can you cut curves with the rotary cutter?
Yes, you can cut curves. You just need the right blades and the right positioning for cutting curves. Although scissors can do the drill more simply.
Conclusion
We hope that we have lessened your toil for finding the best fitting rotary blade cutter for your collection.
Always refer to the buyer's guide before making a choice and never settle for the ordinary if you have enough finance.
We wish you the best of luck!
Read Also: