Sewing is a very handy skill and can solve many of your problems at home.
If you are about to begin your sewing career or just want to acquaint yourself with this expertise, you'll need a sewer especially designed for beginners.
This is because the machines designed for experts are difficult to operate. The best sewing machine for beginners depends upon what is good for you and what set of features you are looking for.
The sewing industry nowadays is flooded with a deluge of brands, and you'll find it very difficult to understand what's best for you.
Fortunately, enough for you, we've prepared a list of top picks in the market.
Buyer's Guide
To start looking for a product and making a purchase, first, you need to be equipped with the necessary information to help you with what factors to keep in mind while searching.
These considerations will help you better distinguish different models and find the best one for you.
The buyer's guide has all that information. Here are some essential guides for a beginner's sewer:
User-Friendliness
Being a beginner, a good user-friendly machine should be your top priority.
You have to make sure that the machine you go for is easy to operate, comes with a comprehensive manual, and is also easy to install.
If the machine you get is user friendly, you'll have no issue in the early stages of sewing where you have to learn different methods and start working.
Functions
The more functions you have, the more versatility you can bring to your work. The basic stitches are straight and zig-zag stitches.
With them, you can achieve any type of design you want. If you add more functions to your required product, the price will increase accordingly.
Buttonholes can also be considered as a necessary stitch. While extra stitch types can increase the charm of your work, they are not an absolute necessity.
Budget
Budget is one of the top priorities as you can only get the product, which is under your range of allowance.
You need to carefully select the features you want in your product and then estimate the price accordingly.
If you have enough budget, you should never settle for an ordinary machine as the more, the better, but if you can't manage a heavy-duty machine, a light machine will do too for a beginners' level. They can range from 80-500$.
Efficiency
Performance is also an important consideration while choosing a product. You need to have a model that can save you money and improve your work at the same time.
Along with being lightweight, durable, and easy to keep, it has to be portable so that you can carry it around and remove the constraint of staying at a place.
Extra Features
Some extra features always come to be helpful. You should get a machine that can offer additional choices, and you can make your mind about what type you are going to use.
You need to know whether the body of your machine is for heavy-duty fabrics for decoration or light fabrics.
Are there any extra buttonholes? Extra stitches? Is there lighting available for working in dim places?
These features help a lot while you are doing a project and make complex things easier through some clever improvisations.
Top 18 Sewing Machine for Beginners
Now that you have got all the necessary information you need, it is time to start with the carefully crafted honest reviews of our top picks from which you can choose from.
Let's start without any more fuss:
1. Brother RLX3817A Stitch Sewing Machine
Brother is one of the leading manufacturers of sewing machines in the market and makes the machine suitable for both beginners and pros.
The 17-stitch sewing machine is tested by Amazon suppliers and has a good variety of stitches from which you can easily choose.
Seven buttonholes are also there for some extra added beauty. Extra features like an automatic needle threader and a drop-in bobbin make this machine even more desirable.
There are accessories added, such as a hard protective case, sewing feet, needle set, etc. To top it all, they've added an LCD to select from stitches.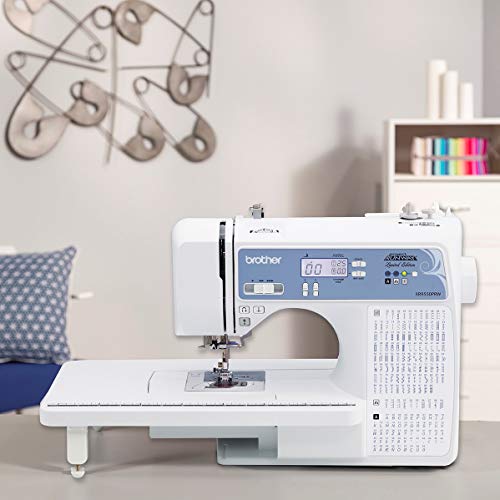 Pros
Affordable
Extension table
Versatile
Lightweight
Cons
Not good for heavy-duty fabrics
Wobbly sometimes
Only Brother compatibility
2. Brother XR9550PRW Sewing and Quilting Machine
This is another wise man's choice from our top manufacturer, Brother.
Capable of performing both sewing and quilting functions, this machine will add wonders to your work with a vast range of 165 built-in stitches to choose from with the help of an intuitive LCD using a single touch.
Eight auto-size buttonholes are also there, and an automatic needle threader makes the machine much stable.
A jam-resistant drop-in bobbin and included accessories such as a side table, sewing feet, etc. increase its charms. This is indeed a dream come true!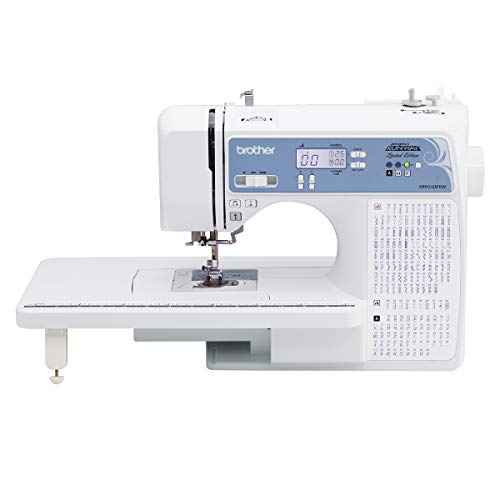 Pros
Jam resistant
Sturdy and durable
Easy to use
Lightweight
Cons
3. Brother XM2701 Lightweight Sewing Machine
Brother XM2701 is another masterpiece from our top seller and is also the best seller on Amazon. 27-built in stitches of the sewer makes it easy to add versatility to your work.
Like other amazing machines from the company, it also has an automatic needle threader plus a jam-resistant drop-in bobbin.
There are added accessories for your convenience, such as a DVD manual, needle set, sewing feet, etc. both beginners and advanced users can enjoy this versatile machine.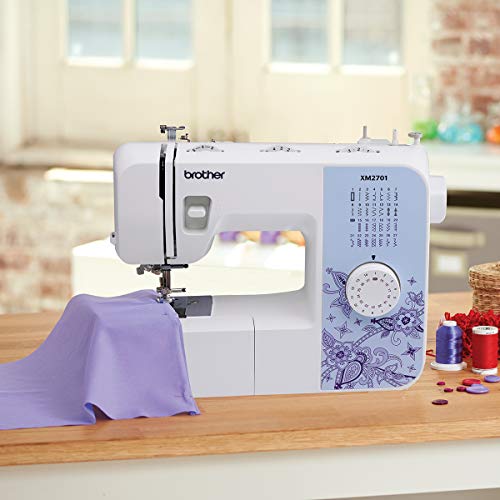 Pros
Best for small projects
Lightweight and portable
Affordable
Cons
Not good lighting
No medium speed
4. Brother CS5055PRW Beginner Sewing Machine
Brother never ceases to amaze us and never compromises on the quality of their machines, which give out the best efficient work at the most affordable prices.
With 50 unique built-in stitches and five autos sized buttonholes easily accessible from the LCD screen, you can work easily with this baby plus there are added accessories such as a softcover, sewing feet, twin needle, etc.
This is indeed the sewer of your wonders.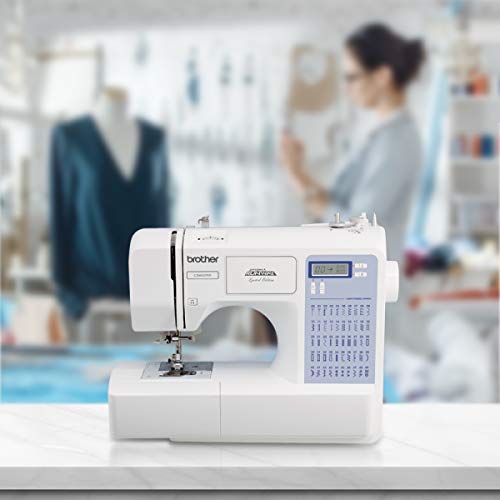 Pros
Swift
Comfortable
Easy-to-use
Stable and jam resistance
Cons
Jams and tangles
Lower quality
5. Brother Sewing and Quilting Machine
This is a modification in our first product. All the charms of brother CS6000 are present in this sewer, and some unique additions make this model stand out.
You can choose easily with a choice of up to 60 built-in stitches on an LCD. There are an automatic needle system and drop-in bobbin too.
Extra accessories like sewing feet, needle sets, etc. also catch attention. It also has an exceptional speed of 850 stitches per minute. What else could one ask for?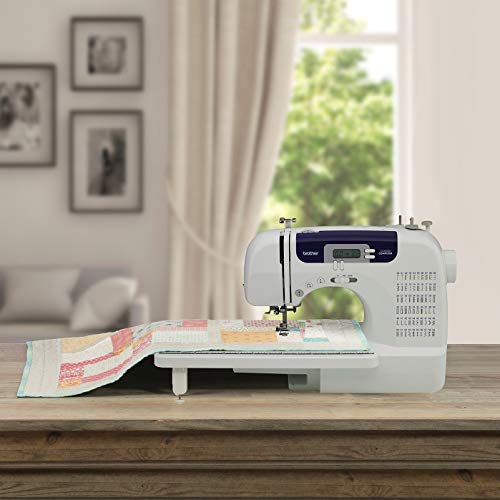 Pros
Affordable
Extra-wide extension table
Cheap
Multi-functional
Cons
Wobbly
Not for heavy fabrics
6. Brother PQ1500SL Sewing and Quilting Machine
This baby is state of the art one of a kind heavy duty sewer from Brother.
The sewer and quilter have an outstanding stitching speed of 1500 stitches per minute and have a special advanced needle threading system, which makes it very stable and jam-resistant.
Added accessories such as a removable knee lifter, manual, presser foot, etc. make this machine far more convenient and charming than others.
There is also a precision pin feeding system that makes it easy to sew a wide variety of works. So, what are you waiting for? Bring it home!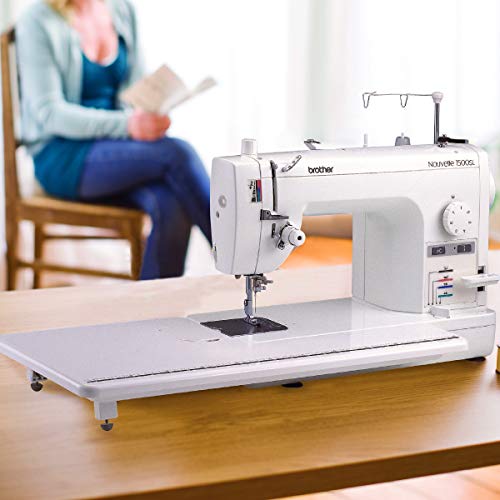 Pros
Suitable for quilting and embroidery
Fast, stable, and durable
Easy to use
Very affordable
Cons
Needle cutter requires adjustment
Adjustment is complicated
7. Brother XM1010 Sewing Machine
Brother XM1010 is a medium-ranged and normal quality sewing machine that could serve very well as an ideal machine for beginners.
It has ten built-in stitches, and 4 included sewing feet for your comfort. The automatic needle threading system and drop-in bobbin system are also there.
Added accessories like instructional DVD and needle set make the task easy. There is also a versatile free arm for your convenience.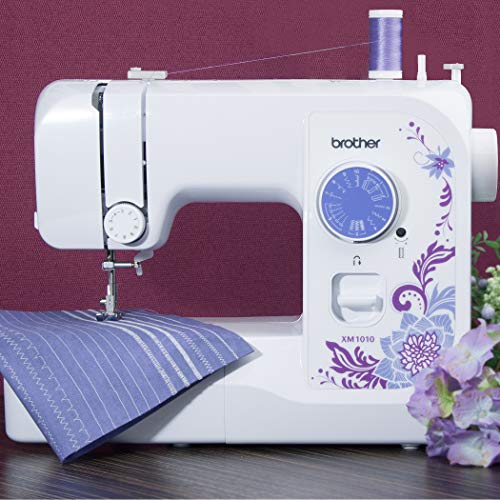 Pros
Best for basic and small projects
Affordable
Lightweight
Cons
No LCDs
No LED lighting
No adjustable to medium speed
8. SINGER 1304 Sewing Machine
Another big player in the sewing industry market is a Singer. The free arm sewing machine is an ideal choice for beginners and has some desirable features.
It is very durable with heavy metal construction, and there is an SS bedplate for smooth fabric feed. This machine is lightweight, portable, durable, and sturdy- perfect for new users.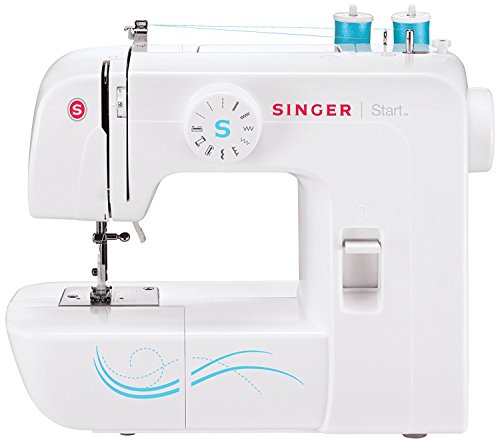 Pros
Heavy duty
Easy to use
Lightweight
Cons
Fixed width control
Few stitches
9. SINGER Simple 3232 Sewing Machine
This is yet another masterpiece from SINGER having some exceptional features at a very affordable price.
There are 32 built-in stitches for versatile work and an automatic needle threader for stable and jam-resistant action.
It has an exceptional speed of 750 stitches per minute and a high foot presser for efficiency and comfort. Reverse sewing is easy, with the least errors with this beauty.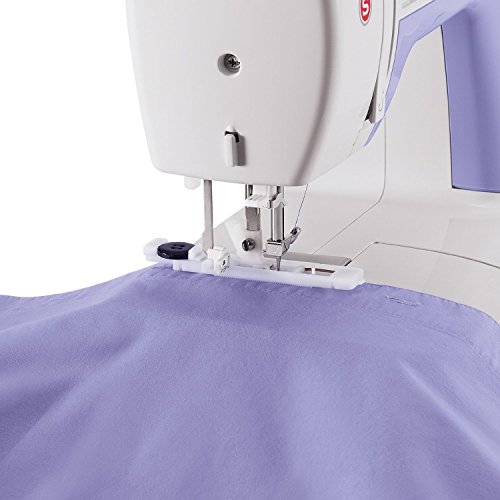 Pros
Lightweight, convenient, and easily portable
Extra add-ins
Instruction manual
High speed
Cons
Bobbin issues
Speed not very high
10. SINGER Heavy Duty 4411
This one is a very heavy duty exceptional sewing machine with amazing features. Sixty-nine added stitches increase versatility, and a metal frame provides durability.
Stainless steel bedplate makes feeding very easy, and the needle position is also adjustable for easy sewing.
Foot presser control and an amazing sewing speed of 1100 stitches per minute increase the efficiency manifold. It has very desirable features and a nominal price.
Pros
Heavy duty and cheap
Very fast action
Less noise
Adjustable stitch length and width
Cons
No auto needle threader
For simple projects
11. SINGER 7258 Computerized Sewing Machine
Singer 7258 is a very efficient and affordable machine, an excellent choice for beginners.
Versatile stitching options are there with 100 stitches, and there are computerized 76 decorative stitches.
An automatic needle threader provides extra stability and jam-free operation. This is an ideal machine for you, and you will enjoy it.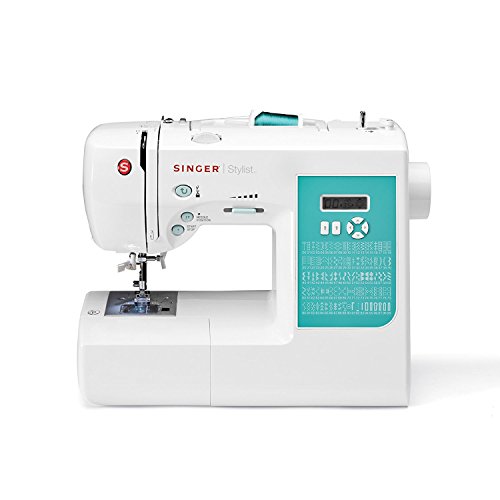 Pros
Versatile
Motivational
Easy setup
It has onboard storage
Cons
Expensive
Small table
Performs badly at high speeds
12. Janome Magnolia 7318 Sewing Machine
Janome is a well-known manufacturer of sewing machines and carries a huge market share, which is well earned. The Magnolia sewing machine is very stable and efficient.
The top-loading jam proof bobbin system is for tangle-free sewing, and there is also a seven-piece feed dog that ensures precision.
There are a handy carrying table and 18 stitches for wide choices. This is indeed a very good choice.
Pros
Stable and small-sized
Works well with different feeds
Portable
Cons
Drop feed in back
Transport cost is high
13. Janome Graceful Gray Basic
Janome graceful gray basic is very efficient and easy to operate the machine with loads of desirable features.
This machine has a compact size and ten added stitches. Add-ins like free arm, accessory storage, easy reverse, and lightweight make the machine stand out in the crowd.
There is a presser foot with a finger guard and a top drop-in bobbin with a clear cover. It is an ideal choice.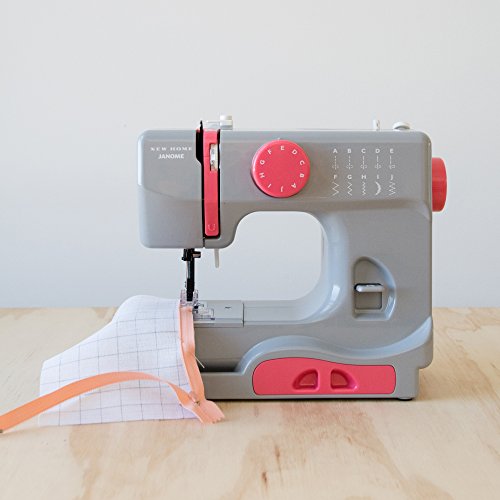 Pros
Simple and easy to use
User friendly and portable
It has different colors
Finger guards
Added manual
Top loading bobbin
Cons
Noisy
Slow speed
No light
14. Janome JW8100 Sewing Machine
This is another work of art from Janome. JW8100 is a very amazing sewer with some striking features.
There is a vast choice of 100 stitches and seven buttonholes. A durable hardcover and 22 added accessories.
It is fully computerized with a start/stop button, speed control slider, reverse lever, extra wide extension table, hard-sided dust cover, and many more features. A very innovative choice.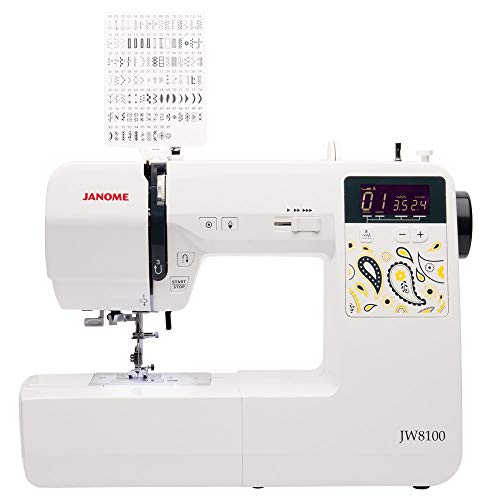 Pros
Extra features
Added accessories
Computerized operation
Versatile and durable
Cons
15. Janome Fastlane Fuschia
This is another amazing Janome sewing machine. It is easy to use and very basic.
Ten stitches are added for your ease, and it has a compact size with a very lightweight.
There is a free arm, accessory storage, easy reverse, threading diagrams, and much more. You'll love this one as it is an ideal choice for beginners.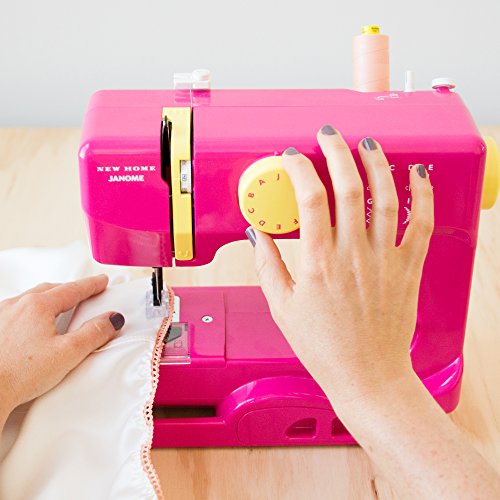 Pros
Add-ins
Compact and lightweight
Easy reverse
Cons
16. JUKI MO654DE Portable Sewing Machine
This is a 2/3/4 serger thread with a rolling hem included from Juki, another one of our top sellers.
Stitch length and differential speed are easily adjustable through color-coded looper external adjustment.
There is a powerful knife system as well, and it is very good for light & heavy duty fabrics as well.
There is a safety switch that does not let the machine run with a cover.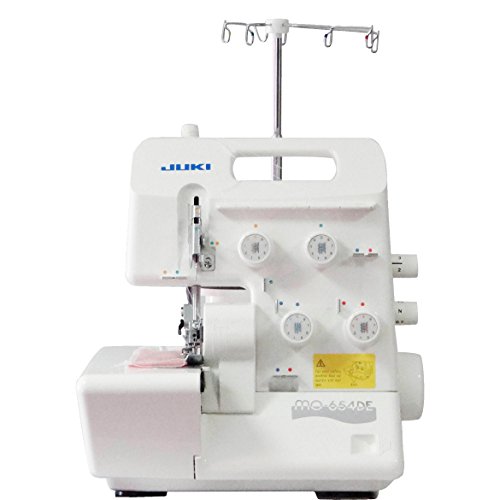 Pros
A deluge of features
Small size
Portable
High speed
Good for light and heavy fabrics
Cons
17. KPCB Battery-Powered Sewing Machine
KPCB mini sewing machine is a very innovative and elegant design with some very user-friendly features.
The material is upgraded, which provides much durability and stability.
A large extension table makes it easy to control feed, and foot pedal operation is also good for comfort.
Bobbin replacement is also easy with the auto bobbin rewinding system. You'll love this one!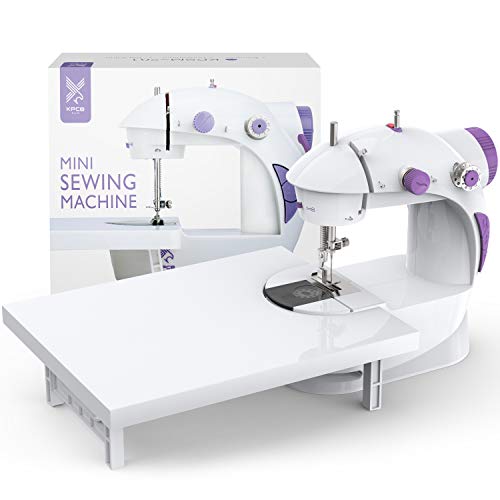 Pros
Extra features
Durability and stability
Large table
Feed control
Cons
18. Magic fly Mini Sewing Machine for Beginner
Magic fly mini sewer is distinguished from its competitors due to its compact size and striking features.
There are two-speed adjustments, double thread design for string stitches, a large extension table, compact size, and whatnot.
There is every feature in this product which a beginner could ask for. You should give it a try.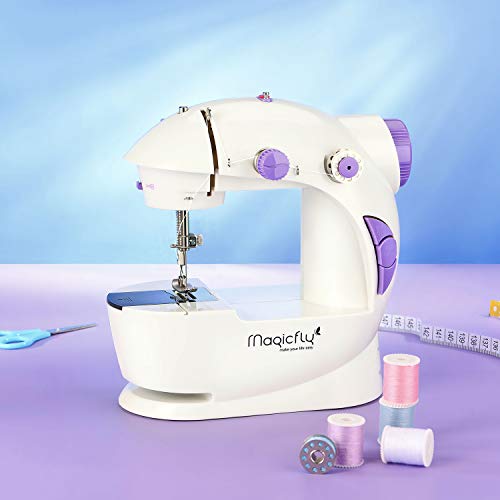 Pros
Affordable
Extra features
Add-ins
Stable and sturdy
Cons
Frequently Asked Questions
What are some good sewing machine projects for beginners?
Some good sewing projects which are easy to make and give your appropriate learning include a pillow blanket, zipper pencil pouch, pattern weights, luggage tag labels, etc.
Is a mini sewing machine good for learning for beginners?
A mini sewing machine is portable and compact. It can be a perfect learning experience for a beginner without being overwhelming.
What is the average price for a sewing machine?
The average price for a good sewing machine can be around 100-200$, which can vary depending upon features, quality, and brand.
How is the sewing machine used?
You use a sewing machine to sew pieces of cloth and other materials together.
Bobbin sits in a shuttle that moves in rhythm with the machine. The needle is pushed down through the fabric to push in the thread.
How long does it take to learn how to use a sewing machine?
It depends mainly upon your interest and capability. Normally it takes 1 to 4 weeks to learn basic sewing techniques.
What's the purpose of the many stitches in a sewing machine?
More than one stitch is added to the machine to increase its versatility. They make your work efficient by fulfilling different purposes.
Is it easy to use a sewing machine?
If you have learned basic sewing techniques and the pre-requisite skills for sewing, it is very easy to use a modern sewing machine.
Which Type of Sewing Machine Is Best for a Beginner?
This mainly depends upon your choices and preferences.
Not every machine is preferable for every user, and there is one that is always most suitable for a particular user. You'll have to explore this.
Conclusion
That'll be all from our side.
We have provided you with some quality information on a top-quality sewing machine that will aid in your beginner's experience and make you ready for better ones.
We wish you the best of luck!
Read Also: