Getting your children in the habit of sewing is an indulgence that they'll thank you for down the road.
An essential part of that journey includes helping them transition from traditional basic sewing to a sewing machine.
Hence, to get that to full effect, it's highly essential that you chose the best sewing machine for kids out there.
Here, we'll help you get there.
Buyers Guide
When choosing the right pick, there are a handful of things that you'll need to keep in mind.
It is vital that you pay the utmost attention to them because they'll ensure that your kid has a better and wholesome experience.
For the best effect, make sure that you use these things in conjunction to pay off in the long run.
Safety Features
The first thing that you should consider for your child is safety measures. This applies even more sternly if your child is under the age of 8, and you want to ensure that they come in no harm's way.
Furthermore, always make sure that you're present for your child's supervision. A machine sews at speeds that are high enough to cause damage if not approached carefully.
Weight
Another important thing to consider that your child will appreciate down the road is the weight of the model.
The goal here is to make your child independent and able to use the machine when they want and move it around for their comfort.
A lightweight model will help your child do exactly that.
Portability
The next thing that you should look over is the portability of the model.
Once your child gets the hang of sewing and develops an interest in it, there's a good chance they'll want it around them almost all the time.
In such cases, it's a good idea to get something that is portable and can be easily moved around. Plus, it should be fit for traveling as well.
This feature, of course, supplements the feature mentioned above (weight). These two are essential if you want to teach this habit and pique their interest in the long haul.
Durability
Arguably one of the easiest ways to throw your child off-track is by continually changing between machines and models because the previous one didn't last long enough.
Not only will this make the experience stressful, but your child also won't be able to get their hands set on a particular make, and will always have trouble adjusting.
Make sure that you get something that is durable and can handle minor hits and inconveniences.
Automatic threading
Threading is an inconvenience and pain that doesn't go with age or experience.
To help your child get through the first hurdle, it's good to get a model that has an automatic threader so that their experience can be smoother.
Top 15 Sewing Machine For Kids Reviews
Now, getting to the heart of the matter. Down below, I have briefly reviewed all the models that are the guaranteed best that 2021 has to offer.
As a summarizing note, I've also mentioned a few pros and cons that will assist you in making a better, balanced decision.
Without further ado, here are the top 15 sewing machines for kids!
1. Sew Mighty Portable Sewing Machine
I'd like to start with my premium recommendation for all users out there, the Sew Mighty.
Targeted primarily for children, this portable model is a great one to have if you want your child to have access to a durable and ideal machine for around the clock sewing.
Perfect for learning, the Sew mighty also comes equipped with everyone needed for a proper setup and learning experience.
However, along with a bad manual, the model also has bad tension adjustment.
Pros
Lightweight
Durable
Portable
Easy use
Cons
Bad tension adjustment
Bad manual
2. KPCB Kids Friendly Sewing Machine
Cute, convenient, and holiday-friendly, the KPCB Kids Sewing Machine is a popular choice among users.
Coming with DIY material ideal for practice, the KPCB Kids Sewing Machine is reputable for its safe functionality that ensures your child stays safe at all times, even when not supervised.
Along with that, it's also easy to get the hang of, thanks to the manual. However, it's a little difficult to keep it threaded, so you'll need to do it repeatedly.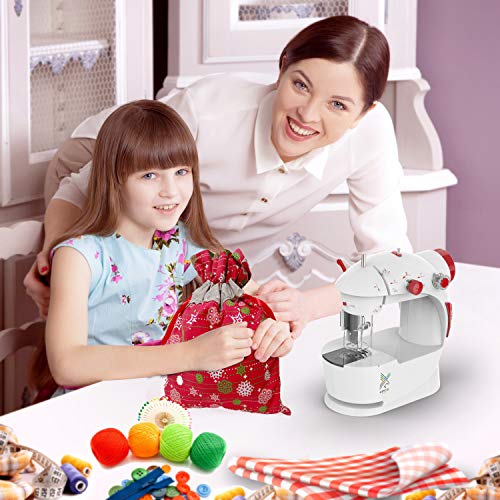 Pros
DIY manual
Christmas themed
Safe use
Includes accessories
Cons
3. Portable Kid-Friendly Sewing Machine by Neala
The Portable Sewing Machine by Neala is an aesthetic choice that definitely won't disappoint. With a professional design, this model is noted for its multi-functionality and versatility.
This model is more targeted towards intermediate-level children who want to step up their skillset.
It is also environmentally friendly and safe operation, so your child is starting off with a good pick.
The only downsides are that there isn't any reverse, and the model jams occasionally.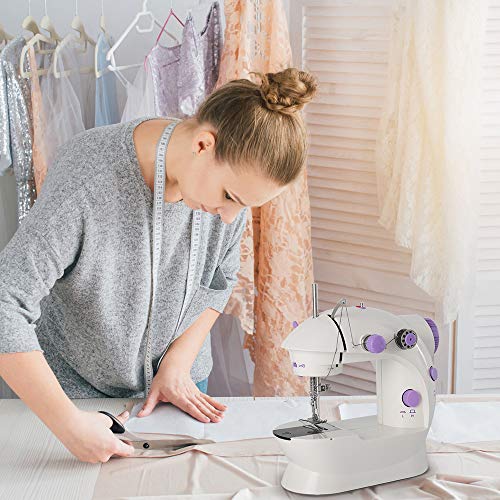 Pros
2-speed
Portable
Versatile
Elegant design
Cons
Jams occasionally
No reverse
4. Janome 13512 Red Hello Kitty Sewing Machine
If your young one is a Hello Kitty fan, then the Janome 13512 Red Hello Kitty Sewing Machine is the best choice for them.
With a cute theme, this model is an excellent gift for your kiddo to help them get started.
It features a lightweight yet durable aluminum frame, and can easily handle heavy-duty work as well.
Overall, it's a great choice. However, keep an eye out for the loading part. It might be a little overwhelming for children.
Pros
Lightweight
Portable
Aesthetics
Allows heavy-duty work
Cons
5. Suteck Mini Electric Sewing Machine for Kids
The Beginner Sewing Machine by Suteck is also an interesting model to consider. An upgrade on its predecessor, the Suteck, has many features that make it a good choice for absolute beginners.
This includes its automatic bobbin rewinding, which makes the whole process so much more convenient.
On top of that, it also has double switch sewing, great for all types of learning. However, this model can't handle heavier fabrics and isn't that durable.
Pros
Easy to use
Upgraded interface
Quick operation
Automatic rewinding
Cons
Not that durable
Not for heavy fabrics
6. NEX Portable Mini Sewing Machine
The NEX Sewing Machine is a cute addition to your child's arsenal and is a fool-proof model that can help them step their sewing skill level.
The model features a double switch and speed, while also banking on a dual power operation to ensure that the performance is off the charts.
Along with that, it's also portable and fit for travel. As far as downsides or anything is concerned, there's nothing substantial that you should watch out for, so you're in the clear.
Just make sure to use the manual thoroughly during the startup phase.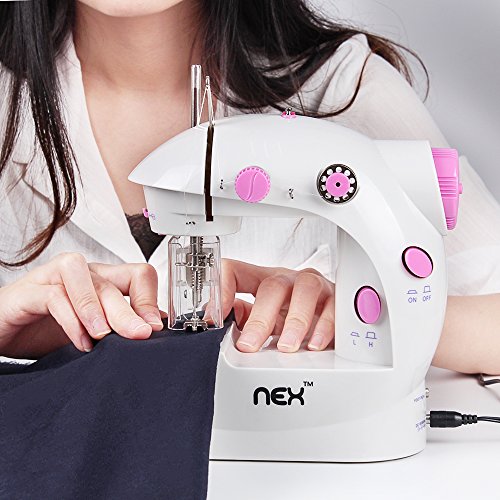 Pros
Portable
Convenient
Dual-power
Dual-speed
Cons
7. NEX Sewing Machine for Children
The NEX Sewing Machine for children is along the same lines as the former model and shares a lot of similarities, but with little tweaks and twists.
This multi-purpose machine is famous for its versatility. On top of that, it's easy operation means you can use this as a perfect tool for beginners.
However, there are a few downsides. The knob is a little hard to turn, and the model isn't that durable.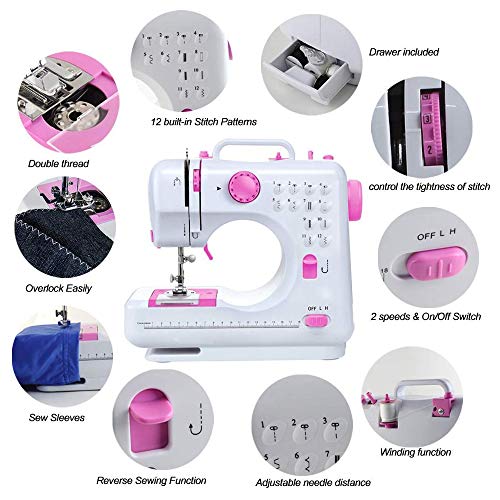 Pros
Beginner-friendly
Lightweight
Versatile
Good instruction manual
Cons
Knobs hard to turn
Not durable
8. HAITRAL Portable Kids Sewing Machine
Next up, we have the HAITRAL Portable Sewing Machine. The HAITRAL Portable Sewing Machine is best known for its double speed, specifically made to accommodate beginners.
Their adjustment is very easy to get the hang of and is a great starter course for children. Along with hosting dual power, this model is also quite portable and convenient.
On the contrary, however, the tension knob is a little hard to deal with. Plus, the model vibrates a lot when in use.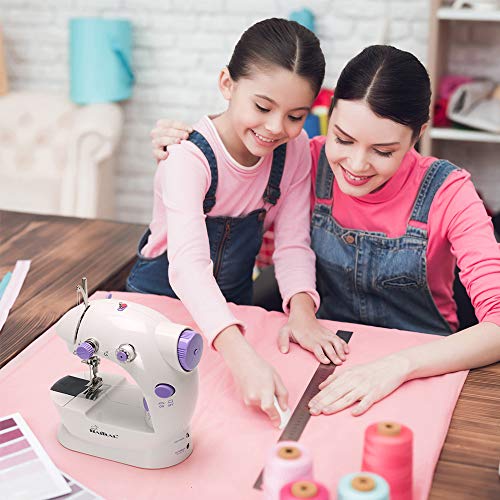 Pros
Portable
Double switch
Dual power
Double speed
Cons
Unkempt vibration
Bad tension knob
9. Joypea Mini Portable Sewing Machine
Sometimes, it's good to have an extension table around for a completely immersive and self-sufficient learning experience.
If that's your philosophy, then the Joypea Mini Portable Sewing Machine is a great choice. Small in size while featuring adjustable speed, this is a great model to start your sewing journey on.
For best assistance, the model also has a LED light for better visibility. The only downside to the Joypea Mini Portable Sewing Machine is that it isn't durable, so it's good for short-term learning.
Pros
Adjustable speed
LED light
Small size
Extension table
Cons
10. Janome Arctic Crystal Kids Sewing Machine
If you're looking for something chic or artsy, then the Janome Arctic Crystal is arguably one of the best picks on this list.
The best thing about this model is its customizable features, which allow full user control of the application. This makes the Janome Arctic Crystal a great choice if you want your kid to experiment with what they like best.
The model also comes equipped with everything you'll need for proper learning. As far as downsides are concerned, there's nothing, in particular, you need to watch out for.
Pros
Customizable
Aesthetics
Helpful manual
Removable arm
Cons
11. Houkr Mini small Sewing Machine Set
Just because it's small doesn't mean it can't hold its own. The Houkr Mini Sewing Machine Set hosts a professional design that is both functional and versatile for all types of use.
Owing to its size and ease of application, this model is best geared for individuals just starting out or looking to learn the art of sewing.
However, there are a few downsides to it, which include the noise level it produces, and its inability to handle heavy-duty fabric.
Pros
Small size
Portable
Beginner-friendly
Multiple-use
Cons
Can't handle heavy-duty fabric
Noise
12. Brother XM2701 Kids Sewing Machine
The Brother XM2701 Sewing Machine is a smart model that will make learning a wholesome experience for your young one.
Including all accessories that can make your child's experience interactive and easy to follow through, this model is a great pick for beginners.
Its best feature is the versatile free arm and the automatic needle threader to make your life easier. The only drawback is that the model is a little noisy, and the LED can have brightness issues.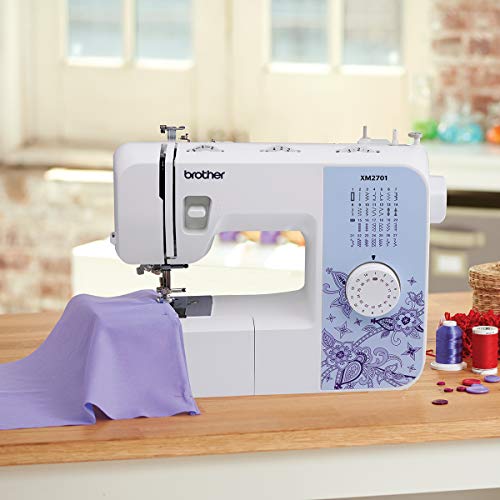 Pros
Includes accessories
Automatic threader
Versatile free arm
Elegant design
Cons
13. Brother Project Runway
A little more technical than the rest, the Brother Project Runway is a good choice if you want to immerse your kid completely into the world of sewing.
Its biggest flex is its 50 unique built-in stitches that put other models to shame. Along with that, it also has an LCD screen to allow for selection better.
However, make sure that you watch out for the LED light. It isn't the brightest. Plus, the screen can be a little hard to read sometimes.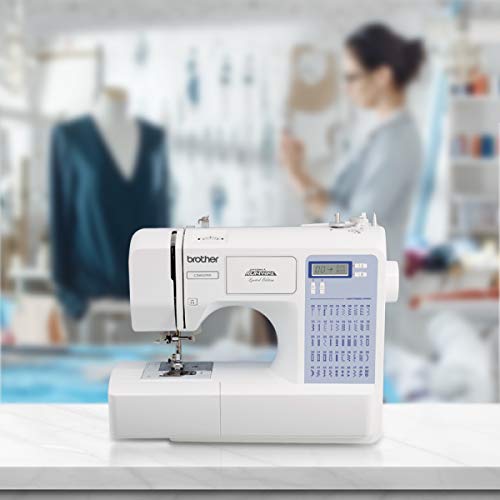 Pros
Automatic needle threader
50 designs
Interactive screen
Versatile
Cons
Screen readability
Brightness
14. MICHLEY LSS-202 2-Speed Sewing Machine
Arguably one of the cutest models on this list, don't let the MICHLEY LSS-202 Lil' Sew & Sew Mini's appearance hold you back.
This model is famous for its easy threading and automatic rewind. On top of that, this model can easily handle all types of fabric, which includes denim as well.
If your child's serious and wants to step up their skill level, this is a great place to start with. However, it might have durability concerns and doesn't come with a battery.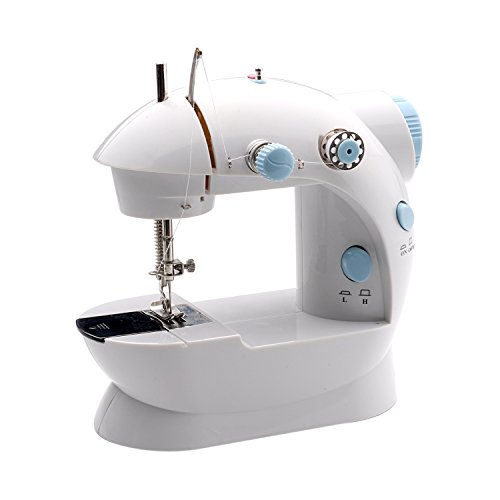 Pros
Design
Aesthetics
Lightweight
Smooth/quicker operation
Cons
No battery included
Durability issues
15. Janome Pink Sorbet Sewing Machine
Last but not least, we have the Janome Pink Sorbet. Cute, customizable, and convenient, the Janome Pink Sorbet is a great choice if you're planning on getting your child started with sewing.
This is because of its helpful manual and kid-friendly operation, which helps them throughout the curve and makes sure they make the most of their time.
Overall, it's a very good sturdy choice. On top of that, the Janome Pink Sorbet doesn't have any major downsides, so you're definitely in for the long haul.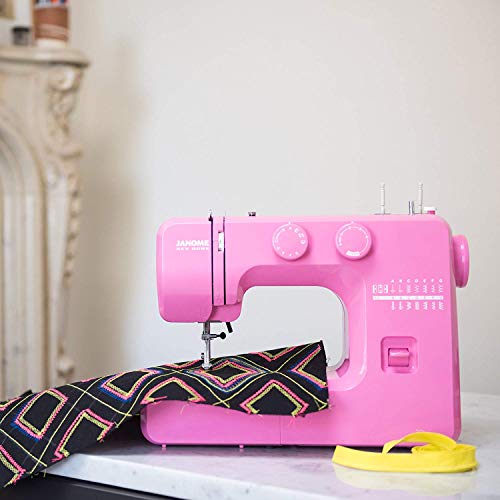 Pros
Good manual
Two spools for thread
Removable arm
Even stitches
Cons
Frequently Asked Questions
At what age can a child use a sewing machine?
First things first, the main thing that this depends on is how interesting and invested your child is in the process of sewing.
However, that apart, it is almost ideal for getting children as young as six years old started. However, supervision is, of course, a must.
Why should kids learn to sew?
The main reason why sewing should be encouraged in children is that it promotes and cultivate healthy motor skills and allows for the child to find a medium to express their creativity.
Is sewing easy?
This is an entirely subjective matter and will be answered differently by different people.
Initially, sewing can come off as a little tedious and intimidating; however, with sufficient practice and consistency, you can get better at it!
How long does it take to learn sewing?
This is something that is different between different people.
For instance, you can get the hang of the whole thing in under a week.
However, it's also plausible and perfectly justified that you pick up the basics in three weeks, and struggle through the first. Again, completely subjective!
Is learning to use a sewing machine hard?
Not necessarily. Since sewing is a skill-based on your motor reflexes and harmony, everything trickles down to how you perceive the matter at hand.
Sewing machines are essentially a supplementary tool that can help you speed things along.
Is sewing good for your brain?
Yes, sewing is excellent for your brain. This is because this creative exercise can encourage the growth of new neurons and help your brain stay younger and active in the long run.
Conclusion
Remember, even throughout this ordeal, your child's safety should always be your number 1 priority. Hence, make sure you provide supervision at all times.
If you liked any of the models mentioned above and have feedback, or have other general recommendations, queries, or suggestions about the content above, do share them in the comment section below!
Read Also: