A good sewing machine will make you love your art and ease the troubles in the act. But a perfect piece is hard to find. There's a saturation in the market, and if you go for every brand out there, you will end up all confused.
It is important that you find your trust with a particular brand so that your search will be minimized manifold.
Considering my time and experience with reviewing many brands, I feel no hesitation while recommending the SINGER brand for you.
The best Singer sewing machine is innovative, convenient, and affordable. In this article, I will show you unbiased, detailed reviews of some top-of-the-line sewers.
Buyer's Guide
Before starting to look for the perfect match for "you," I say let's go through the important things that need to be kept in mind while distinguishing one particular model.
You should be well-versed in these points to get a perfect choice. So, let's proceed.
Construction
The build of a machine depends upon the nature of your work.
If you work on bigger and industrial-grade projects, then you need a heavy-duty machine, but if you work on lighter domestic projects, a normal machine will do.
Weight
Consider you're taking a sewing class, and you have to more the sewer around several times, then you need a lightweight and easily portable machine.
However, if you have to keep it at a certain place, then you can get a better quality one without considering weight much.
Stitches Amount and Quality
The number of stitches also depends upon the work you are doing. An industrial sewing machine is made to perform a certain task and will perform one stitch exceptionally well.
Domestic machines have a wide range of stitches, which makes the process very much intricate sometimes. The stitch quality is also of importance.
Good quality stitches will get you more detailed and quality results.
Sewing Pace
Speed is a very important factor and will determine the time you will take to cover a certain piece of work. The more quality you achieve in, the lesser time, the better.
Although for beginners with a lack of experience and new projects, a slower pace is better to avoid any mishaps. Longer and simple projects can be done easily with higher speeds.
Features
The more features your machine has, the more efficient it becomes, but that will also hurt your wallet more. The choice should be yours.
Good features in a sewer include a drop-in bobbin, a free arm, an automatic needle threader, auto buttonholer, presser foot, feed dog, and feed space.
You should get a machine with a good number of features that will aid in your work and make it more charming.
Noise
You will have to spend long hours with your sewer while working on larger projects. The last thing you want is that constant grinding and humming voice bumming your mind and making your life difficult.
You should get a machine with a minimum amount of noise for your peace of mind. Generally, 65-75 decibel machines are available, with 65 being the most desirable sound level.
Budget
It all revolves around your budget. No matter how many brands and models you like, in the end, what matters is whether you can get it or not.
You choose the features which fall in your range and make a smart choice. But never settle for the ordinary if you can go for the best.
Top 15 Singer Sewing Machine
Now that you have equipped yourselves with all the important info, I feel like showing you the best models of the best brand I have chosen for you.
Let us start without any further ado:
1. SINGER | ONE Vintage-Style
A little touch of the previous times always feels good to many people. Signer one vintage style sewer is a very amazing machine with eye-catchy features and a classic white look.
Twenty-four built-in stitches and two automatic one-step buttonholes serve very well in many projects.
Automatic needle threader gives you effortless impeccable results, and high presser foot aids in easy positioning of the machine.
The automatic reverse gives you comfortable results, and there is a deluge of added accessories such as zipper foot, needles, bobbin, one-step buttonhole, and much more.
Pros
Rich in vintage and innovative features
A large number of accessories
Good for domestic use
Many features
Cons
Not very versatile
Not the best choice for people who prefer modern looks
2. SINGER | Curvy 8763
Curvy 8763 free-arm sewer is very amazing with striking features. This domestic usage sewing machine has built-in 30 stitches and fully computerized functioning, making your work more efficient and versatile.
An automatic needle threader makes the work even easier, and drop & sew bobbin avoids the need to raise the bobbin thread before starting.
A large number of accessories also prove useful, which include an all-purpose foot, zipper foot, buttonhole foot, spoon fin felt, etc. it might be the best choice for you.
Pros
Drop & sew bobbin
Swift smart threading system
Automatic needle threader
DVD manual
Cons
For Canada and the USA use at 110 volts only
Unclear instruction and not good for beginners
3. SINGER Fashion Mate 3333
It is another domestic use machine with many appealing values that will catch your attention. Mate 3333 is backed with 23- built-in stitches and 4 step buttonholes.
Enjoy timeless finish and exceptional durability with an automatic needle threader and heavy-duty metal frame. Free arm sewing makes it possible to make your work range vast by easy pant hem sewing and collar sewing.
Many other accessories such as zipper foot, buttonhole foot, bobbins, etc. add to the performance of the machine. What else are you looking for?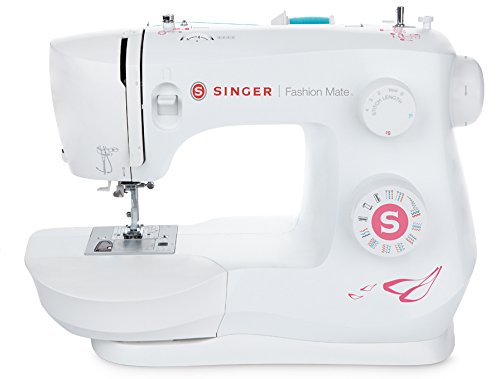 Pros
Durable and efficient
Automatic needle threader
Free arm sewing
Add-ins
Cons
Not very versatile
Not best for industrial-grade work
4. SINGER 8280 Sewing Machine
Looking for a good sewing machine for your basic domestic projects, look no further because you're found it! Many features like a 4-step buttonhole, four presser feet, free arms for sleeves, and cuffs.
There is an instruction manual for easy working and assembly. The tension lock function for decorative stitches and heavy-duty aluminum frame make this machine even better.
13 needle positions and an LED light are to top all these. What else do you want?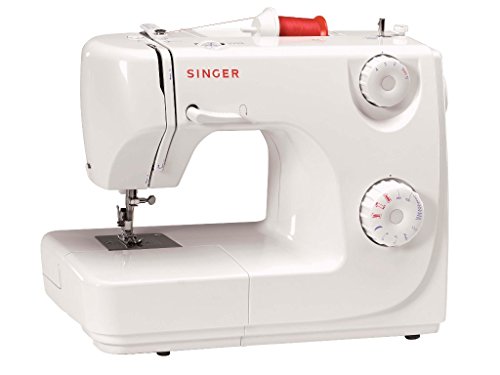 Pros
Basic sewer
Durable
LED light
Free accessories
Deluge of features
Cons
No case for carrying around
Not good for veterans
5. SINGER | Talent 3323
Talent 3323 portable sewer is one of the best choices for domestic workers with 23 built-in stitches, a one-step buttonhole, and a heavy-duty metal frame.
Automatic needle threader makes intricate stitches easy, and reverse sewing function allows reverse sew with ease.
High presser foot allows sewing of several layers of fabric, and added accessories like zipper foot, presser foot, button sewing foot, screw divers, etc. make the machine even more desirable.
Pros
Automatic needle threader
Durable and affordable
Different accessories
Cons
Not for industrial use
Only for Canada and the USA at 110 volts
Not the best choice for advanced users
6. SINGER | 3223G Sewing Machine
Singer 3223G falls under better sewing machines than normal ones and is more efficient in terms of performance and versatility to a great extent.
Very versatile sewing machine with 23 stitches and 4-step buttonholes. It is a perfect choice for beginners, and a heavy-duty metal frame makes it more durable.
The automatic bobbin winding system increases efficiency by minimizing wastage of materials.
The free arm allows easy access to cuffs, collars, etc. there are many accessories such as zipper foot, button sewing foot, etc. the best among the best.
Pros
Best for beginners
Durable and versatile
Many accessories
Bobbin winding system
Cons
7. SINGER 4423 Sewing Machine
Bear the greatness of SINGER sewing machines in your eyes by looking at 4423 Sewing Machines.
This heavy-duty sewing machine brags 23 built-in stitches and an automatic needle threading feature for your due comfort.
With a striking stitching speed of 1100 stitches per second, you can sew a larger project with a 60% strength boost.
The heavy-duty metal frame gives the product durability, and added accessories such as zipper foot, quilting guide, auxiliary spool pin, etc. give you maximum comfort. An all-in-one package.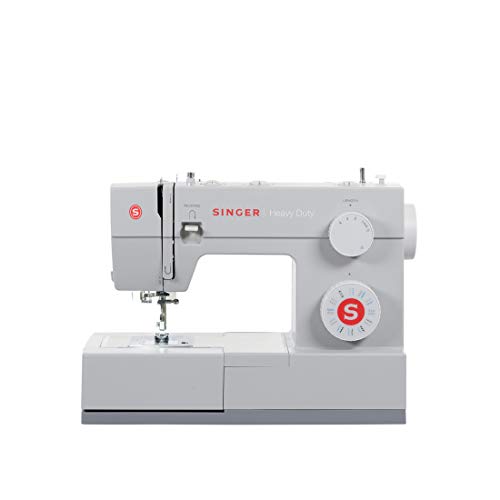 Pros
Durable

Affordable

Good for small and big projects

High speed
Cons
It May not be good enough for veterans
8. SINGER Heavy Duty 4411
This falls under the heavy-duty range and may be out of budget for some. However, you might not find a better sewer than this baby.
4411 is one of the best portable sewing machines and does not require any high-fi management.
Eleven built-in stitches, automatic 1-step buttonhole, and amazing speed of 1100 stitches per minute make this baby stand out.
Different accessories like 4 presser feet, instruction manual, power cord, foot control, etc. make it so much better. So, what are you waiting for!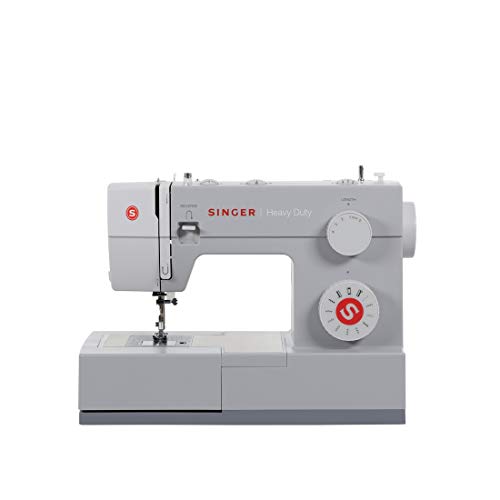 Pros
Heavy-duty and easy to use
Superfast and reliable
Quiet operation
Lightweight
Adjustable stitch length & width
Cons
No auto needle threader
For simple projects only
9. SINGER 7258 100-Stitch
SINGER 7258 is one of the best and the most versatile Singer sewing machines out there, which you'll love without a doubt.
This simple yet very effective sewer is extra versatile with a whopping 100 built-in stitches at your service. You can easily choose with a simple use of a button.
Their area optimum settings for stitch length, width, and tension automatically optimized. This baby promises a huge perk with a lifetime warranty. What else are you looking for?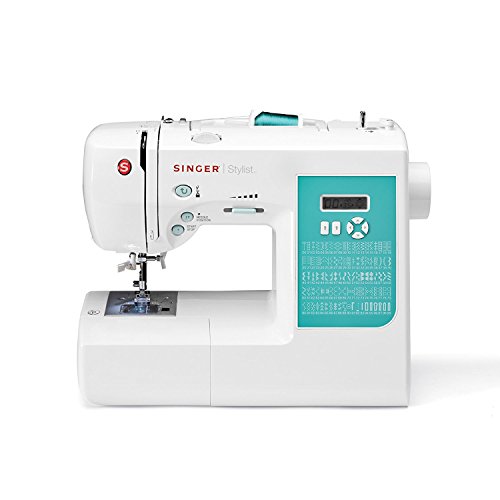 Pros
100 computerized stitches
Simple selection of desired functions
Cons
Design poor for heavy users
Best for Canada and USA only
10. SINGER | Quantum Stylist 9960
SINGER quantum stylist 9960 is a very well-reputed and efficient sewing machine. Industrial-grade sewer has a humongous number of 600 stitches and an electronic autopilot feature for your convenience.
It is loaded with simple, easy-to-apply features that will certainly catch your attention. Capable of stitching both heavy intricate and easy simple projects, 9960 will also allow you to personalize your stitching.
Automatic needle threader and a sewing speed of 850 stitches per minute, 13 buttonholes, and a lot of other features add to the decency of the machine.
Accessories such as an all-purpose foot, darning foot, and a rolling hem are to top all of the things discussed above.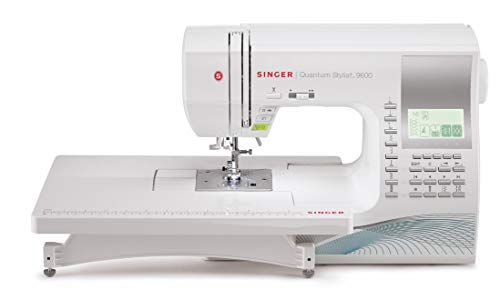 Pros
Modern and classic features
High speed and very versatile
A deluge of features
Many accessories
Cons
Only for Canada and the USA
Unclear instructions
11. SINGER | Legacy C440
Legacy C440 gives a really tough competition to the sewers under the same brands and outside of it.
A huge number of 200 built-in stitches and a built-in needle threader make the machine very valuable and versatile.
Enjoy easy choosing and optimizing with LCD display and a sewing speed of 800 stitches per minute.
Amazing accessories such as buttonhole foot, zipper foot, open toe foot, lint brush, etc. are the best ones, and there are many others.
You'll surely fall in love with this guy during the first experience.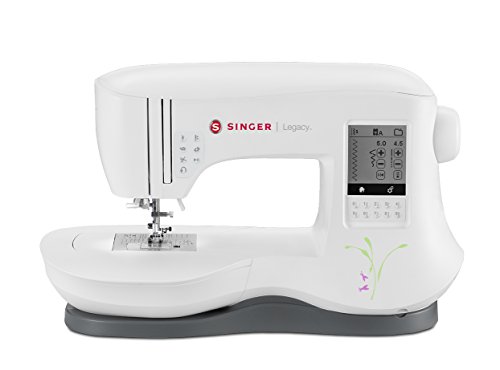 Pros
Versatile and affordable
Very valuable and durable
LCD display
Buttonhole feature
High speed
Cons
Designed especially for the USA and Canada
Not the best choice for veterans
12. SINGER, 57 Applications-Perfect Made Easy
SINGER 57 application easy sewer is possibly the perfect choice for the new users and experienced users. The heavy-duty metal frame makes this cheap machine very durable.
SS bedplate provides extra stability and smooth fabric feed.
Six built-in stitches, automatic stitch length, and width adjustment, and lightweight plus compact size make this baby just perfect for the newbies.
The automatic bobbin stop is also there for your aid. This is a deal setter!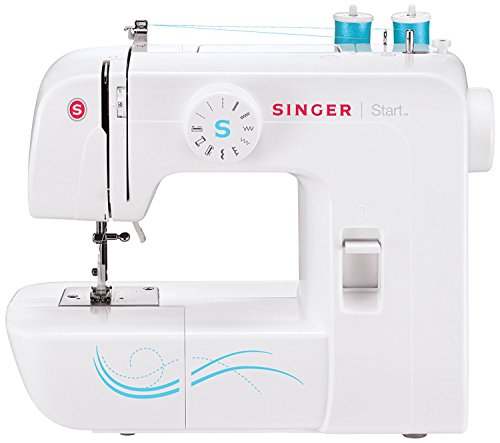 Pros
Easy to use
Good for new and advanced users
Compact and portable
Stable and durable
Cons
Warranted for the only USA and Canada
Some users find it poorly made
13. SINGER | Professional 14T968DC
This is an industrial-grade serger and sewer.
With industrial-grade usage, you are going to enjoy 1300 stitches per minute, and the self-adjusting function will make this machine make you wonder, and 2,3,4 and 5 stitch capacity is the best.
Self-adjusting tension is also there to maximize performance, and 4- built-in rolled hems are added features.
This is the best sewer ever in my eyes, which is amazing in itself.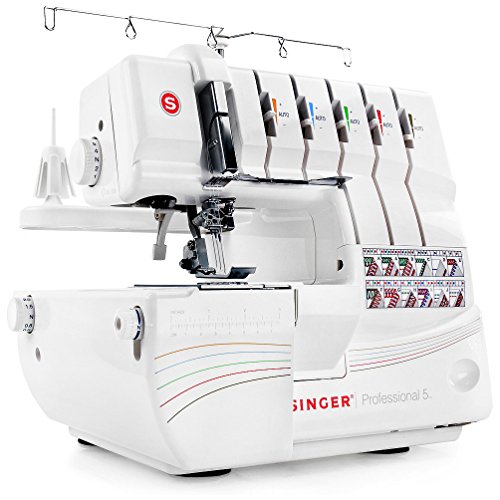 Pros
High speed
Very stable
Noiseless
Very versatile
Extra features and accessories
Cons
Not very affordable
Warranted for use in Canada and the US only
14. SINGER | Confidence 7469Q
Singer Confidence 7469Q has a computerized, amazingly efficient operation.
It is good for both quilting and sewing. There is a needle threader and 98-built in stitches for efficient use.
Four bonus quilting feet are there, and buttonholes provide endless possibilities. Electronic twin needle control and adjustable stitch add to the quality. This is no doubt, one of the best choices for YOU!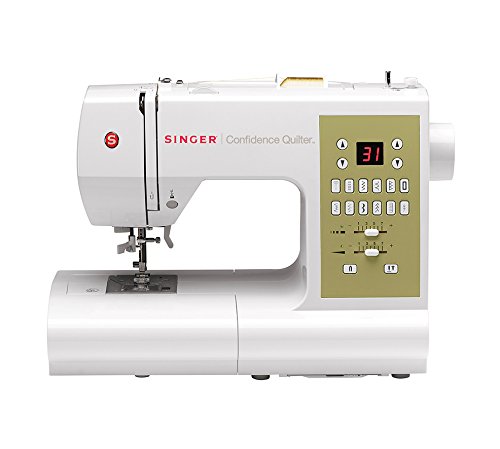 Pros
Good for newbies
High speed
Versatile
Needle threader
Twin needle and adjustable stitch
Cons
For Canada and the US only
15. SINGER | Tradition 2277 Sewing Machine
SINGER tradition 2277 is a very cool choice that will add charm to your work with its appealing features in every sense.
Stitch length and width are easily adjustable, and there built-in automatic needle threaders for saving your precious time.
It functions well with any type of fabric and has 23 built-in stitches with 1 step buttonhole. There are 97 stitching applications for adding new realms to your domain of work.
Possibly the best choice you could get with this amount of money that'll suit your taste and save your time pretty well.
Pros
Traditional with new features
Easy threading
Good for both heavy and light projects
Cons
Only for the USA and Canada
Made from cheap material
Frequently Asked Questions
How to troubleshoot a Singer Sewing Machine?
Troubleshooting is easy if you have got the eye for it. If there are any interruptions, look for problems in the control system and adjustability.
Such as feed length set to 0. Fabric feeding may also be the reason.
How can I tell how old my Singer sewing machine is?
You first need to look for the serial number of your sewing machine and then match this number to the date in Singer's chart to discover when it was made.
Are Singer sewing machines made in China?
Yes, they are made in China, and China is the top supplier of Singer sewing machines. It is roughly 96% of the total.
How do you thread a Singer sewing machine?
There are usually markings in the form of numbers in Singer sewing machines for that. Just follow the marks with your thread, and you'll be done.
Why does my sewing machine not stitch?
There might be many issues, such as stitch length set to zero or bobbin in an incorrect position. You should look for errors and correct them.
Conclusion
I'm sure now that you don't have any queries after this detailed discussion.
Always make the best choice through your own mindset after analyzing all sides of the subject. Best of luck!
Read Also: