When running a business that includes sewing clothes, you always need top quality sewing machines, which will not only get you the best stitching but will complete the task efficiently without being exhausted.
However, it's not always easy for you to just buy the best heavy duty sewing machine straight-away as there are a lot of models available in the market.
So, here in this article, we have compiled a list of our top 12 picks, which will prove to be very suitable for you.
Buyer's Guide
When buying the heavy-duty sewing machine for yourself, you first need to have minimal knowledge of their features to compare the models.
So, here are some points for you to consider before choosing the machine.
Construction Material
A machine with a steel or metal frame is the best option for you to choose while buying. They are extremely durable, so you will get the most out of them.
However, if the whole body is based on steel, things get quite expensive.
So, you can afford some plastic parts of the machine with a steel frame covering the exterior. It will also help you with heavy sewing fabrics.
Power
Power is unarguably one of the most important features of a heavy-duty sewing machine.
Without a powerful motor, you cannot go through thick fabrics such as denim and leather, crippling the machine of its basic usage. So, make sure the motor is powerful enough to let you do your work without any issues.
Stability
For a heavy-duty machine, stability is a very important feature as you will be dealing with heavy fabrics, and without stability, you would be running into trouble of machine toppling all the time.
However, it should not have even so much weight that it totally lacks portability.
Learning Curve
The time you have to put in to learn the machine is crucial. If the machine is very complex, it is difficult to operate, most of its features will go unused, or the workers will waste half the time trying to understand how it works.
So, make sure all the features are easily accessible, and you don't need a lot of time to invest when learning to use it.
Features
When sewing clothes for commercial use, time is of the essence. This means you need all the important features to save yourself time, hence money.
Features like automatic threading and thread cutting are very time efficient and boost your productivity a lot. Always look out for such features while buying the machine.
Cost
Whenever you are buying something, the price tag on the thing is always what ends up being the differentiating factor between certain products.
The case with sewing machines is no different.
Hence, you should always pay attention to the price of models when comparing them and not only the features. Try to get the best value for your money.
Top 12 Heavy Duty Sewing Machines Reviews
After carefully analyzing the best heavy-duty sewing machines available and reading the customer reviews from sites such as Amazon, we have come up with a list of our top 12 picks that quality for the top heavy-duty sewing machine.
Make sure you go through all of them to make the best choice.
1. Singer Confidence 7469Q Sewing Machine
There is a reason why Singer has made itself a big name when it comes to sewing machines of all kinds.
Singer Confidence sewing and quilting machine is no exception and carries the legacy of Singer by providing extremely good sewing results while saving your time by providing you all the necessary features.
From built-in needle threader to drop & sew bobbin system, it covers all your needs comprehensively.
98 built-in stitches and the programmable needle will let you be creative, and the electronic twin needle control will offer you customizability like never before.
Able to run on as low as 110 volts, you will not run into any voltage problems as well.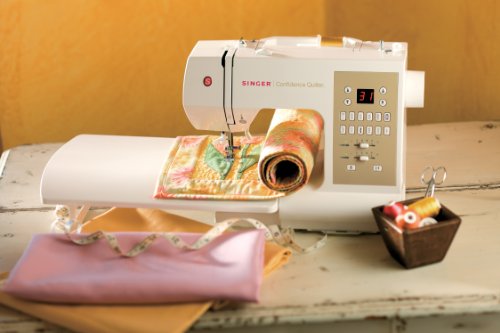 Pros
98 built-in stitches
Electronic twin needle control
Warranted at 110 volts only
Automatic needle threader
Extension table for larger fabrics
Cons
Limited throat size
The work area is not very bright
2. Singer Heavy Duty 4452 Sewing Machine
Coming from the same manufacturer, this sewing machine is all you need when starting your own sewing business as it is specially made for heavy-duty sewing, and no matter how much workload is there, it will never disappoint you.
With a very solid metal frame, the body will not wear out anytime soon, and you can keep using it for years before needing to replace it.
The machine comes fully packed with accessories and features, which will help you achieving efficiency in sewing. It can sew up to 1100 stitches per minute and offers you amazing 32 built-in stitches.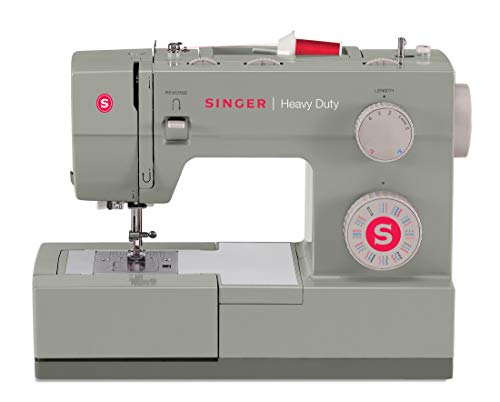 Pros
Very strong body; long-lasting
Fast stitching speed
Powerful motor
Many accessories
Affordable
Cons
Manual speed control is absent
Very sensitive pedal
3. Singer Heavy Duty 4432 Sewing Machine
Coming with a very affordable price tag and an extremely powerful motor, this product by Singer is a very good option if you are looking to start your own sewing machine but don't have a lot of budget.
It can easily sew through the toughest of fabrics such as leather with ease, so you don't need to worry about that.
Also, It has a great sewing speed of 1100 and provides you wide a fair amount of 32 built-in stitches. There is a long warranty and has every accessory you will need for commercial use.
Lastly, it provides you with great value for your money, and you will not regret buying this machine.
Pros
Easy to learn for beginners
Cheap
Powerful machine
Many useful accessories
Sturdy design
Cons
Not very modern-looking body
Heavy; not portable
4. Singer Heavy Duty 4411 Sewing Machine
Are you a beginner who is looking for the best heavy-duty machine to start your own business? Well, this product can prove to be one of the best choices as it has been voted as the best machine for beginners multiple times.
However, one thing to note here is that it has no automatic needle threader so you will need to put in some effort when working with this.
There are not many built-in stitches as well, but it does sew with a very fast rate of 1100.
So, you can boost your productivity, but you cannot be the most creative with this machine. However, it comes pre-equipped with many useful accessories that will help you get the job done.
Pros
Cheap but works flawlessly
Doesn't make a lot of noise
Portable
Fast stitching
Cons
Less built-in stitches
No automatic needle threader
5. Singer Quantum Stylist 9960 Sewing Machine
If you want to buy a full-fledge professional machine but want it to be computerized as well, unlike the traditional ones which we have seen above by Singer, this sewing machine could be the best choice as it will cover all your professional needs and is computerized as well.
From automatic needle threaders to fully creative fonts, it is packed with a whole lot of sewing features, which will let you glide through your sewing work and completing your tasks before time.
With a huge pool of 600 built-in stitches, you can be as creative as you want and use them with a decent speed of 850 stitches per minute.
However, the machine is designed specifically for usage in the USA and Canada.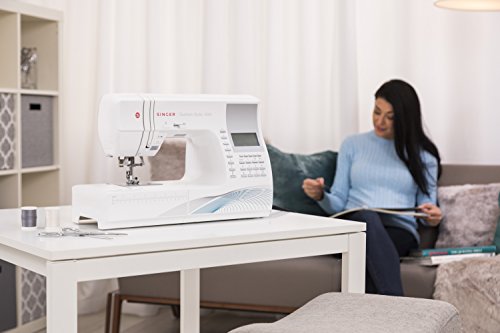 Pros
Can handle loads of work
A lot of modern functions
600 built-in stitches
Automatic needle threader
Cons
Cannot adjust speed yourself
Only for the US and Canada
6. Brother ST371HD Sewing Machine
Brother is another top brand when it comes to sewing machines and never lets its customers down, always providing them the top quality promised.
Brother ST371HD is one of the most powerful and heavy-duty models manufactured by the company. The body is quite durable and can endure any kind of environment while being quite lightweight.
The weight makes it portable as well in case you want to work at multiple places.
With its powerful motor, it can handle all kinds of fabrics easily with a speed of 800 stitches per minute. All the important features, such as automatic needle threading and jam-resistant bobbin.
Lastly, there are other extra accessories available as well to help boost your productivity.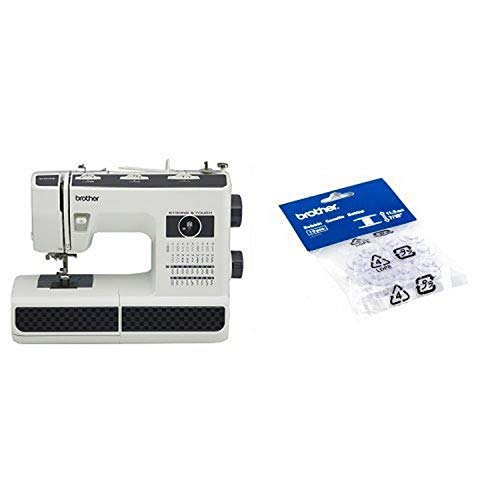 Pros
Automatic needle threading
Jam resistant bobbin
Powerful motor
Portable
Free arm
Cons
Lightweight; may be hard working with heavy materials
7. Brother PQ1500SL Quilting Machine
Though the name might be somewhat misleading, the machine is so powerful that it is often referred to as a quilting machine.
However, you can do sewing with it as well, and thanks to the amazing motor, you always have the slot of quilting open as well.
The speed this machine features is quite literally unmatched. With 1500 stitches per minute, you can fly through your work if you know controlling that speed properly.
You can manage your bigger projects easily, thanks to the big field size. There are many advanced sewing features available such as the advanced needle threading and jam-resistant drop-in bobbin.
There is no fabric that is too thick for the machine, and it handles everything just fine. With a lot of accessories, you can further make your work easy.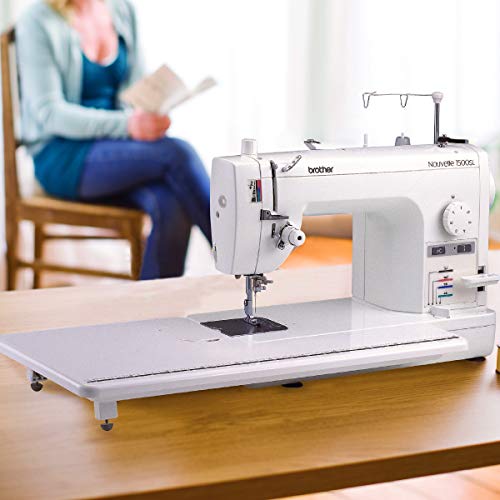 Pros
Precision pin feeding system
Jam-resistant drop-in bobbin
Advanced needle threading
1500 stitches per minute impressive speed
Very stable; good for heavy fabrics
Bright and spacious work area
Cons
Not easy to learn
Bobbin gets stuck sometimes
8. JUKI TL-2000Qi Sewing and Quilting Machine
JUKI is amongst one of the lesser-known brands; however, the customer reviews and the features this machine provides make it worth mentioning in our top picks.
The manufacturer has added LED lights that were missing previously and pedal operation as well, making it further usable.
With an extremely high stitching speed of 1500 stitches per minute, you can cruise through your work, and features like an automatic needle threader and low vibration operation make the product further attractive to the customers.
With a wide working area, you can fit all the fabrics without any issue whatsoever.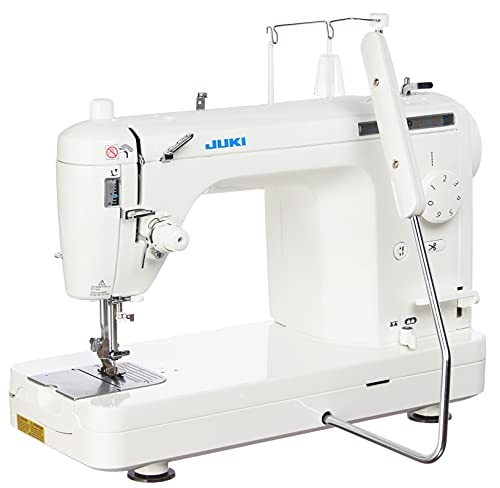 Pros
1500 stitches per minute speed
Pedal operation
Automatic needle threading
Very low vibration
Bright LED work area
Sturdy build
Cons
No drop-in bobbin
Not very user-friendly for inexperienced sewers
9. Reliable Barracuda 200ZW Zig-Zag Sewing Machine
If you want to be fully creative and get yourself a durable, heavy-duty sewing machine, the Reliable Barracuda Zig-Zag machine could prove to be a very good option for you as it packs a whole lot of features.
With a decent speed of 800 stitches per minute and a body built from heavy materials, it gives you a good value of money and an even better investment.
The built-in speed reduced is one of the best features it boasts, which is aimed to increase the torque when you really need the extra power, sewing tough fabrics.
There is a 10-point quality check as well, so you can sit back and stay assured that the stitching quality from this model will be top-tier.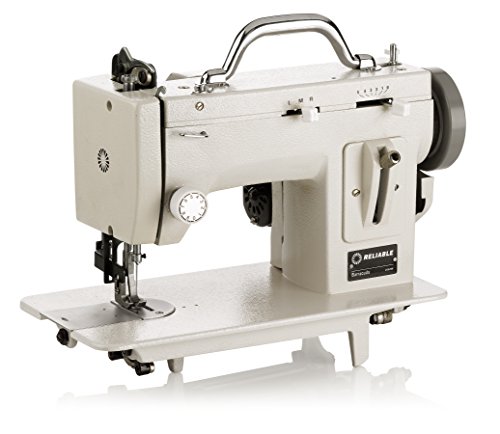 Pros
Durable body
Portable
High-quality sewing
Zig-zag stitching
Built-in speed reducer
Cons
The foot gets stuck sometimes
Not very easy to set up initially
10. Janome MC-6300P Computerized Quilting Sewing Machine
Janome is one of the top three brands when it comes to sewing machines, and it always performs up to the reputation it has built itself over these years.
This machine carries the legacy of the brand on providing high-quality sewing for commercial usage.
The machine can withstand heavy-duty work in an efficient way and packs a lot of features to save your time, such as an automatic thread cutter and memory capacity.
Sixty-six built-in stitches help you be creative with your sewing, and you can even use drop feed control. The LCD screen can be used for viewing important information, and the stitch width is also adjustable.
Pros
Automatic thread cutter
LCD screen for ease of use
Adjustable stitch length
Free arm
Reverse stitching
Cons
Threads break sometimes
Not very easy to use
11. Janome HD3000 Heavy-Duty Sewing Machine
If you don't need a very fancy sewing machine that is computerized and just want a heavy-duty machine to do all your sewing jobs and have useful features while being cheap, this machine is the best you can do.
While being cheap, it offers you a stitching speed of 860 stitches per minute with a very durable body that goes on for years.
You can adjust the foot pressure accordingly and set the thread tension as well. Auto threader and free arm are also there to provide ease.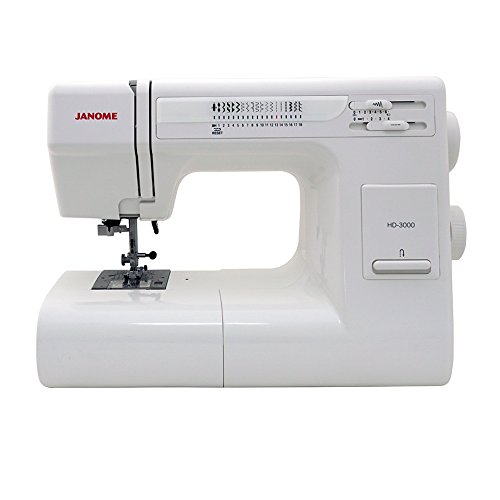 Pros
Affordable
Adjustable stitch length
Durable body
Free arm
Hard storage case
The foot presser can be adjusted
Cons
Not computerized
Only 18 built-in stitches
12. Janome HD1000 Heavy-Duty Sewing Machine
Voted as one of the best heavy-duty sewing machines for upholstery, this model by Janome is up to step behind is successor HD3000.
Most of the features are the same in both models; however, the latter one is somewhat more updated. It can handle the toughest fabrics easily due to its powerful motor but has only 14 built-in stitches.
There are all the essential features available such as an automatic needle threader and free arm. The frame is heavy, which makes it suitable for heavy fabrics but crippled it of portability.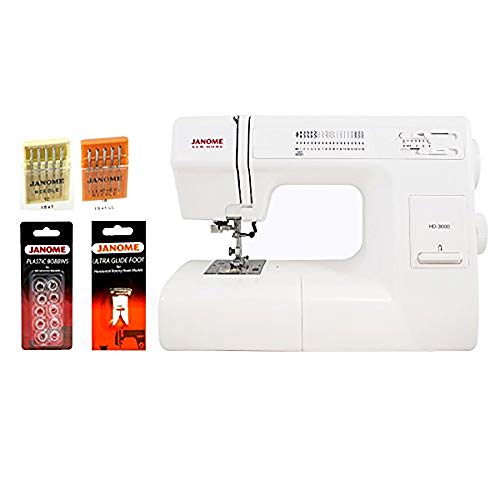 Pros
Free arm
Automatic needle threader
Very affordable
Durable aluminum frame
Very stable body
Cons
Very few built-in stitches
Frequently Asked Questions
Being a novice in the sewing industry, you will always have some basic questions revolving in your mind, which are very basic. Let's try to answer them all here.
How to Maintain a Heavy Duty Sewing Machine?
While the maintenance of a machine is very important, it is not very hard with sewing machines. You just need to regularly clean and oil them, and they will keep you running for years.
Moreover, you should keep your machine covered whenever it's not in use and always keep changing needles as they age.
Can I Sew Light Fabric with a Heavy Duty Sewing Machine?
Yes, you can use a heavy-duty sewing machine for sewing light fabric as well. However, it would be a waste of the capabilities of the sewing machine.
Are Heavy Duty Sewing Machines Expensive?
This depends upon the features of the model. But they are generally more expensive than the regular ones.
Can Beginners Use Heavy Duty Sewing Machines?
Yes, beginners can use them as some are very user-friendly. But they offer high stitching speeds, which should not be used if you are a beginner.
Where to take the machine for service?
If your machine needs service or starts causing any trouble in general, immediately take it to the nearest service center of the company of machine. If it is a warranty, they will repair it free of cost.
Conclusion
We saw the top 12 picks for the best heavy-duty sewing machines out there you can buy. There is a whole range of them all having different features and offering different accessories.
The prices also vary a lot. However, the final decision should be made depending upon your personal preferences as all products mentioned above are top-notch and are guaranteed to give you the best results.
Read Also: