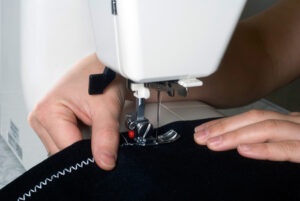 The zigzag stitch is among those without which the world of sewing is incomplete.
Whether you're a tenderfoot who is just starting or a professional, incorporating a zigzag stitch in your creations is mandatory, so having a sewing machine that has the ability is a prerequisite.
However, depending on the scale of your projects and what kind of zigzag stitch you require is contingent on the ability of your sewing machine you want to possess.
The best zigzag sewing machine can amp up your productivity as well as the quality of stitching. Hence selecting a good zigzag sewing machine can make or break your game.
Top 6 Zigzag Sewing Machine
Here's a list of the top favorites among most users with details and potential problems that you might want to avoid.
1. NKOK B/O Singer Zigzag Chain Stitch Sewing Machine
This sewing machine is mainly manufactured for learning how to stitch, so while it's a great option to gift to kids to introduce them to the world of sewing fabrics, I wouldn't really recommend it to adults.
This sewing machine comes in a beautiful design; it is just the right mixture of toy and real and comes in pink and white that is sure to have kids excited.
It's a battery-operated sewing machine that offers two kinds of stitches, including the zigzag stitch. The light source and the protective needle cover make this sewing machine ideal for child use so they can have fun while being safe.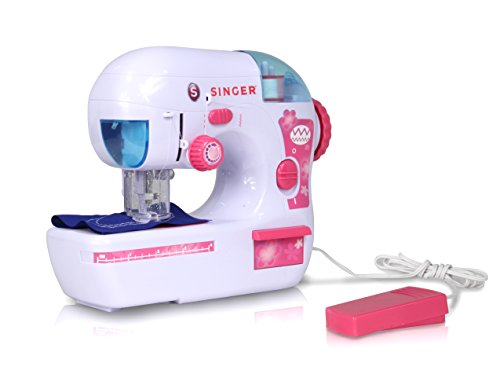 Pros 
Beautiful Design
Battery operated
Safe to use
Cons 
Difficult to thread the needle
Zigzag stitches aren't defined
2. SINGER 7258 Computerized Sewing Machine
Getting your zigzag stitches have never gotten easier, thanks to this computerized sewing machine.
The singer has been in the business for a decade, and with each new model that they launch, you see that they improve in terms of innovation.
A total variety of 76 decorative stitches makes this machine versatile so that you can get the most out of it.
The introduction of an Lcd screen adjusts the width and length of your stitches with convenience.
You just need to push a button to choose among the stitches and set up the tension.
Pros
Customizable settings
Easy to use
Automatic tension
Cons 
Limited width settings
The Presser footer is not adjustable.
3. Brother CS6000i Sewing and Quilting Machine
This machine is the epitome of convenience; if you're just starting, your first ever experience with a sewing machine can be daunting; however, the brother sewing and quilting machine will ensure that it is made as easy and comfortable as possible thanks to its drop-in top bobbin and automatic threader.
If you're short on time, these features will give you just the agility that you're looking for. The built-in stitches and a wide table allow for working on projects of all sizes.
The sewing machine produces well defined zigzag stitches that don't pop out easily.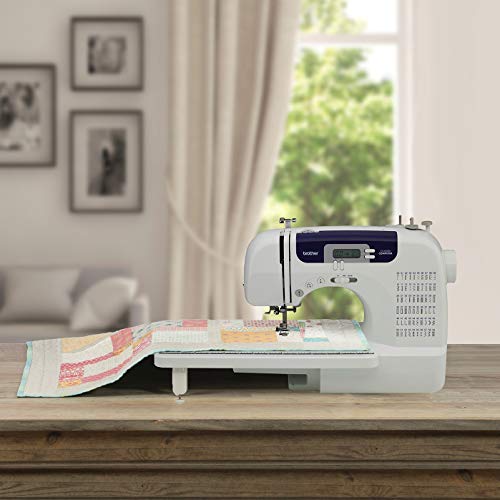 Pros
Easy to use
Portable
Versatile
Cons
Fast speed may cause the thread to come out.
Needles don't last for long.
4. Reliable Barracuda 200ZW Zig-Zag Sewing Machine
Looking for a sewing machine that won't give up on you in the middle of work? Do you want a machine that can handle thick layers of fabric with ease?
Want to save time with a fast working machine and have the leverage of going slow to handle tough angles? You're in luck because this machine will give you all that and more.
This machine is constructed to handle even the toughest of jobs with a lighting speed, but thanks to the speed reducer, you can reduce the speed as well.
Getting zigzag stitches exactly how you want on the fabric is an achievable task because you can adjust the dimensions as per your preference.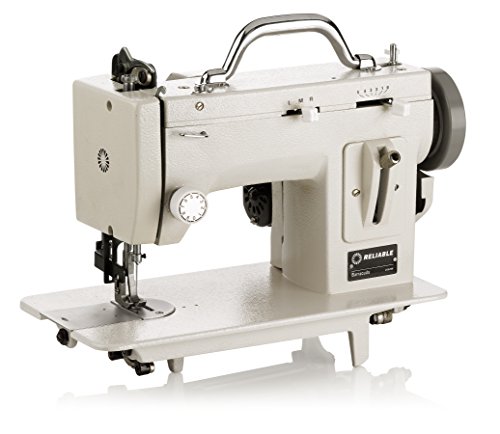 Pros 
Heavy duty
Customizable Settings
Adjustable speed
Cons 
Complicated
Difficult to sew slowly for beginners
5. MZ-518 Portable Zigzag Sewing Machine
Get your zigzag stitches done the right way with this sewing machine. This one is quite old but a Goldie.
Its construction is durable, and you can carry it around with ease because it's not that heavy.
The performance is commendable, especially for thick materials and fabrics like jeans and leather, which is something not every sewing machine has.
You can adjust the length of your zigzag stitch up to 5mm, and since you're buying the machine to perform this stitch, do check if you require a longer stitch because otherwise, you might have problems.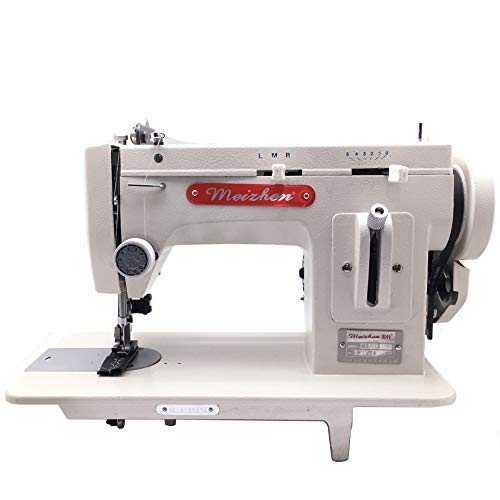 Pros 
Portable
Durable
Handles thick materials well
Cons 
6. Family Sew Portable Zigzag Sewing Machine
This sewing machine is not only light in weight and portable but is just the right fix for all your home-based sewing projects that require a little more effort than regular machines just can't handle.
This sewing machine offers both straight and zigzag stitches, which are the foundation of all kinds of sewing, whether you're putting inseams or doing cushioning.
Thick materials are absolutely not a problem because this machine even handles carpets well, according to some users.
Imagine the amount of work you can get done with this heavy-duty machine without a sweat.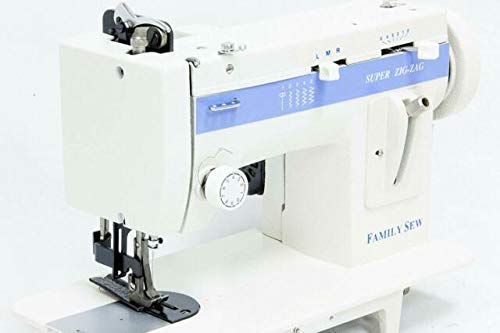 Pros 
Heavy duty
Two stitch option
Portable
Cons 
Buyer's Guide
Researching before making a buying decision is a must; however, it is easy to get sidetracked due to the different options in the market.
Hence I've gathered a list of key considerations that you must remember while selecting a zigzag sewing machine.
Durability
If you're a professional seamstress or a hobbyist selecting a zigzag sewing machine that can handle large-scale projects and tons of work is a must-have.
You will need a machine that lasts you for lifetimes; hence pay attention to its construction.
A zigzag sewing machine with a metal construction that has mechanical engineering can be a great asset; however, they do tend to be heavy and require constant maintenance for quality performance.
Stability
Getting quality stitches that don't pop is impossible with a machine that vibrates. Keep an eye out for sewing machines that have a stable design and operation.
It very important to make sure that your zigzag stitches are in place and have no irregularity, but it can be impossible to achieve without a sewing machine that has minimal vibration and quality engineering.
So make sure that you take a look at the internal makeup of the machine before you invest.
Additional Features
You can perform a zigzag stitch with your sewing machine even if it doesn't have any extra features, but if you're still new in the game and need a little help looking for zigzag machines with features like a needle threader, needle up and down feature and an automatic thread cutter allows for convenience and easy operation.
At the same time, added specifications and features can seem gimmicky at times, but some of them, like the automatic needle threader, can be a lifesaver, specifically for those who often face problems with threading the needle.
You can also enhance your productivity and work more efficiently as these features can save you a lot of time and ensure that you have a pleasant overall experience.
Frequently Asked Questions
How do I set my sewing machine to zig-zag?
Select the zigzag stitch first, and then choose the width and length of the stitch according to your application, and you're ready to start your work.
Is the zigzag stitch stronger?
While the straight stitch is considered to be the strongest, the zigzag stitch is popular for its durability and versatility.
When should you use a zigzag stitch?
He zigzags stitched can be used for various purposes like seam finishing, applique, couching, attaching lace, Elastic insertion, etc
What is the purpose of the zigzag stitch?
The zigzag stitch is often used for the purpose of enclosing raw edges.
What tension should I use for the zigzag stitch?
The tension should be between the rand of 3 and 4.
Does a zigzag stitch stretch?
Yes, for this very reason, it can be used in knitwear as it allows the fabric to stretch without ruining the seams.
Can you do a zigzag stitch with a walking foot?
Yes, you can use your walking foot to do a zigzag stitch.
Conclusion
Hopefully, the buyer's guide and the list of reviews made the selection process much easier for you, but in case you're still unsure or feel confused, give the buyer's guide another read to clear out any misconceptions that might have.
Read Also: