Everybody dislikes short notice issues. One of these issues is a tore shirt or ripped pants due to some unconscious moves while you are going somewhere urgent.
These issues are hard to tackle and very troublesome. One fantastic solution to the problem is a handheld sewing machine. A handheld sewing machine is a portable sewer in the shape of a stapler.
Although it cannot tackle all your sewing needs but will get you through some difficult situations with flying colors, its small stapler-like size is a beautiful feature too.
Handheld sewers can sew a wide range of fabrics, including nylon, cotton, and polyester.
Buyer's Guide
Before starting your online search for an ideal handheld sewing machine, you have to understand some essential factors which you need to keep in mind while looking.
Our buyer's guide will give you enough luggage to start your journey well-prepared!
Portability
The essence of a handheld sewing machine lies in its ability to be portable, and this thing should be one of your primary concerns while going for a product.
If the machine is not compact and lightweight, then it cannot be called portable.
You should look for a handheld sewer that is essentially the size of your hand. It must be very light, so it doesn't feel uncomfortable while in your purse.
Compatibility
You need to make sure that the machine you are going for is compatible with a variety of fabrics.
As the handheld sewing machines are for last-minute problems so you will never be sure which fabric you might come across. Versatility is the key.
Design
Design is a crucial factor while scoring different handheld sewing machines. A handheld sewer must be designed in such a way that it is convenient to hold it with one hand and has a firm grip.
A flat edge and a fastening plate should always be there for holding the fabric tightly enough. At last, it should also be classy and pleasing to look at.
Precision
Although a handheld sewing machine can never be as precise as a regular sewer, there are still quality gaps amongst different models available in the market.
Make sure that the piece you go for is completely reliable and has an efficient sewing mechanism. You don't want your last-minute issues to become multiple.
Top 15 Handheld Sewing Machines Reviews
There is a deluge of choices in handheld sewing machines on the internet, and it becomes challenging to make a choice.
We have decided to ease your toil and give you our golden list of the most outstanding handheld sewing machines out there.
The list is made after detailed research, and you will enjoy reading it.
1. Yueetc Handheld Sewing Machine
This is an amazing product from the Yueetc family and is very easy to use. No need to worry about which fabric you're dealing with, be it wool, cotton, jeans, or denim.
The machine is ergonomically designed to be as convenient as possible. Yueetc handheld sewer is an excellent choice for people living out of homes and beginners.
The extra-small size makes it fit easily in a bag. The machine is pre-threaded to make your sewing experience a wholesome one.
Pros
Easy to use
Versatile
Suitable for many fabrics
Pre-threaded
Ideal for beginners
Cons
It cannot deal with thicker fabrics
It has improper instruction
2. Yibaision Mini Sewing Machine
Yibaision is a very well-celebrated handheld sewer and is one of our top picks among the list. This mini electric sewer has a handy ergonomic design, which makes it convenient to be used by anyone.
In addition to being lightweight, it is also effortless to use with its flat edge and automatic movements.
Being well suited with almost any fabric you might come across is another attention seeker.
The package is quite small enough to fit in your pocket and has many extra accessories like bobbins, pins, etc.
Pros
Great for hostelers
Lightweight and small
Easy to use
Cons
Difficult to use sometimes
Cannot deal with thicker fabrics
3. Humutan Cordless Handheld Sewing Machine
This is an all-in-one package and can deal with any of your home stitches, including decoration, curtain designs, and opened stitches.
The machine is very compact and user-friendly. Cordless handheld electric sewer has a classic shiny ebony look, which makes it even cooler.
It has a rotatory adjustment and a tension control mechanism to deal with tight stitches. This is a perfect option for starters.
Pros
Affordable
Portable
Compatible with many fabrics
Cons
Can only deal thickness of 1.8 mm
It has vague instructions
4. Mini Cordless Handheld Electric Sewing Machine
Mini cordless is another amazing sewer from the family and is very easy and convenient to use. Like most other handheld sewers, it is also an all-rounder and comfortable to use.
The cordless feature makes it portable, i.e., it operates on battery cells, which means no need to be confined to a room while charging.
Efficiency and swiftness are some distinguishing factors for this model.
Pros
Small and portable
Easy to operate
Suitable for a variety of fabrics
Cons
Cannot deal with fabrics more than 1.8 mm
Only a single thread stitch
5. Michley LSS-202 Mini Sewing Machine
Michley is an amazing and famous manufacturer of sewing-related products. Their reputation is well earned, and the customers are mostly happy with the products.
Consider the model in the discussion. LSS-202 has a very unique and classic design with a striking white appearance.
It can double thread and has proper stitch control. The easy threading features like the top drop-in bobbin system make it an absolute charm.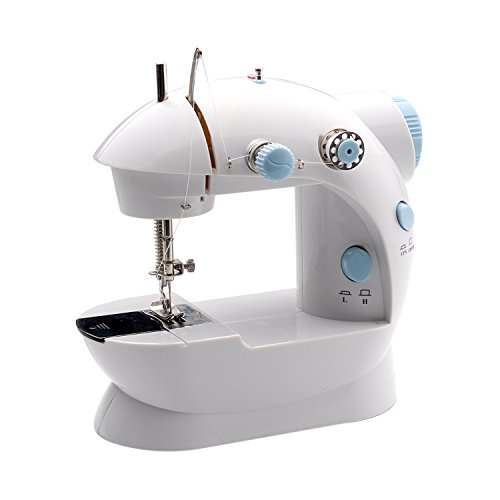 Pros
Versatile
Double threading feature
Easy threading
Automatic stitching
Cons
No reverse stitching
Difficult to use
Possible tension issues
6. As Seen on Tv Handy Stitch Handheld Sewing Machine
This is a top-rated product and is famous for its sleek and efficient design.
The add-ins include bobbin thread and needles.
Just as seen on TV, this handheld sewer repairs even delicate fabrics like silk and can also work on thick fabrics like denim.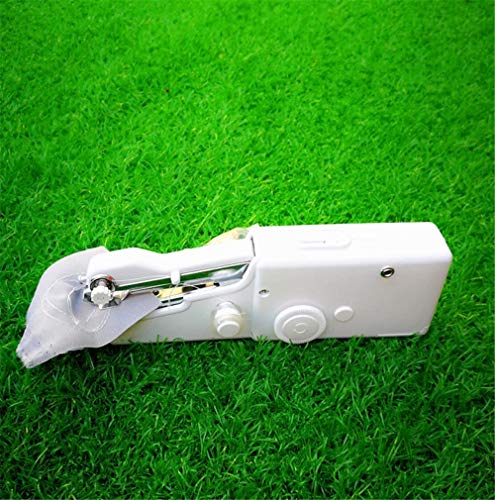 Pros
Affordable
Easy handling and lightweight
Add-ins
Cons
Misses stitches
Not very good quality
7. EG EMIGOO Handheld Sewing Machine
EG EMIGOO Handheld sewing machine is a very classy and durable product in the line. No need to worry about your fingers because this model comes with a safety lock.
You can almost fit it in your pocket by its mini size. This durable machine has a lot of extra accessories offered. The machine is portable due to its cordless feature.
This will make an excellent choice for the people who are new to the game.
Pros
Durable
Versatile
Safety lock
Easy to use
Cons
Difficult to use on thicker fabrics
8. MSDADA Portable Sewing Machine
MSDADA machine is an efficient and good-looking machine and is suitable for both beginners and professionals.
This model from MSDADA is versatile and can sit well with many fabrics. With being efficient and lightweight, the machine is also very compact and can fit in your palm.
Any fabric within the thickness limit of 1.8mm will do. There are a large number of add-ins and also comes with a practicing fabric. This is indeed a complete package.
Pros
Convenient
Portable
Affordable
Suitable for beginners and pros
Cons
Batteries and adaptor not included
Cannot operate on thicker fabrics
9. KPCB Mini Sewing Machine
KPCB mini sewing machine is a very innovative and unique design. It always fascinates and surprises its customers with an amazing taste in quality and design.
This one is, in particular, a heavy-duty machine with an included sewing table for efficiency. The device is very stable and user-friendly due to it.
The foot pedal gives you full control of the speed and makes the process more optimized. It also has a Built-in winding pole and spool assist in relocating the bobbins when you turn on the machine after some time.
Bobbins replacements are a piece of cake with this model.
And it has two speeds for selection according to your needs. Both beginners and veterans can enjoy this sewer from KPCB.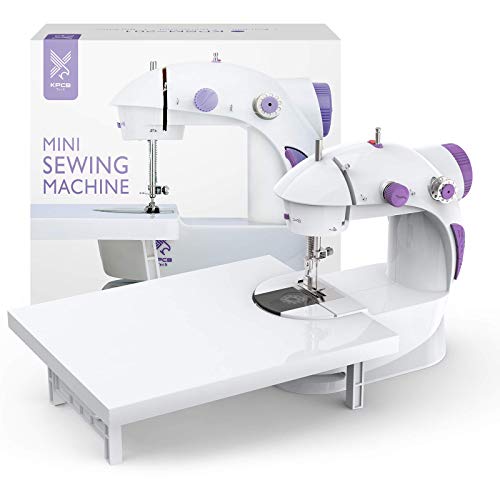 Pros 
Foot pedal extension
Large extension table included
Perfect for children
Good for both beginner and pros
It is very durable
Cons
It is not very easy to be traveled around with
Does not pick the lower thread
10. DUTISON Portable Sewing Machine
DUTISON portable sewing machine is a beautiful portable sewer with striking features. The machine is portable, compact, lightweight, and easy to use.
There is also a flat edge and automatic movements for easy stitching.
This versatile product is a great choice for both beginners and advanced users. It also has two power modes for different task difficulties.
Pros
Convenient
Cheap
Automatic moving
Two power modes
Cons
11. HAITRAL Handheld Sewing Machine
HAIRTAL is a very renowned company in terms of sewing-related products, and their articles never disappoint.
This model has a very sleek and captivating look with a beautiful white shiny look.
It can deal with a large number of fabrics like denim, cotton, jeans, wool, etc. There is a large number of add-ins that make the package even more appealing.
Pros
Free accessories
Affordable and portable
Needle threader
Elegant look
Cons
Difficult to use
Not the best choice for beginners
12. NBell Electric Handheld Sewing Machine
This is a very durable and amazing, efficiently designed machine. The ideal weight of just 250 grams makes it very attractive.
There is a flatbed for smooth stitching. In addition to performing a locked stitch with great speed, it can perform your daily sewing tasks like making gloves, curtains, small clothing items, etc. as well.
This product serves the new users pretty well, although it might be a good choice for professionals.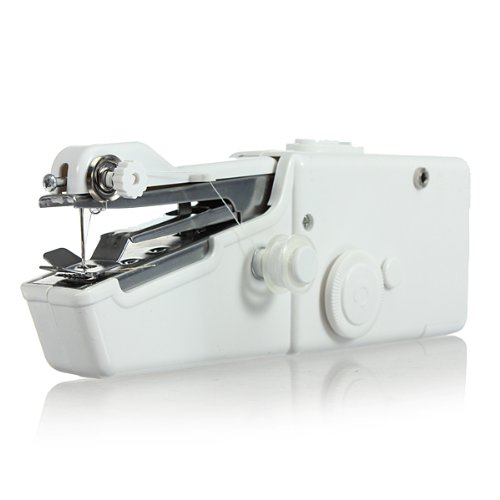 Pros
Lightweight
Perfect for beginners
Lockstitch and easy threading
Cons
Difficult to thread lower needle
Jams from time to time
13. LIANTRAL Sewing Machine
LIANTRAL sewing machine is a very outstanding machine with a unique feature. It has dual power supplies that can adjust according to your sewing needs and can also save your battery life.
There is a two-line design feature and an automatic winding feature as well.
Both newbies and professionals can enjoy everyday sewing techniques to make and repair different fabrics and fabric items.
Pros
Compact and cheap
Suitable for children as well
Two-line design
Winding feature
Cons
Not very durable
One basic stitch
Lacks add-ins
14. NEX Sewing Machine
This is a very dashing handheld sewer from NEX. It can operate at different speeds and is an ideal choice for beginners.
NEX sewing machine is lightweight, compact, and space-saving. Twelve built-in stitch patterns fulfill multiple purposes. It can hem seam, buttonhole, and even auto wind.
The side accessories include a drawer, a built-in tension adjustor, a light, and a thread cutter. The both-sided sewing makes strong bindings, and the attached handle makes carrying around easy.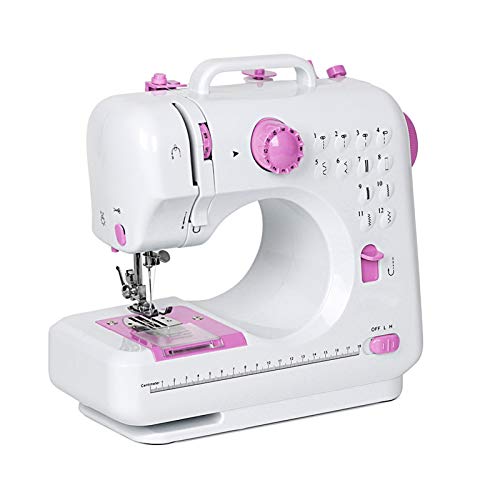 Pros
A large number of extra features
Built-in light
Two speeds
Forward and reverse sewing
Built-in carry handle
Cons
Not good for large detailed project
15. Varmax Mini Sewing Machine
Varmax mini sewing machine is a tough competition to its competitors in the market. This model really stands out in the crowd. The extension table comes in very handy while sewing.
The design is very optimal, which maximizes output efficiency and user experience. There are 2-speed controls, double threads, and a built-in light for dim areas.
Varmax Mini goes well with both new users and experienced ones.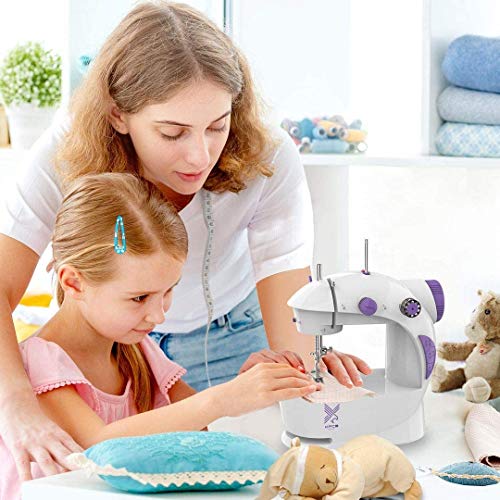 Pros
Extension table
Built-in light
Space saver
Double thread and the 2-speed control
Cons
Not suitable for elastic fabrics
Not quite portable
Frequently Asked Questions
How do you thread a handheld sewing machine?
The process is quite easy and simple. Connect bobbin, spindle, and spring first.
Put spindle with bobbin into spindle hole. It should snap or lock in. Take the thread end from the bobbin and put it through the hole above the spindle.
Now, Put the thread through the tension control knob. Put the same thread through the hole below it.
Use needle thread and thread through the needle. Put excess thread through the needle, and you are ready to go.
Are mini sewing machines any good?
They are not as good as regular sewing machines, but they can tackle your everyday small stitching problems.
They are also portable as compared to the regular sewers. They are small enough to fit in regular pockets or your purse.
Why is my mini sewing machine, not sewing?
The problems could be manifold. Maybe you are using a fabric whose thickness exceeds the maximum working limit of a mini sewer.
Make sure it is not more than 1.8mm. You may also be manipulating the tension controller unintentionally.
How much does a good mini sewer cost?
The cost can vary depending upon quality, features, and add-ins. Normal mini sewing machines can cost around 15$, and they can go higher with increasing quality and performance.
Can you make clothes with a mini sewer?
Yes, you can make clothes with a mini sewer. They are small but also versatile and strong. You just need the right method and also ensure that the fabric is not very thick.
Can you hem pants using handheld sewing machines?
Yes, a handheld sewing machine is strong enough to hem your regular pants. You just need a thread and a needle to perform the task, and it can be very easily done.
Which fabrics can a handheld sewing machine work with?
Most machines can work with almost any type of fabric from delicate ones such as silk to hard fabrics like leather. Be it your normal clothing, i.e., jeans, denim, cotton, wool, or any other material.
As long as fabric thickness is within the limit, any fabric will do.
Conclusion
We hope that we have made your lives a little easier with our detailed and reader-friendly reviews written on these amazing products top-picked in the market.
All your possible queries have also been answered. Always refer to the buyer's guide while looking for your ideal choice; otherwise, you'd just fool around with no way to distinguish effectively.
You should also consider your budget and needs and optimize your choices by them. Ultimately, you will have the best product which meets all your needs—wishing you good fortune!
Read Also: