Whether you are a hobbyist or a professional, or even maybe just trying to find a new productive activity, sewing machines have always been the go-to when it comes to spending quality time with yourself while doing something meaningful.
Sewing machines are known to make your everyday spare time super fun and productive.
When you take a look inside the world of sewing machines, you come to know that there is a wide variety of sewing machines that come in an even bigger range of types, shapes, and designs.
In the last few years, sewing machines have evolved a lot, so you should it gets super confusing and hard to find a reasonable yet affordable sewing machine for yourself.
Especially when you are on a hunt to find a sewing machine that has a free arm along with all the other features too! all this can cause you a lot of uncalled pressure and stress, but that's why I'm here!
To make sure you don't undergo anything like that or spend your money the wrong way!
I will be giving you a review list of the best free arm sewing machines found around the globe.
Top 9 Free-Arm Sewing Machine
You can also get a super close look at the buyer's guide, which will help you understand your tool and its features better.
And if that's not enough, I'm also going to answer some FAQ'S on how free arm sewing machines, so you don't feel like your wasting your money at any given point. So let's start!
1. Bruvoalon Free-Arm Electric Sewing Machine
One of the most ongoing machinery companies these days is Bruvoalon.
It has always succeeded in making its client's comfort and safety its priority, this particular free arm sewing machine holds a high place in the world of the sewing machine, and with its bunch of interesting features, it is kind of very hard to resist.
Let's talk about its extremely lightweight and super easy to storage and move around the body.
Made with a compact and sleek design to ensure high-end quality and construction, this sewing machine also provides you an extension table for an easier work experience.
It also has a thread cutter and a built-in power motor for a fast and nonstop work process.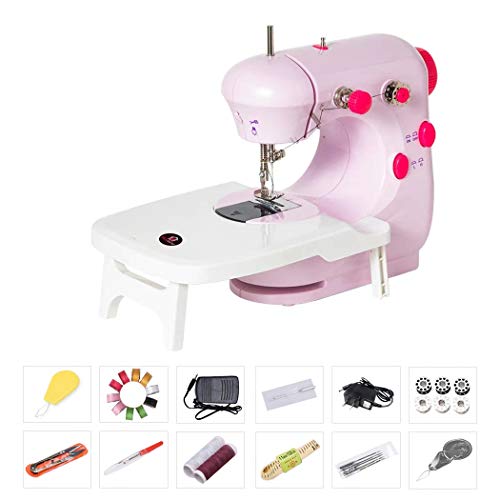 Pros 
Lightweight
Comes with a thread cutter/ extension table
Adjustable speed
Foot pedal
Cons 
Heats up quickly
The extended table is not high quality
2. Singer Start 1304 Sewing Machine
If you are not a newbie in the world of sewing machines or machinery in general, I'm sure you already know all about the singer company and how it is the most renowned brand worldwide, which Is delivering excellence for so many years now.
This sewing from the singer is keeping up with the brand's legacy has not let down by delivering every feature that you can wish for in a sewing machine.
From easy to start-up machinery to a high-quality 57 stitch application with a free arm, this machine has it all. It is also constructed to be super lightweight and portable for you to carry around with you easily.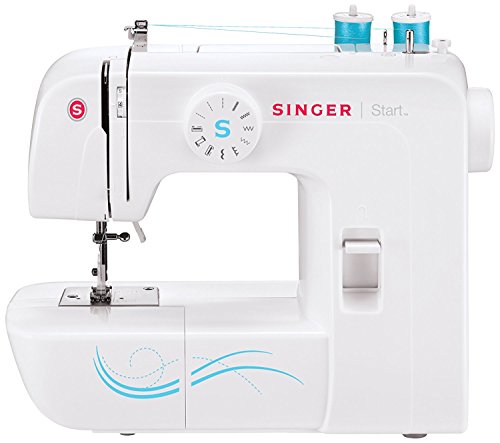 Pros 
Automatic bobbin rewind system
Lightweight
It comes with all one accessory kit
Free arm model
Cons 
Not durable
Defective bobbin (not automatic)
3. Brother ST371HD Sewing Machine
Constructed with a high-quality sleek metal design that is guaranteed to catch eyes, this sewing machine from the brother company has its fans made worldwide. So let's see what all the fuss about is!
Coming in a unique built-in 37 stitches system, this sewing machine also has an auto-size buttonhole, which means it will do all your hard work for you!
Furthermore, you can also leave it to this machine to thread the needle with its automatic threader system.
Along with a full accessory kit and a DVD manual for help in start-up, its sewing machine is packed with a free arm.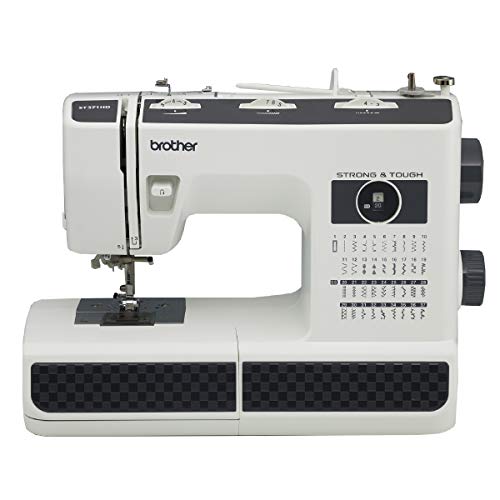 Pros 
37 built-in stitches
Automatic needle threader
Accessory kit included
Versatile free arm
Cons 
Not durable
Not all the stitches type of work
4. Singer Tradition 2259 sewing machine
Another great hit from the same amazing company.
The singer has upgraded the sewing game with this sewing machine by constructing it with features like easy to use and set up the free arm and a better portability design along with a lightweight yet compact body.
Let's not forget about the built-in 19 stitches and adjustable speed and length control system, and high presser foot lifter.
Not to mention the accessory kit and the storage boxed that is packed with it.
Pros 
Free arm
Better portability/ lightweight
19 stitches
Adjustable speed and length
Accessory kit & storage box
Cons 
Not high quality constructed
Confusing setup guide
5. Brother XL-3750 Sewing machine
No doubt, brother company has crossed our expectations various times, especially with this beast.
It is built in 37 stitches and a free arm along with a super lightweight body and a cloth carrying case for complete comfort and accessibility.
It also has a high-powered motor for better work experience and an automatic needle threader as well as an automatic buttonholer with complete length and width control.
Pros 
Free arm
Lightweight
37 built-in stitches
Cloth carrying case
Length width control
Cons 
Not durable
Makes loud noise
6. Janome 2206 sewing machine
Another big and well-known name in the industry is the Janome country.
Reviewing this sewing machine personally found it to be lacking nothing, whether it is portability or accessibility that we are talking about or if it's just simply the quality and construction.
Constructed with a front-loading bobbin and a free arm along with a speed that goes up to 860spm, this sewing machine is all that you need.
Not to forget about the built-in thread cutter and the drop feed dog it comes with.
Pros 
Front-loading bobbin
Free arm
Portable
Speeds up to 860spm
Cons 
Not durable at all
Defective shipping (sometimes)
7. Singer 1307WC Sewing Machine
Another legendary singer workpiece we have in our hands.
This easy-to-use and start-up singer machine also has a free arm and a quick plus easy threading system that will help you save time.
And with its adjustable length, you can now have full control over the length and width.
Let's not forget the variety of buttonhole options it gives you and presser feet and a canvas cover to keep it safe and clean.
Pros 
Quick and easy to use
Length and width adjustments
Canvas cover
Free arm
Cons 
Not highly constructed
It gets heated up sometimes
8. Janome 2212 Sewing Machine
Another famous creation of the Janome country, this time has many different features.
Coming with a free arm and a maximum speed of 860spm, this sewing machine also has many stitching styles and adjustments, which will make your sewing time super fun and less stressful.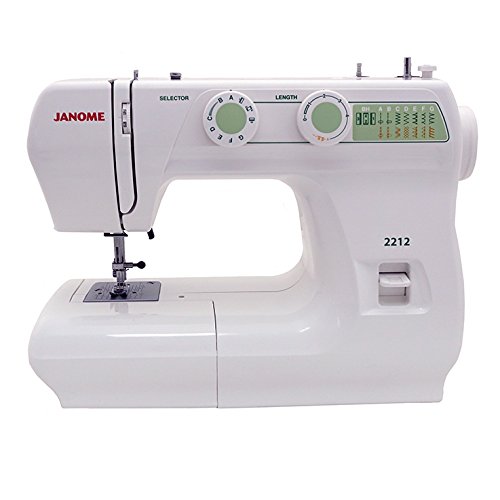 Pros 
Free arm
High speed
Bonus package included
Cons 
Not durable at all
Cheaply constructed
9. Luby Sewing Machine
Last but not least, we have this sewing machine from the brand "Luby."
Made for beginners, this is easy to use a sewing machine with an even easier start-up system that comes with speed and length/width adjustments.
This sewing machine is also known to be small and portable, which is also good for storage reasons.
With 12 built-in stitches systems and a storage box to keep in accessories, this is a perfect fit for beginners.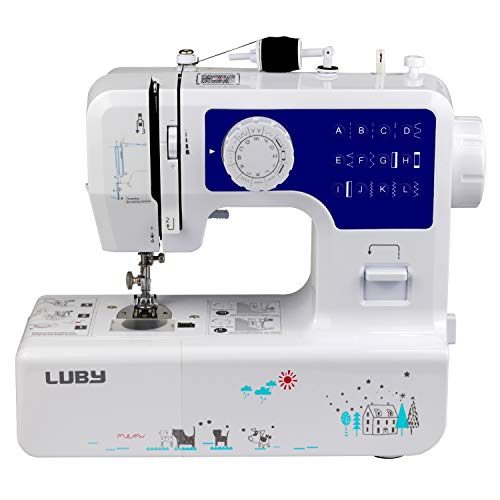 Pros 
Easy to start-up
All kinds of adjustments available
Ideal for beginners
Small and portable
Cons 
Very poorly built
It does not work properly
Buyer's Guide
The main and focal goal of a buyer's guide is to help and make you aware of the feature of the tool that you are about to buy.
Once you understand your tool completely, it helps you maximize the utilization of your machinery.
Other than that, with the help of a buyer's guide, you can easily determine which of the features in a free arm sewing machine are more or less beneficial for you.
So let's take a look at some of the most dominant features in a free arm sewing machine!
Comfort
One of the most prominent features of a sewing machine is its comfort. It is said that comfort is now a necessity rather than a luxury.
And since sewing machines are quite expensive and most of us don't afford to buy them again and again, it is important that we make the right choice the first time, which would be choosing an ergonomic design that prevents you from having backaches and neck strains as well as wrist strains.
Construction
Another dominant feature in a tool is its construction. It is indeed the construction of a tool that makes or breaks it.
Always keep a good eye on the observation of your tool to see what it's made up of.
I have seen many people who have bought cheaply made machinery only to regret it later on.
So make sure you don't go thru the same faith by shopping smart and sharp.
Power
Not having sufficient power can cause major problems in your work and can slow it down or put it to a stop altogether.
This is why it is your responsibility to go check the machinery that you are about to buy and give it a test run before buying so that you won't have anything to regret later on.
Versatility
Although, out main and utmost aim in a buyer's guide is to help you find a free arm sewing machine with the best features available and maximize its utilization, would it hurt someone if we found the same sewing machine but with just a little more advanced and versatile features?
Not only will it help you save money but also your precious time.
Frequently Asked Questions
What does free arm mean on a sewing machine?
The area under the needle part of a sewing machine is known as a free arm; it is used to store the bobbin shuttle and feed the dog.
What is the easiest thing to sew for beginners?
The easiest thing to sew is a kimono and a dress for a beginner.
Can I learn to sew on my own?
Yes, you can learn to sew on your own, you will need to watch a couple of YouTube tutorials, and you will be all good to go!
Which is a better singer or brother sewing machine?
Although both of them are very famous, it entirely depends upon your choice of features.
Is a free arm sewing machine more expensive than a normal sewing machine?
Yes, free-arm sewing machines are a little more expensive sometimes since they are built with features and qualities.
Conclusion
Now that we have reached the end of the article, I'm sure by now you know all about the free arm sewing machine that is out there.
I also hope that you have found your favorite one; if not yet, then you will soon!
Or if you still have any questions or if you still are confused by anything, make sure to go up and give this article another thorough read. Good luck!
Read Also: