Were you looking for a creative hobby and stumbled upon the idea of embroidery? If that is the case, you are in the right place.
Because embroidery is not just about purchasing an embroidery machine, you'll have to take care of a lot more.
That's why we have compiled a guide of the best embroidery machines for beginners. Enjoy reading!
Buyer's Guide
The buyer's guide will allow for research that will pave the way for a purchase that suits your needs precisely.
You ought to study these features before proceeding towards reading the reviews of the products.
Hoop Sizes and Embroidery Field
By embroidery field, we mean the area that a machine allows you to do your embroidery in. Most machines have it really small, and sometimes it is as limited as a few inches.
If you want more creative freedom, it is best to get the one with more fields. Machines also arrive with different hoop sizes.
But you may also purchase them separately. It is better to go to machines that have multiple options.
That way, you will not have to spend extra time and effort in choosing and buying hoops of different sizes.
Design Options
There are many different-sized libraries available when it comes to embroidery designs, and the machines are loaded with them.
Some machines have to offer really cute designs that you can actually use, the others come with impractical designs that will be of no use to you.
However, the option of downloading or purchasing new designs also exists. But for that, you will have to see if the machine allows you to do that.
Some machines make it easy; you won't have a hard time downloading and using the designs. So choose a machine that allows it all.
Display
The display on an embroidery machine is going to show you the design that you will be going for. The quality of the display varies from machine to machine.
Sometimes you do not get a clear picture of what you are going to draw. If that is the case, you will have to consult the manual or the internet before choosing any design.
This can be really bothersome, so make sure that the display of the machine is clear.
Additional Features
Many machines have additional features that you can use except these basic ones, and they make your job a whole lot easier and more fun too.
Like an automatic thread, tension allows for the suitable thread tension at all times without the risk of it breaking.
Thread trimming is a pain when you have to do that by hand, so it is better if your machine does it for you.
Embellishment capability, like beadings and sequins, and archibald fonts will make your embroidery process much interesting.
Top 8 Embroidery Machines For Beginners Reviews
After the buyer's guide, you need to know about the best products in the market today.
As there are so many of them available, we decided it was a good idea that we do the research and save the hassle for you.
The pros and cons are also there for the sake of comparison.
1. Brother PE535 Embroidery Machine
Whether you are a beginner or an expert in the matter, you will find the range of functions on this model very decent.
Coming with 80 design options, the machines don't only give you many options to choose from also allow you to download and choose your own design.
To make it possible, the machine has a USB port and a touch screen LCD display, to make sure that you are extremely convenient.
The design area is 4"x4". Moreover, there are nine fonts that you can .choose from too.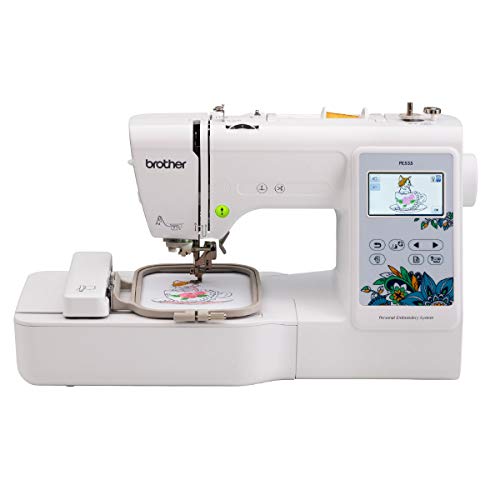 Pros
Eighty design options
USB port
Touchscreen LCD
Nine fonts
Automatic threading
Cons
No accessories
Slightly difficult to set up
2. Brother SE600 Computerized Sewing and Embroidery Machine
If you buy too basic of a machine, you will have a hard time when you will be moving up from the beginner level and would stand in need of more advanced features.
That's why we have this model here. You will find it very easy to set up, even if you don't know the first thing about machines.
Then, when you get the hang of it, you will find many useful accessories, like 7 feet, zipper, overcasting, buttonhole, zipper, monogramming, and many more.
Starting off from eighty designs, you can add a lot more of your own.
Pros
Easy to set up
Offers additional features
Touchscreen LCD
Accessories included
Cons
Instructions aren't very clear
3. Brother Project Runway Embroidery Sewing Machine
Nothing is better than having a machine that gives you the advantages of both sewing and embroidery.
Whenever you need to switch from sewing to embroidery, all you need to do is add the hoop, and you're good to go.
There are 67 stitches for sewing, and also a 4"x4" hoop. And the LCD display tells you the design that you are up for, and it's also a touchscreen.
Not only that, but it also has 70 designs for embroidery and five lettering fonts. You can also import the designs from the computer.
Pros
Meant for sewing and embroidery
67 sewing stitches
Touchscreen LCD
70 embroidery designs
Five fonts
Cons
Pricey
Thread tension creates issues
4. Brother Embroidery Machine PE770
For those who search for an embroidery machine that is durable and has a built-in memory, this is the one for them.
Designed with a field that is as expansive as 5"x7", this machine offers you the option of making huge designs.
Since there is a USB port, you can import whatever design and then use it.
Despite that, there are already 136 design options you can choose from. There are also border styles that you can use. The design editing on this one is extensive.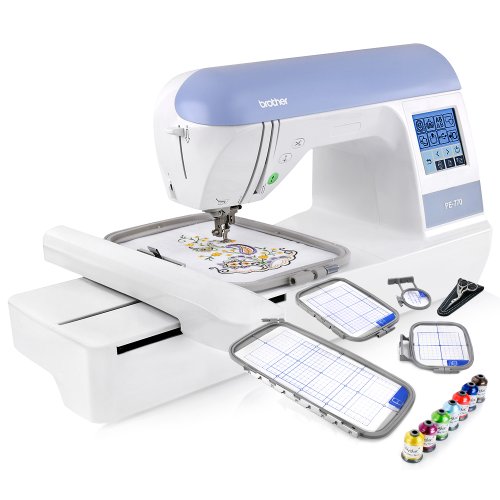 Pros
Expansive field
USB port
136 design options
Border styles available
Cons
Thread breaks
Bobbin area messes up
5. Ever Sewn Hero Sewing and Embroidery Machine
It's best to buy one machine that does it all instead of having one machine for every task that you have to perform.
That's why it is better to get a hybrid of sewing and embroidery, and especially one like this because it offers both features precisely.
For the sake of sewing, there are practically 400 designs you can choose from!
And for embroidery, there are forty designs, and you can download new ones anytime. An automatic needle threader is an additional advantage.
Pros
400 designs for sewing
40 embroidery designs
Better workspace
Automatic Needle threader
Cons
Minimal instructions
Difficult to operate
6. Brother SE1900 Sewing and Embroidery Machine
Here we have a machine that will allow you to have a wide range of functions, which include functions of sewing as well as embroidery.
For the sake of sewing, you can have 240 different stitch designs.
And for the sake of embroidery, it allows you to choose from 138 designs, plus with a USB port so you can download more designs.
The hoop is large enough; 5"x7". Moreover, eight sewing feet are also included.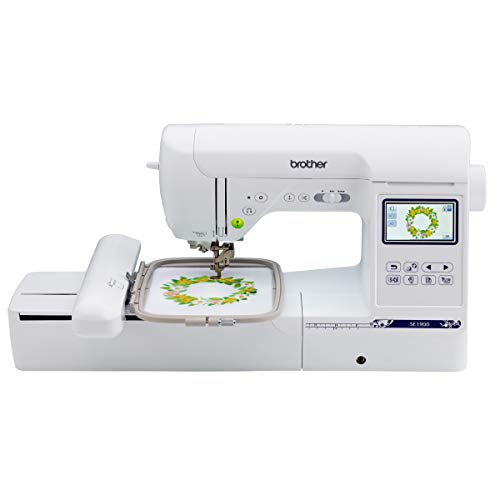 Pros
240 stitch designs
138 embroidery designs
USB port
Large field area
Eight sewing feet
Cons
7. SINGER Futura XL400 Portable Sewing Embroidery Machine
If you are a beginner at sewing and embroidery, the chances are that you have taken up a course that involves taking your machine somewhere.
This can be a major issue if your machine is not portable.
Luckily, the singer Futura is portable as well as it offers you sewing and embroidery, so you can practice both on the same machine.
There are LEDs attached to make it easier for you to see. Many options are available for you to choose from.
Pros
Portable
Sewing and embroidery both
LEDs
30 stitches and 125 embroidery designs
Cons
Hard to operate
Need extra needles
8. Singer Legacy SE300
Lastly, we have a sleek embroidery and sewing machine that offers you a great big workplace for both the tasks.
Built-in stitches and designs are enough for basics, but that the same time the USB port allows you to download more designs and fonts.
There are, in total, 250 stitches and 200 embroidery designs available.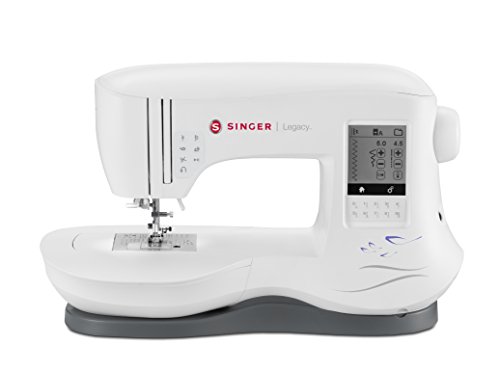 The availability of buttonholes and automatic threading means that you have additional functionality.
Pros
250 stitches
200 embroidery
USB port
Buttonholes
Automatic threading
Cons
Needles bend
The thread starts getting stuck
Frequently Asked Questions
How does the embroidery machine work?
The embroidery machine creates stitches with a mechanism that has a bobbin thread and a top thread.
At the bottom of the material that you have to stitch, the bobbin thread is located, and it takes the thread from the top thread.
A loop is created this way. That is how embroidery machines usually work.
How does a multi Needle embroidery machine work?
A multi Needle machine has somewhere around six needles. This means that before you begin the embroidery, you can start off with six different colors.
After being able to know how the machinery works, you should be programming your design so that whenever whatever color choice is needed, you press start, and the sewing commences.
What garments can you stitch with the embroidery machine?
You can literally go for any soft fabric that can be placed between the bottom and the Needle. The soft ones are easier, like hats, shirts, and jackets.
Stiff like travel bags, mattress covers, or horse blankets will be requiring special time and attention because they require accessories if you wish to embroider them.
You can also stitch logos, names, or ornate embellishments on garments. The size of the design can vary from a quarter of an inch to seventeen inches, even larger.
What's the difference between commercial embroidery machines and hobby embroidery machines?
The hobby machines cost less than the commercial ones due to many reasons.
First of all, only certain parts are made up of metal; the outer covering is usually plastic in hobby machines, unlike the commercial ones; they are made up of solid metal inside and out.
Secondly, the hobby machines cannot go over a certain speed, but the commercial ones can. Commercial machines have advanced controls and more powerful motors.
What is computerized embroidery?
Some embroidery machines are specialized so that they can work by using data from a computer.
This data will tell the machine to stitch some specific design, then come up with the correct order of cross stitching, and many other functions.
The embroidery machine can do in minutes what you can take a week to do by hand.
How is computerized embroidery made?
You need to enter the design that the embroidery is to follow on the computer. The computer will instruct the machines as to what to do.
The machine then decides the shape of the object that is to be printed and chooses colors as well. The start button is used to start the machine after all the instructions have been given.
Typical logos take five minutes or so to stitch.
When you press start, does the machine start stitching like a printer?
No, there is a set of instructions that need to be followed, and you need to have some knowledge of it. The embroidery techniques and ways of operation need training.
Features like how to adjust the tensions, thread the machine, operating the control panel of the machine, embroidery placement, and hooping will require effort.
Where should I learn the basics of embroidery?
First of all, every machine will come with an instruction manual that lets you know how that particular machine is to be operated.
You will have to consult that first thing. Then, you can take up a short embroidery course; there can be many free ones available too.
Does the embroidery machine operate automatically once started?
Yes. When you push the start button after the instructions have been given to the computer, you really don't need to intervene with the function of the machine.
The machine will start and stop automatically and cut the excess thread whenever necessary. After it is done, the embroidery will be ready to display.
How big are embroidery machines?
The hobby embroidery machines are just like any other regular-sized sewing machine.
However, the commercial machines can come in all shapes and sizes, ranging from 30 inches to the really big ones to produce embroidery on a mass scale.
Conclusion
In the guide above, there was everything that you needed to know about the embroidery machines.
The buying guide will help you study more about the machines, and the product reviews will help you make a decision.
We hope that you manage to make the best deal out of your money now!
Relevant Topic: