Mini sewing machines are as efficient as the heavy-duty ones when it comes to smaller projects such as repairing your clothes or making some for your baby.
However, the presence of a lot of models might get you confused while buying.
So, we have come up with a comprehensive list of the top 15 best mini sewing machines that will come in handy when you are choosing your next product.
They all belong to the top category and will provide good value for your money.
Buyer's Guide
If you're a beginner, there are likely a lot of things you don't know about machines there that are important to consider when buying.
Weight
When it comes to mini sewing machines, the machine being lightweight is amongst the most important factor.
Portability is the key here. The heavier the weight of the machine, the harder it will be to carry it around, diminishing its original purpose.
So, make sure the weight is not much as to cripple the machine of its portability.
Stitching Speed
This is a measure of how fast the machine can sew stitches. The faster the speed, the lesser the time that you will need to finish your job.
However, keep in mind that handling faster sewing speeds is difficult, especially if you're a beginner.
So, higher-speed machines are not suggested if they don't come with speed control if you're a beginner or a novice.
Features
Machines usually come packed with a lot of sewing features, which make your work easy, and you can achieve days of workload within hours.
These features include automatic needle threading the cutting, etc.
A free arm is another great feature that makes sewing the curved edges easier. So, don't ignore these features in a machine as they cannot be added after you have bought the machine.
LED Light
Mostly when you own a portable sewing machine, you will be changing your work locations, and it's pretty possible for the place to not have a very strong light source.
In such a case, the presence of a LED light is necessary. So, make sure you get a machine that has a built-in LED feature to make working in the dark convenient.
Price
Having a lesser price is also a very important feature of mini sewing machines.
If they come at a greater or even a small lesser price point than the heavy-duty ones, there is no point in getting a mini sewing machine as you cannot handle huge workloads and still would be paying a great deal.
So, don't make sure you pay for the things you are not getting.
Top 15 Mini Sewing Machines Reviews
After comprehensively studying and reviewing the top models of mini sewing machines in the market and reading their respective customer reviews, we have, as a result, arrived at our top 15 picks for the best mini sewing machine.
1. KBCP Mini Sewing Machine
Sitting at the top spot of our best mini sewing machines, this model by KBCP is not amongst the most famous ones in the market; however, it was too precious to be left out of our review.
With a very long extension cable that lets you work sitting anywhere, it comes with a very durable build material with a good quality adapter that protects it from electrical mishaps.
With a two-level speed setting and rewind bobbin, it has a good set of features and offers good customer support.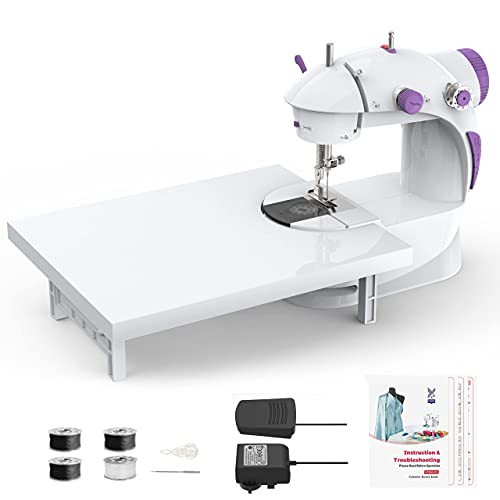 Pros
Durable construction
Long extension cord
Automatic bobbin rewind
Speed control
Great for newbies
Cons
Only straight stitching
No English instructions
2. Magicfly Mini Sewing Machine
Magicfly sewing machine is an electrical sewing machine that lets you stitch your clothes very strongly with two threads.
There are speed control options as well, which lets you adjust the speed according to your needs and expertise.
Working in the dark is also made easier with a built-in LED light, and your efficiency is boosted with features like an automatic thread cutter.
Moreover, the machine is easy to use, and even beginners can make the most out of it.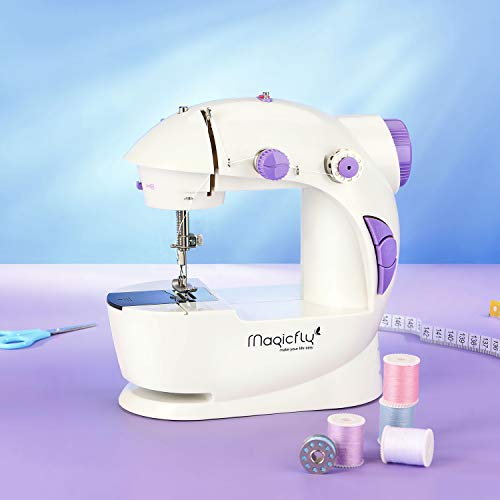 Pros
Speed control
LED light
Extension cable
Automatic thread rewind
Comes with many accessories
Cons
Only two-speed levels
Not the easiest to use
Not so durable
3. Joypea Mini Portable Sewing Machine
If you're not a very caring person with good hands and often keep your products dropping, this mini sewing machine could be a good option for sewing on the go.
With a heavy-duty metal frame, the body is made to be very durable and will certainly last you years.
It comes with a stainless-steel bedplate as well, which is very suitable for even stitching. There are six built-in stitches for you to try a different design with.
Pros
Dual needle sewing
Durable body
Stainless-steel bedplate
Built-in 4 step buttonhole
Easy to use, good for beginners
Cons
The pedal requires a lot of pressure
Adjusting bobbin tension is tricky
4. Singer Start 1304 Machine for Beginners
Although it's probably the lightest machine it reviewed, it works just like any heavier machine.
The singer is highly known for its durable build and quality products, and this machine is no different.
It has all the advanced sewing features a beginner might need and comes with a free arm for easy curved stitching.
Pros
Easy to use
Very portable
Built-in light
Durable
Good stitching speed
Reverse lever
Cons
5. Michley LSS-202 Mini Sewing Machine
Michley LSS-202 is also one of the mini sewing machines which are not very much known, but nevertheless, it performs just fine and offers very fine and strong stitching with double threading.
Don't mistake its power for being compact in size as it is pretty effective and can work on denim as well.
Everything needed to set up the machine is included in the box, and it comes with many additional accessories as well.
If you're a beginner and are not comfortable with high sewing speed, you can adjust the speed in the beginning too.
Pros
Two-speed settings
Can sew denim too
Two drop-in bobbins
Automatic thread rewind
Many accessories
Cons
Loud while operating
Hard instructions
Parts inside are not very durable
6. Nex Sewing Machine
Nex sewing machine is a very popular choice among the beginners who are starting with stitching and do mostly small house projects like making clothes for children at home or repairing the clothes.
There are speed levels available for safety, and you can use the built-in light to work in the dark as well.
The 12 built-in stitches are available for customization, and it is quite light hence easy to carry around.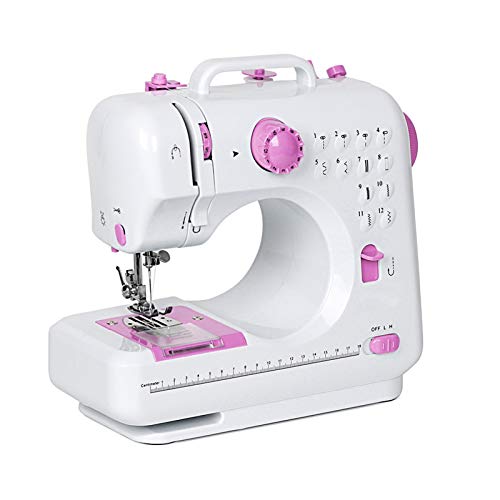 Pros
Easy to follow instructions
Very portable
Built-in light
12 built-in stitches
Multipurpose
Cons
The needle might break often
Reverse stitching is tricky
7. Singer 3223G Sewing Machine
With a very attractive green-colored body and 23 built-in stitches, Singer 3223G is a very compact and portable machine that comes with a very durable heavy-duty metal construction body.
There are various sewing features that help you stitch while being efficient such as automatic bobbin winding and built-in 4 step buttonhole.
The free arm is available for easy stitching on the curves, and a wide range of accessories are provided to make your sewing easier.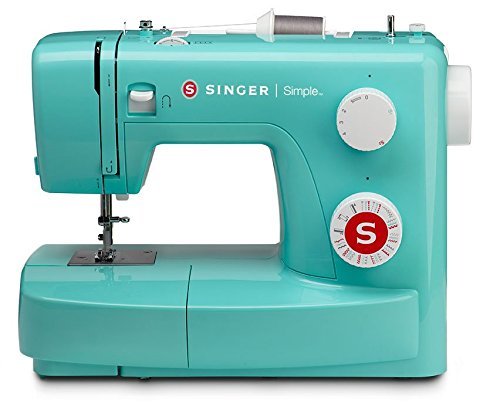 Pros
Free arm
Automatic bobbin rewind
Many accessories
High-pressure foot lifter
Built-in 4 step buttonhole
Durable metal body
Cons
Warranted for use at 110 volts only
Not the best bobbin
Parts can be missing
8. Brother XM2701 Sewing Machine
This product is again by Brother, which performs just as well in stitching as the previous one we discussed.
However, there is an additional feature of a greatly increased degree of portability.
Being very compact and lightweight, this machine can be carried easily as you work and provides a LED light to work in the dark without any problem.
You have 27 unique built-in stitches and 63 stitch functions, so you can be very creative.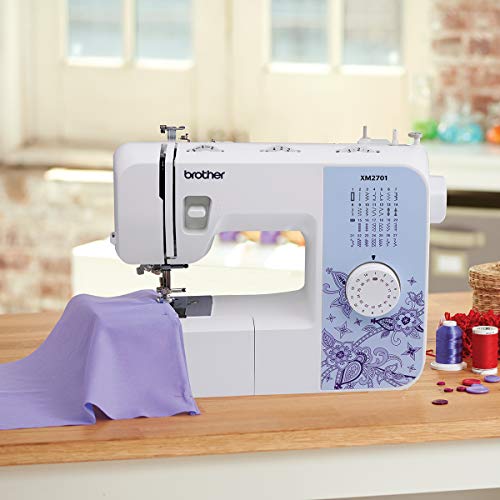 Pros
Versatile in functionality; 63 sewing functions
27 built-in stitches
LED light
Portable
Easy to use
Cons
9. Singer R 8280 Sewing Machine
This machine by Singer, just like the other models we mentioned, comes with a heavy-duty metal frame that enhances the lift of your machine, and there are no problems whatsoever regarding the body.
With adjustable feet pressure, you can customize it according to your needs, and as far as stitching is concerned, it is very convenient for that and produced excellent quality results.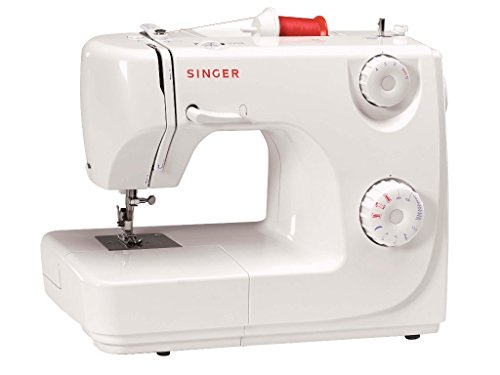 Pros
Affordable
Simple minimal design
Compact body
LED light
Many accessories
Cons
Very few stitch patterns
Not the most durable
10. Singer Tradition 2277 Sewing Machine
Although it operates at 110 volts and is designed primarily for usage in the US and Canada only, it's amongst the best in what it does.
Even by being an extremely portable and handy machine to use, it has got all the great features that let you stitch clothes while saving your time.
There are features like automatic needle threader adjustable stitch length and width.
There are many built-in stitches as well, and the machine and accessories come with a warranty so you will have peace of mind.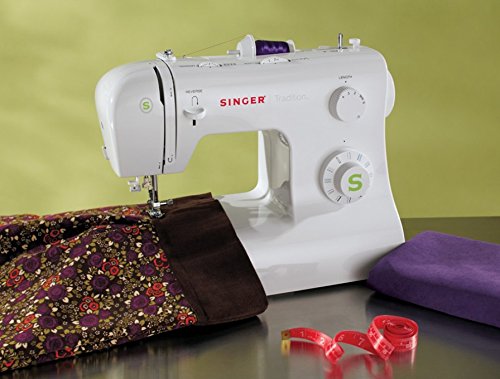 Pros
Automatic 1 step buttonhole
Adjustable length and width
Automatic needle threader
Many accessories included
Durable metal build
Cons
Heavy
Not so easy for beginners
11. Janome Graceful Basic Sewing Machine
Being called by multiple sources as the dream of beginners, this model by Janome has everything you could wish for in a compact, affordable model.
There are a handful of stitches available, which are quite much for your everyday tasks.
However, this machine is not that powerful to handle the heavy-duty workload, so keep that in mind. However, it is easy to start with, and the learning curve is great.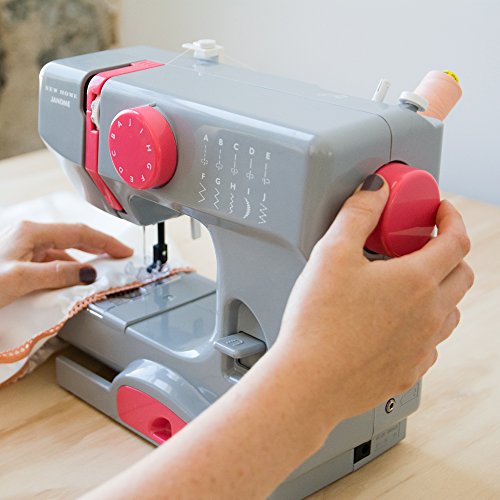 Pros
Free arm
Top drop-in bobbin
Affordable
Portable
Finger guard
Cons
12. APlus+ Mini Sewing Machine
Habitual of changing your sewing positions multiple times and worried about the presence of power supply everywhere?
Well, this machine will have no problems with it due to the pretty long and unique extension cable that comes with it.
It is a double threader for good quality stitching and comes with two levels of speeds to set according to need.
Pros
Very portable
Suitable for home use
Easy for beginners
Long extension cord
Adjustable speed
Cons
13. Easy Stitcher Table Top Sewing Machine
Probably the machine with the most compact body you have ever seen.
However, don't underestimate the performance based on the look of the machine as it just fine for usage in small projects and is a very good choice for beginners.
It is very easy to follow the instructions included to get started within no time.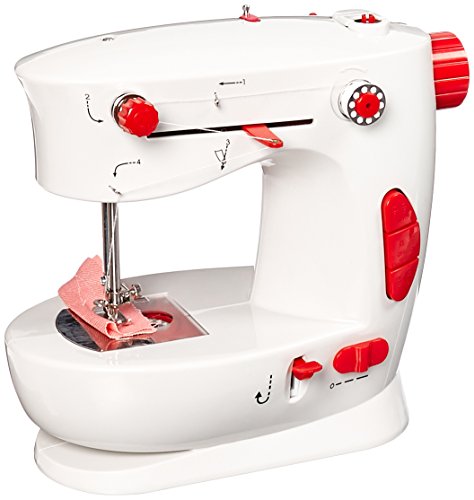 Pros
Can be used on a variety of materials
Very portable
Easy to use and follow instructions
Cons
Not suitable for elders
Can get jammed
The body is not very durable
14. Haitral Mini Sewing Machine
This mini sewing machine by Haitral is amongst the top contenders for the best product out there; however, it is quite underrated and not known to most people.
Being very easy to use and get comfortable with, it provides you with everything you need, such as adjustable speed and double stitching. It is very portable as well and carries a lot of accessories.
Pros
Many accessories
Very portable
Two-level speed setting
Double stitching
Good customer support
Cons
The thread might break occasionally
Needle could break
Doesn't work for all fabrics
Frequently Asked Questions
Let's see some of the most frequently asked questions by beginners, which you might also have revolving around in your head.
What can a mini sewing machine do?
A mini sewing machine can accomplish pretty much all the sewing tasks; however, it's not built for dealing with heavy fabrics such as leather.
It's also not meant for heavy-duty projects but can handle small home projects quite nicely.
Can a mini sewing machine sew jeans?
Yes, it can. However, it depends on the model you have, as well. Some machines have powerful motors to easily sew your jeans, while some may not be very easy with them.
How do you sew with a mini sewing machine?
A mini sewing machine is easy to sew with. Within a few sewing sessions, you can get to know the machine fully.
They are meant to be user-friendly and work just like regular mechanical sewing machines.
How do you put a bobbin in a mini sewing machine?
This can be answered by looking at the specific model of the machine.
Some have a drop-in bobbin, which is the easiest to use while some are not that easy.
The user manual will have all the answers related to that model, though.
Why is my sewing machine, not sewing?
Check your needle first if it's bent or installed not correctly. Then check if the top of the thread is reaching the bobbin correctly.
If you still don't find a reason, you can always call a professional.
Are sewing machines easy to use?
Well, it really depends upon the model, to be honest, but most of the mechanical sewing machines are easy to use while the computerized ones are usually harder.
Why is my sewing machine not picking up the bobbin thread?
There can be multiple causes for that; however, the most common one is the thread being caught on something between the needle and the spool of thread. Rethreading often solves the problem.
Why does the sewing machine making noise?
A sewing machine making noise is an indicator that it needs maintenance. However, if it still makes noise, you need to get it checkup immediately.
Can I use a mini sewing machine for canvas fabric?
No. most of them cannot, as they are built for delicate fabrics. But some machines with powerful motors might be able to achieve it, but it's still risky.
Why does my thread keep breaking?
There can be multiple reasons for that.
The tension may not be right, and you might need to take it down a notch. Or you might be using the wrong thread. You can also try re-threading.
Conclusion
So, we have seen the top 15 picks for the best mini sewing machines.
Although mini sewing machines are portable and compact, they are still likely to get almost all your small projects done without any issue.
So, don't worry about it and just choose the one according to your personal preferences.
Just make sure you give the buyer's guide a good read before buying.
Read Also: