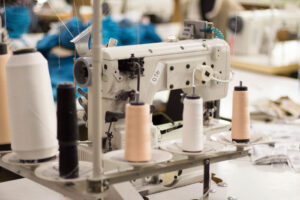 If you want to pursue the wig making journey, getting a sewing machine will start you off in the right direction. Hand sown wigs can be quite the handful, especially because they come apart so easily.
This is exactly why investing in a sewing machine is a better option as it will alleviate the quality and durability of your wigs.
As the stitching is tighter, your wigs will be able to withstand coloring, washing, and even brushing without its strings loosening up or unraveling.
You will also be able to achieve the goal of having a flatter laying tract with sewing machines, which is a key factor that differentiates a good quality wig.
Making wigs with a sewing machine is a far better option, especially if you're in the wig-making business because it gives your wrists a much-needed rest that is impossible if you're making hand's own wigs.
The key takeaway from this is that sewing machines can upgrade your wigs in terms of neatness, durability, and secure wefts, which are impossible to achieve by hand sowing to get the same results.
Top 7 Sewing Machine for Wigs
Please don't make the wig making the process more complicated than it needs to be; instead of relying on a sewing machine, you can save time, avoid aching wrists, and most importantly, enhance the quality of your wig.
Since the market is filled with so many options, indecision and doubts can get in the way.
Don't overthink it; here's a list of the best sewing machines for wigs available in the market to help you find what you've been searching for this whole time.
1. Jeteven Handheld Sewing Machine
If you're looking for an option that you can carry around anywhere, you want this handheld sewing machine will suit you well.
It's also easy to use, and you can make repairs while you are traveling.
While this portable handheld option offers quality and mobility, it still can't compete with mechanical sewing machines. It will sew in wigs; however, it's better for small stuff sewing crafts that don't need much precision.
It's perfect for an on-the-go fix and performs the job it claims to well, but it's not the ideal option one would look for if they want a neat finish with durable stitches to put together a wig.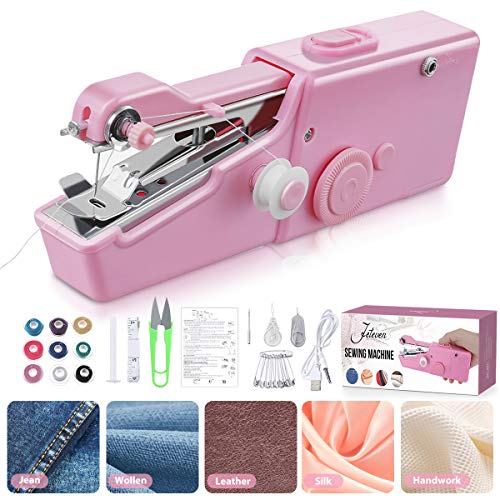 Pros
Easy to use
Portable
Compact design
Great for beginners
Cons
Rough finish
No bottom thread
2. DUTISON Cordless Mini Sewing Machine
Another handheld option of a sewing machine to make our list due to its compact design; it can easily fit in the bag, so it's very functional to have this, especially if you travel often.
It's not complicated to use at all, so even if you're a beginner, you won't encounter a lot of problems.
It suitable for a variety of materials, but since wig caps are generally made of thin materials, you don't have to worry about much.
It only offers the option of a single-line stitch, so it's not perfect for wig-making.
You also have to tie the knot yourself once you're done stitching as there's no bottom thread present, which is inconvenient, in my opinion.
But if you're in an emergency and need a quick fix, this will get the job done.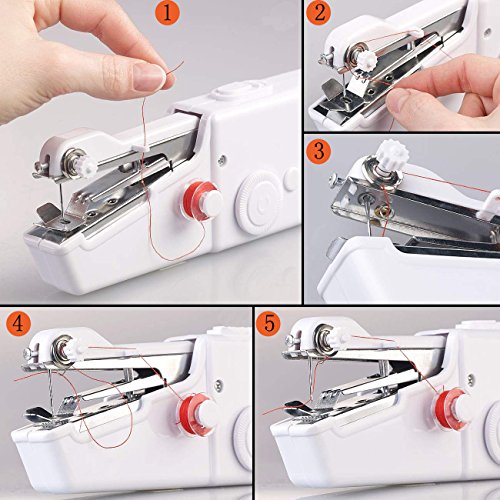 Pros
Portable
Mini size
Lightweight
Cons
Single stitch option
Not durable
3. Brother GX37 Wig Sewing Machine
Time to give your wrists some much-needed rest, this sewing machine is the epitome of high performance.
Your wigs will look like special attention has been paid to create them just by how finely detailed and polished they can look with the help of this machine.
It's a wholesome product that offers 37 built-in stitches and an automatic needle threader for your convenience.
A mechanical sewing machine comes in a design that offers all the features required to make a wig but is surprisingly light in weight.
Some users do complain that it doesn't have a stop or start button, but if that doesn't bother you, it's a great option.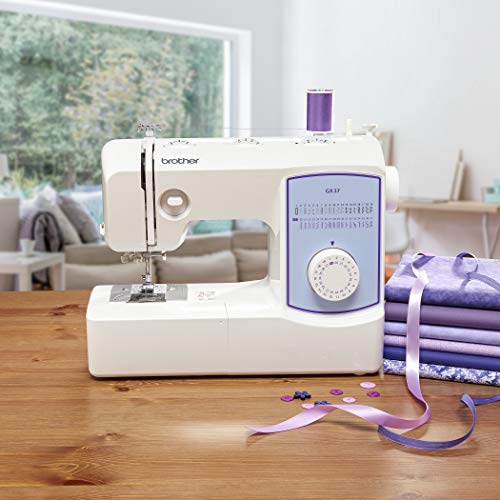 Pros
Lightweight
Great for beginner/intermediate level
Versatile
Quality stitches
Cons
No speed regulation
Lacks an automatic cutter
4. Brother Sewing and Quilting Machine
Another great option from brother, the manufacturer takes the user's comfort seriously. This sewing machine comes with 60 built-in stitches that can be chosen by a mere tap on its LCD screen.
This machine can be carried around easily as it's and lightweight.
You can save so much time in wig-making thanks to the top load bobbin and automatic needle threader; this means you don't have to be frustrations that come with putting the thread in the needle's eye while the number of orders for customized wigs keeps piling up.
The addition of a hard protective case is just a cherry on top, making this machine portable.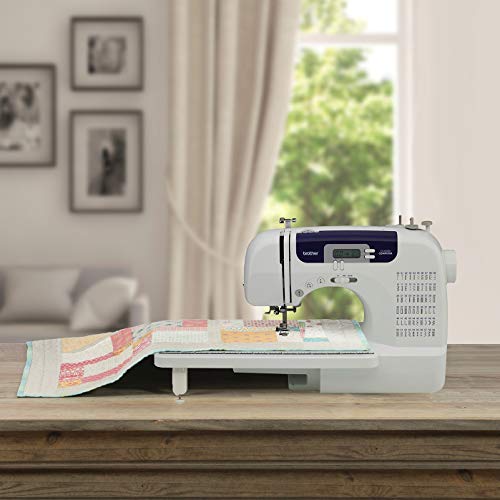 Pros
Easy to use
Portable
Versatile
Cons
Fast speed may cause the thread to come out.
Needles don't last for long.
5. Brother PQ1500SL Sewing Machine For Wig
Get yourself a sewing machine that gets your wigs together in a matter of minutes instead of hours without any compromises on the quality of the stitches.
You get plenty of space to work with even the longest of wigs thanks to its wide table, which gives you extra 7 feet of working space.
The addition of 1500 different types of stitches that can be made with this sewing machine makes it multi-functional.
Its metal construction and sleek design make for a durable yet aesthetic machine.
The drop-in top bobbin and an advanced needle threading system make it an all the more attractive machine from its competitors.
The additional kit includes everything you need to get your wig sewing started.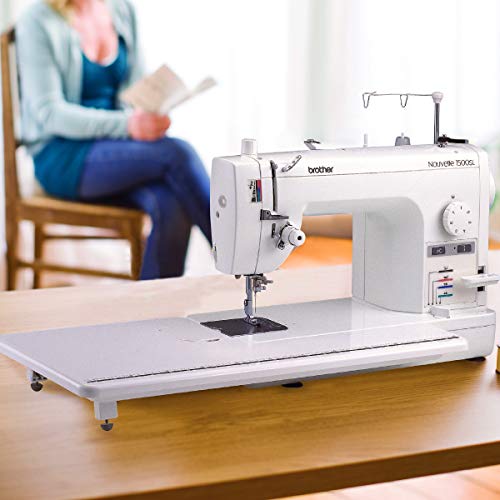 Pros
Durable
Wide working base
High-quality stitches
Cons
The thread cutter cuts too short.
The auto thread doesn't work well.
6. Brother CS5055PRW Sewing Machine For Wig
This sewing is worth every buck, particularly if you're looking for a sewing machine for wig construction. It offers up to 50 types of stitches; I know many options offer a much larger variety of stitches.
But if you want a sewing machine for wigs, only this machine is sufficient, and you don't need to look for any other options. The design is light in weight and compact.
The user's ease is given preference, which is why you see an LCD screen.
The LED light source to brighten up your workspace is an added plus that prevents you from straining your eyes too much while making sure you see even the niftiest of detail.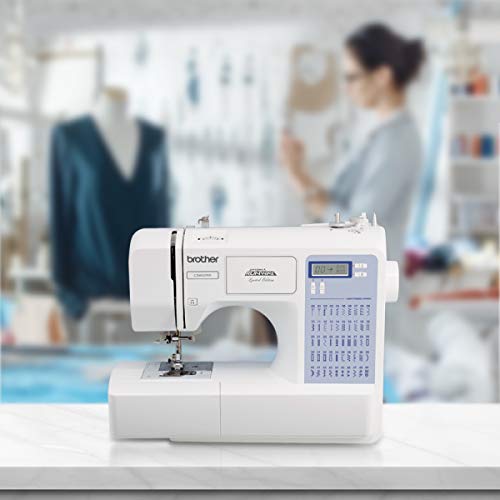 Pros
Easy to use
Portable
Less noisy
Cons
Beginners may have trouble.
Not heavy Duty
7. SINGER 4423 Sewing Machine for Wig
If you are a wig master, this is the sewing machine that is the answer to all your prayers.
This beast of sewing machine offers durability and is a reliable option that won't give up on you no matter how much you work.
While it only offers 23 built-in stitches, it makes up for it in construction as the whole machine is built on a metal frame, which provides not just durability but stability.
With speed up to 100 stitches per minute, you are bound to work at lightning speed without encountering any problems.
Stitch in your wigs with absolute precision and unmatched finesse that allows them to look like natural hair.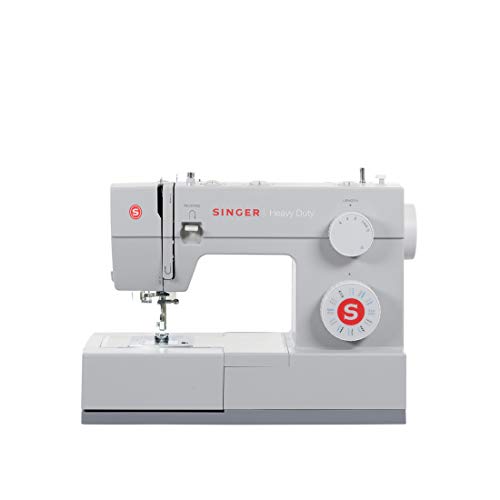 Pros
Durable
Heavy duty
High Speed
Cons
Difficult to adjust the sewing speed
Requires maintenance
Buyer's Guide
Investing in a sewing machine requires some basic knowledge that you must have a grasp on before making any decisions.
Therefore read this buyer's guide, which includes some of the major characteristics that need to be considered to have a successful experience with your sewing machine.
Stitches
Since you need a sewing machine for making wigs, it's essential to look at the different kinds of stitches they offer. The wig-making process primarily requires two kinds of stitches.
The first being the zigzag stitch and the second the straight stitch. Even though most sewing machines do come with these two stitch patterns, but you should always check to be sure.
Suppose you're looking for a sewing machine whose use isn't just limited to sewing in wigs, then you should check for the numerous other stitches you might need according to your projects.
Durability
If you own a wig-making business, the chances are that you would be creating wigs in large amounts. Due to the large scale of your projects, you would need a sewing machine that lasts you for a long time.
It's a commonly known fact that machines with metal construction tend to be far more durable; however, they can be heavy.
Mechanical machines that are metallic in construction can run as well as new for a lifetime with some upkeep and maintenance.
Stability
You cannot expect to get straight stitches with a sewing machine that's wobbly and vibrates.
Checking for a stable operation and mechanism is important to ensure that your wig is stitched in properly and without any flaws.
Buying a sewing machine that offers minimal vibration can result in a hurdle-free experience; therefore, pay attention to the quality of engineering and internal parts of the product before making any decisions.
Additional Features
While additional features aren't mandatory for sewing machines to perform well since the wig-making process only requires beginner level and the most basic functions of the machine yet some features can make a difference in terms of time-saving and convenience for the user.
Features like an automatic needle threader, which thread the needle for you, can make all the difference, especially if you have trouble viewing the eye of the needle.
The needle up and down feature is also convenient for sewing in wigs as it's helpful to sew down sharp corners effortlessly.
Another feature that you might be worth spending on is the automatic thread cutter, as it allows you to save time and gain a neat, professional-looking finish.
Frequently Asked Questions
Can I sew my wig on?
Yes, sewing in your wig allows you to wear it on for a longer period. The other option is gluing it in place, but it won't be as reliable.
How do you make a wig with bangs?
You can do this by using a closure wig. Or you can put on the wig and cut the bangs according to your face shape and preferred style manually.
How long can you keep a wig sewn in?
The recommended time is two weeks; however, you should take care of the health of your scalp and wash it every ten days or when you sweat a lot.
Are wigs better than sew-ins?
There is no stark difference between either; you can choose according to what suits your purpose better. People often convert sew-ins into wigs.
How do you cut bangs on the middle of a wig?
Divide the hair in the front without taking the end of the skin top area; divide a little bit before the end so the tracks can be covered.
Comb the front down and heat it with a blow dryer, and wait for it to cool. And cut the hair like you cut down bangs the way you want.
What are wig bangs?
Wig bangs are wigs that have bangs, so when you wear them, it looks like you have bangs. They come in all shapes, volumes, and sizes.
Conclusion
I hope the buyer's guide and product reviews were helpful; however, remember that if you are just new to sewing in wigs with a machine, you must be patient and trust the process to reap amazing results.
Read Also: