Whether you want to repair a cloth that you just bought recently or need to sew a quilt for your youngster, sewing machines always come in handy for such small projects at home or even the bigger ones.
However, due to endless models available in the market, it's not very straightforward to choose the best one for you.
This is why we have reviewed the best ones in the market and listed the top 15 according to the customers and us.
So you can choose the best mechanical sewing machine for you.
Buyer's Guide
To know what you really want in the machine, you must know about some features so you can choose according to your personal preferences.
Hence here are some points to keep in mind while buying the machine.
Build Quality & Durability
Mechanical sewing machines are certainly not cheap and not the products you can buy every once in a while.
So, when you're buying it, make sure you pay proper attention to the quality of materials used in construction and if they are reliable or not.
Machines usually go on for a long time, so plan according to that.
Built-In Stitches
This is a very important sewing feature. Every machine comes with several built-in stitches you can use.
They determine how creative you can be with your work and the freedom you will have, especially if the machine is not computerized because you won't be able to import any stitches later.
So, if you're a creative person and like customizability, make sure the model you choose offers many built-in stitches.
Sewing Speed
Sewing speed directly affects the production rate, and you can sew multiple clothes in a very brief time if the sewing speed is good.
However, you don't need to worry about it a lot if you're a beginner as they are not very comfortable with high speeds, and it may affect the quality of sewing adversely.
Usability
Some sewing machines carry a lot of sewing features, but they fail to impress us due to being extremely difficult to use while implementing those features.
Not only does this make those features useless, but it also decreases your efficiency a lot and completes a minute's worth of work in hours.
So, make sure the model you choose has a good learning curve.
Sewing Features
There are many additional built-in features in mechanical sewing machines, such as automatic needle threaders.
They provide a lot of assistance to you while working and hence boost your productivity.
Also, they can not be added after you buy the machine, so be cautious before purchasing.
Top 15 Mechanical Sewing Machines Reviews
As a result of extensive reviews of the most known and used mechanical sewing machines around and reading their respective customer reviews on sites like Amazon, here we have our top 15 picks for you to choose the best one from.
1. Janome HD1000 Mechanical Sewing Machine
Janome is a big name when it comes to sewing machines, and its products always carry its legacy forward.
The HD1000 is amongst the most well-known mechanical sewing machines around and is known to the best heavy-duty machine you can get.
Although it doesn't have many built-in stitches, it is very strong and provides the best quality sewing you can expect. Carrying a lot of accessories as well, it meets all your workload needs.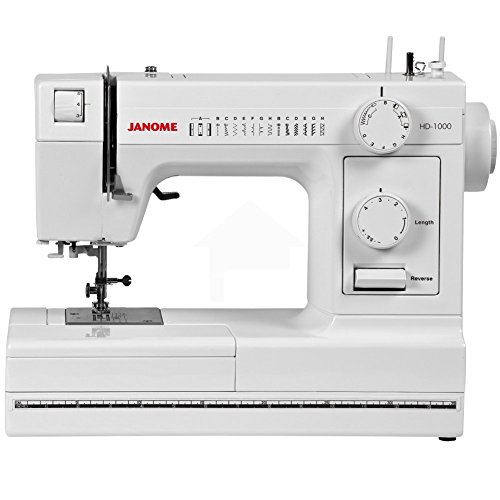 Pros
Many advanced features
Easy to use
Durable construction
Many accessories
Automatic needle threader
Cons
Expensive
Instructions are hard to get
2. Janome 41012 Mechanical Sewing Machine
Do you want a good mechanical sewing machine to provide excellent quality work, but you're always on the go?
Well, this model by Janome can be just the one for you. With a lightweight, portable body and folding carry handle, it will stay with you wherever you move and keep fulfilling your sewing needs.
It carries all the important features and comes with a decent speed of 850spm.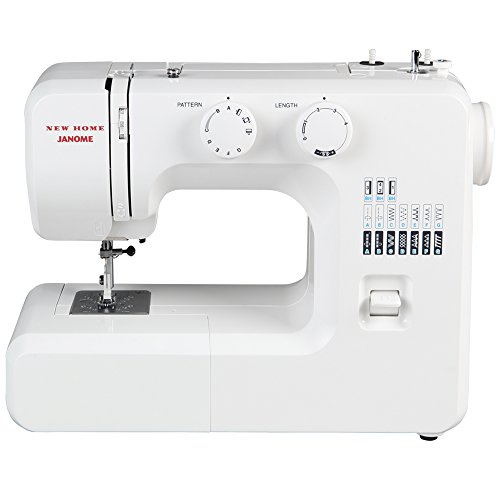 Pros
Portable; folding carry handle
Easy stitch length adjustment
Free arm
One 4-step buttonhole
Cons
Built-in stitches are less
Stitches can sometimes be sloppy
3. Janome 2212 Sewing Machine
Janome 2212 is a great model when it comes to beginners who don't crave a lot of advanced features but need a minimal design.
Having a speed control and 12-built in stitches, this machine has a very easy-to-use interface and does the sewing work just fine.
Moreover, you don't have to put your money at risk and enjoy it for a long time.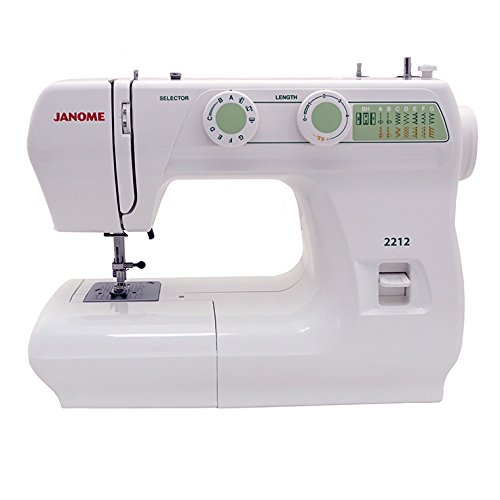 Pros
Best for novices
Portable
Cheap
Speed control
Cons
Limited field area
Speed control is hard to use
Occasional bobbin issues
4. Singer Tradition 2259 Sewing Machine
The singer is another major contender for making the most versatile and user-friendly sewing machines.
Singer Tradition 2259 is not different and carries all the important features you need for sewing.
You can get either 19 or 23 built-in stitches, which are more than enough if you need to do simple home projects.
A variety of accessories are provided along with the product, which makes it more appealing.
Pros
23 built-in stitches
Free arm sewing
Many accessories
High-pressure foot lifter
Adjustable stitch length
Cons
Warranted for 110 volts only
Changing the bobbin can be tricky
Not very beginner-friendly
5. Janome HD3000 Heavy-Duty Sewing Machine
Although this machine by Janome doesn't carry and modern fancy look, it is undoubtedly one of the best heavy-duty mechanical sewing machines out there.
With extremely satisfied customers and reviews, it is a workhorse that will run for years, providing you top quality sewing.
The cost is not so low; however, it pays good value for your money.
With a jam-proof bobbin system and automatic needle threader, it has all the important sewing features that you need.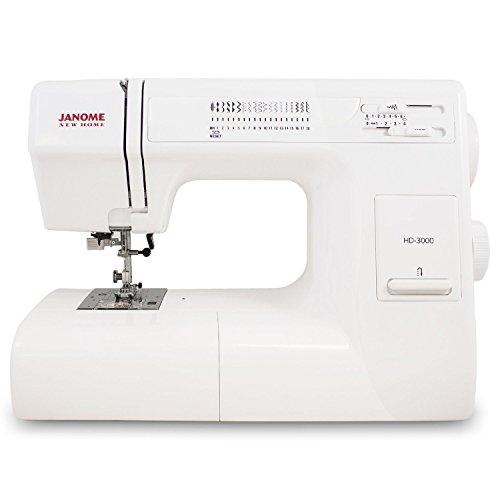 Pros
Smooth operation
Can easily handle a heavy workload
Works with almost all fabrics
Top-quality stitching
Jam proof bobbin
Cons
Not so affordable
Old school
6. Singer Heavy-Duty 4452 Sewing Machine
Singer 4452 is one of the best mechanical sewing machines by Singer that offer a very durable and sturdy build along with top-class heavy-duty performance.
With a powerful motor, it reaches the speed of up to 1100 stitches per minute.
Carrying a lot of additional accessories and 32 built-in stitches, it offers you a good degree of customizability so you can implement your creative ideas.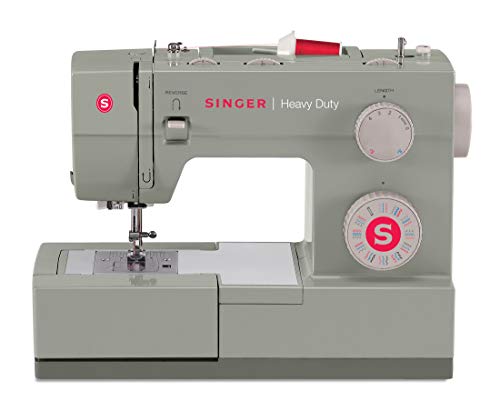 Pros
32 built-in stitches and decorative stitches as well
Powerful motor
Durable body
Can handle high workload
Variety of presser feet and other accessories
Cons
The reverse lever may pose some problems
Pettle is sensitive
Not suitable for bigger spools of thread
7. Singer Start 1304 Sewing Machine
With a durable construction of heavy-duty metal and a stainless-steel bedplate, this portable machine has all the basic features which are needed to seamlessly carry out all your small home projects.
Although it has only six built-In stitches, they cover most of the important ones like zigzag and applique.
Moreover, the minimal design makes it very easy to use for beginners.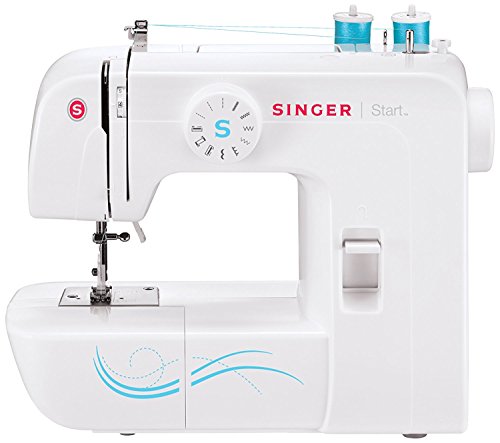 Pros
Durable construction
Stainless steel bedplate
Very easy to use
Minimal design
Cons
Only six built-in stitches
Can only be used for small projects
8. Singer Heavy Duty 4423 Sewing Machine
Singer 4423 is amongst the best heavy-duty machines and packs a lot of advanced features for people who really want to be creative with their sewing.
With a high speed of 1100 rpm and the accessories that come with it, you can do all your projects efficiently and boost your productivity.
The body is made from metal, which ensures durability.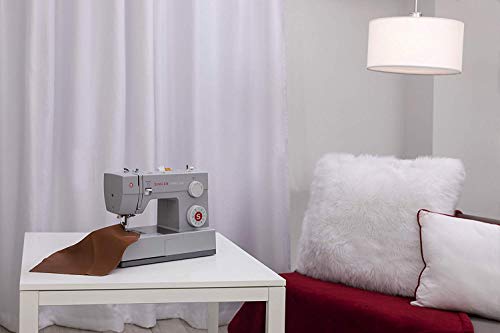 Pros
Durable metal body
Automatic needle threading
High sewing speed
23 built-in stitches
Comes with many accessories
Cons
Not the easiest to use
Old school design
Not so suitable for leather
9. Necchi EV7 Mechanical Sewing Machine
Tired of all the modern design sewing machines with a lot of fancy features that make them harder to use and waste your time instead?
Well, this machine can be the one for you.
Having all the important features with a sleek design, it will be delightful to both your eye and your sewing work.
There are seven built-in stitches to work with, and an automatic needle threader as well.
Pros
Durable machine
Manual thread tension control
Free arm, reverse lever
Extra high-pressure foot lift
Cons
Very few built-in stitches
Not suitable for heavy-duty projects
10. Necchi HD22 Mechanical Sewing Machine
Another top-of-the-line product from Necchi. This mechanical sewing machine is not very known and is quite underrated, given its build and performance.
With a very sturdy built and an easy-to-use sewing interface, it will answer to all your sewing machines.
However, it lacks things such as zigzag stitches; the important basic features are there with very good execution.
Pros
Sturdy construction
Minimal design
Perfect for beginners
Easy to carry the body
Cons
Only some built-in stitches
Can't stitch zigzag
Not suitable for heavy fabrics
11. Brother XM2701 Sewing Machine
Brother is probably the leading brand in the area of sewing and embroidery machines, and people trust it more than anything.
With an automatic needle threader and a free arm, you can seamlessly achieve loads of work and be as creative as you want.
There are 27 built-in stitches as well for you to achieve customization with your work.
Moreover, the customer service is pretty good, and you can let them know in case you run into any problems.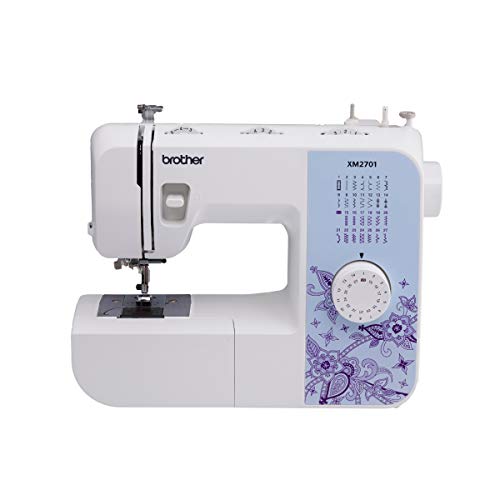 Pros
Automatic needle threader
27 built-in stitches
Many accessories included
Free arm
Portable; very lightweight
Good customer support
Cons
Could skip stitches
Jamming problems
12. Brother XM1010 Sewing Machine
XM1010 is quite a versatile and powerful model offered by Brother, which is not intended for heavy-duty sewing but sits perfectly in the field of your projects mostly covers domestic projects.
Having an easy-to-use interface and all the basic sewing features such as an automatic threader, it is a very good choice for newbies.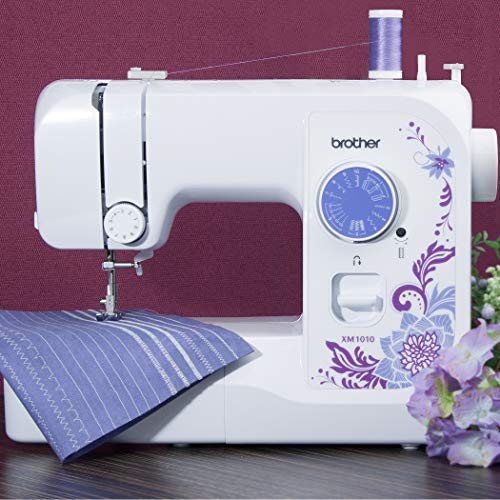 Pros
Affordable
Versatile
Portable
Good customer project
Automatic needle threader
Cons
Very few built-in stitches
No thread tension control
13. Eversewn Sparrow Mechanical Sewing Machine
Even though this model by Eversewn is not very famous or known by a lot of people, we just found it too worthy of staying out of our top picks.
Packing almost all the basic level entry features, this machine has a very compact body, which makes it easy to keep it around while traveling.
The price is not too high, so it provides reasonable power and a very good value for your money.
The motor is powerful enough to quilt, and the output is quite flawless.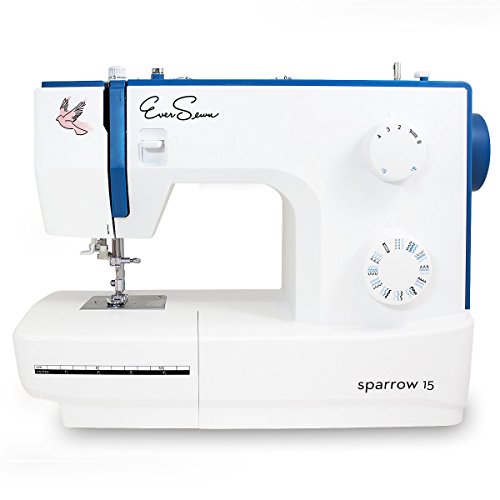 Pros
Perfect for novices
Very easy setup
Compact body
Minimal design
Cons
Not suitable for high-end projects
Tension could go bad after long usage.
14. Juki TL-2010Q Sewing Machine
Packing a lot of features within its compact body made for being portable, Juki TL-2010Q is the dream sewing machine of many beginners out there.
Having an automatic thread trimmer and a tremendously high speed of 1500 stitches per minute, it makes you glide through your work.
But you can easily control it through the convenient sliding speed control if you are a beginner.
Don't have much light to work? Don't worry as it comes with a LED too!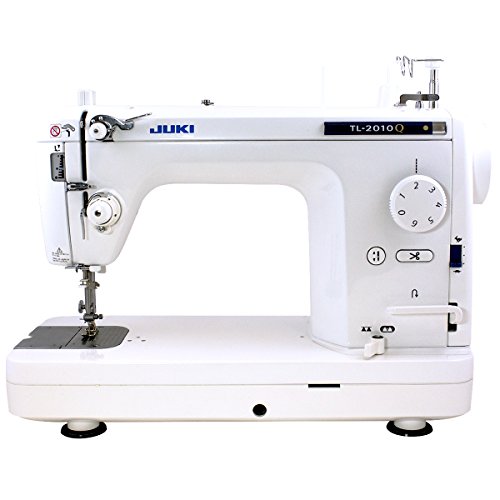 Pros
Sliding speed control
Very high stitching speed of 1500 rpm
LED light
Portable
Comes with a long extension cable
Solid build
Cons
The user manual is hard to understand
LED light is not powerful
The needle threader is tricky
15. Bernette 35 Sewing Machine
Coming with a unique Swiss design, this model by Bernette is a versatile model that carries a huge number of 50 built-in stitches and a good quality durable body.
You can work with a huge range of fabrics with this machine, and it will perform flawlessly.
The automatic buttonhole feature makes your work a lot easier by letting you create buttonholes in a professional way in a very simple way.
Pros
One-step buttonhole
50 built-in stitches
Seven presser feet
Adjustable tension
Affordable
Cons
Hard to thread
Could skip stitches sometimes
Frequently Asked Questions
Being a beginner, you can sometimes face problems while trying to find answers to some simple questions.
Let's see some of the most frequently asked questions.
What does a mechanical sewing machine mean?
A mechanical sewing machine essentially refers to the sewing machines, which include mechanical parts only and has nothing computerized in it.
While they have fewer built-in stitches than the computerized ones, they are easier to use and maintain and also cost much less.
Why do sewing machines make noise?
Well, this is not necessary for sewing machines to make continuous noise, but if they do, it could be pointing to the machine needing some oiling or cleaning.
If this doesn't work, then you could try changing the needle as well.
Why do needles break?
This is the nature of the needle to become blunt after a certain period of usage.
No needle goes on forever. But if your needle is going blunt too soon, you may need to make sure if you are using the right type of needle for a certain fabric.
How to stop bobbin thread from stopping breaking?
Make sure that the bobbin is wound very tightly and is totally secure, with no room for loose contact.
There should not be too much tension as well, or it could also be a reason.
What could be the reason for uneven stitching?
One reason for this could be the teeth on your needle plate becoming blunt.
Or it could also occur due to not applying enough pressure on the foot presser. These are mostly problems that result in uneven stitching.
How to maintain a mechanical sewing machine?
Maintaining a mechanical sewing machine is not that hard.
You just need to get it in time for an annual checkup and keep changing needles and oil regularly. Lastly, keep the machine covered when it's not in use.
How much do mechanical sewing machines cost?
Unlike computerized sewing machines, mechanical ones are not that expensive and can come for as low as $100. However, the exact price depends upon the features and the model.
Are mechanical sewing machines better than computerized sewing machines?
Yes, they are. They offer a far easier interface to use them and require very little prior knowledge, plus they come in cheap and can be repaired easily, unlike the computerized ones.
Conclusion
We have seen the top 15 picks for the best mechanical sewing machines you can get your hands on.
However, all these models are quite comparable and only have a few differences in them; it should really be your personal preference and budget, which makes a choice in the end.
Make sure you study them all in detail before buying them.
Read Also: