There are a lot of brands that have some good quality sewing machines, but Janome is on another level as it's the best rated when it comes to the sewing machine.
Choosing Janome as the brand will likely never make you regret your decision.
However, choosing a single model to fit your needs might be cumbersome as there a huge number of products available.
This article will list down the top 15 picks for the best Janome sewing machine so you can save your time.
Buyer's Guide
In order to make the best purchase, you should be able to differentiate between models based on some important features.
So, here we have some important points for you to consider before buying the sewing machine.
Power
Power is an important factor when you're dealing with a sewing machine, especially if a load of work of more and you need to be efficient.
So, make sure the power of the machine you're buying is appropriate for your work, or it will take you hours to achieve even the simple sewing tasks.
Built-in Stitches
Having a large number of built-in stitches increases the variety of the work you can achieve with the sewing machine.
You can be as creative as you want and try out new things. Make sure your model doesn't have a very small number of built-in stitches as it will limit your sewing greatly.
Portability
Heavier machines do have some benefits over the lighter ones, but there are times when having a lightweight sewing machine is more beneficial.
You know the nature of your work and if you intend to be moving around a lot during stitching, choose a lightweight model, and if you don't, there's nothing to worry about weight or portability.
Cost
Do not forget to take the cost into account when comparing two different models as it is surely the last thing which really decides your choice.
Compare the models based on their price as well as the features, missing one out could make your decision biased.
Top 15 Janome Sewing Machine Reviews
After reviewing the most well-known and the top-rated sewing machines by Janome and reading their respective customer reviews, here are our top 15 picks.
1. Janome Jem Gold 660 Lightweight Sewing Machine
Are you looking for something which won't cripple the portability but get the job done in the best way? The Jem Gold 660 could be just the choice.
Such is its power; you can also do various quilting tasks along with your daily sewing work.
Adding to its features is the great build quality which ensures a long life.
Let's not forget a whole lot of sewing features it boasts as well, such as automatic needle threading and free arm stitching.
Pros
Automatic needle threader
Very portable
Free arm
Full rotary hook
Durable build quality
Cons
Only 12 built-in stitches
2. Janome Graceful Gray Basic Sewing Machine
If you're just a beginner with stitching and want the machine just for basic tasks, this is the best choice you could go with.
With all the essential features within a very affordable price tag, this sewing machine is heaven for beginners.
With an extremely exponential learning curve, you will become an efficient sewer within no time.
Eleven built-in stitches are enough for all your regular sewing tasks; however, you cannot be very creative with those.
Sewing features are also plenty, including the accessory storage, reverse feature, and free arm.
Pros
Free arm stitching
Very affordable
Lightweight and portable
Finger guard for beginners
Top drop-in bobbin
Cons
Not a large number of built-in stitches
Not many advanced features
3. Janome Arctic Crystal Sewing Machine
Not only does the beauty of this sewing machine very attractive, but the build quality is also pretty solid, and it surely won't deteriorate anytime soon.
The Janome Arctic Crystal packs a load of sewing features as well which makes your sewing much more productive and efficient.
You can adjust the stitch length, use the reverse feature, and even stitch in a ZigZag manner. The tutorial videos and the quick start guide make you habitual of its use in no time.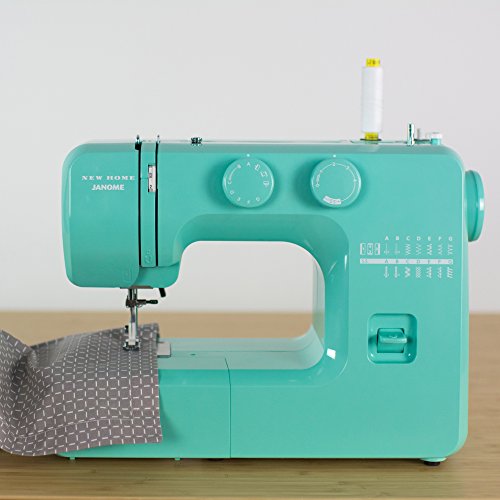 Pros
Great and durable design
Strong metal frame
Removable free arm
Easy to use; can also view videos
Includes many accessories
ZigZag stitching
Cons
Not for professional stitching
Can't use for quilting although it's mentioned in the guide
4. Janome Fastlane Fuschia Basic Sewing Machine
Janome Fastlane sewing machine is a very easy to use sewing machine which weighs only 5 pounds, making it quite portable for the beginners with basic projects.
You can literally work around your house and take this machine along.
With all the basic features such as a free arm and ten built-in stitches, this model is more than enough if you're looking for small projects limited to your personal use only.
You can sew with a fingerguard on to protect your fingers and stay safe.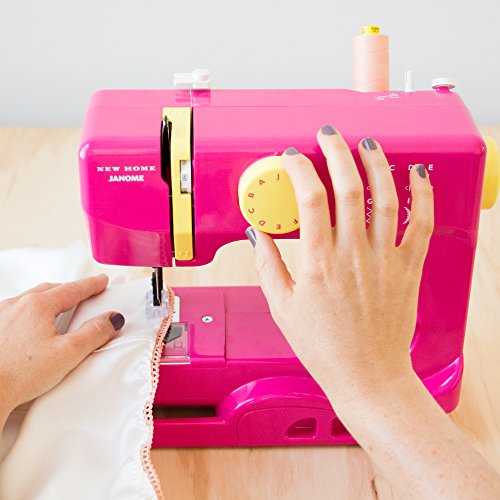 Pros
Very portable
Top drop-in bobbin
Free arm
Easy reverse
Powerful for its size
Cons
Cannot work in the dark
Bobbin mechanism can be faulty sometimes
5. Janome 2212 Sewing Machine
This is another great sewing machine by Janome, which is also based on light usage with a great deal of portability.
It has mediocre power which is more than what you need for your basic projects but packs a lot of sewing features to make your work efficient.
Twelve built-in stitches provide you with a good degree of creativity while free arm stitching and four-step buttonhole are also present.
Don't worry about the power as it works just fine on only 110-volt as well.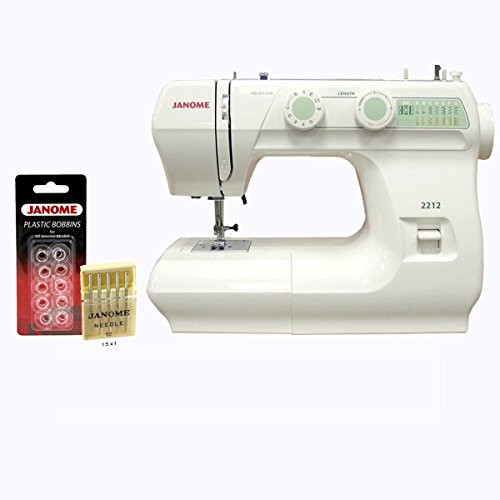 Pros
Very portable and easy to use
Turn dial pattern selection
Can work on 110 volts only
Stitch length adjustment
Can stitch with high speed
Cons
Only 12 built-in stitches
Designed for the US only
6. Janome HD3000BE Sewing Machine
Unlike the previous models we have seen, Janome HD3000BE is not as lightweight; it has a heavy-duty aluminium body that can endure even rough treatment for a long time without an issue.
Being not so portable, this machine is designed for heavy usage and offers you a removable free arm.
Given its great power, you can also do quilting with all the provided accessories with the machine.
With 18 built-in stitches, you can be as creative as you want.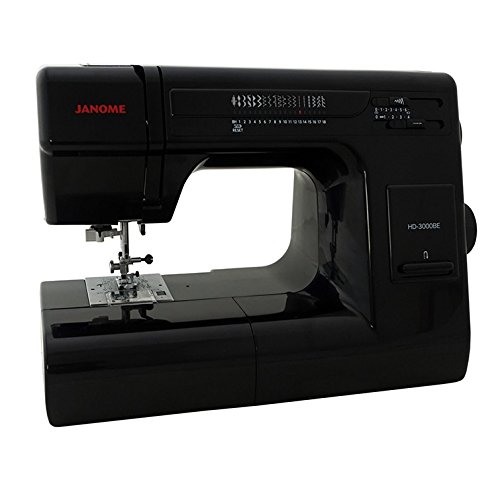 Pros
Jam-proof bobbin
Durable aluminium body
Can handle a huge load
Built-in needle threader
18 built-in stitches
Adjustable stitch length
Cons
Not as powerful to use with leather
Not portable
7. Janome 8077 Computerized Sewing Machine
With a variety of sewing features, Janome 8077 is a machine that will enhance your stitching experience and make it a lot fast and easier.
Packing important sewing features such as automatic needle threading, adjustable stitch length, an LED screen, it's all you need to achieve your work efficiently.
Having a choice of 30 built-in stitches, you have a lot of options on board and show your skills off.
Pros
No foot control needed; start/stop buttons available
Precise thread tension
30 built-in stitches
Has all the modern features
Powerful
Cons
Not the easiest to use
Expensive
8. Janome Magnolia 7318 Sewing Machine
If you don't want a computerized sewing machine and prefer and mechanical one with a decent amount of built-in stitches and power, this model is one of the best amongst the picks.
With a very easy-to-use nature, it packs all the important features which are enough for not just beginners but experts as well.
It also provides you with a lot of accessories which help you achieve your work
Pros
The bobbin is visible and also jam-proof
Lightweight yet powerful
Includes many accessories
18 built-in stitches
Works on 110-volt only
Cons
Built for the US only
Drop feed in back
9. Janome HD3000 Sewing Machine
Janome HD3000 is a sewing machine for intermediate sewers who have enough experience to handle such heavy-duty machines for bigger projects.
With a powerful motor and high stitching speed, you can get all your work done with quite a much efficiency.
With all the important features such as automatic needle threading and jam-proof bobbin system, it lacks nothing but portability.
Moreover, this high power doesn't mean it will make a lot of noise as well.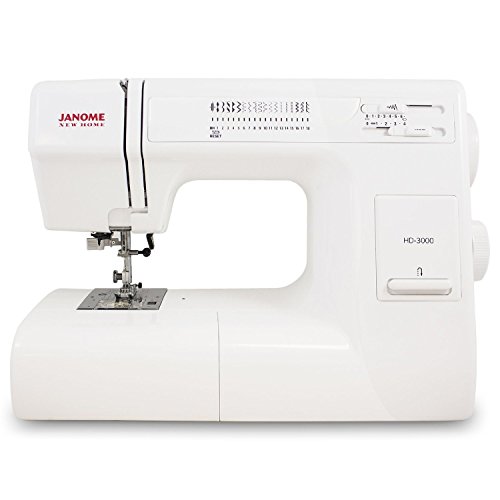 Pros
Can handle heavy-duty projects
Jam-proof bobbin
Comes with many accessories
Durable body
Adjustable foot pressure
Cons
Not easy to use for beginners
10. Janome Treadle Powered Sewing Machine
Packing a lot of sewing features and providing treadle foot control, this machine is certainly something unique when compared to the mainstream models by Janome.
You can adjust the thread tension and the stitch width yourself to give it your personal feel.
The extra high-pressure foot lift and stitch dial selection make your sewing further easier.
In short, you can achieve a lot of customizability and do all kinds of projects using this machine; however, there are only ten built-in stitches available.
Pros
Manual thread tension
Top loading rotary hook bobbin
High-pressure foot lift
Treadle operated
Cons
Very few built-in stitches
11. Janome 3160QDC Computerized Sewing Machine
Janome 3160QDC is certainly the sewing machine of your dream if you're a creative person who likes to sew whatever pops up in his mind.
Packing a whole lot of modern features, it certainly sets itself apart from a class.
There are 60 built-in stitches and many features such as automatic needle threading and easy to use touch control panel.
The jam-proof bobbin system is something we shouldn't forget, and there are other handy buttons as well, which make your navigation easier.
Not to mention the wide range of accessories it comes with, it's certainly a machine of the future.
Pros
Easy to use LCD control panel
Jam-proof, easy to change the bobbin
60 built-in stitches
Buttons for fast action
Many accessories
Cons
12. Janome MC-6300P Professional Sewing Machine
With a huge variety of 66 built-in stitches, an LED display, and a powerful motor, this professional sewing machine has all it takes to become your next heavy-duty machine to fulfill all your professional needs.
If you're an expert and like to see all the extra features available, you will find them all here to make your work much more efficient.
It can store stitches in memory as well and features an automatic thread cutter for your ease. Not to mention the amazing drop feed control it boasts.
Pros
Professional yet very easy to use
66 built-in stitches
Best for people trying to expertise the art of sewing
Low bobbin indicator light
Memory capacity
Cons
Hard to figure out errors for beginners
Not powerful enough for denim or upholstery
13. Janome HD1000 Heavy-Duty Sewing Machine
If you're looking to achieve a huge workload and don't care about the portability or other basic factors of the machine as you do about its power, Janome HD1000 is a very popular choice which is known for its heavy-duty usage.
It can seamlessly achieve sewing even the hardest fabrics and has a very durable body as well making it a giant robust sewing machine.
Moreover, it doesn't ignore the sewing features as well.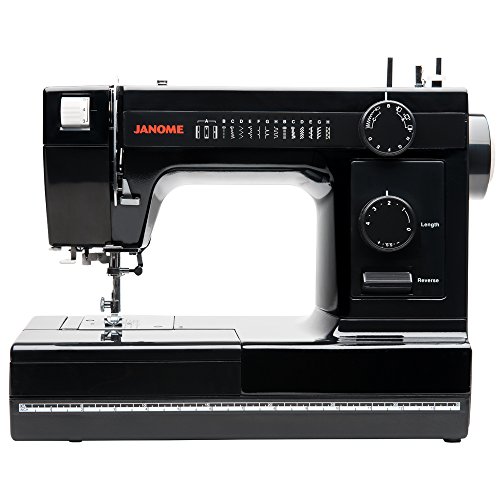 Pros
Can handle a huge workload
Very powerful motor
Durable aluminium construction
Free arm sewing
Wide range of accessories
Cons
Not portable
Very few built-in stitches
14. Janome Cover Pro 1000CPX Coverstitch Machine
Janome Cover Pro is one of a kind and is a really amazing cover-stitch machine.
It provides you uniqueness and can be conveniently used for creating hems and applying trims to garments and flat seams.
It is a heavy-duty machine that can cover your specific needs in a way regular sewing machines cannot. Not to doubt its high stitching speed and great quality.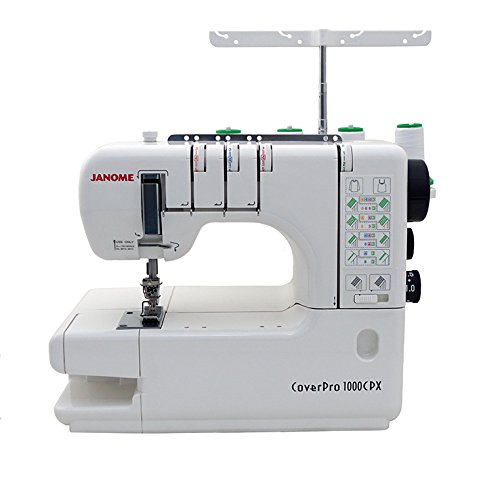 Pros
Powerful and heavy-duty
Durable enduring body
Free arm stitching
Many accessories
Cons
Can skip stitches sometimes
15. Janome CoverPro Coverstitch Machine
Much like the last machine we discussed, this cover stitch machine by Janome is very much similar.
However, they do have some differences.
With this model, you can use either 1 or 2 needles, based on your need. The seam tightening system and a large bed capacity make your work further convenient and efficient.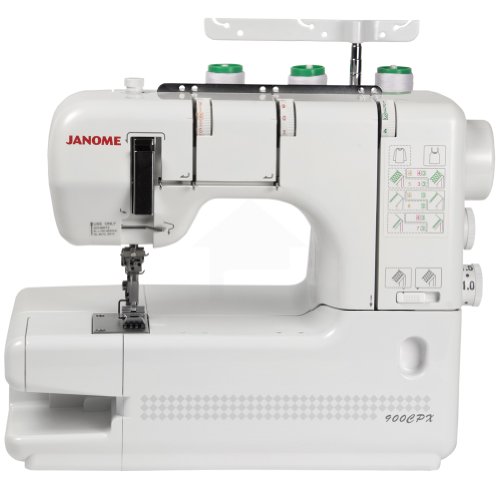 Pros
Very quiet operation
Easy to use
Seam tightening system
Two needles can be used simultaneously
Large bed space
Cons
Two needles are not very close together when using both
Can skip stitches
Frequently Asked Questions
If you're a beginner at sewing, you might have some questions revolving around your head which are really basic.
Here are some of the most frequently asked questions for you.
Can I sew with an embroidery machine?
Yes, mostly, you can. However, it depends upon the model you are using. So, it's better to take a look at the manual if you want to sew.
Is adjustable speed beneficial?
Being able to adjust the stitching speed is very important.
As a beginner, it's not recommended to use high stitching speed as it's difficult to control. However, as you gain practice, you can start using higher switching speeds.
Why is Janome better than other sewing machine brands?
Janome is known for its high-quality but lower-priced sewing machines. It proves that for a good quality sewing machine, you don't have to spend a lot of money.
Can I use my sewing machine for quilting?
Quilting required more power so if you're sewing machine is not very basic and is heavy-duty, you can use it for quilting as well.
However, you should check the manual first before if the sewing machine can handle it.
What is the difference between sewing and embroidering?
While sewing refers to the joining of two fabrics to give them shape, embroidery refers to the designing of patterns onto the fabrics once they are stitched.
What is the solution for bobbin thread looping up to the top of the fabric?
This means that the bobbin is too loose. Try re-threading it or changing the bobbin if that doesn't work.
Why does my needle un-threads itself?
This could be due to the foot presser. Make sure it's down when you're starting to sew. Or hold the thread tails when starting.
How to avoid needles being bent when stitching?
Make sure you don't pull the fabric while sewing it. That's what feed dogs are there for. As pulling or dragging the fabric could cause improper stitching or needle bending.
Does Janome make sewing machines for kids?
Yes. They make very affordable sewing machines for kids however kids are fast learners so if your kid is fond of it, you can also get him a beginner adult sewing machine which will be better in the long run.
Conclusion
We have seen a comprehensive comparison of the top 15 picks for the best sewing machines from Janome.
Although all of them are equally good for one task or another, it comes down to your personal preference in the end so you should choose according to the nature of your work.
Don't forget to read the buyer's guide before making the purchase.
Read Also: