Embroidery is practiced heavily all over the world to make clothes look appealing and satisfying to one's eyes.
However, hoops are often neglected and not given as much importance as they should be. In order to avoid poor patterns and blurred outlines, pay attention while choosing the hoops you used.
However, the trouble begins when you set out to buy the hoops. As the market is flooded with them, choosing one over the other can be really confusing at times.
But don't worry as we have reviewed the top ones out there and made a list of the best embroidery hoops.
Buyer's Guide
If you're a beginner and it's your first time buying a hoop, you probably don't know much about them.
And if you want to choose the best hoops, you must have some underlying knowledge about them to differentiate between models.
Below mentioned are some points that you should know about to make the best call.
Material
The most common materials of hoops that you will come across are wood and plastic. There are other materials such as metal as well, but they are not very common.
So, make sure you know which material to choose to suit your embroidery work.
People often prefer wooden ones as they do not slip as easily as plastic ones. However, both are quite durable and lightweight.
Size
There are two basic compartments of hoops, namely, inner and outer parts. Together, they make up the size of the hoop.
The cloth you are going to work upon should determine the size of the hoops you choose. So, make sure you know what work you will be doing before buying the hoops.
Otherwise, if the cloth's and hoop's sizes mismatch and the cloth doesn't cover the hoops tightly, the pattern embroidered may be distorted.
Weight
Weight is another important factor that should never be ignored while buying the hoop. Otherwise, you will realize it's important later on, which will do you nothing but regret.
So, make sure the hoops are lightweight as it increases the portability, which is quite useful.
Shape
Hoops are basically sold in three shapes. Namely circle, square, and oval. They all should be bought according to the embroidery work that you are planning to do.
The oval ones are preferred if the project you're working on is huge. However, most people buy circular ones as they are comfortable with them.
You can also buy square hoops if you are planning on machine embroidery work.
Accessories
Normally, hoops come with a lot of accessories that make your work very easy, while they are not necessary, but you can save yourself a lot of time by using them.
So, pay attention to the extra accessories that are offered with the model you're choosing and see if they benefit you or don't.
Top 10 Embroidery Hoops
We tried and tested various models that are commonly used by people and recommended by the experts.
By carefully doing the analysis and reading detailed customer reviews, we have come up with our top 10 picks for the best embroidery hoops you could buy.
1. Caydo 5 Pieces Embroidery Hoops
Tagged as one of the best hoops available out there for beginners, this one is made out of plastic, making it very reliable and robust.
Being extremely lightweight, they are very easy to hold and carry even for kids. They come in various eye-catching colors and different sizes.
The sizes offered are variable, and you can choose what suits your needs.
There are adjustment screws so you can tighten the rims to provide stability to fabrics. As a result, the embroidery work is flawless, with clear and vivid outlines.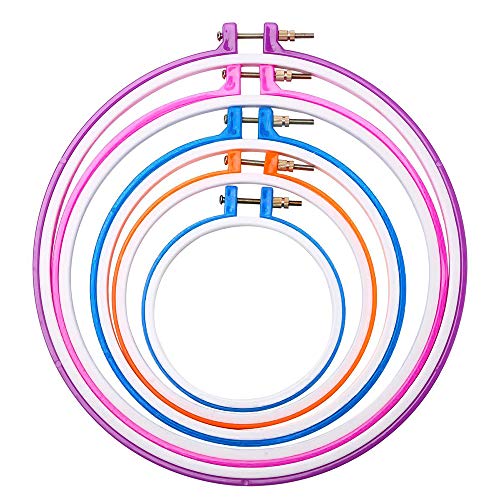 Pros
Lightweight so easy to hold
Durable material
Five hoops all can be different sizes
Screws to tighten the rims
Cons
Not very suitable when It comes to thicker fabrics
2. Similane 6 Piece Embroidery Hoops
These hoops by Similane also come as a complete package, featuring six different sizes of hoops, all having different colors.
With a simple design, this doesn't have any extra fancy features, which cuts the cost as well, making it a pretty affordable set of hoops.
While you can manage different cloth sizes, all end with smooth textures thanks to the good polishing of the hoops.
Outlining is done in a decent manner as it also has tightening screws for the rims, which don't let the cloth get loose.
Due to the simplistic design, the hoops are very easy to get comfortable with, and the fact that they are lightweight makes your task further easy.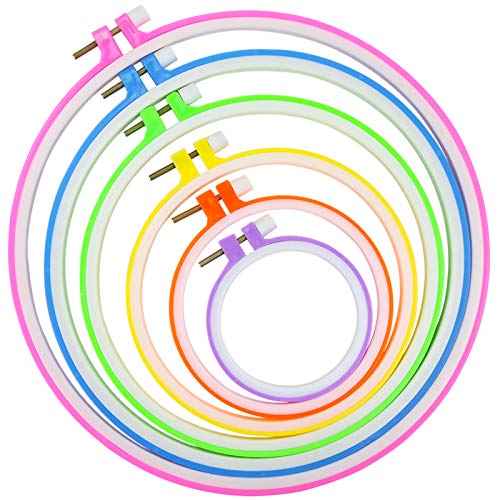 Pros
Easy to use
Reliable bamboo material
Screws to make the rim tight
Six hoops all handling different sizes cloths
Cons
Screw tightening was not as good as described
3. WOWOSS 12 Piece Embroidery Hoop
Made out of natural bamboo, these hoops are extremely reliable and do get worn out quickly. Just buy them once, and you won't need to bother any time again soon.
There are 12 total pieces of hoops so you can house multiple fabrics in one go. However, the hoops are all the same size, so you have to keep that in mind.
One of the unique features is that it supports cross-stitching, which isn't found in many.
Lastly, the simplistic design makes it very easy to learn and get used to it, and it is very lightweight as well, which makes embroidery work very efficient.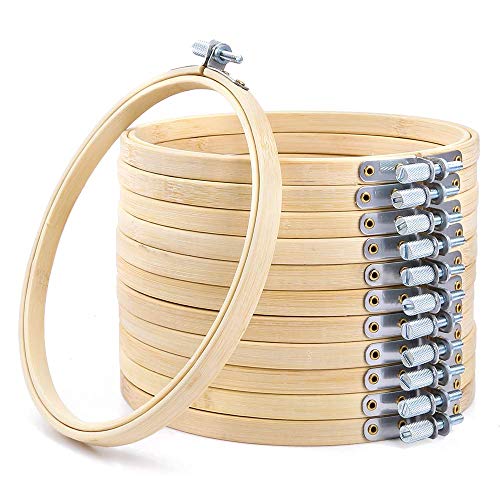 Pros
Reliable and robust material
Can afford 12 pieces of cloth at once
Supports cross-stitching
Very easy to use
Lightweight
Cons
Hoops are all the same sizes
Screws do not work as good
4. Pllieay 12 Pieces Embroidery Hoops
These embroidery hoops are made up of pure bamboo material, which makes it very reliable and lightweight, making them very easy to use even for the kids.
It comes with 12 pieces so you can work with 12 pieces of fabric simultaneously to increase efficiency.
Featuring brass screws, the fabric can tighten easily to make the work of high quality.
Not only can it be used for embroidery, but it's also perfect for decorations or DIYs. However, different sizes of clothes cannot be managed as the hoops are the same size.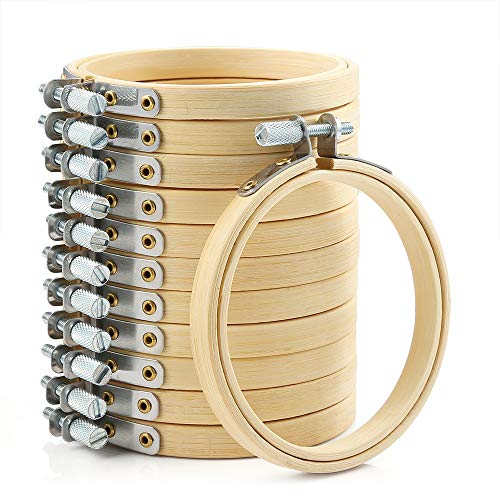 Pros
Multipurpose use
Very easy to use
Durable and reliable material
Brass adjustment screws
Cons
5. Caydo 5 Pieces Embroidery Hoops
Another top of the line hoops coming from the same manufacturer as we saw first, these ones also come with the same quality and are built from ABS plastic reliable material.
Being extremely lightweight and easy to hold, these hoops are recommended for beginners and can also be used by kids.
It comes in 5 different hoops, all different sizes, and colors. The adjustable screw makes the operation easier and the cloth tighter to make the work high quality.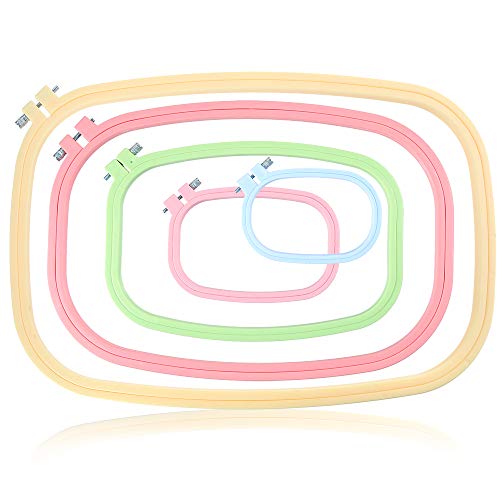 Pros
Five different sizes of hoops
Reliable and robust, made from ABS plastic
Very easy to use
Lightweight
Cons
Material can be slippery if your palms get sweaty
6. Similane 12 Pieces Embroidery Hoops
Made from very high quality and reliable material of natural bamboo, these hoops by Similane are one of the best you could get your hands onto.
Having all the capacity you need by providing you 12 hoops, it has a circle shape and a very lightweight, which makes your embroidery work as easy as it could be.
Moreover, it's not only limited to embroidery as it can be used for decoration purposes as well, such as wall décor and wedding preparations, making it a very good option for the beginners are kids.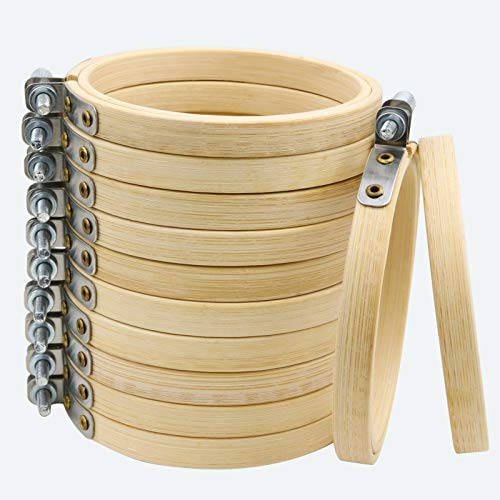 Pros
Reliable and robust material
12 pieces circular hoops
Simplistic design so easy to use
Very lightweight and easy to hold onto
Supports cross-stitching
Cons
All hoops are the same size
7. ZHAOER Embroidery Hoops
Amongst one of the lesser-known products in the market, comes this masterpiece which outperforms its reputation by any means.
Having ten pieces of hoops, it supports multitasking with its reliable structure made totally from natural bamboo.
The architecture is simplistic and lightweight, making its handling very easy.
The option of it being multipurpose as well makes it a further good choice as it can not only be used for embroidery but is best for tasks such as quilting and wall decoration as well.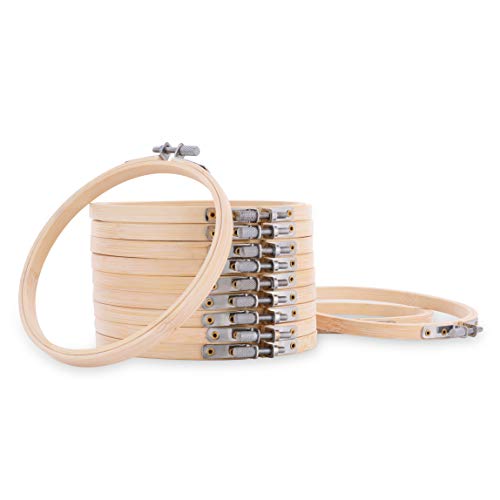 Pros
Ten pieces, very spacious
Very lightweight and easy to use
Multipurpose
Screws to tighten the rims work effectively
Cons
Small size, not suitable for large fabrics
All hoops are the same size
8. Caydo 5 Pieces Hoops
This model by Caydo is one of the most unique and fancy ones out there and provides you total value for your money.
Coming with five hoops and 100 bundles of embroidery threads, it covers all your needs for embroidery.
The threads are different colored, and there are 30 needles as well. All you need to start embroidering immediately is the cloth itself.
The brass mechanism makes the tightening of cloth effective and makes the outcome of high quality. With the support of cross-stitching as well, it has all it takes to become one of the most versatile ones.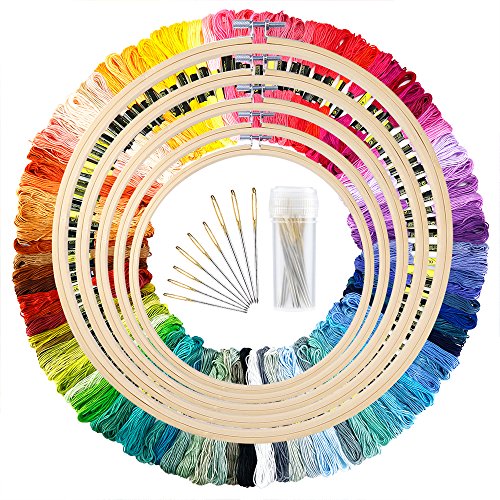 Pros
Supports cross-stitching
Easy operation, features brass screws for adjustment
Different dimensions of all embroidery hoops
100 skeins embroidery threads
Cons
9. Erlvery DaMain 3 Pieces Embroidery Hoops
Amongst one of the unique designs, comes in the 3-piece based embroidery hoops by Erlvery DaMain.
Featuring a vintage wood designing, it sure will capture your eyes at the very first glance.
There are also unique hanging rings on one side of the hoops; however, they cannot be used for the adjustment of the clothes; hence you can expect the clothes to be a bit loose.
Not only for embroidery but it can be used for needle arts and decorations as well, making it quite versatile.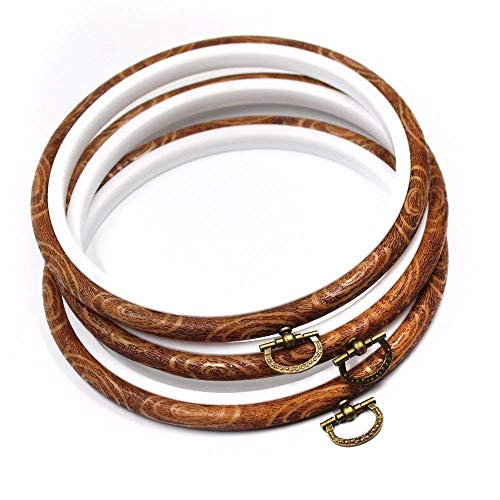 Pros
Unique vintage look
Heavy-duty design
Made of durable rubber plastic
Easy to use
Cons
No adjustment screws
All hoops are the same size
10. Darice DIY Embroidery Hoops
Another product featuring a unique design is made by Darice.
With a 4-inch diameter, it is built from wooden material, which is not only designed beautifully but is very lightweight as well.
The L brackets are very effective in tightening the rims, and all these features combined with the durability give you a good value for your money.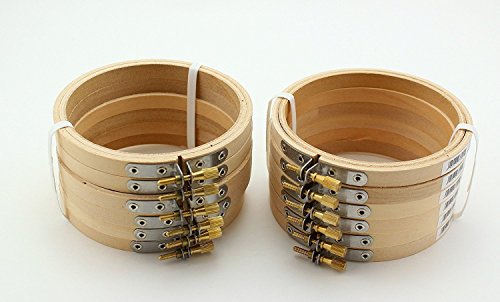 Pros
Great look
Lightweight
Easy to use
Good tightening mechanism
Cons
All hoops are the same size
Frequently Asked Questions
There are certain questions people come across when they are new to embroidery hoops.
As these questions are quite straightforward and easy to answer, we thought about listing them for your help.
How do I keep my embroidery hoop tight?
Carefully place the inner ring on a flat surface first, followed by the cloth. Then the outer ring should be placed and pressed hard to make the cloth tight.
You can also use the screws if they are available on your hoops to further tighten the cloth.
What is the smallest size embroidery hoop?
While this mostly depends upon the area, you live in and the brand you choose, the smallest size offered mostly revolved around 3 inches as I haven't seen any model with smaller hoops than that.
But it still varies from area to area that you live in.
Should I use a hoop for cross stitch?
This entirely depends upon the material you're stitching. While some like canvas work or cutwork can be done through a hoop, others like surface work or black work won't be very feasible.
What size embroidery hoop should I use?
You should use the size which sits well with the size of the fabric you're using. This is important as the fabrics need to be as tight as they can be. Otherwise, the embroidery work may not be sharp.
Conclusion
As we have mentioned, all the top models out there in the market which follow each other closely and only have minor differences, you should now find it pretty easy to choose the best one for you according to your personal preferences.
However, always consider the pros and cons of each product and consider the points mentioned in the buyer's guide before buying.
Read Also: