Monogramming is practiced widely for personalizing your clothes and adding customized styles to them.
While you can also do the process with your regular sewing machines, there are some embroidery machines built, especially for monogramming, to make your work quite easier and efficient.
Due to tons of products present in the market, it sometimes becomes a headache to choose the best embroidery machine for monogramming for yourself.
So, this article will tell you the top 10 picks to easily choose the machine from.
Buyer's Guide
When it's your first time buying a product, you don't have much knowledge of it, so you don't know all the features that should be paid attention to.
The same is the case with machines, so we will list down some points to consider while buying the embroidery machine for monogramming to make a wise choice.
Brand
Brands have a lot to do with the products. They completely define the quality as some brands like Brother are renowned for always delivering the quality, which never disappoints the customers.
So, always consider this and make sure the brand you're going for has a good repute as you do not buy such products very often.
Embroidery Field Size
This refers to the field where you do the embroidery work. The bigger the project you're working on, the bigger the size of the field you will need.
So, figure out what projects you will be working upon after buying the machine and then buy the product with the appropriate field size.
Display
Colorful LED displays help a lot when you're working with designs having a lot of colors in them.
Without these displays, your work will become a lot more difficult. So prefer buying an embroidery machine having a colored display.
USB connectivity
The availability of a USB port means that you can easily connect your embroidery machine to your computer, which gives you the freedom to download additional fonts from the internet, which further increases your creativity while monogramming.
Otherwise, you will totally have to rely upon the built-in fonts in the machine.
Built-in Designs & Stitches
Embroidery machines usually come with a lot of built-in stitches and designs which help a lot while doing the monogramming work.
While you can also download them from the internet if the machine doesn't already have them, but its better this way and saves you time as well.
So, always give preference to the machines which have a lot of these built-in stitches and designs.
Cost
This is arguably one of the most important factors when making the purchase.
Even if the machine comes with a lot of accessories or fonts, having a huge price tag could be a deal-breaker.
So, know your budget prior to making the selection and compare products based on their price as well, not only features.
Top 10 Embroidery Machine For Monogramming Reviews
By reviewing the most famous and well-known embroidery machines for monogramming available in the markets, and also reading user reviews of the customers that own them.
We have made a comprehensive list of our top 10 picks along with their pros and cons to speed up your selection.
1. Janome Memory Craft 400E Embroidery Machine
One of the most famous embroidery machines which are known as the specialist of monogramming is the Janome Memory Craft 400E Machine.
Featuring a spacious embroidery field, it has all the space you need even for the bigger projects. Not only this but it comes fully loaded with a lot of features that speed up your monogramming.
Coming with 160 built-in designs and six special fonts for monogramming, the maximum embroidery size is 7.9" x 7.9".
If the fonts are not enough for you, just use the USB fonts and downloaded all you need using your computer. The touchscreen further increases your creativity.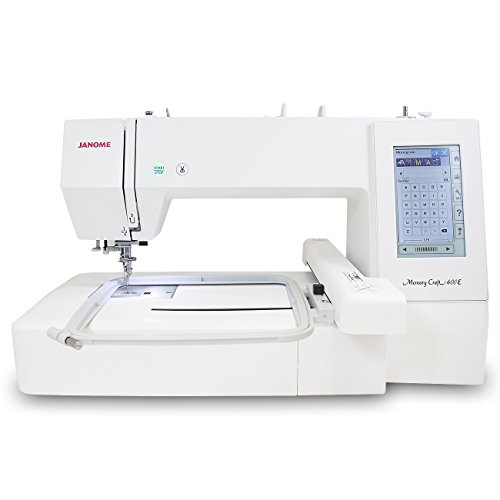 Pros
Auto return post thread break
Spacious working field
USB connectivity
On-screen editing function
Cons
2. Brother PE800 Embroidery Machine
When it comes to Embroidery machines, it is very hard to keep Brother out of business.
This model is also very common when it comes to embroidery work for monogramming. With a well-sized field of 5" x 7", this machine can easily handle the larger of the projects.
With 11 built-in fonts, you can work seamlessly without needing to download extra fonts from the internet.
However, if you still need more, then you always have the option of using the USB port, which provides you infinite possibilities.
You can preview the designs before starting to work on the colored LCD display, which helps a lot.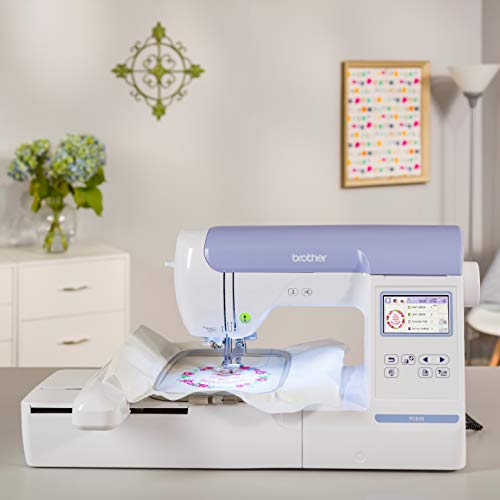 Pros
Bright LED for work area so easy to work in low-lit conditions
Can see your design in the colored form before making
Can edit the designs live
Automatic needle threader
Cons
The field area is not very spacious
3. Brother PE550D Embroidery Machine
Coming at the third number we have another top-of-line product manufactured by the same company, Brother.
Having a very affordable price tag, this doesn't miss out on the features as well, so you can enjoy luxury while saving your money.
The field size is not much, but it sure makes the machine portable. There are 125 built-in designs that include Disney designs as well and nine fonts, especially for monogramming, so you can enjoy using any of them.
The USB port lets you import anything you want, and you can view the design on the smart colored LCD prior to executing it.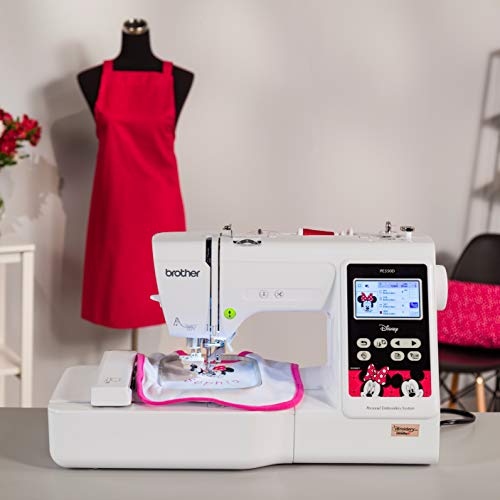 Pros
Nine built-in lettering fonts for monogramming
Designs can be previewed before processing
USB port to download additional designs
Affordable price
Very portable
Cons
Limited field area
Cannot handle much workload at once
Embroidery only machine
4. Brother SE600 Sewing and Embroidery Machine
If you want to do both embroidery and sewing work but afford just a single machine, this can be a very good choice as it can be used for both things.
With 103 built-in stitches, you can be as creative with monogramming as you want, combined with the live editing feature letting you change everything from the font to the thread color.
The work field of 4" x 4" however, is not very suitable for huge projects, but it sure makes the machine incredibly portable.
There is a color LCD as well to see your designs before creating them. Lastly, the USB port is also present for your convenience.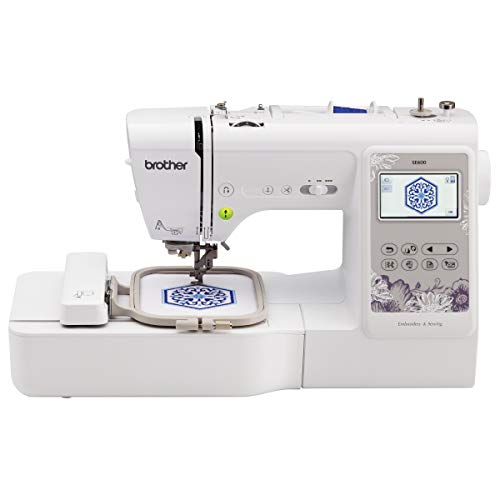 Pros
Dual-purpose embroidery and sewing
Comes with an affordable price tag
Very easy to learn
Jam resistant drop-in bobbin
Portable
Cons
Small work field
Less built-in lettering fonts
5. Brother LB5000M Embroidery Machine
Are you a fan of Marvel? If your answer is yes, then this could be your dream machine.
Not only does this offer you a great set of features, but it also comes covered in Marvel theme, which makes its appearance truly breathtaking.
There are three changeable faceplates of famous Marvel heroes as well. The field size, however, is not enough for huge projects, so keep this in mind.
There is a USB port available and a color touch screen as well, so you can preview the design before applying them.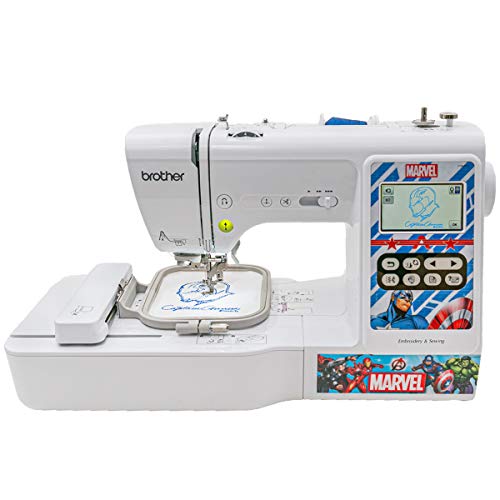 Pros
Automatic needle threading
Packed with a lot of accessories
Customizable body
USB port
Portable
Cons
The field area is not very spacious
6. Singer Legacy SE300 Embroidery Machine
Unlike the other portable machines, this one provides you a spacious field area as well while being portable. It's a top-notch machine that is highly rated as providing very high-quality monogramming.
The 2-snap embroidery hoops give you the option of changing them along with your work if your needs change.
The colored touchscreen is available to preview the design before the implementation and to ease the process of navigation.
With the presence of a USB port, you can download all the additional fonts you may need. There are a lot of built-in designs and fonts as well to help you monogramming.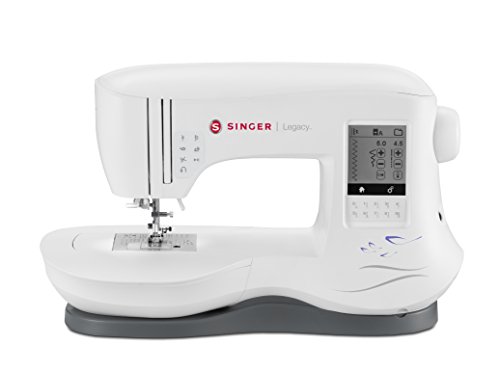 Pros
Dual-purpose sewing and embroidering
Runs at 110 volts only
250 built-in stitches
Extra-large field area
Portable
Cons
Bird nesting problem is sometimes encountered
Needles break sometimes
7. Janome Memory Craft MC 9500 Embroidery Machine
Janome memory craft MC-9500 is amongst the most used machine for monogramming and is highly rated as well.
With its ability to do both the embroidery work and the sewing as well, it provides great value for its price as it contains tons of stitching functions as well, such as automatic needle threading.
It supports 2 and 3 letters monogramming and provides you with three monogramming fonts along with 90 built-in designs.
The LCD screen can be used for live editing as well; however, it's not colored, so you may have trouble there.
Pros
Multipurpose, both sewing, and embroidery
Good value for money
Live design editing
Cons
LCD is not colored
No USB slot, have to transfer designs using ATA PC card
Less monogramming fonts
8. Janome MB-4S Embroidery Machine
Among the heavy-duty ones, we have the Janome MB-4S embroidery machine, which not only comes packed with a lot of accessories but has a lot of built-in features too for the monogramming and embroidery work.
The 4-needle design provides you with extreme efficiency saving you a lot of time.
There is a huge memory for storing fonts and designs as well. However, it's heavy and complex, making it unsuitable for beginners.
Pros
Can handle the heavy workload
A huge number of built-in features
Four-needle design
Huge memory
Large display to view designs
Cons
Not portable and is heavy
Quite complex to learn
9. Janome 200E Memory Craft Embroidery Machine
Monogram your clothes while being professional. With a revolutionary design, the Janome 200E memory craft embroidery machine gives you a spacious field area while being portable as well.
There are most of the embroidery features available, like automatic needle threading.
You can resize the machine and use the built-in three monogramming fonts, importing more is easy through the USB port.
The LCD touchscreen is also available, and you can also use the 45 degrees design rotation to further enhance your work.
Pros
Modern design
Affordable
Built-in carry handle
Screen messages in 11 languages
Cons
Less built-In monogramming fonts
Not very cheap
10. Janome 350E Memory Craft Embroidery Machine
With a very spacious field area and three fonts of monogramming, this is amongst the most recommended embroidery machine in the market for monogramming.
It comes with a lot of embroidery features and two hoops. USB port and LCD screen are also available so you can get swift through your work.
Pros
USB port for importing designs
Large field area
Easy to learn for beginners
Cons
The LCD screen is not colored
Not portable
Frequently Asked Questions
Let's see some of the most frequently asked questions from customers new to embroidery machines for monogramming
What's the difference between embroidery and monogramming?
While the former one refers to creating huge designs, monogramming only means creating small designs such as logos or initials.
Is monogramming a good business?
If your work is professional and people like it, you can earn a lot by having multiple machines. However, there is a huge initial investment.
How long does it take to embroider a monogram?
Depending upon the speed of the machine and the skill of the worker, embroidering a monogram would take 5 minutes on average.
How do you do a 3-letter monogram?
Following the convention, the first letters of first, middle, and last names are embroidered, and in the case of a couple, the last name remains in the middle with the first names of both taking right and left sides.
Conclusion
As we have listed the top 10 picks, it should now become pretty easy for you to choose the best embroidery machine for monogramming based on your personal preferences.
However, always consider the points given and keep your budget and project in mind before buying the machine.
Read Also: