Whether you are an embroidery enthusiast who is eager to try out new designs or just an ordinary person doing embroidery.
A good embroidery machine and skills are not the only essential it takes. Instead, having a thread which is suitable for the job is also as important.
However, given the large variety of threads available in the market, it has got a lot more difficult nowadays to choose the best product as there are a lot of choices, not to mention a lot of them are pretty useless.
I will guide you throughout your way of picking the best thread for your embroidery machine by going through our top 15 picks and the buyer's guide. Let's get started.
Buyer's Guide
There are few factors that need to be considered before you lock into your choice.
Make sure you go through all the buyer's guides as these points are very important to make the best choice possible.
Tensile Strength
This is by far the most critical factor when choosing a thread for yourself. The tensile strength determines how strong the thread is and how much stress it can go through before it breaks off.
The more tensile strength, the lesser thread breakages you will have to go through. So, make sure you choose correctly as thread breaking is a huge problem, especially in embroidering.
Colors
Unarguably, this is another major factor that you need to consider when buying the perfect thread for your embroidery machine.
While different people have different projects to work on, it depends upon you which colors you will be needing. Some people just do basic embroidering and hence need 3 to 4 colors at most while some don't find even 30 unique colors enough.
So, make sure you understand your needs and buy just the colors you need.
Embroidery Machine
Some embroidery machines have specific threads that they work best with.
So, make sure if your model also has one because buying a different model can lead to serious problems with the thread, and it's best to go with the model your machine suggests.
Spool Length
Spool length essentially refers to how long the thread is, which is measured in yards. The longer the thread it, the more time it will serve you before running out.
However, you shouldn't just for the longest thread available as it is a waste of money. Instead, buy a length that suits the magnitude of projects you do.
Top 15 Thread for Embroidery Machine
Now, let's go through some of the finest threads available in the market for your embroidery machine.
1. New Brothread Polyester Embroidery Thread
New brothread is one of the most rated companies when it comes to manufacturing high-quality threads for embroidery machines, and this product just follows their legacy.
Coming in a kit of 40 spools, all of them have different colors so you can use different colors in your project and make beautiful designs.
The material is polyester, which means you can use it easily in many heavy-duty projects, and there will be no questions about its quality, which is simply off the shelf.
It can handle a massive load of tensile strength without degrading.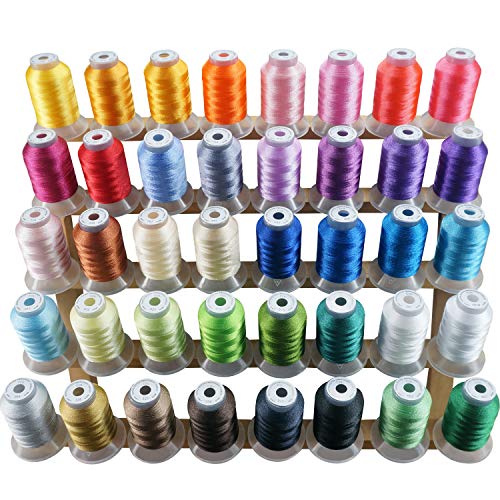 Pros
High tensile strength
Super color fastness
550 yards in each spool
40 spools in total per kit
Cons
Some customers claim it is too stretchy
2. New Brothread 25 Colors Polyester Embroidery Thread Kit
In many ways, this thread kit is very similar to the previous one saw.
Coming from the same maker, New brothread, this one also comes as a variety of different color spools, which are 550 yards each and have high tensile strength, providing you all the durability you need.
However, this one comes as 25 spools per kit and.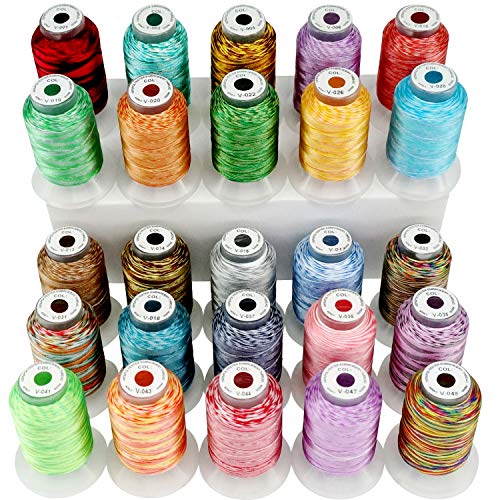 Pros
Variegated polyester
Very strong and durable
Great colors
Sits well with many fabrics
Cons
Doesn't stay on the spool at times
3. New Brothread 32 Polyester Embroidery Thread
Yet another top of the line thread for embroidery that you will fall in love with. Coming in 3 huge sized spools, you will have to face a tradeoff here.
Unlike the previous models we have seen, you will not get a lot of variety in colors here, so you will have to choose very carefully what colors to pick.
However, on the upside, the spools are extremely large, around 5000 meters. So, no matter how much you use, you won't have to walk to the store again anytime soon.
The material is polyester, and the quality is excellent, just as you would expect from the new brothread.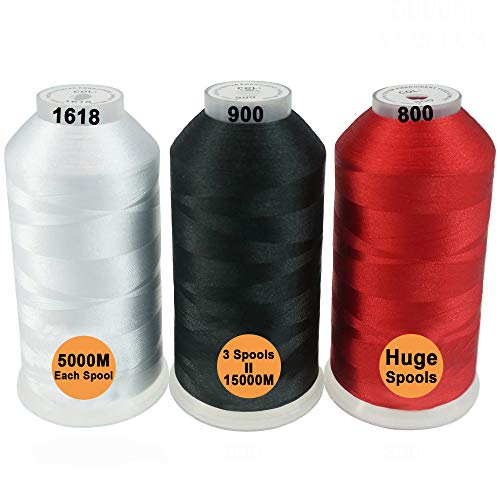 Pros
Huge sized spools
Very strong
Affordable
High embroidery speed can be managed with them
Cons
Only three colors can be picked
4. New Brothread Metallic Embroidery Machine Thread
This is one of the unique options that you will see on my top picks today.
Although you are not suggested to buy this thread kit unlike it meets your requirements, which isn't the case in many situations, the quality it provides and the colors are nevertheless, one of the best you will ever come across.
The texture is very shiny is glittery, and if you are looking for golden shades, this is by far the best product to go with.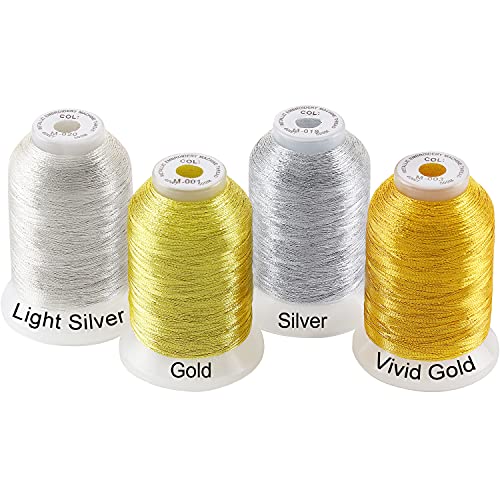 Pros
Great shades
The texture is very shiny and glittery
Metallic threads
High tensile strength
Cons
Not suggested for beginners
Not for day-to-day usage
5. Yeham Glow in the Dark Embroidery Thread
Another very unique pick that I have here to present to you is the YEHAM embroidery thread, which is used by many customers for various eye-catching designs.
The thread speaks for itself and unarguably the best one you could get your hands onto when we are talking about something which glows in the dark.
It is perfect for party outfits and can help to design mesmerizing stuff.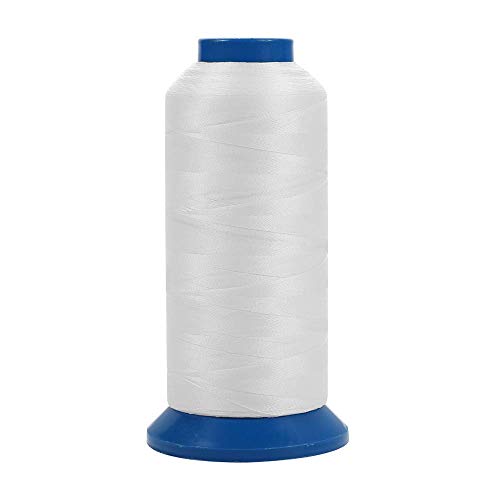 Pros
Glows in the dark for several hours
Ideal for cosplays or themed parties
Can be charged multiple times
Cons
Needs to be charged
Only for specific purposes
6. Simthreads 12 Variegated Colors Thread
Coming in a pack of 12 different colored spools with each having a different color to suit your needs, this thread kit by Simthreads is surely amongst the most premium picks you can find.
Each spool has 1100 yards of thread on it, so don't worry about the quantity as it will easily last for quite a time.
The weight is also the usual 40 magnitude, which is used by most of the companies, and the kit is widely available.
So, no matter where you live, it is highly likely for you to get it delivered right to your doorstep.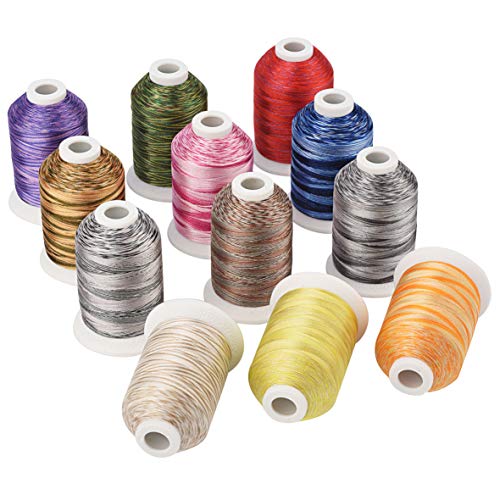 Pros
Multi-colored threads
Shiny texture
Great for fancy clothes
Made from polyester
Cons
Doesn't work on all machines
Some people find it too fine
7. Kolors Variegated Embroidery Thread Kit
If you are looking for a wide variety available in colors and don't need it to be at the cost of the durability of the threads, this is the way to go.
This 70-spools thread kit by Kolors Embroidery is one of the finest quality threads I have ever reviewed, along with having a real deal of thread colors to choose from.
You can really make your project versatile by using this as you have a huge pool of options available.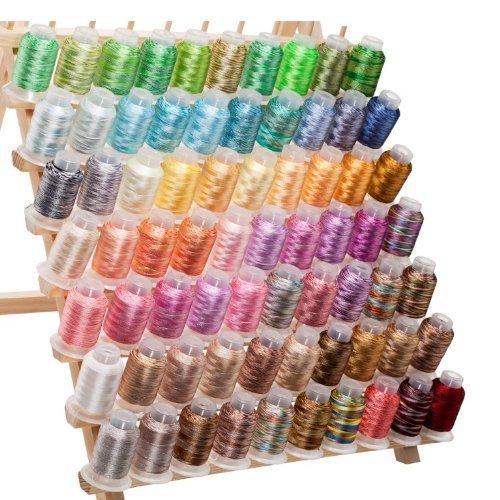 Pros
70 spools per kit
Very affordable
550 yards per spool
Shiny texture
Cons
Spools are made from plastic which isn't the best quality
8. Unotibe Assorted Color Silk Embroidery thread
I know many people out there prefer polyester thread when it comes to sewing due to its immensely high tensile strength.
However, after I was done reviewing this product, I was amazed at the quality and performance of this silk thread delivered, which convinced me to include this amongst my top picks.
Coming with ten different colors, this is the best silk thread to use for embroidering out there without any doubt.
Moreover, you can also use it for other purposes like sewing and jewelry making, where it's equally efficient.
Pros
Silk thread
550 yards per spool
Ten spools per kit
High strength
Multipurpose
Cons
Quite thin for embroidery
9. Simthread 63 Brother Colors Polyester
If you own a Brother embroidery machine and are looking for an embroidery thread specifically for that machine, here is the most suitable thing you can find.
Simthread 63 is a fantastic pick, which is sometimes considered as being the best for beginners.
Along with a kit, you also get a color chart so you can easily match the colors and choose whatever you need.
Each spool is 550 yards, with each one very resistant to color fading.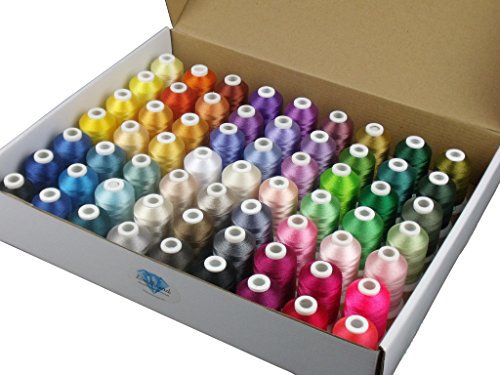 Pros
63 spools per kit
Very resistant to color fading
High tenacity
Comes with a color chart
Cons
Cone design is not easy to use for everyone
10. Embroiders 40-Spool Embroidery Thread Kit
Embroiders is a major brand that has gained the trust of a lot of customers due to the high quality of threads it provides.
Coming as a set of 40 spools, you get a lot of options for choosing the perfect color which matches your needs.
The spools are 40 weight and 550 yards each, which makes them pretty useful in almost all the applications.
You don't have to worry about the strength as the thread is guaranteed not to break during embroidery work.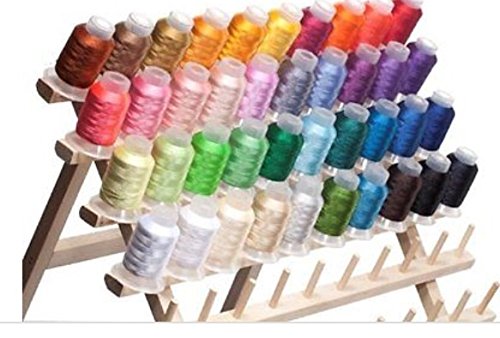 Pros
40 spools in the kit
Very strong and durable
100% satisfaction guarantee
Cons
11. Embroiderx 2 Spools Bobbin Thread
If you are someone who constantly works on embroidery projects and it not interested in a lot of color variety but is surely interested in having a huge length of thread to last you a lifetime.
I will recommend you these amazing quality thread spools by Embroiderx. Coming as a pack of 2, they have amazing quality and weight 60.
Make sure you don't choose them if it's not your requirement, or you are just a beginner.
Pros
Very high quality
No thread breaking
60 weight polyester
No unraveling
Cons
Only a single color
Pricey
12. New Brothread Prewound Bobbin Thread SA156
Are you a real embroidery enthusiast but are tired of continuously winding the thread around your bobbin?
Well, if you ask me, it is pretty frustrating, and someone would rather invest his time in making new and creative designs than doing that work himself.
However, you don't need to worry as this product offers you the best solution.
Coming as a gigantic package of 144 pcs of white thread in the form of pre-wound bobbins, the manufacturer does all the work for you, and all you need to do is just get the bobbin up and start working without any delay.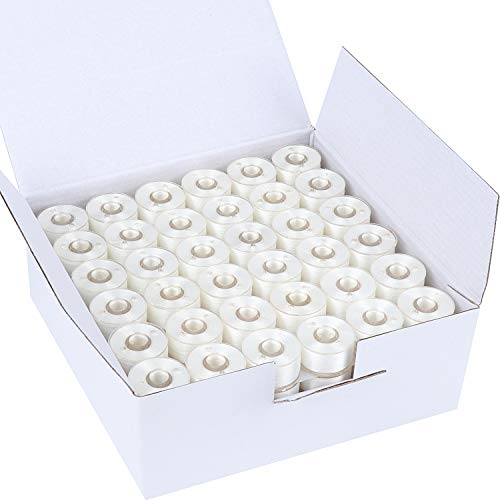 Pros
A huge number of pieces
Pre-wound bobbins saving your time
Polyester thread
Fits most commercial machines
Cons
Only for bobbins
Suitable just for commercial works
13. Simthread Glow in the dark Embroidery Thread
This is another amazing glow-in-the-dark embroidery thread that can be a perfect fit for people who love designing different creative designs for parties and stuff.
Coming with an amazing thread quality and over 3 hours of glowing time, this is certainly one of a kind thread that is eco-friendly as well.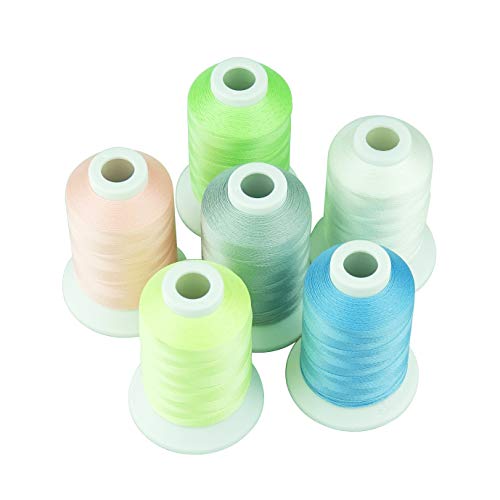 Pros
Great shades of colors
Last for over 3 hours before you need to charge them
Perfect for fancy designs
Each spool has 1100 yards of thread
Cons
Need sunlight for light powder
Not suitable for regular usage
14. Luxbon 34 Spool Sewing Threads
Although this product is highly underrated, I found it just as competitive as all the other models that are available in this review.
Thirty-six spools are coming in a package, with all of them having different shades.
Although the length of thread per spool is not great, it's not a bad tradeoff for having the best quality thread on your hand, which will make you forget there was ever an issue of thread breakage.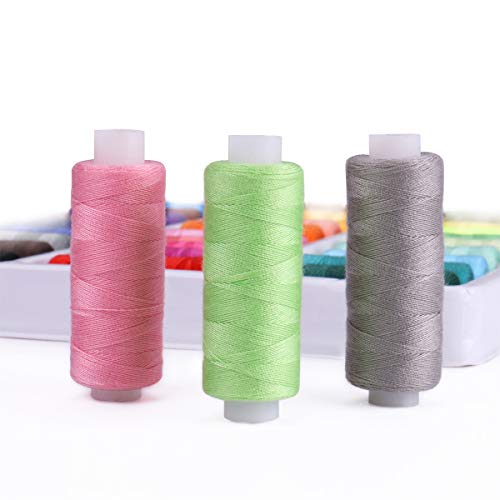 Pros
Very high quality
36 spools per kit
Rainbow colors
Multipurpose
Cons
Only 250 yards per spool
Not suitable for all machines
15. Sinbel Polyester Embroidery Thread
Sinbel polyester thread is a top-of-the-shelf, unique embroidery thread out there that is not used by many customers, but the ones who are using it are much satisfied with its performance.
The thread is best for people who love fancy projects and don't like the thread to break.
Each spool has 1100 yards and possesses high tensile strength with amazing shades of colors.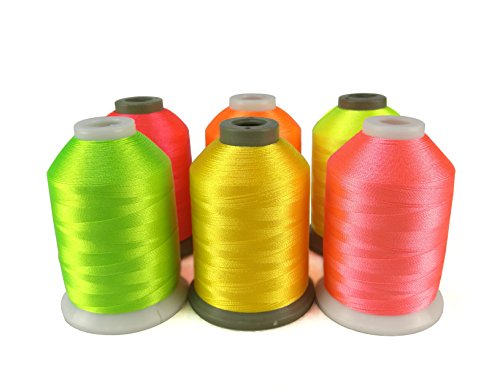 Pros
Great neon shades of threads
Ideal for making appealing designs
1100 yards per spool
Cons
Not the best for usual projects
Frequently Asked Questions
Let's look at some of the most frequently asked questions by the beginners.
There might be some of these questions also hovering over your mind, so let's clear them out.
Do you need a special thread for embroidery?
Yes, you need a special thread for embroidery in the majority of cases; however, some threads are all-purpose, which can be used for sewing as well as embroidery so that they can be used.
However, keep in mind to use a weight suitable for your machine.
What is the difference between embroidery thread and regular thread?
The major difference between a regular thread and an embroidery thread is that regular ones are made of cotton, which does not offer the very high tensile strength that's needed for embroidering like polyester or silk threads.
What is the difference between rayon and polyester embroidery thread?
Usually, both are quite similar, and, in some cases, it is hard to tell what's different. However, the major difference is that rayon is a higher sheen than polyester.
How long should be an embroidery thread?
It completely depends upon how much you use them or how big your projects are.
Usually, people prefer spools with 550 yards threads. And others with lighter usage sometimes go as low as 250 yards.
What do you do with embroidery thread?
As the name suggests, embroidery threads are primarily used for doing embroidery.
Can I use embroidery thread for beading?
Yes, embroidery thread is good for beading.
Conclusion
So, we have seen a comprehensive list of the top 15 best threads you can find for your embroidery machine.
While all of them are pretty similar in one way or another, what really sets them apart are your requirements.
So, make sure to go through the buyer's guide first and figure out what you need. Then you can find the perfect model for you.
Read Also: