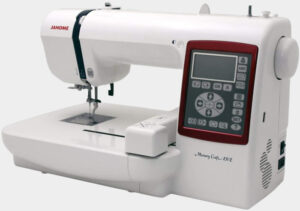 Janome is a great Japanese company that manufactures sewing machines. Their embroidery machines are also very famous and auspicious.
While we talk about embroidery, it is a very skillful process, and for great results, you need great tools.
In this modern era, where technology has covered our routine jobs, embroidery machines are also a good addition.
But here is a question that is often asked by the users! "There are loads of such machines with a variety of features; how would I get the best one?".
You need not worry as I have got you covered. After great research, I am going to tell you about the best Janome embroidery machines. So, let's get started!
Top 5 Janome Embroidery Machine
You do not need to go into the cumbersome procedures of finding the best Janome embroidery machine out of a lot.
Because below is the list of top 5 picks that I have found well-suited for embroidery work. Have a look!
1. Janome Memory Craft 400E Embroidery Machine
Starting with this great looking model 400E that holds very good feedback. Its features and price are both high.
So, if you want to buy a great embroidery machine at a great price, then this is for you.
This undisputed machine offers an embroidery field of 7.9"x7.9". In this great machine, you get high-quality built-in 160 designs.
Adding more to the fun, there are six built-in fonts for monogramming and 2 and 3 letter monograms. The exciting part that I like about this machine is its USB compatibility that allows you to import your PC designs.
Other than that, you can control the embroidery speed that ranges from 400-800 stitches per minute. Also, using the on-screen controls, you can take the fun to another level.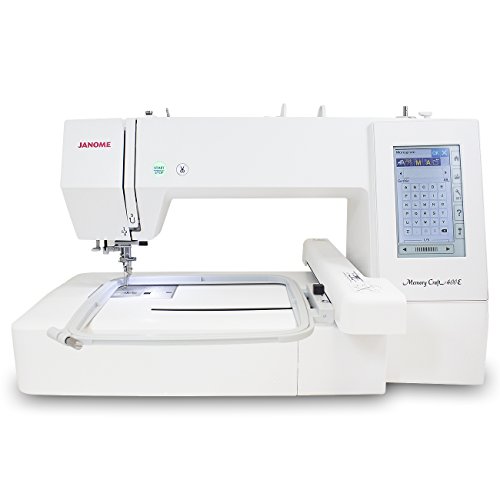 Pros 
Good embroidery field
160 built-in designs
Great embroidery speed (flexible)
Good interface
Cons
High price
Weighs 25 pounds
2. Janome Memory Craft 500E Embroidery Machine
Let's take one step further because this one is 500E that offers even more than the one we discussed just before.
In this machine, you get an embroidery field of 7.9"x11", which is more exciting, yeah! Like 400E, there are 160 built-in designs to take your crafting to another level.
Its screening editing function provides greater flexibility and a better interface.
Along with the built-in designs, there is a 2 and 3 letter monogramming facility with six monogramming fonts.
You also get flexible stitch traveling by units of 1, 10, and 100.
With all that, there are loads of extra accessories for you in this high-speed machine. Its price is slightly higher, so if you can afford that, this is the best device for you.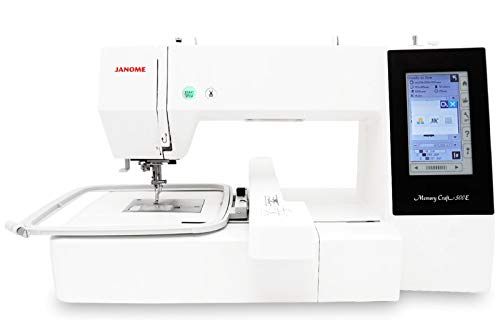 Pros 
The even bigger embroidery field
Great built-in designs
Many extra accessories
Great interface
Cons
High price
Weighs 20 pounds
3. Janome Horizon Memory Craft 9850 Embroidery and Sewing Machine
As it is clear from the title, it is a multipurpose machine used for both sewing and embroidering.
If we talk about its sewing features, there are 200 built-in stitches, six one-step buttonholes, automatic thread tension, 7-piece feed dogs, colored touch screen, and much more.
If you are curious about its embroidery features, there are 175 built-in designs, two fonts with European characters, and a 2 and 3 letter monogramming function.
You also get USB compatibility to share designs from your PC. There are stitch traveling units with great stitch speed as well. The healthy interface allows you to edit as well with ease.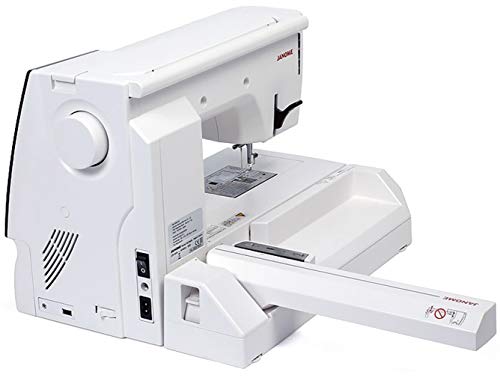 Pros 
Dual functionality
USB compatible
Good price
175 built-in designs
Cons
Accessory case missing
Weighs 23 pounds
4. Janome 001MB7 Multi-Needle Embroidery Machine
Here comes the boss! This is a very exciting embroidery machine by Janome that is undisputed in its class. To give you professional experience, this machine has all that is necessary.
Providing endless possibilities, there are 50 built-in embroidery designs along with ten monogramming fonts and a maximum speed of 800 stitches per minute.
Its USB compatibility allows you easy sharing.
Its embroidery operations are even faster and smoother to take your embroidering to the next level.
My favorite things about this machine include its 7-needles for embroidery, 6 LED lamps for ease, a 2 and 3 letter monogramming function, 5.7" remote screen, and embroidery field of 9.4"x7.9".
There are loads of other exciting features. In a nutshell, if you want the professional experience of embroidering, then go for this device.
Look at its pros and cons as well.
Pros
Great stitch speed
USB portability
Professional experience
Big screen control
Cons
Very heavy in weight
High in price
5. Janome MB-4S Four Needle Embroidery Machine
Here comes another exciting device by Janome to enhance your embroidering experience. Its big remote computer screen provides you great control and handling of over 60,000 colors.
Its LED lighting allows you to work anywhere at any time. Its great storage ability will allow you to store more than 1.5 million stitches or up to 100 designs.
There are many other features like automatic thread cutters (that automatically cuts jump threads to save your time). Its bonus package includes a hat hoop and lettering hoops as well.
Moreover, you get great stitch speeds and an amazing interface as well. The only thing that I found against this device was customer reviews.
Among all the best machines that I mentioned, this one has the lowest rating. But still, some customers give satisfied reviews.
Pros
Storage facility
Great stitches
Built-in designs
Big screen for control
Cons
High price
Weighs 85 pounds
Buyer's Guide
If you are a beginner, you might not be aware of the important aspects that should be in mind before buying an embroidery machine.
But don't worry because here below I will explain to you the important aspects to remember before opting for an embroidery machine.
Embroidery Field
It is a very important feature that should be included in your machine. Not just included but also in a suitable size to easily handle the crafting and providing greater reach.
So, look for a machine that has a broad embroidery field.
Design library
Not just for learning purposes but also for exploration, a design library is very important.
It allows you to understand and create clever designs, thus, taking your experience to another level. So, keep in mind this aspect.
Extra features
Try to look for a device that contains extra features and accessories.
Extra features allow you to enhance the range of your work, while accessories are always exciting and save money as well.
Compatibility
A USB-compatible device is very useful in terms of sharing designs with a PC. Thus, it provides greater exposure and makes you able to use designs of your desire.
Thus, compatibility should be a priority for you.
Controls
A good interface and great controls are all that make your experience great. So, a good display control system is always preferred.
Price
A good device does not have to be expensive. Look for your desired features and get them in an affordable price range.
Frequently Asked Questions
Where are Janome embroidery machines made?
Janome is a Japanese company, and most of its manufacturing plants are in Japan, Taiwan, and Thailand.
What format do Janome embroidery machines use?
Janome embroidery machines use the 'Jef' format for stitch data files.
How difficult is embroidery?
Embroidery is an easy and inexpensive job. It can be a hobby, as well. You do not need great skills to do that. You can easily learn it if interested.
Is Janome better than a brother?
Both are renowned brands, but when it comes to Janome, you get fine stitches and better quality than Brother.
What does PES stand for in embroidery?
It goes as a Physics Editor Sheet file that is usually a CAM file for embroidery machines.
What kind of file do I need for embroidery?
The ideal files are either adobe illustrator (ai, eps, pdf) or Adobe Photoshop files (PSD, eps, jpg)..
Can you embroider without a hoop?
There are a few ways to hold the tension, and then yes, you can do this.
What kind of string do you use for embroidery?
Cotton floss, stranded cotton, and embroidery floss is used for embroidery.
What does floating mean in embroidery?
For small or un-hoop-able jobs, we use the floating technique. In this process, only temporary stabilizers are used.
Conclusion
The above information is enough to help you choose a great embroidery machine by Janome. Now, it is up to you to opt for the best-suited machine.
Don't forget the buyer's guide, and I believe that one of my top picks will be the best one for you.
Read Also: