Embroidery is a very important aspect when it comes to designing clothes.
While sewing only determines the basic shape of the clothes, embroidery gives them a final touch by making breathtaking designs over the cloth.
Unless the old times, embroidery is mostly done through computerized machines nowadays instead of conventional ways to speed the process up.
However, people run into a lot of confusion while buying the best commercial embroidery machine as the markets are flooded with them.
So, this article will help you find the best ones among them, along with their distinct features that make them special from others.
Buyer's Guide
Buying a commercial embroidery machine, there are some features that you need to be aware of in order to choose the best machine.
So, if you're buying a machine for the first time, here are some points to pay attention to while buying. Make sure you go through all of them properly.
Built-in Designs
Every machine has several designs that are pre-stored in it so you can easily use them. So, the bigger the name, the better.
Always make sure that the machine has plenty of them. More than 150 designs is what we will recommend.
Memory
In addition to the built-in designs, you can also import other designs into the machine as you like. However, the machine can only house imported designs according to its memory.
So make sure it has got a decent amount of memory to hold the designs you want.
Built-in Stitches
The average number of built-in stitches in commercial embroidery machines is around 100.
So, don't settle for a model that offers less and try to get a model that offers as many as possible because it provides you with enhanced designing possibilities.
Field Area
The field area essentially refers to the area where you actually keep the cloth while doing the embroidery work. Bigger projects require more space and hence a larger field area.
So, choose accordingly as it cannot be upgraded once you have bought the machine.
USB Connectivity
This is one of the most important features of modern embroidery machines.
Without a USB port, you cannot import the designs from your computer or the downloaded ones. Make sure your machine has a USB port.
Dimensions & Weight
While most people do not realize it when they are buying the machine, they are important, especially if you have limited room available.
A lighter machine with smaller dimensions is easy to store and portable as well.
Warranty
Most of the commercial embroidery machines come with a warranty.
While most of them are reliable and you won't even need to claim a warranty most of the time, but you should always be precautious as machines cannot be very much relied upon.
Top 10 Commercial Embroidery Machine Reviews
We have tried most of the well-known commercial embroidery machines available in the market and personally reviewed them.
Based on these reviews and the ones collected from the customers who have used them, here we present to you our top 10 picks for the most efficient commercial embroidery machines out there you can buy.
1. Brother PE800 Embroidery Machine
There is a reason that this model Brother PE800 sits at the top of our list.
With a brother tag on it, it's definitely a very reliable machine, and thanks to its USB connectivity option and large field size, it can store all the designs you want while providing you a large space to work huge projects on.
There are also 138 built-in designs that can be used seamlessly for any kind of design. Moreover, with 11 lettering fonts and ten frame shapes, you can further beautify your embroidery.
A Touchscreen is also available for easy navigation.
Pros:
Large field area for bigger projects
USB port
Very easy to use
Designs can be edited
Comes with many accessories
Cons:
Can sometimes be loud
Heats up sometimes if the load is very heavy
2. Brother SE400 Sewing and Embroidery Machine
Brother SE400 sewing is another model made by the same manufacturer, a unique feature that makes it very suitable for a commercial purpose, is the presence of a bright LED light on it.
The fact that the field area is lit up opens up the possibility of designing clothes, even in low-lit areas.
The presence of a USB port lets you import all the designs you want, and the fact that it can be used for sewing as well as for embroidery adds to its value.
Pros:
Automatic thread cutter
Bright LED light
USB port
Speed control slider
Cons:
A limited number of built-In designs
Needs 120 volts to operate
3. Brother PE770 Embroidery Machine
With a spacious field area of 5" by 7", it makes all the commercial designing works easier and never lets you run out of space.
Designing options provided are more than your need, with 136 built-in designs; you can work swiftly.
Not only this, but Brother PE770 also provides you with additional features such as an automatic needle threader and an automatic thread trimmer, which saves a lot of your time.
Overall, it is a pretty good option with a modernized body.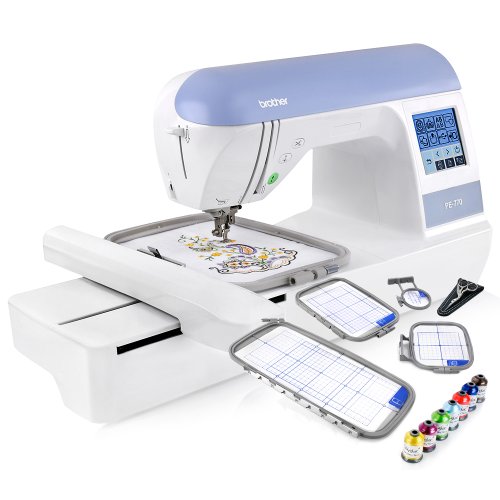 Pros:
High-quality embroidery
Lots of built-in designs
Easy to use
Automatic needle threading and thread trimming
5" x 7" spacious field
Enough memory to import lots of designs
Cons:
Not very portable due to its large body
4. Singer Futura XL-550 Machine
The singer has made quite a reputation when it comes to embroidery machines. Which, to be very honest, is totally deserved. Singer Futura XL-550 model also continues its legacy and provides extremely good quality.
The machine is quite easy to use, and even beginners can use it to design clothes in a very creative manner.
The machine features 125 built-in designs with a massive number of 215 sewing stitches making the design very productive.
Features like automatic needle threading and the presence of a bright LED light are also there to speed up your work.
Pros:
Runs at 110 volts only
Comes with 215 built-in sewing stitches
The LED light makes working in the dark easier
Automatic needle threading
Designs can be edited; computerized system
Cons:
The needle can sometimes break after heavy work
Not very easy to get used to
5. Janome MB-4N Embroidery Machine
Janome MB-4N machine is one of the heavy models on the list and is a totally commercial machine.
With a pretty unique design and a heavy body, Offering the option of using four needles simultaneously, you can actually use different thread colors in all four and make breathtaking designs using it.
An LCD screen is used to ease the operation and communicate with the machine. On top of all that, it comes with a lot of accessories that are very well suited for commercial and heavy projects.
Pros:
Can work with four needles all at once
Very high-quality embroidery work
The LCD display makes its operating easier
Cons:
Not very easy for beginners
Expensive
Very heavy hence no portability
6. Janome MB-4S Embroidery Machine
Coming with a massive number of accessories, this machine has all that it takes to become the best commercial embroidery machine out there.
With a 4-needle design, you can be as creative as you want by choosing all four different threads in the needles. For people who love downloading designs from the computer, it has a 3MB memory that can store them all.
LED lights help to work in low-lit areas, and there are a lot of other special features as well as automatic thread cutting and a remote computer screen to visualize the designs going on.
Pros:
Four needles can be used simultaneously
High embroidery speed
Large memory to store designs
Large 5.7-inch screen to operate remotely
Cons:
Expensive
Not very easy to learn
Not portable
7. Double-Lin Commercial Embroidery Machine
Amongst one of the lesser-known commercial embroidery machines in the market, here we have a revolutionary machine Double-Lin with a unique design.
With its 15-needle design, you can actually do wonders in your design and speed the process up by a lot as well.
With 22K+ designs, it has enough memory to store more than 100 million stitches, which is more than enough for any business.
You can also use the built-in lettering software to design your own fonts and can also do embroidery on bags or anything which is not flat either.
Pros:
20 x 14-inch large working field
Can store up to 100 million stitches
Can also do big hard bags, no interfere area
22K+ designs can be used
Touch screen and USB port
Cons:
Expensive
Not easy to use
Limited customer company support outside China
8. CAMFive EMB HT1501 Embroidery Machine
Equipped with 12 needles and a large embroidery area, this model is often referred to as the best one might buy when it comes to small businesses.
Not only for plain clothes, this machine actually works for a variety of materials such as towels, hats, bags, etc.
With a big 8-inch touchscreen and a huge memory that stores up to 100 million stitches, this machine provides you all the important features.
Another unique feature is the design preview, which lets you see how the design is going to be made on the exact location.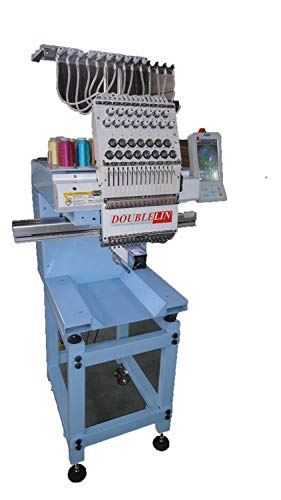 Pros:
Multipurpose
A large number of options
Design preview
Huge memory for storing up to 100 million stitches
Cons:
Expensive
Difficult to learn for beginners
9. MakeIT Commercial Embroidery Machine
Last but not least, this is another top-notch model which is very famous when it comes to small startups. The reason is mainly its compact body carrying versatile features to do almost any type of embroidery work.
With its 15 needles working with 1200 stitches per minute, it is very efficient and results in very high-quality embroidery work.
The speed is, however, adjustable and can be set according to your needs. The on-screen keyboard is one of the best features which provides you total control over the designing process.
Pros:
On-screen keyboard with ten fonts
Variable speed
15 needles
Compact body
3D puff system
Cons:
Frequently Asked Questions
If you're a beginner with commercial embroidery machines, you ought to run into a lot of questions regularly, which are actually pretty easy to answer.
So, we made a list of such common, occurring questions to avoid your time wastage.
After what time period should I be oiling my embroidery machine?
This highly depends upon usage. If not mentioned in the user guide, oil your machine every month if you use it at least once a week.
Which threads are recommended?
The quality of the design directly depends upon the thread quality so don't save up money on threads and always buy the best quality and avoid re-doing the designs
Why do threads often break while working?
There can be various reasons for that. The hoop might not be tight enough, the needle could be worn out, or the thread might just be of poor quality.
Can I create my own design?
There is special software that comes with machines. Use them to create designs on the computer and then import them into the machines to use.
When should I use high speed?
If the workload is heavy and you need to achieve a lot of embroidery in a short time, a higher speed is recommended. This is usually the case in commercial embroidery.
Can I do embroidery on hats?
This totally depends upon the embroidery machine you're using. Some support the embroidery of hats while some do not. So, check user instructions before doing this.
Is there an ideal size for a hoop?
There is no ideal size as the size of the hoop should be according to the magnitude of the project you're working on. The most common sizes are 4×4 and 5×7. However, you can also find larger ones for bigger projects.
Conclusion
Now that you have minimal knowledge about the commercial embroidery machines and their important features which are beneficial to the work, you should be able to pick yourself the one you want from our top picks.
The models we have listed are among the top category we found during our review, and picking any model from those should satisfy your commercial needs.
Read Also: