If you give proper attention, the embroidery business could turn out to be very profitable due to the very short time consumed in doing the embroidery work and the huge price you get for it.
Even if you're starting a home business, getting yourself in the right direction could really earn you a fortune.
However, one of the main problems is finding yourself the right embroidery machine that will fit your needs by staying within the budget of the home business.
So, here in this article, we will help you by listing down our top 10 picks for the best embroidery machines for home business.
Buyer's Guide
Without having minimal knowledge of embroidery machines and their important features, you can never choose a good machine for yourself.
So, there are some points that you should consider before choosing the best embroidery machine. Let's see.
Field Size
This refers to the area where you do the embroidery work. The bigger your project is, the larger the field area you will need to easily accomplish your work.
So, figure out what size of projects you're going to be working on. And based on that, select the machine appropriate field size.
Speed
Speed matters a lot in embroidery work.
While a higher speed certainly means that your work will be faster and your efficiency will increase, it also sometimes means that if you do not control it, it can lead to improper or bad embroidery work, which you certainly don't want.
So, pay attention to that and see if your machine supports variable speed.
Built-in Stitches and Designs
Most of the embroidery machines nowadays come equipped with a USB port, and you can easily download designs from the internet and import them in the machine through it, but some machines offer a huge range of built-in designs as well.
This really saves your time and speeds up your work, so don't neglect it.
USB Port
As we just mentioned, you cannot import your favorite designs into the embroidery machine without having a USB port.
So make sure that the model you're choosing has USB connectivity.
LCD Touchscreen
Most of the machines have colored LCD panels, which help in viewing the final design before actually executing it.
This helps a lot in making life changes and seeing if the design suits the fabric or not. So, make sure you check out on this as well.
Memory
The additional memory lets the machine store all the additional designs that you import from the computer.
A larger memory means you can keep more design, which obviously a big edge you will have. Having a minimum amount of memory to hold designs is highly recommended.
Warranty
Most of the embroidery machines come with a warranty tag for the long term.
This gives you inner peace of mind that your money will not be gone to waste once you've spent them.
Embroidery machines don't come so cheap. So, to avoid buying a new one anytime soon, make sure it has a long warranty.
Top 10 Embroidery Machines for Home Business
We tried and tested the top products that were most commonly used and also read the reviews of the customers that are currently using the embroidery machines or have used them in the past.
Combining our personal review and the customers, here we have our top 10 picks for the best embroidery machines you can buy for home businesses.
1. Brother SE600 Computerized Embroidery Machine
Brother has made itself quite famous whenever it comes to embroidery machines. SE600 is a top-notch product manufactured by Brother, which is extremely powerful and can handle bulk loads with ease.
With its incredible range of 103 built-in stitches, you can get creative as you like and design your heart out.
The presence of the bright LED light further enhances its suitability for home businesses letting you work even in the dark.
There are tons of features like automatic needle threading and USB connectivity that let you swift through your work.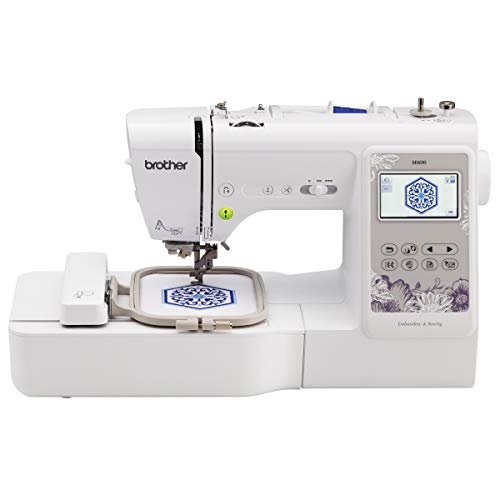 Pros
Jam resistant bobbin
USB port to import designs
Easy to use, even for beginners
High-quality embroidering
Automatic needle threading
Cons
Doesn't come with many accessories
Sometimes the thread breaks
2. Brother PE800 Embroidery Machine
The major boost this model gets is by featuring a large field size. You can easily house all the projects, even the biggest ones, to design your clothes without running into any difficulty.
It does, however, cripple the machine of portability, but it's certainly worth it. There is a huge number of 138 built-in designs to choose from, and the touchscreen eases your work as well by providing easy navigation.
Not only this, but it has 11 lettering fonts and ten frame shapes, making the machine a good choice for monogramming as well if you need it.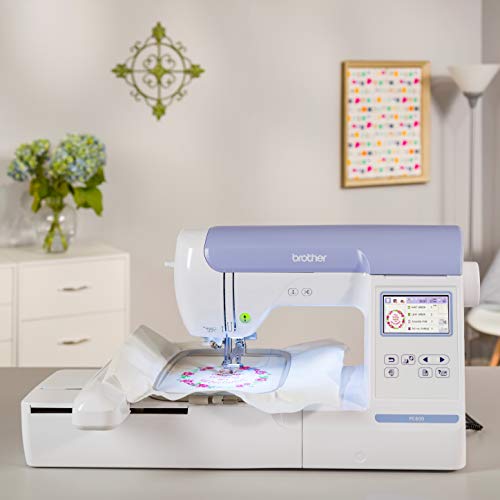 Pros
Large field area
USB port
Easy to use
Live to edit of designs
Many accessories
Cons
Can heat up
Can be loud
Embroidery only
3. Brother SE1900 Computerized Embroidery Machine
With its huge database of more than 200 built-in designs, you will never need to download any additional designs as it has all you need for your creative design.
However, there is the option of downloading the designs using the USB port if you want. The memory is also enough to support them.
With its highly convenient LCD touchscreen, you can built your very own sewing stitches and take control. There are further accessories as well to help your work.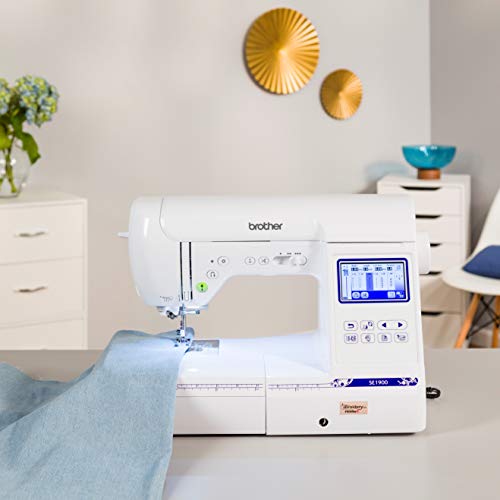 Pros
More than 200 built-in designs
Customer sewing stitches can be built
Equipped with many accessories
Large work field
Automatic needle threading
Cons
Some say that the built-in designs are outdated
4. Brother PE535 Embroidery Machine
Are you a beginner in this difficult world of embroidery and feel like these machines would be hard to catch up with?
Well, the Brother PE535 embroidery machine is just the one for you. With an amazingly easy-to-adapt interface and all the built-in features for embroidery, you'll be amazed at how easy it makes your work.
Nine built-in fonts help you do monogramming as well if you are interested. There are all the important features such as a USB port and touchscreen, so you are always on the go.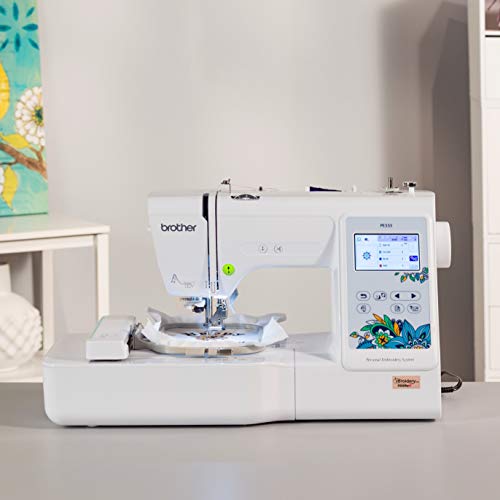 Pros
Nine built-in fonts
Provides very good value for its price
Easy to use the touchscreen
USB port to import designs
Can access designs at iBroidery.com
Cons
Features such as automatic needle threading are not very straight-forward to use
The number of built-in designs is less
5. CAMFive HT1501 Embroidery Machine
This machine by CAMFive is one of the top category ones when it comes to embroidery.
While they are usually used as commercial machines due to their high price tags and features, they can also be used in home business if you have the budget and huge load of work.
Having 12 needles that all can handle different colored threads, you can really design as creatively and efficiently as you like.
It can embroider not only clothes but a huge variety of fabrics such as hats, towels, etc. It has enough memory to store more than 100 million stitches and fulfills all your needs.
Pros
Multipurpose. Works on a lot of materials
A huge number of designing options and features
Can preview the design before executing
Huge memory
Cons
Expensive
Not easy to learn for beginners
6. Janome 400E Memory Craft Embroidery Machine
If you are looking to do your business by having some huge projects on your hand, this 400E model by Janome can be a great option.
Not only does this provide you a huge 7.9" x 7.9" embroidery field, which is more than enough for all fabrics, but it also comes equipped with a lot of features that will all make your efficiency go uphill.
It has 160 built-in designs and six fonts as well, making it a good option for monogramming as well. Other features like on-screen editing are also available.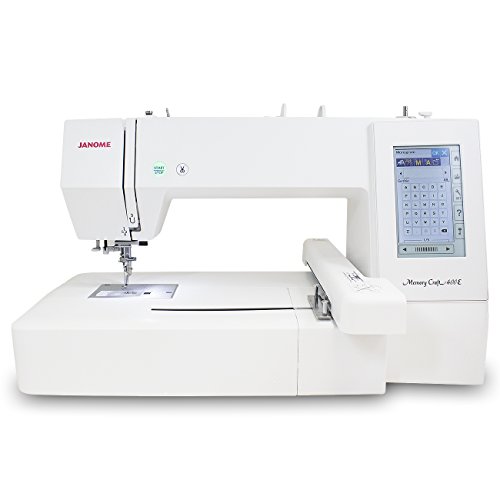 Pros
Six built-in fonts
Direct jump to desired stitch point
On-screen editing
Spacious embroidery field
Handles heavy workload
Cons
7. Janome Memory Craft 14000 Embroidery and Sewing Machine
Unlike the previous model made by Janome, this machine is known as memory craft 14000 is a multi-purpose machine that can be used both for embroidering and sewing.
If you have a doubt to extend your business to sewing as well, this can be a good choice.
Boasting a real-time connection to PC, it sets itself apart from the other models and has a huge number of built-in designs.
The field size is also one of the largest, and you will be delighted to see the number of accessories that come with it.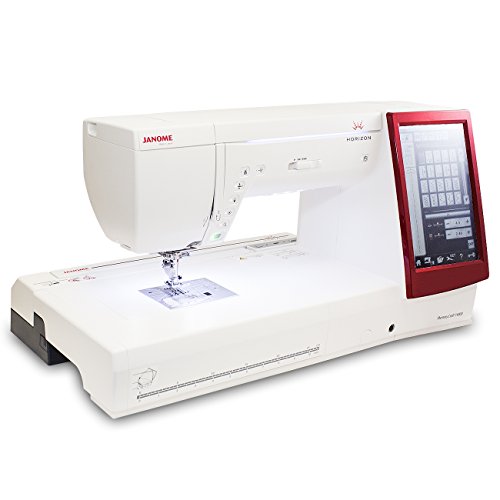 Pros
A lot of useful accessories
350 built-in embroidery designs and 400 stitches
Huge maximum embroidery size
Real-time connection to PC
Cons
8. Janome MB-4S Embroidery Machine
Packed with a lot of accessories, this machine has a unique 4-needle design, which boosts its efficiency and design capabilities.
Supporting a 3MB memory, it can store everything you need, and the presence of LED lights makes it very useful for home businesses.
A computer screen is also available on top of everything to visualize the final design.
Pros
3MB memory
High embroidery speed
Bright LED light
The display can be controlled remotely
Cons
Complex to learn
Expensive
9. Janome Horizon 12000 Embroidery Machine
Supporting the highly anticipated linear motion embroidery system and computer connection through Horizon Link, this machine by Janome has all it takes to become the future thing.
It can do both sewings and embroider powerfully without letting you tire a bit. There are all the modern features present as well implemented in smart ways.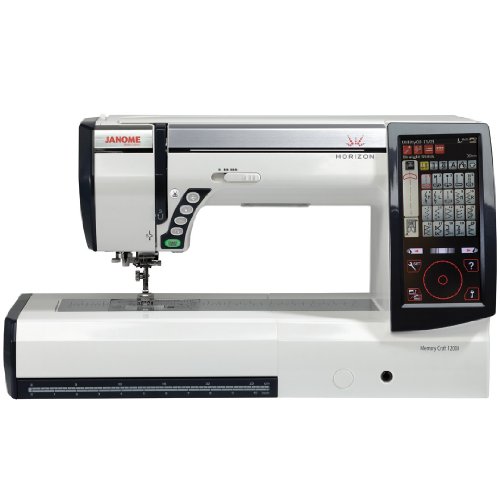 Pros
Live computer connection
AcuFeed Flex
Linear motion embroidery system
Unique features
Easy to learn
Cons
10. EverSewn Sparrow X Embroidery Machine
This embroidery machine by Ever Sewn is another top contender for being a futuristic machine.
It lets you monitor, and even control the embroidery by merely using your smartphone.
There are all the modern features like speed control and thread cutter available, with a very spacious working field as well. You will not run out of either space or the features, ever.
Pros
Remote control through a smartphone
Huge embroidery area
A load of features
A dedicated app to control and import new designs
Cons
Built-in designs are less
Frequently Asked Questions
When you are new to embroidery machines, there are many questions that often pop up in your mind; these questions are mostly very brief and straightforward.
Is the Embroidery Business Profitable?
Yes, if the work is of good quality and you put in enough time, the embroidery business can turn out to be quite profitable as the work is done quickly, but you get paid decently.
After what time period should I be oiling my embroidery machine?
This highly depends upon your usage, but unless mentioned in the manual, you should oil your machine at least once a month if you use it weekly.
What's the difference between embroidery and monogramming?
Embroidery refers to all types of designing done on fabrics, while monogramming only refers to embroidering logos or initials.
Is Brother a good embroidery brand?
Yes. They have a long history of making reliable products when it comes to sewing and embroidering. Customers, as well as the businesses, trust them a lot.
How are embroidery machines different from sewing machines?
Sewing machines only join two pieces of cloths together to give them a primary shape. However, embroidery machines are used to make patterns or designs over clothes.
Can I create my own design?
You certainly can. There is software that comes along with the machines to make your own designs that can be used. Designs can be later imported to the machine.
Can I do embroidery on hats?
Some machines do support it, but not all of them. It's better to check your user manual before embroidering hats, though.
Conclusion
Since we have mentioned our top picks in detail along with their respective pros and cons, it should be quite easy for you to figure out the best choice for you based on your personal preferences.
However, always give buyers' guide a read before buying as it contains very important, which should be considered prior to buy the machine.
Read Also: