Embroidery is one of the most important aspects of clothing.
While sewing only determines the shape of the outfit, embroidery actually adds to the beauty of the clothes and enhances how they look.
If you know embroidery, you can design your clothes in a very eye-catching way, making them unique in their appearance.
However, you need a decent machine to do all this. And most of the time, choosing the right machine is not as easy as it sounds.
So, we have reviewed some of the best brother embroidery machines available in the market and made a comprehensive list of the best ones.
Be sure to give this article a read before buying a brother embroider machine.
Buyer's Guide
As the process of buying a good embroidery machine requires a minimal understanding of them, there is a possibility that you will not be aware of the things you need to keep in mind when making the purchase.
So, we have prepared a list of points that should be paid attention to. Make sure you don't miss any of these if it's your first time buying a machine.
Power
The power of the machine is undoubtedly one of the main characteristics of an embroidery machine. It determines the load of work you can easily manage with that machine.
Moreover, a powerful machine also means that you can deal with hard fabrics as well. So, make sure not to miss out on the power of the specific model of the machine you're buying.
Accessories
Machines usually come with some or a lot of accessories depending upon the price and the quality of the machine.
While with the brother's embroidery machine, you do not need to worry about the quality as it is known to be great, you might want to see what additional accessories do the specific models come with so you can ease up your embroidery process.
Design Variety
Designing is the main goal of the embroidery.
Without it, there aren't many other goals you wish to achieve with an embroidery machine, right?
Well, different machines are capable of different designs built-in, making your job a lot easier. So, always pay attention to this while buying the machine.
Speed Control
Being able to control the speed of the machine is another great feature that is available on not all but some models.
If you're not a professional, this might not help you very much, but if you're an amateur, you could use it to your advantage and make the embroidery much more productive for you.
Cost
While there are a lot of models in the market and the expensive ones obviously come packed with a lot of extra features when compared to the ones with a smaller price tag.
But you should always consider the ones who can provide you the best value for your money instead of just having all the features.
So, compare them according to the price and not only the features to make the best choice.
Computer Connection
This might be a feature which is offered by almost all of the modern machines nowadays, but it never should be ignored as it might still be available in all the models.
Having the option of connecting the embroidery machine to the computer enhances the designs by a fair amount. So, make sure you choose one which offers it.
Top 7 Brother Embroidery Machine Reviews
We have comprehensively tried and tested out all the major and well-known models of the brother embroidery machines out there in the markets and have done reviews in each expect they have.
Combining our results with the customer reviews, here we present to you our top 7 picks for the best one. So, make sure you go through them if you're in a hunch to find the right one for you.
1. Brother PE800 Embroidery Machine
Packing a humungous amount of 138 built-in designs, this model is one of the finest the company has to offer. You can use endless designs like florals and quilt patterns very easily without needing to do them manually.
Built-in fonts are available as well, which let you display text just the way you like, without taking any extra bit of your time. You can do monogramming or lettering, anything you would like to keep your aesthetic designing going without a break.
If the design you want is still isn't in the system, just use the USB port to import any design you like, and you're good to go.
Availability of a large color touchscreen and fairly large-sized field lets you go through your embroidery process swiftly without demanding any extra time from you.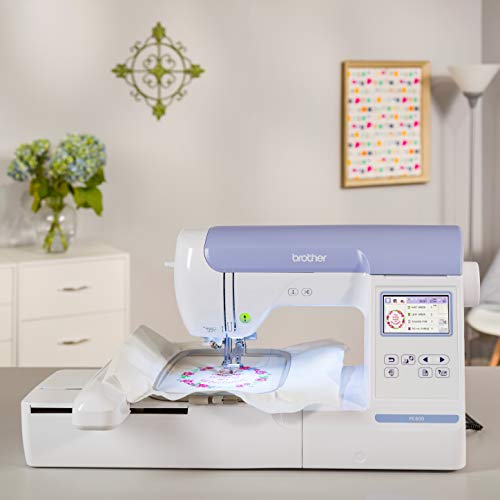 Pros
Wide range of built-in designs
Can import any design you like easily
Comes with a lot of accessories
The working field is large
Very easy to learn
Cons
Overheats if the load is huge
Can be loud for some people
USB port doesn't always work very smoothly
2. Brother PE535 Embroidery Machine
If you're a beginner in the world of embroidery and just feel like starting with something which can easily handle all your tasks but doesn't cost you a hefty amount, this model can prove to be the best for you.
Value for money is the best when it comes to this.
With 80 built-in designs and nine built-in fonts, it can pretty much satisfy all your designing needs without needing to import any additional design mostly.
However, if you do need additional ones, you can always import them using the USB port.
The touchscreen makes the navigation within the machine easier, so you don't face any issues even if you're a beginner.
Lastly, it doesn't need you to handle the needle threading and manages it for you, so you save yourself the hassle.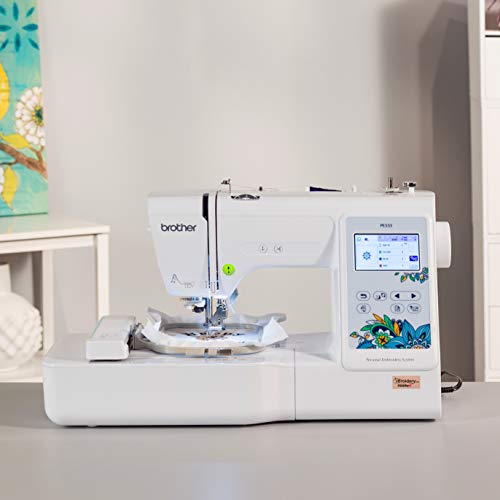 Pros
Automatic needle threading
A lot of built-in designs and fonts
Provides good value for money
The touchscreen makes it easy to use
USB port to import designs
Can access iBroidery.com design
Cons
Not very easy to use features like automatic needle threading
Loud
3. Brother SE600 Sewing and Embroidery Machine
Another top-of-the-line embroidery machine by a brother, which is ranked amongst the top sellers as well.
Carrying the capacity to handle bulk loads, the machine is one the easier ones to use for beginners in the list.
With a pretty bright work area powered by LEDs, you're sure to notice every detail and not miss any spot, even my micrometers.
With its amazing automatic threading, there's no need to strain your eyes trying to get the thread through the needle hole as the machine will handle this on its own.
You can easily use built-in designs and fonts from a wide range, and if you still can't find the right one for you, you can always import them using the USB port.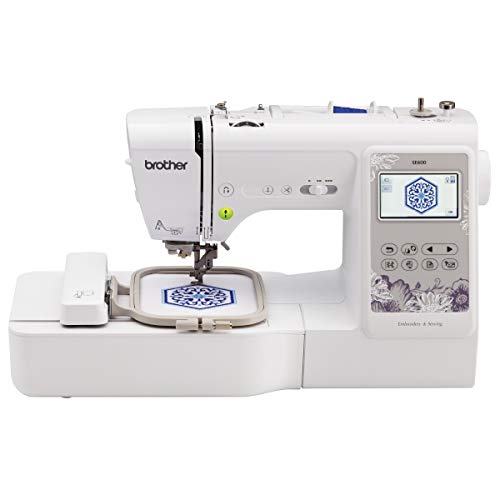 Pros
103 built-in stitches
Automatic needle threading
USB port to import designs
Jam resistant bobbin
Very easy to use
Cons
The thread might rip after some stitches
Doesn't come with many accessories
4. Brother PE550D Embroidery Machine
What else could you wish for if you have the option of Disney designs built-in within your embroidery machine? Too good to be true, right?
It turns out there is a huge range of 45 Disney designs that come pre-equipped with this model so you can use them easily while embroidering.
Not only this but there are additional designs as well to use.
Featuring a 4" by 4" working area increases your productivity, and the ease to swift through your work and the presence of the USB port makes it convenient to import extra designs to your machine.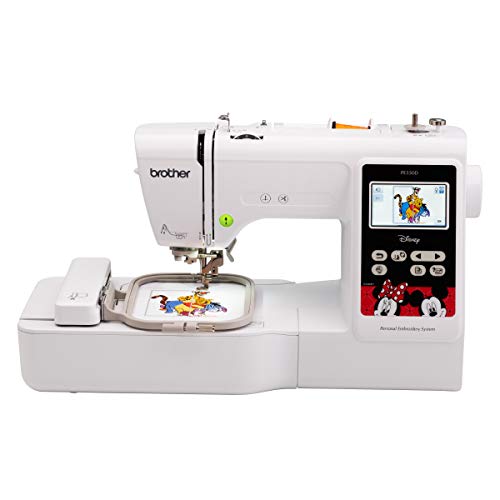 Pros
Embroidery letter editing
125 embroidery designs
45 Disney designs
Automatic needle threading
USB port to import designs
Colored LCD touchscreen
Cheap
Cons
Not very easy to use
Can sometimes be loud
5. Brother SE1900 Embroidery Machine
With its huge variety of more than 200 sewing stitches, it is one of the high-end machines we have on our list.
There are 138 built-in designs of embroidery that you can easily choose from.
Moreover, if you don't happen to like the sewing stitches, you can simply make your own and start working.
With its high power, it can run for long hours, carrying huge workloads without getting exhausted.
There is extra memory available as well for storing the designs that you might want to use but are not present initially.
The USB port makes the transfer easier. Lastly, there is an LCD touch screen available as well to help the navigation.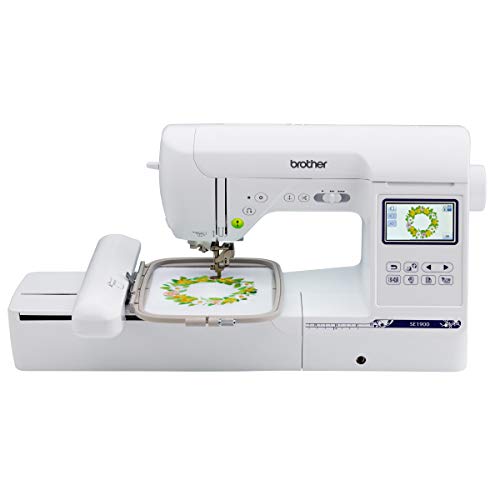 Pros
Built-in memory
Can build your custom sewing stitches
Comes with many accessories
Very suitable for heavy workloads
Large embroidery field
Automatic needle threading
Cons
There are extra outdated designs built-in
6. Brother LB5000M Sewing and Embroidery Machine
With its eye-catching marvel theme, this machine does not only proves itself good in aesthetics but also works as well as them.
There are ten free Marvel designs available to buy, which is a treat, especially for Marvel fans.
Additionally, it is provided with three faceplates, which feature Hulk, Captain America, and Iron Man, which you can install instead of the default one of Marvel.
The field is pretty spacious and has a 4" by 4" size, which can be used to implement 80 built-in sewing designs. The touch screen makes the interface easier, while the USB port lets you import the designs of your choice.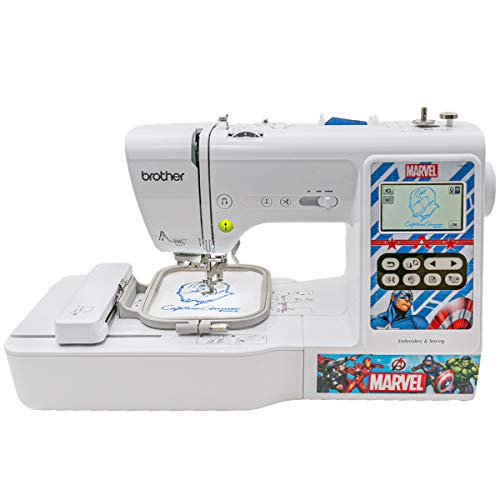 Pros:
Automatic needle threading
Comes with many accessories
Nameplates can be changed
Built-in USB port
Free Marvel designs downloadable
Cons:
Cannot handle the heavy load easily
7. Brother LB5000S Embroidery Machine
Just as the previous model that we discussed, this model is also not much different when it comes to aesthetics.
However, unlike the previous one, this carries the theme of Star Wars and comes with various faceplates that can be installed instead of the default one of the Star Wars.
Star Wars design pack is also available to be downloaded online, or the 80 built-in designs can be used to design your clothes.
Automatic threading and a variety of sewing stitches make your work easier and more fun.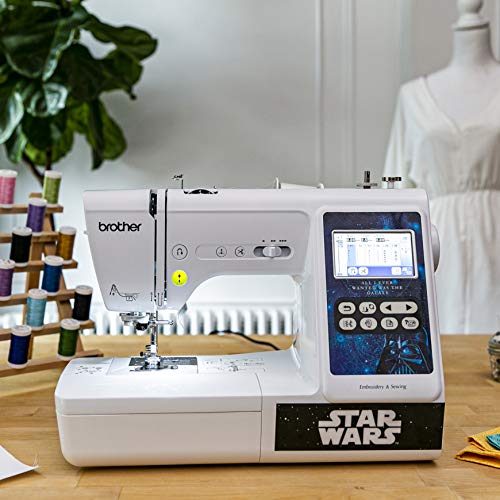 Pros:
Comes with three changeable faceplates
Has a very attractive outlook
Automatic needle threader
USB port to import designs
Cons:
Frequently Asked Questions
If you're not an amateur and are pretty much new to embroidery machines, there is a big chance that you will run into many questions, which will sound hard to answer to you first.
However, as you will see, they are actually pretty brief and straightforward.
So, here we have compiled some most frequently asked questions to help you get started.
How are embroidery machines different from sewing machines?
Sewing machines essentially sew two pieces of cloth together in order to combine them and make them functional.
However, embroidery machines are used to make designs upon already sewed clothes.
Which is the best Brother Embroidery machine?
Well, this really depends upon the user's intent and can vary from person to person.
But one machine which has got the most votes on being the best is undoubtedly Brother SE1900 Embroidery machine.
Is Brother a good embroidery brand?
Yes. It has a long history of over 100 years of making reliable machines of both sewing and embroidery.
Hence the quality of their products never fails to underperform the expectations.
Conclusion
As you can read above, we have described our top 7 picks for the best embroidery machines that you can get your hands onto.
These embroidery machines are the best ones that are offered by Brother, so choosing one among them will be very suitable.
However, there are different parameters for each customer, so that the choice may vary.
Keep the points from the buyer's guide strictly in mind when making the purchase to avoid having any regret later.
Read Also: