Some people like to put their money on futuristic things, while some like me like things more in an old-school way. Well, if you're also one of them, you must be really into vintage sewing machines.
However, even if you have decided to buy it, the major problem is that there are a lot of options that you will get confused about.
So, in this article, I will list down some of the top picks for the best vintage sewing machine so you can easily choose the best one for yourself from them.
Also, I will list down the pros and cons of each machine so you may easily spot what you're looking for.
Top 10 Vintage Sewing Machines
I have gone through some of the most famous and highly recommended vintage sewing machines available in the market.
After carefully analyzing them, here are the top 10 picks, in my opinion. Make sure you go through them all before making a choice.
1. Singer 221 Featherweight Vintage Sewing Machine
It's no surprise that the top model we have in our picks is coming from Singer.
The singer has been consistently making top-notch sewing machines for a long time now, and this one is no different.
Coming in a very lightweight and handy body, this sewing machine is a heaven for the people who love the portability.
Not only that, but it has extreme precision as well when it comes to sewing quality. There is a smart carrying case available, and the cord length is also more than enough.
So, what are you waiting for? Get your hands on this amazing looking machine as soon as possible!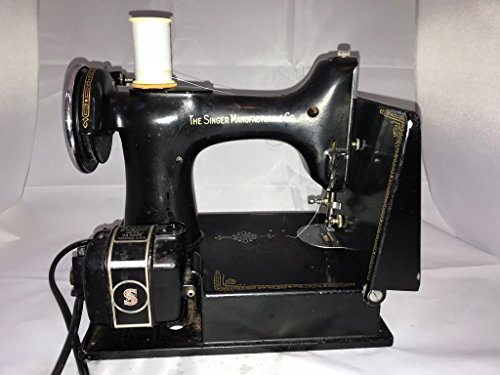 Pros
Very precise sewing
Long cord
Foot control
Cons
2. Singer 66 Vintage Sewing Machine
Singer Lotus is a kind sewing machine and comes as a complete package of machine plus the table along with the drawers.
First off, you won't find yourself worrying about where to put the machine as it already comes with something to put it on top of.
However, the problem with this is that the portability is crippled.
Once you've put the setup somewhere, it becomes extremely inconvenient to move it anywhere else. The build quality is impressive, with a cast iron base.
It's a beautiful piece of art only if you can afford to keep it.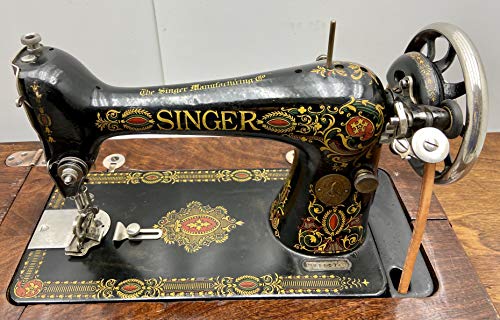 Pros
Classic style
Comes with a table and drawers along
Hand-painted with gold leaf.
Cast iron base
Cons
No promises about performance
No portability
3. Novelty Vintage Sewing Machine
Looking for a very cute little pen drive in the shape of a sewing machine that could help you efficiently shift designs and patterns from your PC to your embroidery machine?
Well, here you have it. Not only does it come in a very elegant and cute shape, but it's also quite affordable and comes with various memory sizes, not adding a lot of money for the unique design.
So, if it's a USB you're looking for your embroidery machine, be sure to check this thing out.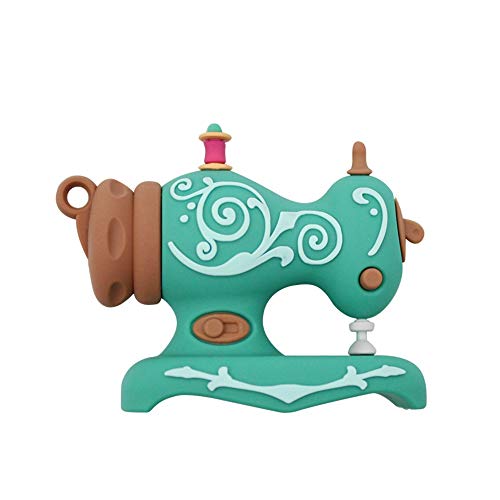 Pros
Very cute shape
Available in multiple sizes
Affordable
Can backup, copy, transfer all embroidery designs
Cons
4. Patty Both Musical Sewing Machine
If you're looking for a fun-to-use sewing machine toy that could cheer you up while working, or you're finding a vintage sewing machine as a gift for some teenagers, don't skip this one.
Coming with a musical feature, the special thing about this is that its treadle moves up and down, making the mouse spool go round and round as it works.
This is something very unique and great to work with. It's a great present and working with this is a total pleasure, be sure to put it under your radar.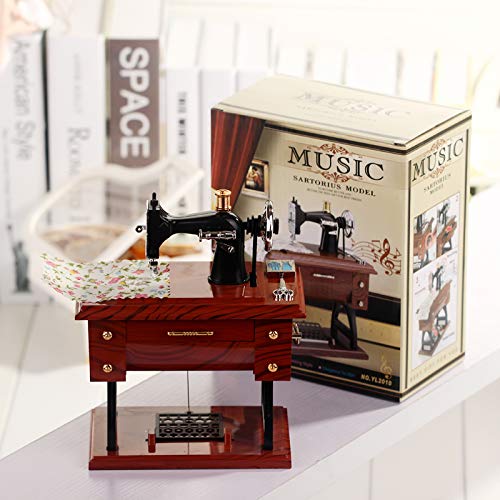 Pros
Plays music
Great present
It can be very handy is making decorations.
Sheer
Cons
Not so long-lasting
Not suitable for young kids
5. Bellaa Vintage Sewing Machine
If you're looking for a vintage sewing machine kind of bookend that is truly long-lasting and comes with a very high quality of build, you cannot find anything better than this.
While normally it is hard to find vintage items having a long life, this one does that.
Not only is this a great bookend, but this is a perfect addition to the room of enthusiastic sewers who have dedicated their lives to sewing.
So, if you also have some books to keep and need to add a sewing theme bookend, there's nothing better you could end up on.
Pros
Perfect for sewing enthusiasts
High-quality build; made from fine resin
6-inch tall; houses most books
Great gift
Cons
Some books are taller than 6"
Wastes a lot of space
6. Aimik Sewing Machine Music Box
Another dream present for someone who was or is fond of sewing.
This sewing machine themed music box has everything an avid sewer might need.
With a very realistic shape and a good build quality, this isn't going to be worn out anytime soon. Whenever you open the drawer, it gives off a melodious tone, which is very pleasant to the ears.
However, since the drawer is automatic, you need to be careful not to force it, which could eventually incur damage to the system.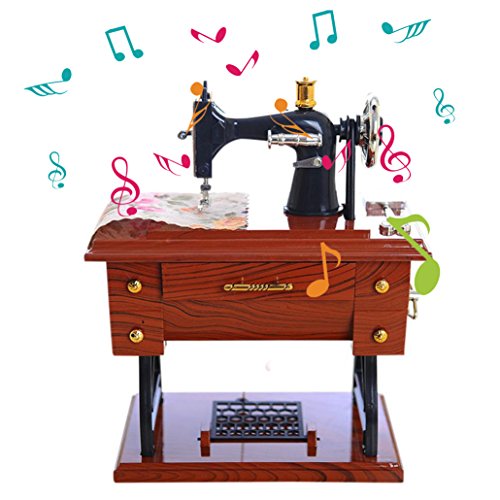 Pros
Peaceful songs
Automatic opening of the drawer
Perfect Christmas gift
The whole machine moves while music plays.
Cons
Can be damaged if the drawer is forced
7. Maymii Mini Vintage Sewing Machine
If you want to gift someone special who's very much into sewing a perfect gift that won't even need batteries to run, this could be the pick for you.
Coming with a twist switch, which needs to be turned before the machine starts working, this machine is a great alternative for the battery-powered ones, which often keeping needing new batteries.
The treadle moves and the spool goes round and round as the music plays, making a perfect scenery.
To make things more realistic, it has a presser foot as well, but the hole size isn't huge and great for decoration purposes.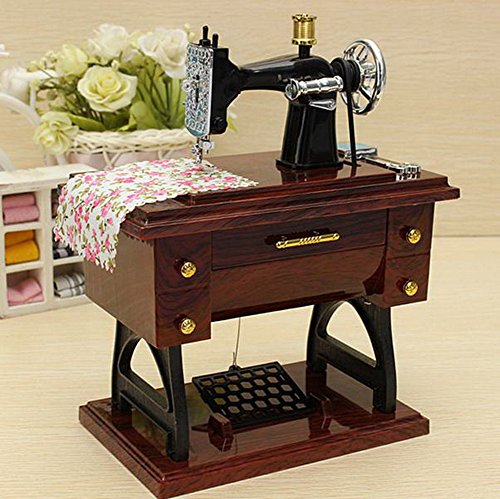 Pros
Great size for decoration
No need for batteries
Very easy to use
Treadle and spool move as music plays
Cons
The switch needs to be twisted too often.
The belt may slip sometimes
8. Swovo Kids Vintage Sewing Machine
Do you have a niece who loves playing with dollhouses and needs a sewing machine to complete the furniture?
Well, this just might do it. Coming in a very classy silver body of an antique sewing machine, it is made from high-quality materials, which won't be done for soon.
Children can easily play with it and pretend like using a real sewing machine. It's also a great decoration piece if that's what you're looking for.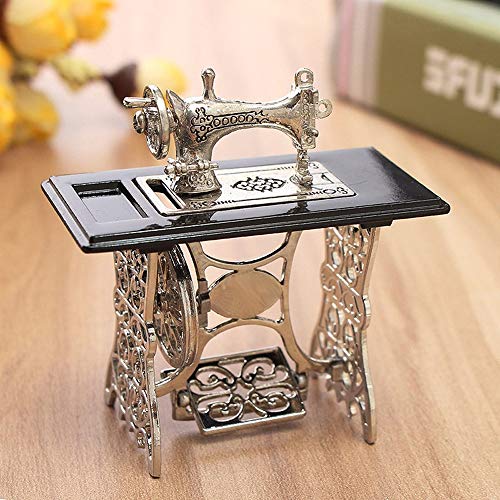 Pros
Beautiful silver body
Great for pretentious kids
High build quality
Cons
No music or special features
9. ChangThai Vintage Sewing Machine
ChangThai vintage sewing machine is another dollhouse equipment that comes as a fully handmade product with the good build quality.
If you are willing to spend a bit extra on the build quality, I would personally recommend this product since it is 3D and handmade, which means that the quality is top of the shelf.
Other than that, it has a drawer and a lot of sewing equipment as well, which makes it look very appealing and realistic.
However, this thing's size is quite small, a lot smaller than the previous ones we have been looking at. So, if you need something solely for decoration purposes, don't count this in; only consider this for dollhouse purposes.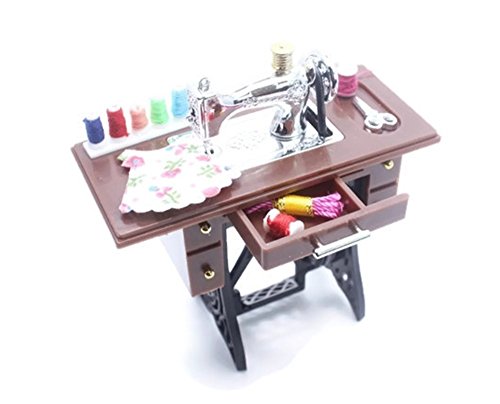 Pros
Great dollhouse toy
The drawer contains many sewing equipment
Fully handmade
Cons
Too small in size
Not for decoration
10. Artyea Mini Vintage Sewing Machine
Last but not least, Artyea mini sewing machine is another sewing machine-like music box whose switch, when twisted, starts to make sounds with a spool mouse going round and treadle moving up and down.
There are a few products that we saw previously that match this description; however, there is a difference between the build quality and the price.
So, if you're a fan of the no battery approach and like the switch style more, you could opt for this. However, if you feel like twisting the switch again and again, is hectic, you will need to consider other options.
Pros
No batteries
Very realistic
Treadle and spool mouse move with the music.
Cons
The switch needs to be twisted much often
Buyer's Guide
In this buyer's guide, I will be telling some very important points which you will need to consider before buying a suitable vintage sewing machine for yourself.
As every person has his own set of requirements, it's important to know yours to make the best choice.
Stitches
The variety of stitches is definitely the most important part when it comes to choosing a sewing machine.
If you need to be very creative, you will need to use different types of stitches and not only straight or zigzag ones.
So, make sure your vintage machine offers you plenty. It won't be easy as most vintage machines don't offer many options, but you can still try for it: more the stitches, more the creativity.
Durability
Vintage sewing machines are not used for a long time, so nobody is certain how long they'll go.
Hence checking the durability becomes a major concern, and if you don't want to end up wasting your money, you should check first if the machine you're buying is durable or not?
Is it worth your money or not? Always check and ask these questions to yourself first.
Power
Lastly, vintage sewing machines are not as powerful as modern ones.
So, if you need to do heavy-duty work, make sure your model supports it. Check the specs first, and don't blindly buy a model.
Make sure the power you need is within the bounds of the machine you're buying.
Frequently Asked Questions
In this section, we will be answering some of the most frequently asked questions by beginners.
Are vintage sewing machines better?
If you don't want to break your bank buying a sewing machine and need something very straightforward and easy to use, a vintage sewing machine might be better.
However, if you need plenty of options and creativity, a modern sewing machine will easily outperform the vintage ones.
What makes a sewing machine vintage?
A vintage sewing machine has to have a model before 1900 or in its early years. Only then will it qualify as vintage.
How do I know if my sewing machine is antique?
If it has a model of before 1900, it is antique. Otherwise, it's not antique.
How long should a sewing machine last?
It depends upon the model, quality, and how you use it. If you're a professional and the quality is high, it should last at least 20 years.
How often should you service the sewing machine?
An average sewing machine should be serviced every 12 to 18 months, based on its use.
Are antique sewing machines valuable?
Yes, a lot! If the machine has a model of before 1900 and is still capable of sewing, it will have a great market value.
Conclusion
So, we have seen some of the top quality vintage sewing machines as well as vintage sewing machine music boxes as well as dollhouse decorations.
Each of the above-listed products has been added to the list after carefully analyzing their features.
Make sure you go through all of them before making a choice and also read the buyer's guide if you have to pick the most suitable product for yourself.
Read Also: