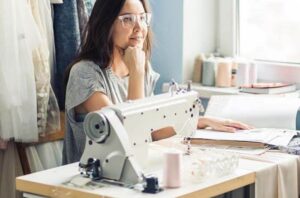 Sometimes, the traditional stuff doesn't work.
If you're into sewing and want something a little more niche and specialized, a walking foot sewing machine is a great way to start.
With common traits among them, including durability, ease of use, and an overall multitude of sewing options, the best walking foot sewing machine can make the whole experience so much better for you.
So if you're planning to get one, you're definitely in the right place.
However, before we get into it, let's go over the preliminaries first.
Buyers Guide
When choosing the right walking foot sewing machine for yourself, there are a handful of things that you'll need to pay attention to.
Working with these in mind will ensure that you made the right call, something you'll thank yourself for in the long run.
Here are my top tips!
Manual
Since you're now dealing with a model that is slightly more complicated, it's highly recommended that you get something with an official manual issued by the manufacturer.
This will help you with the assembly and the maintenance from time to time, and save you the trip or occasional call to the provider.
Built
Always make sure to get a solid and sturdy model that has steel parts rather than plastic.
They're more durable and likely to last the long run. Another argument for this is that having a heavy-duty model will allow you to get all types of work done with it without any damage to the assembly within.
RPM
Rounds per minute will help you speed up your work, or make you slow down.
Assess what type of craftsmanship you're after and then choose out this feature. Using this to your benefit will help you make the most of your resources in a given amount of time.
Top 7 Walking Foot Sewing Machine Reviews
I have now briefly reviewed the top 7 products currently available in 2021.
As a summarizing note that will help you make the final call more confidently, I've highlighted a few pros and cons as well. Hopefully, they suffice!
Without further ado, here are the top 7 walking foot sewing machines:
1. Consew 206RB-5 Walking Foot Upholstery Machine
Let's dive right into it by going over my premium pick and recommendation for you all, the Consew 206RB-5 Walking Foot Industrial Sewing Machine.
This model has many defining features, which include but are not limited to its adjustable height for walking, long stitch length, and ease of accessibility.
As far as cons are concerned, there isn't much really. Just keep in mind that this model doesn't come with any internal lighting, and features no assembly instructions.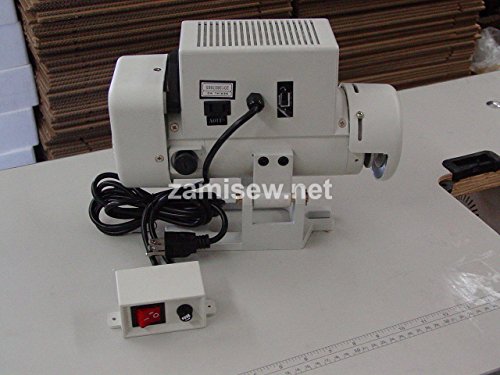 Pros
Adjustable height
Long stitch length
Durable
Sturdy
Cons
No assembly instructions
No lights
2. Singer 9960 Computerized Portable Sewing Machine
My next best feature for you, the Singer Quantum 9960, is an excellent computerized model that is suitable for all types of professional applications out there.
With its highlighted simple interface and automatic needle threader, the Singer is built to last and help you get through all types of jobs and stitches.
Another great thing about it is that it also comes equipped with all the accessories. However, it's not really cut out for beginners, so it's best to start on something easier at first.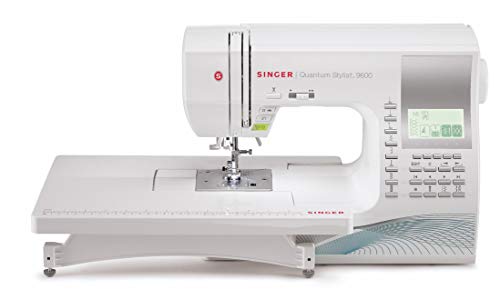 Pros
Good power delivery
Thread cutting
Smooth use
Cons
3. REX Portable Walking-Foot Sewing Machine
If you're in it for something durable and long-lasting, let me introduce the REX Portable Walking-Foot Sewing Machine to you.
Manufactured from cast iron metal, the REX can take a hit and still be as good as new.
Suitable to use on leather and other hard material, this is a great choice if you're looking for a machine for your niche projects.
No major downsides, but make sure that you keep up with its maintenance. Oh, and it's quite heavy!
Pros
Heavy-duty
Durable
Leather oriented
Simple use
Cons
Very heavy frame
Requires frequent maintenance
4. Consew CP206RL Portable Walking Foot Machine
Featuring a longer arm and reverse stitching, the Consew CP206RL Portable Walking Foot Machine is a good choice if you're planning on taking your hobby to a whole another level.
The Consew has a durable frame that, along with functionality, also allows for portability. One of the good things about it is also that it includes a strong foot pedal!
However, beware. This model sews pretty fast and isn't fit for delicate jobs! Plus, you can't modify much either.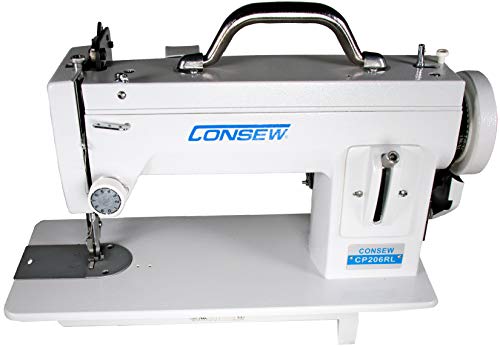 Pros
High RPM
Longer arm
Reverse stitching
Oscillating hook
Cons
No modifications available
Not for delicate tasks
5. JUKI DU-1181N Industrial Walking Foot Sewing Machine
The JUKI DU-1181N Industrial Top and Bottom Feed Sewing Machine is a simple model that you can use to crank outperformance with minimal maintenance.
Featuring a good sewing speed of 2000RPM, this model is apt for a lot of different jobs out there.
It requires an assembly that's pretty easy, but make sure that you look up help online because the model doesn't come with any instructions.
Overall, it's a good pick, but there are definitely better on this list.
Pros
Heavy-duty
Simple assembly
High RPM
Easy use
Cons
6. Brother Sewing and Quilting Machine
Arguably one of the best models on this list, the Brother Sewing, and Quilting Machine, features about 60 unique built-in styles that can help make your job easier.
It also has many other features, such as automatic threading and drop-in top bobbin. I highly advocate for this model for all users out there.
Just make sure that the fabric doesn't get jammed under the needle, and that if there are tensions issued, get them checked ASAP.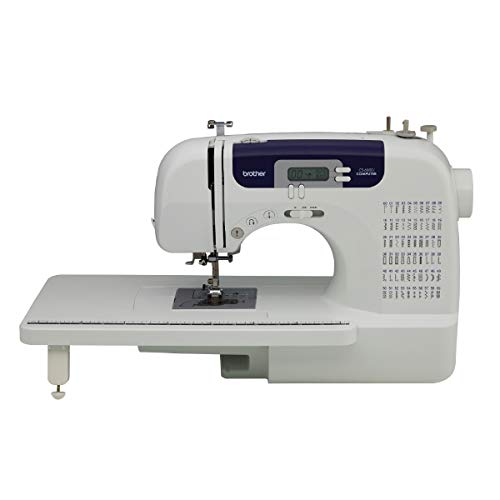 Pros
Automatic threader
Built-in stitch
Versatile
Lightweight
Cons
Occasional tension issues
Fabric jamming
7. Reliable Barracuda 200ZW Sewing Machine
Last but not least, we have the Reliable Barracuda 200ZW. Suitable for heavy-duty operation, this model is great for crowded spaces and heavy industrial use.
Featuring an ergonomic carry handle for portability, the Reliable Barracuda 200ZW is noted for its built-in speed reducer, which ensures that you can get all types of jobs done on this model.
What's even better is that it also has a reverse lever mechanism, all working in conjunction to produce a reliable model that is truly worth it.
The only drawbacks to it are that along with being a little high-maintenance, this model isn't suitable, or beginner used due to complicated use.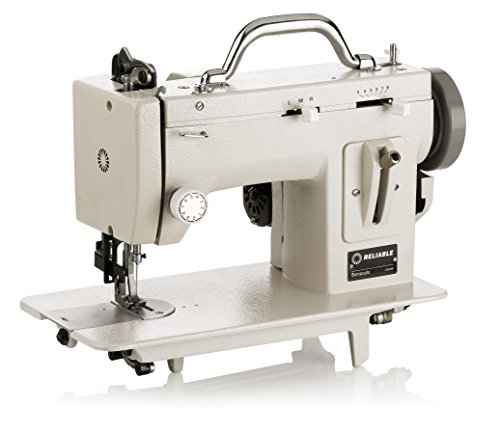 Pros
Ergonomic handle case
Built-in speed reducer
Reverse lever mechanism
Portability
Cons
Not beginner-friendly
High maintenance
Frequently Asked Questions
Do I need a walking foot for sewing?
Yes, sure! Walking on foot isn't just for quilting. By using it for your sewing applications, you can actually get good results that you'll thank yourself for down the road.
Can you backstitch with a walking foot?
Yes, you can, however, not in the conventional way. By turning the dial periodically at regular length intervals, you can get the whole job of backstitching done without worrying about any particular settings or adjustments.
Can I sew without a foot?
Yes, you can. There are a plethora of models currently available that you can use which don't have any foot pedal.
Can you zigzag with a walking foot?
Yes, you can definitely zigzag with a walking foot. Since the stitch is forward, you can most definitely get it done with ease.
Furthermore, what's even better is that you can get the bulk of decorative stitches done with the foot installed.
When should you use a walking foot on a sewing machine?
Using a walking foot for sewing is highly recommended when working through fabric that has several layers to it.
The most prominent example of this includes machine quilting and similar jobs, which require you to work with several layers at once.
What do you use a walking foot for?
A walking foot allows for stable stitching when working with multi-layered fabric.
This ensures that there aren't any breakouts or loose stitches that can unwind themselves once you put them on or use them.
What is the difference between walking foot and quilting foot?
Generally, there isn't much of a difference between the two since they're both used for the same purpose and virtually have the same level of functionality.
Can you use a walking foot for all sewing?
This is entirely up to you. You can use a walking foot for virtually all types of sewing out there.
Conclusion
When it comes to walking foot sewing machine, it all comes down to comfort and ease of use, so make sure you get something that speaks to you and you only.
If you already own any of the models above and have feedback or suggestions, do share them in the comment section below!
Read Also: