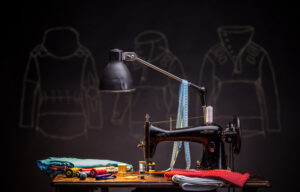 Like any other working tool, vintage sewing machines get old with time, too, catching dirt and rust on the way.
But there's definitely nothing for you to worry about.
If you are lucky enough to get your hands on the beautiful vintage sewing machine, take the rust off.
Once you are done with this blog guide that I have provided, it would be a piece of cake.
Not only will it help you clean the rust off it, but it will also help you ensure how you can keep your vintage sewing machine as new and fresh as ever.
Reasons
For over decades, sewing professionals have made quite a long list of why and how you should be taking care of your sewing machines.
Which is not as hard as it sounds, trusts me.
Before going in deep to the roots of it, let's just start with the basic reasons so you can get a better understanding of the whole picture ahead of you.
Lack of Maintenance
One of the main and out most reason for the rust getting built up on your vintage beauty is the lack of maintenance.
Not giving enough attention and care to your vintage sewing machine can cause you to live long, hard to get rid of rust.
This is also a common reason that leads up to the rusting of the sewing machine.
Maintaining a vintage piece is not as hard as it sounds; in fact, it can be fun and very productive.
Lack of Lubrication / Oil
If you are experiencing rust in most parts of your sewing machine, the chances are that you missed your lubrication/oiling dates.
Lack of lubrication can also lead your sewing machine to rust. As the metal gets old and has no oil to keep it new and fresh, it grows old and catches rust.
You don't want to put a hold on your oiling and lubrication since if the rust goes in too deep, it will be quite a job to take it out. So, always try to keep your vintage sewing machine fresh by regular lubricating.
Bad/Unsuitable weather
If not all, then bad weather plays at least some of its part in bringing rust to the sewing machines.
Since the frame of most of the vintage sewing machines is made up of cast iron, which is very much welcoming to rust.
Some other elements that are very susceptible to rust are chrome and nickel, which are also found in the construction of vintage sewing machines.
Rust happens when your sewing machine is exposed to moisture, which can be found in cold, rainy, and foggy weather.
So, If your vintage sewing machine is sitting in cold or rainy weather for too long, without having the proper lubrication and dusting, it is likely to become rusty.
Materials that you need for handling the rust
You probably are expecting a long list of expensive and hard-to-find material so you can get rid of you're the rust building up on your vintage sewing machine. Well, you're mistaken.
You only need a few things on your shopping list that are also pocket friendly that will make all the rust on your vintage beauty disappear.
Here are some of the few most famous rust removing tools.
Brushes 
Dremel 
Sanding Sponge 
Metal Polish
Step by Step Guide
Remove the power supply
Before you start taking the rust off your sewing machine, you need to make sure you properly unplug your sewing machine to avoid any mishaps and accidents.
Once you are done with unplugging your machine, give it about 10 minutes before you start de-assembling it.
Remove the external parts.
The next and one of the most important steps that you would have to do carefully is to remove all the parts of your machine that are removable.
Like needles, bobbin casing, foot holder, hook cover plate, and the cover plate ( if the plates are made of plastic only then will you remove them)
Brush off the rust thoroughly
After everything else is done, here comes the most important part of the day.
Taking the rust off your sewing machine. Please don't be nervous. I got you!
All you've to do is gather your metal brushes of different sizes ( including wheel brushes).
Firstly start off by washing the rust, let it soak for a few hours, and then make sure you come back every hour to check the result.
After that, gradually start brushing off the rust with the help of the metal brushes; make sure you don't put too much pressure on your brush as the bristles will fall out.
Although, metal bristles do fall out if not much than less, so always put your safety glasses and suit on while working with metal brushes.
Use the wheel brush for stubborn spots that metal brushes can't seem to deal with.
Lubricate it
After you are done brushing off the rust, lubricate your sewing machine thoroughly and generously.
It will help the machine in restoring its parts and getting started once you are done lubricating your machine.
Take a metal polish or chrome polish and polish the metal with it, so it does not lose its charm.
Ways to Prevent the Rust
If you don't want your sewing machine to catch rust anytime soon, make sure its
Getting proper lubrication
Is not in a moist environment
Is getting regular maintenance
Read Also: