Basically, an industrial sewing machine is way different than home-use sewing machines, and they don't have that many features to come with as well.
If you are looking for a machine that provides professional results and also accomplishes many tasks in bulk, then it should be an industrial one.
There are so many different manufacturers out there and so many choices to pick from, but it all depends on you and what kind of machine you want for your workshop or sewing industry.
There are so many factors that involve an industrial sewing machine, and those factors need to be looked out for in order to get the best industrial sewing machine for yourself!
Buyer's Guide
Let's get on with the buyer's guide so all the new interested buyers can get an outlook on what to see about an industrial sewing machine before making a purchase:
Type Of Engine
So basically, the industrial sewing machines are way heavier and consist of a motor that creates a lot of noise.
While the noisy issue can be tolerated in the industrial area, but for people who want to work with a quieter machine that is compact in size as well, then the engine type matters a lot.
There are two types of engines in sewing machines which are servo and clutch, while the servo is a less noisy engine, the clutch engine is louder.
Features and Type of Fabric
Sewing machines can vary in handling the types of fabrics and accommodating upgraded features.
The first and foremost thing a sewer or designer looks at in a machine is the type of fabric it can handle and work with, so you have to make sure that the machine you are getting works with the kind of fabric you are interested in using in your projects.
Worktime
Industrial machines have the capability to work for hours until your shift is over, and this is why an industrial sewing machine should do the same.
You have to look out for this factor when making a purchase for industrial sewing machines, and the work time of a machine should be more than 10 hours, at least.
Top 15 Industrial Sewing Machines Reviews
Now it is time we get on with the product reviews, and as this is the central part of this context, it will be quite detailed.
Each product is going to be reviewed with descriptions of the machine and the pros-cons of getting it as well.
So, without any further delay, let's proceed with this review section:
1. JUKI DDL-8700 Industrial Sewing Machine
JUKI, being the leader in the sewing industry, provides us with the most heavy-duty and work efficient industrial sewing machines, and this model is no less.
DDL-78700 is a very efficient model with a single needle and straight stitch feature.
This machine works ideal on light to medium fabrics. The operation is comfortable due to a stable and noise-free machine.
It has a servo sewing motor and works well both at home and in the industry.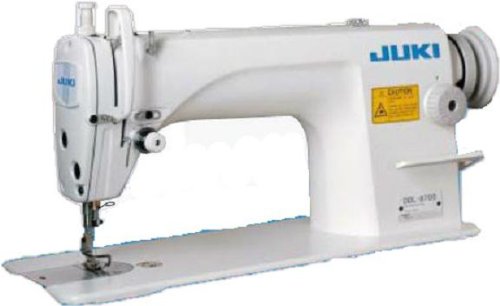 Pros
Whisper-quiet
Servo motor
Single-needle
Wide applications
Cons
2. JUKI TL-2000 Industrial Sewing Machine
This is yet another striking sewing machine from JUKI, which provides an elite user experience with its elegance and sturdy operation.
There are LED lights and one paddle operation for your extra comfort. It offers a high stitching speed with 1500 stitches per minute.
This machine is suitable for both home decor and high-level industrial work. There are an automatic needle threader and a maximum stitch length of 6mm.
The aluminum die-cast arm and working table maximize the stability with low vibrations.
These machines have been used in making high-grade industrial products, including shoes, jackets, clothes, and bags.
Pros
Good quality
Led light operation
Good stitch length
Fast operation
Cons
Needle breaks
It doesn't run fluently
3. JUKI MO-6714S Industrial Sewing Machine
This is another extra capable sewing machine from JUKI, which has some distinguishing features.
The machine supports two needles, four threads, and an industrial overlock feature. The sole purpose of this machine is the overlock stitching of medium-weighted fabrics.
This machine works at high speeds with extra efficiency. With a reliable and consistent operation, there are also different feed capabilities suiting many types of fabrics.
This machine has a large amount of applause and positive feedback from the sewing industry.
Pros
Wide applications
2-needle operation
Overlock stitching
High speeds
Cons
4. JUKI DNU-1541 Industrial Walking Foot Sewing Machine
Next up, we have the JUKI DNU-1541. With a max sewing speed of 2500 stitches per minute, this model is geared for both professional and commercial use.
It's a reliable brand that has a single needle function and can be easily operated by the user.
What's best is that it also comes with an instructional help manual that can make the process so much easier.
However, there's one thing you'll need to keep in mind. Readjusting the JUKI DNU-1541 is a little hard, so it's best to prepare for that beforehand.
Pros
Single needle
Suitable
Walking foot sewing machine
Trustworthy brand
Cons
5. Reliable Barracuda 200ZW Sewing Machine
The Reliable Barracuda is a heavy-duty model sturdily built and geared for professional use.
With an exceptional speed of 800 stitches per minute, this portable model will make your hobby so much easier.
Along with a heavy-duty carrying handle and a reverse lever mechanism, the Reliable Barracuda also has a built-in speed reducer that provides extra torque for super-hard jobs.
The only downside to this model is that the holes can be a little inconsistent if you're not careful!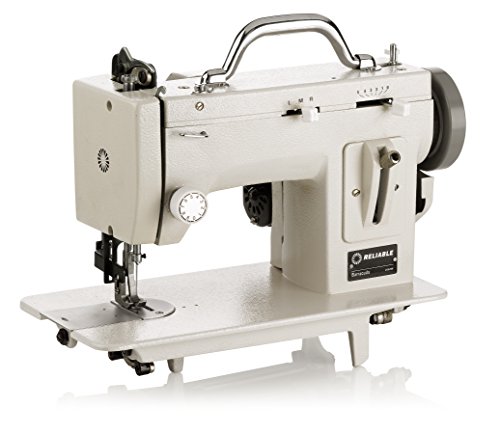 Pros
Straight stitch
Portable
Walking foot machine
Versatile
Cons
Sews slowly
Holes not correct in size
6. Singer Heavy Duty Sewing Machine
SINGER heavy-duty 4452 is an excellent model to consider if you're looking for a professional sewing kit that can make your life easier.
With an excellent speed of 1100 stitches per minute, you'll be in and out in no time.
Other great things about this model include its automatic threader, a multitude of accessories, and a manual to help you through all of it.
Nonetheless, there's one major downside. The frame is plastic, so if it takes a hit, the SINGER heavy-duty 4452 will give up easily.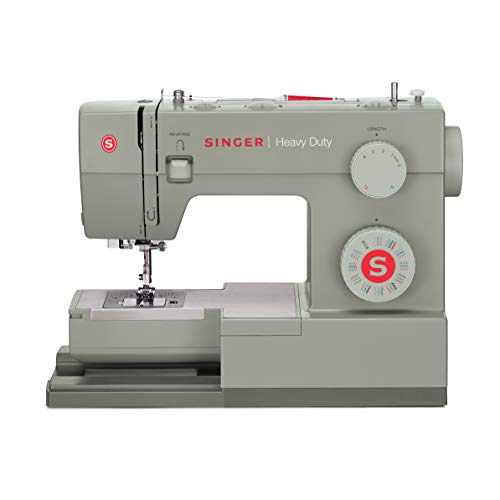 Pros
Professional results
Heavy duty
High speed
100 stitch per minute
Cons
Plastic material
Not fluent enough
7. Janome Industrial-Grade HD-1000 Sewing Machine
This is a very sturdy and strong industrial-grade sewing machine that is made of an aluminum interior and outer body, which boosts durability.
The use of the machine is made easy with a large number of added accessories.
There are 14 built-in stitches with four stepped buttonholes; the front-loaded bobbing and simple threading feature are also worth using, among many others.
The stitch length is adjustable, and the needle threader is automatic. There is free-motion sewing with three pieces of feed dogs. There is a free arm as well for cuffs and carrying.
It has all the necessary qualities one could ask for in a sewing machine.
Pros
Durable
Aluminum interior
4 step buttonholes
Convenient
Cons
Randomly jams
Thread stucks
8. Singer 191D30 Complete Industrial Sewing Machine
Coming equipped with everything needed to get the job done right, the SINGER 191D-30 is an excellent package that is suitable for all types of use.
It has a heavy-duty motor that allows for multiple levels of sewing, while its design ensures that the process is swift and easy to keep up with.
However, there are a few downsides to this model.
Along with a fragile needle that breaks if used too hard, the SINGER 191D-30 also has a very complicated setup process.
So, if you're a beginner, it's best to work with something simpler.
Pros
Versatile design
Extra high sewing speed
Heavy-duty motor
It is completely assembled
Cons
Complex instruction manual
Needle breaks
9. Singer CG590 Commercial-Grade Sewing Machine
SINGER is a very impressive brand in the sewing industry and has dominated the market among some other big players in the industry.
This machine offers an impressive stitching speed of 1100 stitches per minute.
The CG590 is all about speed and efficiency. There is a stainless-steel blade that is used to improvise while doing a project in the industry.
There are a free arm, 18 built-in stitches, and a four steps buttonhole for your convenience.
It can sew pants, cuffs, and other difficult areas with flying colors.
There is a drop feed capability that offers free motion. There is an exclusive foot control for speed control, which avoids jump-starts.
Pros
Fast speed
Easy to use
18 built-in stitches
Free motion quilting
Cons
Dim light
Too light in weight
10. Brother PQL1500SL Industrial Sewing Machine
This is a very promising model from BROTHER manufactures who have earned a respectable place in the industry.
This machine offers a high stitching speed of 1500 stitches per minute. The needle threading feature is very advanced, which pushes thread through the needle in a perfect way.
There is a very comfortable jam-resistant drop-in top bobbin system. There is a deluge of added accessories, including a wide extension table, a knee lifter, and a sewing foot.
The removal knee lifter offers to lift the presser foot with the knee, which makes both hands available for sewing.
A precision pin feeding system makes it easy to work on almost any type of fabric.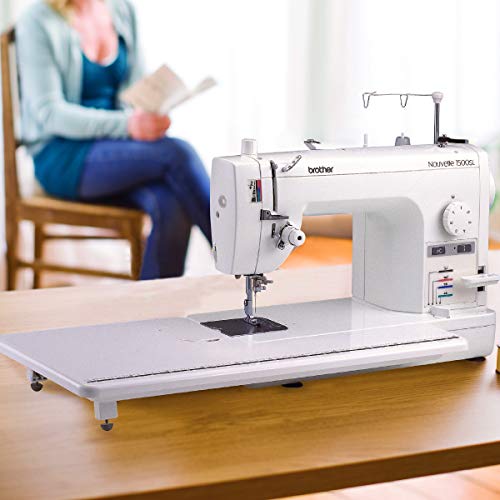 Pros
Max speed
Perfect push threading
Jam resistant
Knee lifter included
Cons
Bad customer service
No guide
11. Tech Sew Walking Foot Industrial Sewing Machine
If you're looking for one model to address a variety of materials, then look no further than the Techsew 2700.
Suitable for work on leather, nylon webbings, and canvas, this model is reputed for its versatility and simple operation.
On top of that, it also has adjustable speed, which means you can get precision jobs done with ease.
Surprisingly enough, the Techsew 2700 doesn't have any downsides either. Hence, it's recommended for all users out there!
Pros
Compound walking foot
Sews leather
The easy access bobbin system
Engineered performance
Cons
12. Yamata Industrial Sewing Machine
Yamata sewing machine is a very versatile choice with a user-friendly assembling option.
You can assemble the machine according to your needs. It has an advanced noise-lessening device installed, which helps in optimizing and comforting the sewing process with an enormous speed of 5500 stitches per minute.
The machine remains reliable and convenient, even at this speed.
There is a sewing machine table for comfort and a 550-watt servo motor included in the package.
Other usable components such as belts, tools, manuals, etc. are also included.
Pros
Wide applications
Noise decreasing device
Maximum stitching speed
Instructions are available
Cons
Rubber not precise
Complicated assembly
13. Consew 206RB-5 Walking Foot Industrial Sewing Machine
Consew 205RB-5 is one of the most advanced models available in the market.
There is a walking feet control added for performing intricate projects with ease.
There is no interference of the top part and sewing material as the walking feed is perfectly lined one after another.
There is a wide range of sewing options due to the feet' design. The height is adjustable, which makes it compatible with any type of fabric, whether light or heavy.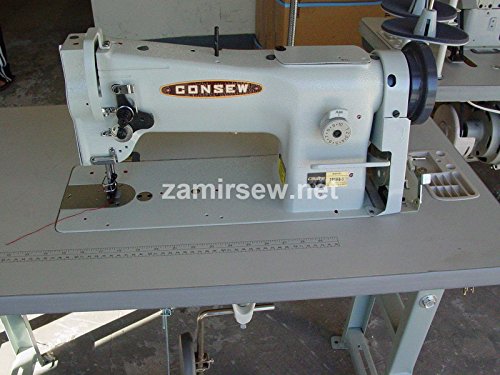 Pros
Reliable
Walking feet construction
Accommodates light to heavy tasks
Performs all complex sewing
Cons
Bobbin winder
Not fully assembled
14. VEVOR Industrial Sewing Machine
Featuring a humongous stitching speed of 5500 stitches per minute, this heavy-duty sewing machine from VEGOR is less than any other machine.
It is compatible with medium-heavy materials, and there is a horizontal look standard.
This machine is widely compatible. There is an extra table which makes the process a whole lot comfortable.
There are a single needle, a single stitch, and a lockstitch mechanism that will fulfill the industrial needs of specified users.
The material is easily movable, and the configuration includes a sewing head, motor, stand, and light.
Pros
Integrated lubrication system
High-speed stitching
Wide working space
Easy to pick and place
Cons
15. JUKI DU-1181 Industrial Top And Bottom Feed Sewing Machine
This is an amazing model from famous providers, JUKI.
This is like all its other brothers in the line except for a distinguishing feature.
It has a top and bottom feed. There are a straight stitch and a single needle. This is a premium quality machine with the compatibility of a huge range i.e., it is suitable for almost all types of medium-weighted fabrics.
There is an included presser foot, which helps in pulling the fabric, making medium-weight material to be sewn more easily.
It also has a servo motor. The machine offers a quiet sewing experience, which is ideal for home usage as well.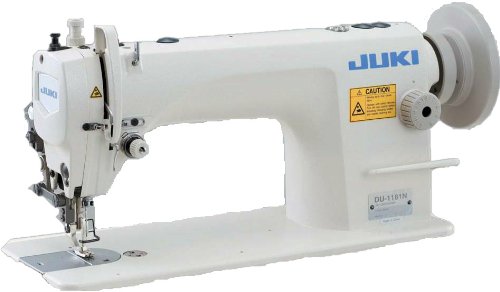 Pros
Single needle
Renowned brand
Ideal
Servo motor
Cons
Frequently Asked Questions
What is the difference between an industrial sewing machine and a normal one?
An industrial machine is quite different than a regular machine because it is either larger in size or noisier than the conventional machines.
It also doesn't offer a lot of stitch designs and other features.
What can you do with an industrial sewing machine?
With an industrial sewing machine, you can work in bulk and complete your projects faster in time for your deadline.
These machines are also more appropriate for commercial purposes, so you should get it if you want to work professionally.
How heavy is an industrial sewing machine?
Most industrial sewing machines are a lot heavier than your average home use model.
They will weigh as much as 100 pounds, but you can also find portable ones for industrial usage.
How much does an industrial sewing machine cost?
An industrial sewing machine costs a lot more than the home-use ones as they are just flawless and expensive.
They can range in prices from 600$-1000$ or even more, and it all depends on the bigger brand there is.
Is Janome better than a brother?
Janome sewing machines are much heavier than the brother ones, and the main reason is that the metal content is more.
That is why the Janome sewing machines are the best heavy-duty sewing machines out there.
Can I sew upholstery with a regular sewing machine?
No, you can simply not use an ordinary machine to sew upholstery as the basic sewing machines are just not enough.
This is because the needle will be too small, and the thread used in the machine will be small as well.
Conclusion
Here you go! A complete review and guide on industrial sewing machines and basically the best ones out there.
You can choose one of the products reviewed above and check them out, and we are sure that you will be amazed by these choices.
Get your gig up and start sewing till your heart contents.
Read Also: