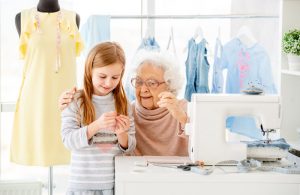 Looking for a sewing machine has never been easy, especially when it comes to the elders, as they have more difficulty in doing jobs like threading needles or stack fabrics, which is why we have to be really extra conscious while choosing a sewing machine.
With so many options and varieties in the world outside, it's hard to settle down on one sewing machine.
But you won't have to worry about making the wrong choice! I will be telling you everything you need to know about the best sewing machine for the elderly and much more too. So let's start!
Top Sewing Machines for Elderly
After thorough research, I've shortlisted my top recommendations for you to choose the ones that suit best your likings and requirements.
1. Singer 3232 Portable Sewing Machine
At first, we have this singer sewing machine to review that is known to sew effortlessly and stay with you for the longest time too.
Constructed with the 32 stitches system, this machine now also has a built-in needle threader to make your work all easy and fun for you, and so you can create fun projects without any delay.
An automatic needle also allows you to get the whole machine threaded from head to toe in no time!
Apart from this, the singer sewing machine comes with a sewing speed that provides you with 750 stitches per minute as well as a stable and high presser foot lifter that will help you sew through every kind of fabric, layered or solo effortlessly.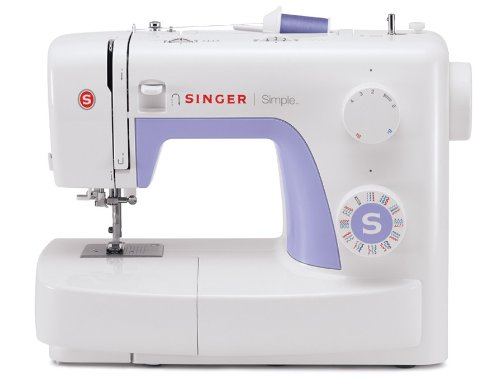 Pros 
High sewing speed with 750 stitches per minute
High presser foot will help you sew through fabrics
An automatic needle threader will make threading your needle or the whole machine a lot easy
Cons 
Some of the stitches types don't work
Some say it won't sew neatly
2. Brother CS6000i Sewing and Quilting Machine
Perfect for every kind of sewing work.
If you already haven't heard of the brother's store, then let me tell you, staying on the top of the trending chain is their passion, and they will keep providing you with stunning plus sleek designs of sewing machines with irresistible features and factors.
Like this sewing machine that we have to review here. It is built with the unique function of having around 60 inbuilt stitches that cover every kind of stitching kind and type.
Apart from that, this machine will also save plenty of your time through its automatic needle threader system that will do your threading job for you in just a few seconds!
With a jam-resistant sewing machine that comes with an LCD screen and all-in-one accessory kit, what else do you need more!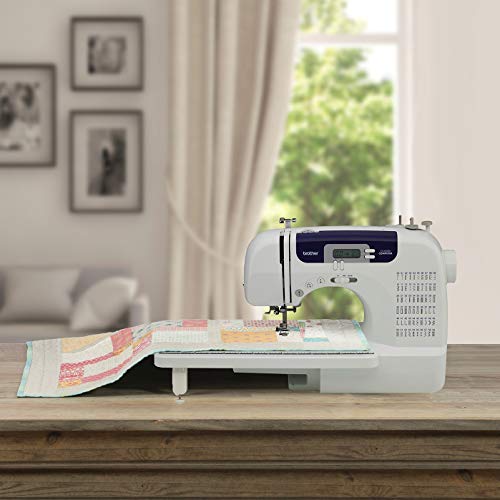 Pros 
Jam resistant system
60 stitches
Built-in needle threader
It comes with an accessory kit
Cons 
It comes with sewing errors
Catches rust very quickly in the inner parts
3. Janome Gem Gold 660 Lightweight Sewing Machine
I'm sure if you are not a new person in the field of sewing machines, then you have already heard a lot about this specific company that has been serving its clients globally with only the best quality ever made.
You will be ready to get your hands on this Janome machine once you are done hearing about its features.
So, let's start with its eight inbuilt stitches that include stretch and utility stitches too.
While being extremely compact, lightweight, and just the perfect match for quilting and sewing, this machine also provides you with a free arm, a needle threader, and a bag of the all-in-one accessory kit.
Pros 
It comes with an all-accessory kit.
Built-in needle threader
It comes with a bunch of accessories.
Built-in sewing stitches
Cons 
Too loud/noisy
Hardly durable
4. Brother CX155LA Limited Edition Sewing Machine
Here, before us, we have another classic and sleek-looking model sewing machine by the brother store. As I said before, every product by the brother company is bound to carry their legacy in one or another way.
Coming with a full set of accessories, this sewing machine also has an extra-wide table along with the nowhere to be found 100 inbuilt switch feature.
You also get full control over the speed of your sewing machine with the help of the variable speed control system.
Let's not forget about all the accessory feet included to give you a life serving and divine sewing experience.
Pros 
Cant sew through various fabrics.
It has a weak sewing system
Additional accessories included
Cons
5. The Singer Store 7258 Sewing Machine
Again we have the legendary singer store sewing machine to review; one thing I figured out while reviewing this product is that it's very underrated, and not many people know about this specific model of the machine.
Although, it has every new and old useful feature along with many impressive factors.
Built with a wide range of 100 stitches, this singer machine has much more to offer than you can tell.
With an in-built needle threading system and a bonus accessory kit that is overly packed with all the stuff, you need to get your sewing machine started.
This machine now also allows you to carry it anywhere you want with its light and compact design!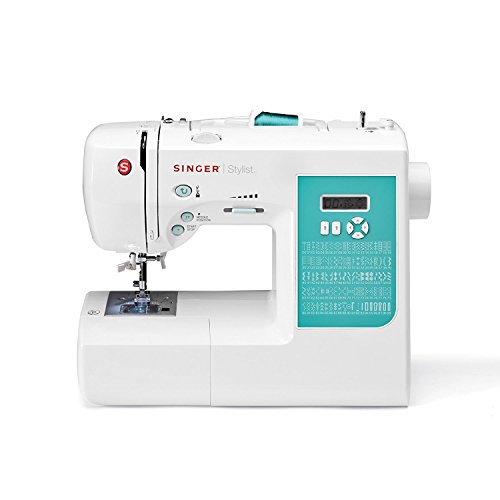 Pros 
Lightweight
100stitches
Needle threading system
Bonus accessory kit included
Cons 
Most of the stitches don't work
Fault needle threading system
6. Janome DC2014 COMPUTERIZED Sewing Machine
Trying out this Janome sewing machine that gives out computerized stitches is the best thing you will do to yourself or to someone else if you are planning on gifting them this sewing machine—coming with an accessory kit that has all the tool in it included that you will be needing to get your machine going.
This sewing machine not only comes with various types of stitches but is also delivered to you in a super lightweight, compact body and a sleek design!
Pros 
Compact/ light weight
Computerized stitching
It comes with an accessory kit.
Cons 
Not very durable
Hard to set up
7. The Singer Store Fashion Mate 3333 Sewing Machine
Sitting on the top of the throne is this fashion mate sewing machine, with a separate fan-base that can be found in almost every country all around the world. With a very light metal body that shines brightly, this sewing machine has a lot going on if you talk about its features.
Whether it's the durability of the machine or the portability of it, or even if we are talking about the accessory kit, this sewing machine wins it all.
Wrapped up with a free arm and 23 built-in stitches that give you the heavy-duty professional working experience, this machine will sew through layers and layers of fabrics effortlessly.
Pros 
Heavy-duty machine
It comes with a free arm and an accessory kit.
Easy portability
Cons 
Makes noise
Heavy to carry
8. Janome Magnolia 7325 Sewing Machine
Last but defiantly not least, yet again, we have the Janome company over here to shock you with another model of the sewing machine.
Let's start with the exclusive bonus bundle it comes with that will allow you to have a very easy and all setup start once you get this sewing machine delivered to you.
Another exciting feature of this machine is the ability to provide you with various stitching types and an easy-to-carry or store body.
Pros 
Easy to carry/store body.
It comes with an exclusive bonus bundle.
Cons 
Not durable
Faulty stitching kinds
Buyer's Guide
A buyer's guide helps you in identifying which of the features in a tool are more or less beneficial for you. It also helps you understand your tool better.
Comfort
The most important factor in a tool is its comfort.
Since sewing machines are hand used tools that are expensive too and can be only bought once or twice in a lifetime, it is important that you never compromise on the comfort and choose a sewing machine that is ergonomically designed and relieves you of the stuff such as neck pain, back pain, etc.
Construction
The second important factor in a tool is its construction and the way that it is built. Because it not only determines how long it is going to work but it also helps you understand the quality of the tool and what to expect from it.
So, always observe the tool that you are about to buy closely so that you don't regret it later.
Frequently Asked Questions
What are the top features of a sewing machine for the elderly most important?
Automatic needle threader and easy setup are the most important factors.
Are the sewing machine made for the elderly lighter in weight?
Yes, most of the sewing machines that are specifically designed for the elderly are lightweight.
Does every sewing machine come with an accessory kit?
No, not every sewing machine comes with an accessory kit.
How much does a decent machine cost?
You can buy a decent working machine for 200 dollars.
Are sewing machines easily repairable?
Yes, sewing machines are easily repairable.
What is the best sewing machine for old people?
It really depends upon your choice of tools and functions!
Conclusion
In this article, we have reviewed the top-picked sewing machines, along with their pros and cons.
We have also made a list of all the important factors in a tool, along with some FAQS at the end. I hope this article helps you!
Read Also: