Whether you are a sewing fanatic or you do it occasionally for your needs, you need to pick a good sewing machine that will not only last you for years but also provide you all the necessary features you need while boosting your productivity.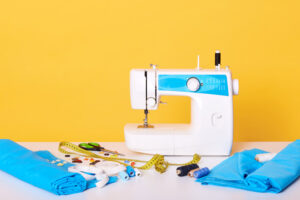 There are tons of sewing machines out there, and the choice between them is not as easy as it may sound.
So, you have to sort out some top brands known for regularly manufacturing top-quality sewing machines so you can buy any model from them which suits you, without needing to worry about the reliability.
So, here in this article, I will provide you a list of sewing machine brands that are best known for delivering top-quality machines. Let's see.
Top 10 Sewing Machine Brands
1. Janome Sewing Machine
Janome is undoubtedly one of the leading contenders in this area.
It is best known for manufacturing sewing machines, which deliver you both the quality of work and reliability to make sure you don't have to buy another machine for several years.
Janome is a Japanese brand that was founded in 1921 and was the first to release a computerized sewing machine back in the day, which is gaining popularity very quickly now.
Moreover, their sewing machines are affordable as well.
So, if you want something to be heavy-duty, advanced, and affordable, there is nothing better than Janome out there.
2. Brother Sewing Machine
Brother is a multinational company that doesn't only manufacture sewing machines, but other electronic equipment as well.
Nevertheless, sewing machines are amongst their specialties.
The company usually takes pride in delivering top-quality commercial products more than it does in home-used products.
A lot of industries have their confidence in them and buy their machines without having a second thought.
Another reason why it is so famous is the advanced tech in their machines, and nobody does better when it comes to the latest technologies.
3. Singer Sewing Machine
You might be wondering why Singer hasn't come up yet, well, here it is.
The singer is also a very old company that goes far back in history, with its first model manufactured in 1851.
Since then, the company is providing excellent quality sewing machines which deliver very fine quality to its customers.
However, one problem that I noticed is that a big portion of their sewing machines is manufactured for usage in the US and Canada only.
So, be aware of that if you are choosing Singer. Other than that, there is nothing to worry about.
4. Bernina Sewing Machine
Bernina was probably the first sewing machine brand whose product could achieve a sewing speed of 100 stitches per minute, back in 1893.
After that, the company gradually increased its production, and now it has transformed into a full-fledged company having the confidence of millions of customers all around the globe.
Nowadays, it provides every kind of sewing machine to its customers.
Whether you are a pro or a beginner, you will always have a machine that is perfectly suitable for you.
5. Pfaff Sewing Machine
Well, this name might sound a bit unfamiliar to you, but I assure you, it is no less than any other brand mentioned here, if not better.
Pfaff has been around for almost 150 years and stands out from the crowd by manufacturing machines that are creatively designed, high quality, and easy to use.
6. Husqvarna Sewing Machine
Husqvarna is famous for manufacturing sewing machines equipped with all the latest technology out there, such as the likes of WiFi capability and cloud storage.
When it comes to innovation, nobody out there can beat them, and they are probably the best if you want a high-end machine that is far better in advanced features than other brands.
7. Juki Sewing Machine
This is one of my personal favorite brands. If you are buying a sewing machine that is tagged as Juki, you should immediately release yourself of any kind of worries about the stitching quality, as well as the reliability.
All Juki models are extensively tested before being released; hence they are free from any kind of error and provide you a very smooth sewing experience.
8. Elna Sewing Machine
Elna is a Swiss brand that is consistently known by customers for innovation, quality, and service.
While we have seen other brands as well with unmatched quality and innovation, what sets Elna apart is the services they provide.
Their network is based in around 50 countries, and they seamlessly provide their services to all those areas.
If you need something modern and versatile, Elna is the way to go!
9. Toyota Sewing Machine
We hardly see Toyota sewing machines in households, but they are used extensively in commercial environments.
Just like Janome, Toyota provides heavy-duty machines that are quite easy to use and especially durable.
There are a variety of models that you could choose from, and none of them are going to disappoint you.
10. Jaguar Sewing Machine
Jaguar is another Japanese brand and is distinguished from other trivial brands by durability.
Once you buy a machine-tagged Jaguar, you are certainly not going to face any issue regarding its functionality or body anytime soon.
When it comes to stitching quality, the brand again does wonders. However, they may not be as good at providing a lot of different models for different needs, so you will have to choose from a few models.
Conclusion
So, we have seen a comprehensive list of the top sewing machine brands along with their qualities and what they specialize in.
However, all of them have earned themselves full customer reliability, and no matter what you choose, I assure you it won't be a bad choice.
So, figure out your needs and budget, then go with any one of the above-mentioned brands.
Read Also: