Sewing machines come in a lot of different styles and specifications, and most of them have different purposes than one another.
There are a lot of options that could be effective; however, it majorly depends upon your specific needs and preferences.
Today in this article, I will guide you about the best sewing machines for making clothes.
Use these options to sort out the top 15 models from the rest available in the market to cut down your chase and then pick the one which suits you the most.
Buyer's Guide
Before you dive into viewing the options available in the market, you should know about some basic features of the sewing machines which have the most influence on their usability as well as price.
Never buy a sewing machine without considering the points we are about to discuss.
Type
Nowadays, this is the first and foremost question you need to ask yourself before buying a sewing machine.
Do you need a computerized sewing machine? Or just a regular old-school type?
Both have their pros and cons, and while the non-computerized ones are easier to get used to but less versatile, the computerized ones offer a lot of customizability but, in turn, are harder to interpret and sometimes less friendly for beginners in the start.
They might even be more expensive, but they surely justify their price if you know how to use them.
Size
The second point you need to consider is, are you someone who is always on the go? Or do you have a dedicated spot for sewing clothes?
These questions will let you know if you can have a bulky machine or you need to choose a compact machine which you can accompany anywhere.
There are some trade-offs involved in buying compact machines, but there are some companies that offer quite decent ones as well.
Body Quality
No matter how good a machine is in sewing clothes if it cannot last you a few years at least, it is never worth the money and is a wastage after all.
Sewing machines don't come in very cheap, and you can not afford to keep buying them over and over again.
So, make sure you choose something which has good construction and will easily endure even some of the rough conditions you put it through.
Built-in Stitches
Sewing machines come with a varying amount of built-in stitches that you can use while sewing, for example, zigzag stitches or lockstitch.
Having a larger number of stitches means that you can be more creative with your sewing, and as a result, the clothes you make will be more appealing, and you get a lot of versatility in your designs.
However, if you just need basic stitching, you might not need a lot of stitches.
Speed
You might already know speed is another major point that needs to be considered while buying a machine.
The faster the machine can go, the more productive you will be, hence boosting your productivity.
However, there is something even more important than merely having high speeds.
Speed Control
For various different kinds of jobs, you need to adjust speed according to the requirements. Sometimes you may need to go slow, for accuracy, or really fast.
So, having speed control on your sewing machine is important and should never be overlooked.
Top 15 Sewing Machines for Making Clothes Reviews
Here are our top 15 picks for the best sewing machines for making clothes.
1. Singer 1304 Sewing Machine
The Singer is one of the best brands when it comes to easy-to-use sewing machines which are well within your budget and come with a high degree of usability.
This model is no different and sits at the top of our picks for a reason.
The body is made from metal, which makes sure there are no questions about the durability while the machine provides you all the important sewing features such as free arm stitching.
You will never face any issues like skipping stitches once you buy this model!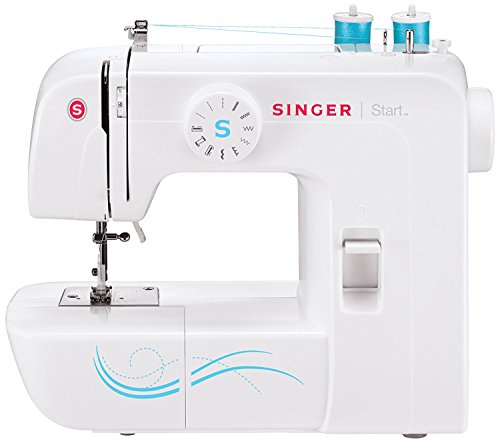 Pros
Durable metal frame
Skip-free stitching
Free arm
Stainless-steel bedplate
Cons
Runs at 110V only
Only six built-in stitches
2. Singer 7258 Sewing Machine
This is truly a revolutionary sewing machine by Singer, which takes the thing up a higher level.
With a programmable needle, it carries all the essential features that you could expect from a top-level sewing machine.
Having 76 decorative stitches, you can be as creative as you want, while the machine offers features like automatic needle threading, which takes your productivity to a very high level.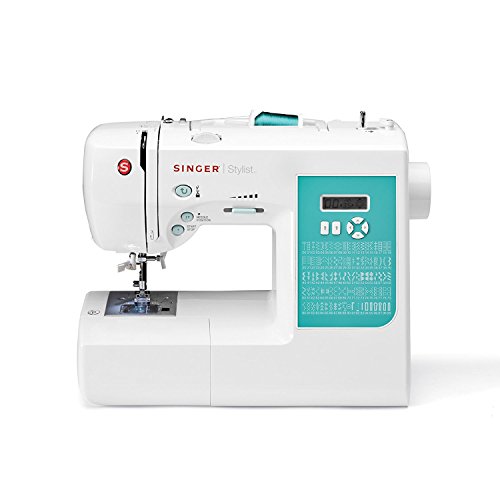 Pros
Automatic needle threader
76 built-in stitches
Easy to use
Programmable needle
Cons
Limited stitch width
No suitable for thicker fabrics
3. Singer 4432 Sewing Machine
If you are a fan of a truly heavy-duty sewing machine that does not come in a lot of fancy features but is the best at large-scale handling jobs without any issue, this is surely the way to go.
Singer 4432 is undoubtedly the best sewing machine when it comes to heavy-duty.
Having a great body it can survive in the roughest environments and keep delivering you top-quality work.
The stainless steel bedplate makes the fabric feed smoother, and your things get further easier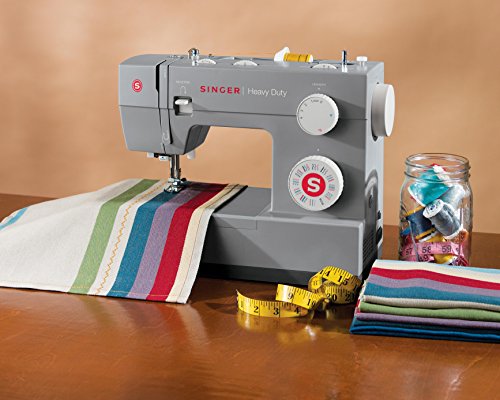 Pros
Reliable
Heavy duty
Affordable
Great customer support
Cons
Heavy and not portable
Ugly appearance
4. Singer 2259 Sewing Machine
Looking for something which is portable as well as reliable and can work on any type of fabric?
Well, here you have it! Singer 2259 is an amazing machine when it comes to a compact body that fits all the features you need inside it.
It provides you a high foot presser, which makes sure no fabric is hard to sew.
Features like automatic buttonholes and free arm make stitching a lot easier and productive while you get 19 built-in stitches for creativity.
Pros
High presser foot
Adjustable stitch length and width
Portable and versatile
Cons
Warranted in the US and Canada only
5. Brother SE400 Computerized Sewing Machine
Brother is probably the best brand when it comes to machines that are packed the most with features but come at astonishingly low price tags.
SE400 is amongst the top computerized machines from the brand and surely makes sewing much fun.
With a huge number of 184 built-in stitches, there is no style you cannot achieve, and you also get to use five lettering fonts.
The bed space is also huge, which means you can also work on bigger projects.
Pros
Easy to use LCD display
Big field area
One of the best for quilting
184 built-in stitches
Cons
Only for countries that support 120V AC
6. Brother CS6000i Sewing Machine
This is another top-of-the-shelf sewing machine by Brother, which not only comes at an affordable price point but also delivers durability along with high-quality stitching.
Having 60 built-in stitches, you can implement any style you want, while the features like automatic needle threading and easy drop-in bobbin will help you achieve it.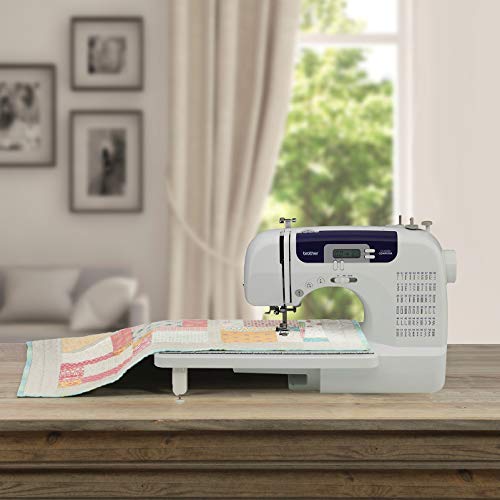 Pros
Easy drop-in bobbin
Easy to use the LCD screen
Large workspace
Cons
Shows a baseless E6 error sometimes
Not suitable for knit fabric
7. Brother XM2701 Sewing Machine
Brother XM2701 is a very lightweight and compact sewing machine that makes it portable enough without compromising upon the sewing quality.
It has 27 built-in stitches, which, although it isn't a huge number, this number contains most of the features that you are going to use anyway.
The free arm is available, which makes going around the curves quite easy, and other basic sewing features are also there for you.
Pros
Best for minimal projects
Lightweight and hence very portable
Affordable price
Cons
Medium speed level isn't available
Not suitable for working in the dark
8. Brother CE7070PRW Sewing Machine
You might not have heard about this model a lot; however, we found it too precious to skip from our review.
The machine comes with each and every feature that a sewer craves for.
From automatic needle threading to the drop-in bobbin, there is nothing this model fails to offer you.
The LCD is available for choosing the stitches from a wide range of 70 stitches.
Pros
Easy to use LCD
Automatic needle threading
Top-quality stitching
Portable
Cons
Warranted for usage in the US only
9. Brother SE600 Computerized Sewing Machine
Although Brother SE600 is mostly known for its incredible results at embroidery work, it is no less machine for sewing as well and performs equally well at this too.
With a huge number of 103 built-in stitches, you never run out of them and can keep trying something new every day.
The field area is huge, and a touchscreen color LCD is available for easy navigation.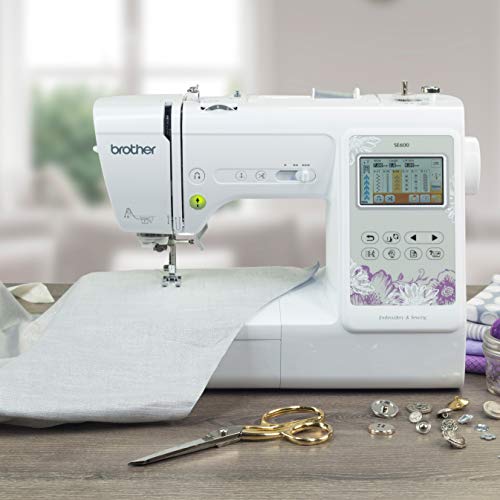 Pros
Very versatile
Easy to use
Best for embroidering as well
Computerized
Cons
Runs into needle breaking issues sometimes
Some claims about bad touchscreen as well
10. Varmax Mini Sewing Machine
People are often stuck between the decision of a big sewing machine and a portable one due to the trade-off of a large sewing space, which makes them choose the non-portable ones.
Well, this one solves this issue and comes with a great solution, an extension table!
So, while being all portable, you can just connect this table and make it a huge machine suitable for bigger projects as well but being portable.
Other than that, it has great features such as double threading and advanced speed control, which simply amaze you.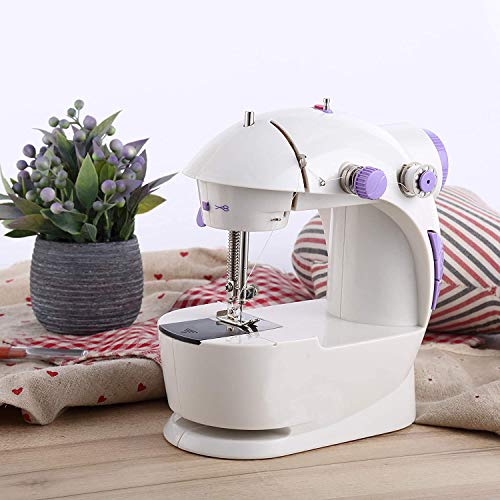 Pros
Great customer support
Two stitching speeds
Double threads
Portable
Extension table
Cons
Shreds thread sometimes
Tricky to get started with
11. Janome 8077 Computerized Sewing Machine
If you haven't heard about Janome, you are missing out big time! It is the highest-rated brand that specializes in heavy-duty manufacturing machines such as this model.
Janome 8077 is the best when it comes to sewing various kinds of fabrics and not running into an issue on even one of them.
Operating flawlessly, you will never feel stitching a burden while working with it and get unmatchable results.
Pros
Best value for money
Versatile
Many built-in stitches
Easy for beginners
Handles all types of fabrics
Cons
The instruction manual isn't great
12. Janome Magnolia 7318 Sewing Machine
If you love how Janome deals with stitching and are looking for a mechanical model that you can afford, this is a perfect model you can pick while being a beginner.
Coming with an impressive stitch quality, it carries 18 built-in stitches, which are enough for basic usage.
The bobbin system is also jam-proof, which makes it a very attractive deal. So, get it today and get things rolling for you!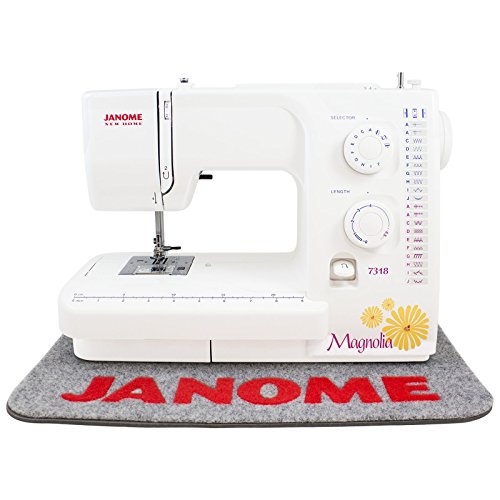 Pros
Best with different feet
Jam-proof bobbin
Quite portable
Affordable
Cons
Expensive shipping
Back drop-feed
13. Janome DC5100 Sewing Machine
Janome DC5100 is a computerized sewing machine that offers you a humungous number of over 167 built-in stitches and five one-step buttonholes.
While these are already enough, you also get an automatic tension system that just gets huge stress off your mind immediately.
Other features such as needle threading and snap-on presser feet just keep on adding to its value, eventually making it the leader when it comes to value for your money.
Pros
Automatic tension control
Programmable memory
Can be used for monogramming as well
Quiet operation
Cons
Noisy
The bobbin winder is sometimes faulty
14. Juki HZL-F600 Sewing Machine
Juki is famous for providing top-quality products which are not reliable but also feature great options to make sewing very easy and entertaining for the sewers.
The box feed technology is which makes this machine stand out while the wide sewing space is another thing that makes it quite attractive, along with motion-sewing.
So, if these are your requirements, make sure to place your order today!
Pros
Lightweight
Many advanced sewing features
Box feed technology
Great for motion sewing
Cons
Hard to pick instructions
15. Juki TL-2010Q Sewing Machines
This is the highest-rated sewing machine by Juki, and customers who have used it absolutely love it and never miss a chance to promote its versatility.
Being very durable, it has all the features you expect, such as an automatic needle threader and adjustable stitch length.
If you need to do motion sewing as well, this machine can, by far, be the best pick.
Using this machine, you can make professional-looking clothes and an extended workspace perfect for bigger projects.
So, get your hands on it today and start making clothes!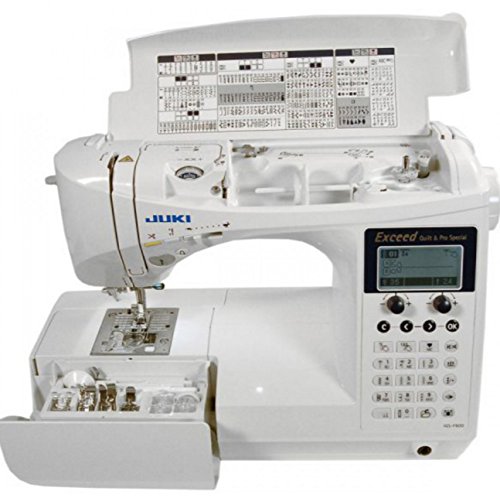 Pros
Longarm
Best for motion sewing
Great stitching quality
Durable body
Extra high-pressure foot
Cons
Frequently Asked Questions
Being a beginner, you will always have some basic questions popping up in your mind, which don't let you rest.
Let's look at some of the most frequently asked questions by beginners so you can clear your mind as well.
How much is a sewing machine?
Well, it totally depends upon the model and the maker you are buying from.
Buying the basic entry-level models could cost you as low as 200 bucks with only the basic features, while you can go as high as above 3000 bucks if you want something which has all the advanced features.
Is a free arm necessary for sewing?
No, it isn't. However, a free arm makes stitching much easier for you by making it extremely easy to stitch around the curves and the pockets.
Which sewing machine is best for home sewing?
It depends upon the type of projects you intend to work on and what your budget is.
If you need an affordable machine with all the basic features, Singer 2259 can be a good choice as it doesn't cost much but deliver high-quality work.
Should I prefer high-speed machines?
Being a beginner, it is not really recommended to use high stitching speeds as they cause a drop in your accuracy, and as a result, the quality might have a setback.
So, work with something you are comfortable with, and increase it gently.
Can I use my sewing machine for quilting?
Yes, generally you can. However, it depends upon the power the machine can deliver, and not every machine is capable of handling heavy tasks such as quilting.
How often should I oil my Sewing Machine?
It generally depends upon your usage and the model you have bought.
However, to give you an estimate, most people oil it weekly if they use it on a daily basis and once in a month if they are using it once or twice a week.
Conclusion
While there are a lot of great models available in the market, it is not very easy to pick the best ones among them as there are such options as it is only natural to get confused among them.
So, here we have listed our top 15 picks with detail for the best sewing machine you can get for making clothes so you can make a choice fast and easy.
However, don't forget to go through the buyer's guide before making your final choice.
Read Also: