Leather products are probably one of the most premium and high-end ones and boast pretty good looks. However, as you might know, good things don't come easy.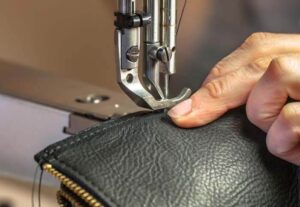 Sewing leather is not as easy as regular sewing fabrics as it is a lot more rugged, which is why you need a lot more power.
For productive sewing, you need to choose the best sewing machine for yourself, or you will end up messing up your sewing, which will cost you a lot at the end of the day.
So, here in this article, we will be looking at the top 12 products which qualify for the best sewing machine for leather according to our review.
Buyer's Guide
Before setting out to make your final choice, there are certain points about these machines; you should be well aware of them in advance.
Without knowing these, there is a very thin chance that you will pick the best product possible.
Speed Control
When working with leather, you will always need to increase or decrease the speed you are working at, along with the requirements of your product, which makes speed control being available in the machine an integral part of the process.
This way, you can make sure there are no mistakes done when sewing.
Remember, leather is a very unforgiving fabric, and unlike other materials where it is okay to make a few mistakes, it's not the same as leather.
So, you need to move slow and steady most of the time.
Stitch Type
Having many types of stitches available in your machine is something sewers always crave.
It helps you increase the versatility of your design and have more options available for you.
This feature is essential when buying any type of sewing machine, let alone sewing machines for leather sewing.
However, if you plan on making the usual stitches already, around ten stitches would be enough. So, you need to know your requirements in advance.
Working Area
Since leather is not a very soft fabric, you need to have a large working area when dealing with more prominent fabrics to manage them effectively.
In the case of otherwise, the fabric might get tangled, causing you to run into difficulties.
If you are interested in bigger projects, make sure you get something with a spacious working area.
Lighting
The lighting of the working area is another crucial point you need to be taking care of.
Having a little or less than enough lighting around the work area and having to work in the dark can significantly reduce the quality of work, which basically cripples you with the idea of getting a top-notch sewing machine.
Top 12 Sewing Machine for Leather
After doing some research and testing the best products available in the market, we have come up with our own list of the top 12 sewing machines for leather, which will all certainly provide you the best performance even if you choose something blindly from them.
1. Janome HD3000 Heavy-Duty Leather Sewing Machine
Janome HD3000 is one of the top-rated sewing machines when it comes to heavy-duty usage.
Having great customer support and a very durable body, it can easily tackle any job you throw at it.
The powerful motor that this model features can deal with any kind of fabric, no matter how tough it is, let alone leather.
There are a lot of sewing features it boasts, such as automatic needle threading and a jam-proof bobbin system.
Most of the experts view it as the best sewing machine, especially when it comes to sewing leather.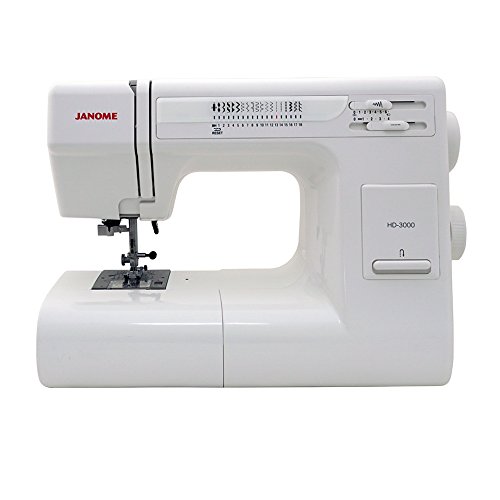 Pros
Perfect maximum stitch length for leather, 4mm
High presser foot
Excellent instruction manual
Sturdy and durable build
Cons
Small workspace
Few stitches offered
2. Brother ST371HD Sewing Machine
Brother is one of the finest brands when it comes to the sewing machine, and this model is no different.
Brother ST371HD is amongst the highest-rated model by the maker, which comes with not only an adamant and durable body but features a great motor as well, which can handle all kinds of heavy-duty jobs.
There are 37 stitches that can be used to do versatile stitching, and you get all the basic stitching features like automatic needle threading and a drop-in bobbin, which is totally jam-resistant.
Moreover, you get free arm stitching as well means it will be very easy going around curves.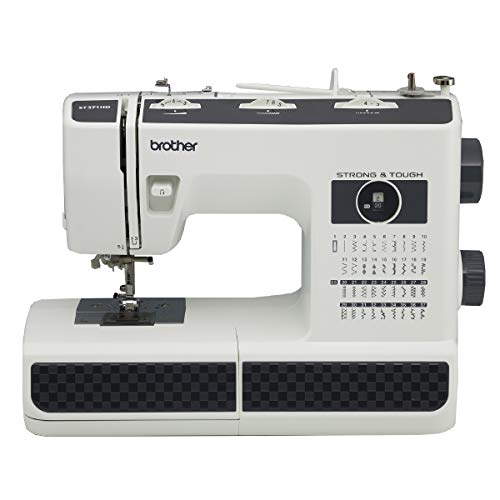 Pros
Very durable body
Affordable
Easy to use
Cons
Not suitable for multiple fabric layers
3. Juki TL-2010Q Sewing Machine
Are you someone who wants to sew leather but needs the machine to be portable as well?
Well, that's not a very common thing to ask for as leather usually needs heavy-duty machines that lack portability.
Nevertheless, this model by Juki is the perfect option if this is what you want.
While the machine is lightweight and portable, it still offers a pretty spacious work area so you can deal with the larger fabrics as well and comes with an automatic thread trimmer.
Coming to the body, it is quite durable and will last you years without posing any issue.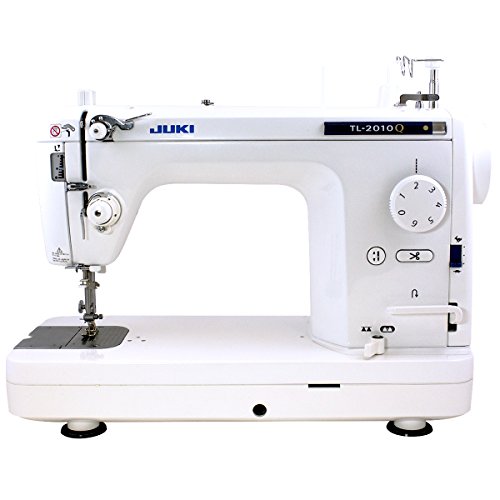 Pros
Precise stitching
Easy to use speed control slider
Durable body
Portable
Cons
Manual thread tension
Expensive
4. Toyota Super Jeans J34 Sewing Machine
Well, you might not have heard about this machine a lot, but I can assure you that Toyota J34 is certainly amongst the very best, especially when it comes to leather stitching.
With an amazingly powerful motor, the machine is perfect for dealing with thicker fabrics and can go through multiple layers at once without any issue.
There are 34 built-in stitches offered, which provide a lot of versatility as well.
Lastly, it boasts a lot of accessories making your work easier and saves your time with all the important sewing features.
Pros
Comes with a lot of accessories
Very heavy-duty
Adjustable foot pressure
Instructions are great
Cons
The body is made from plastic
Expensive
5. Sailrite Ultrafeed LSZ-1 Sewing Machine
Sailrite LSZ-1 is a very underrated sewing machine that is great for heavy-duty fabrics such as the likes of leather.
With an extra-wide foot presser, you get a lot of ease while sewing the fabrics and never face any issue when it comes to power.
Customer support is also something that Sailrite excels in. So, anytime you're facing any issue, just ring them up, and you will be good to go.
Pros
Great customer support
Heavy-duty; power-plus balance wheel
Wide foot pressure for easy sewing
Cons
Expensive
Need to buy extra needles
6. Juki DDL-5550 Industrial Sewing Machine
This is another excellent product by Juki, which is very much liked by the customers when it comes to stitching leather.
With an impressive speed of over 5500 stitches per minute, you can be a lot productive with this machine if you know your work well.
The stitch length is adjustable, which can be set to a maximum value of 5mm, just the perfect for leather sewing.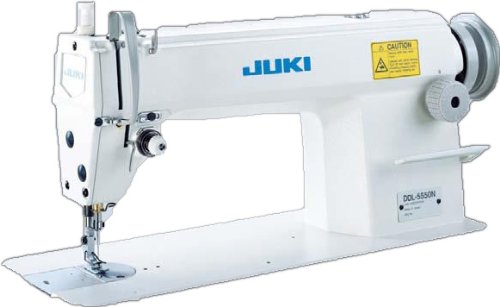 Pros
Durable body
Adjustable stitch length
Very high sewing speed
Auto-lubrication
Cons
Not so heavy-duty; can't deal with multiple layers
Expensive
7. Brother CS6000i Sewing Machine
If you don't have a great budget but want something which will totally be worth every penny you spend, this is the choice to go with.
For a lot of reasons, this is the perfect machine considered by the experts.
Having 60 stitches, you can be as versatile as you want, while having excellent power capability at your service. The LCD screen is also available for navigation.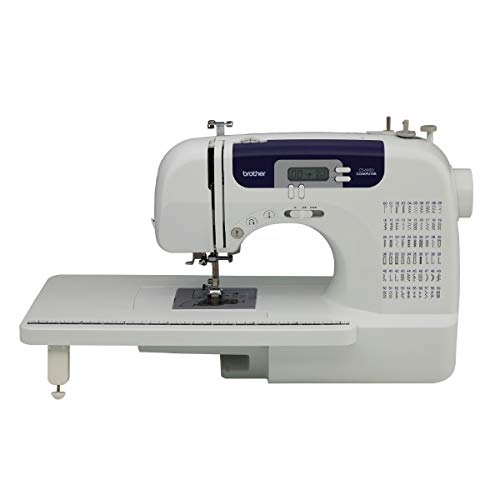 Pros
LCD screen to make stitch selection easy
60 unique stitches included
Great value for money
Cons
Some parts made from plastic
Setting go back to default on power off
8. Brother DZ3000 Sewing Machine
This sewing machine by Brother is probably the best one when it comes to the mixture of affordability and versatility.
Having over 240 built-in stitches, you can try out all the stitches you want and make your fabric stand out.
There are alphanumeric characters included as well to make it even better. Just like the previous product, this one also comes with an LCD.
Pros
240 built-in stitches
Automatic needle threading and drop-in bobbin
Extra-wide table
Eight 1-step buttonholes
Cons
Expensive
Some parts made of plastic
9. Janome Sewist 500 Sewing Machine
Coming with a hard case for storing, this model is specifically targeted for the people who don't intend to use a lot of sewing stitches and live around a dusty environment which could cause harm to the machine.
It has a free arm around pockets and other curved areas very quickly, while the foot pressure is totally adjustable.
Pros
Free arm sewing
Adjustable foot pressure
Many features
Hard case for protection
Cons
10. Reliable 4000SW Sewing Machine
Although this is not a very famous pick for most of the customers, we found it too valuable to keep it off our list.
Not only is the machine very heavy-duty, but it also comes as a very feature-rich product as well and gives you all the power you need to go through multiple layers of fabrics all at once.
The full table is also available to make handling larger projects easy.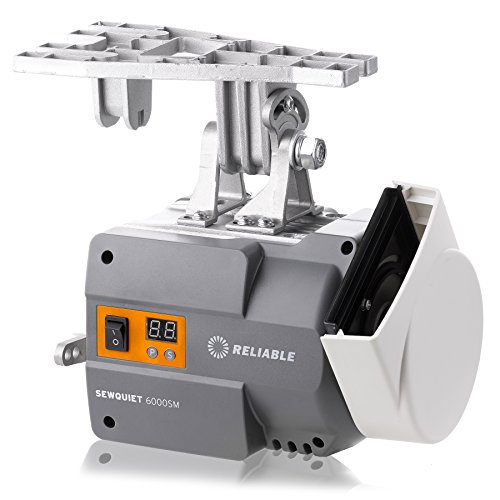 Pros
Reverse lever mechanism
Powerful motor
Very reliable
Large capacity hook
Cons
11. Tippmann Boss Sewing Machine for Leather
Tippmann boss is unarguably the most ignored sewing machine out there, which is in no way inferior to the ones we have seen before.
Being tagged as the best leather holsters by some of the experts in sewing, it comes at a very affordable price point, while totally justifying the price and being able to work correctly with leather.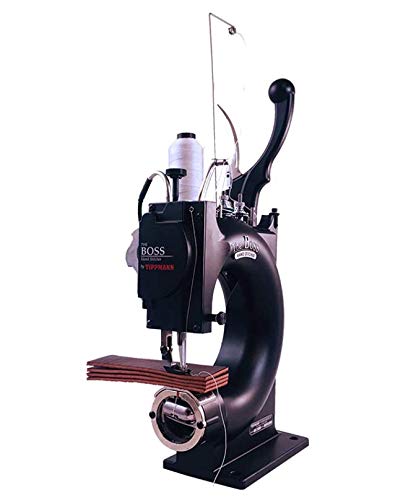 Pros
Best leather holster
Can handle any type of sewing job
Comes with great accessories
Great value for money
Cons
Tension is sometimes tricky to set
Needs some practice
12. Consew 206RB-5 Walking Foot Sewing Machine
Having an extra-long maximum stitch length of 10mm, this is also termed as being one of the finest models for leather and comes with centralized arm lubrication, which means you don't have to put your efforts into it.
The attachments are great and save up a lot of your time while the machine is powerful enough to deal with leather.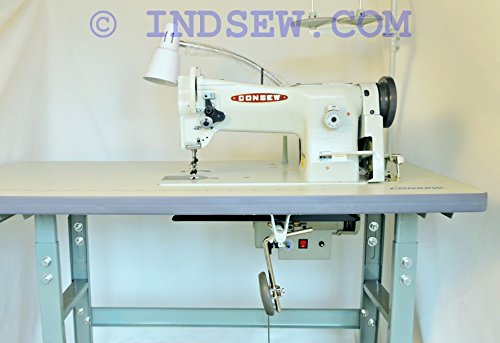 Pros
Great for leather
Extra-long stitch
Adjustable speed
Cons
The table is not so spacious
Frequently Asked Questions
Let's look at some of the most commonly asked questions by beginners.
Do you need a special sewing machine for leather?
No, usual sewing machines can work with leather with the condition that they have a powerful motor that is able to handle leather as it is a thicker fabric.
What kind of thread is used for leather?
Mostly, experts recommend polyester or nylon thread to deal with leather. Avoid cotton threads at all costs.
What size sewing machine needle do I need for leather?
For leather, you usually need to have a sewing machine with a bigger bed space as the leather becomes tangled and hard to sew otherwise.
How do you lock a sewing needle?
First off, thread the eye of the needle and then pass it through the thread. Bring this thread down to the eye until the needle is wrapped around the thread.
This is the necessary process; however, you can view a YouTube video if you are interested in a live demonstration.
How often should I oil my sewing machine?
It depends upon the usage. Oil it weekly if you use it daily, but if you use it weekly, make sure you oil it once a month.
Can I sew leather with a serger?
Yes, you can. However, it is much easier to use the machine we have discussed above.
Conclusion
So, here we have a nice list of the best products you can get for sewing leather.
Even though all of them have minor differences, there are specific personal preferences people have, which is why we mentioned many possibilities.
So, make sure you go through the buyer's guide, so you are ready to make your choice.
Read Also: