If you are also a passionate sewer, you will likely have an interest in upholstery sewing as well as it is quite an exciting field.
However, nowadays, there are a lot of models that all are good for upholstery sewing, and all these models are excellent. This often becomes an issue for beginners as they get confused about what to buy.
I have come up with this article where I will be laying out the top 9 models which qualify for the best upholstery sewing machine.
After going through this article, it will be easy for you to choose just the machine that suits your needs. So, let's get right into it without any further ado.
Buyer's Guide
Before we jump on to the next section of the sewing machine, I want to introduce you first to some points of upholstering machines that you need to take care of.
These features are essential to look for whenever you are making a purchase. So, make sure you don't skip the buyer's guide.
Power
This is unarguably the essential point you need to consider when buying any sort of sewing machine, let alone an upholstery sewing machine.
The power determines how effectively you can sew the more robust fabrics and how capable the machine could be. Many machines come with a wheel sort of pulley, which rotates to make the machine work.
The bigger this wheel is, the less powerful machine would have and the more the speed. So, pay attention to this and choose according to your needs.
Material
This is another factor that should always be kept in mind when buying sewing machines.
As you know, these kinds of devices don't come cheap so it's not every day that you could go out and buy them.
Choosing a model with inferior quality that breaks down after several months could be disastrous. Always look for something with high-quality material and construction, so it has a long life.
Some makers offer you huge warranty periods so you can also go for them.
Walking Foot
A walking foot is essentially something that helps you move the thicker fabrics around while sewing it.
Without a walking foot, it would be challenging for you to manage the fabric while sewing it, and as most of the fabrics, when doing upholstery sewing is quite thick, you should never forget having a walking foot.
Price
Last but not least, price is something which always gets to be the deciding factor in the end, no matter what product you are buying.
When you are in the phase of comparing machines to one another, always have their price also on the comparison as even the smallest features account for a price difference.
So, always compare the models along with their build quality and price so you can make the best choice and do all the necessary tradeoffs you want.
Top 9 Upholstery Sewing Machine
So, we have finally arrived at the most crucial point.
Here, I will tell you about the products which cut into my top 9 sewing machine list along with their respective pros and cons.
The reviews were done extensively on most of the famous models available in the market, and customer reviews were also considered.
Let's see what's best for you:
1. Singer 4411 11 Built-in Stitches Sewing Machine
Singer 4411 is amongst the most premium heavy-duty sewing machine that you will find out there.
While you should not doubt the quality Singer can deliver while sewing the clothes, this model also comes with an excellent build quality that will last for years without any problem.
Having all the essential sewing features such as adjustable presser foot control and adjustable needle position, this model surely makes it way easier to the top 9 models out there, which you could make your choice from.
However, it will only be suitable if you are living in the US or Canada.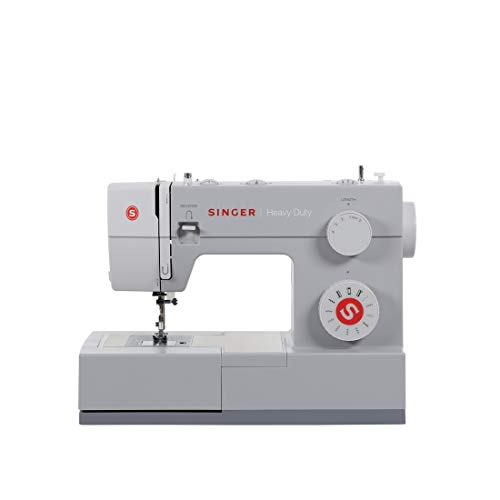 Pros
Heavy-duty machine
Very durable
Versatile
Adjustable presser foot
Cons
Can only be used at 110volt
2. Singer 191D-30 Sewing Machine
If you want a genuinely industrial-grade sewing machine for upholstery and need to take things up a notch, this is undoubtedly the model you should be looking at.
Coming with a very high sewing speed, this model will make sure you get your job done in the least time possible.
The configuration is also straightforward, with the setup being extremely easy to use, featuring a single pedal stand.
The design is quite versatile and can be used for many sewing tasks, let along upholstery sewing. Moreover, you get a knee lifter as well, which can be used for adjusting the presser foot.
Hence, it is the dream of every upholster as it always gets the job done correctly.
Pros
Very versatile
Industrial grade performance
Reverse lever
4000 stitches per minute speed
Cons
Only for usage in the US and Canada
3. Janome HD1000 Sewing Machine 14 Built-In Stitches
Janome is one of the best brands when it comes to sewing machines with possibly the best and toughest build quality and providing a hefty duty usage.
This machine is one of the favorites of the experts in the field, mainly due to the durable body made from aluminum.
Although the machine lacks the fancy modern-day features such as a lot of built-in stitches and such stuff, it offers all the necessary features you would want to use, such as automatic needle threading and a free arm for sewing curves quickly.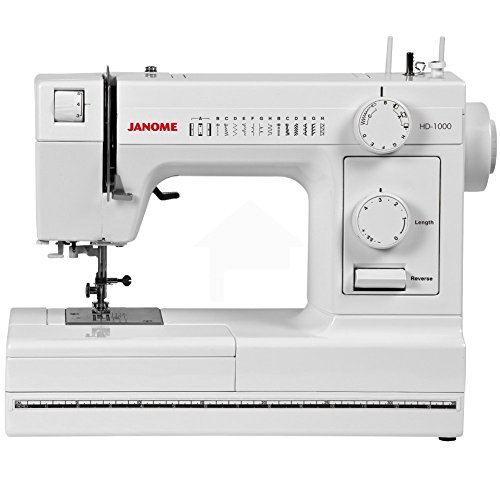 Pros
Comes with a lot of accessories
Automatic needle threading
Made from aluminum; very durable
Very versatile
Cons
A bit pricey considering Janome
Instructions are not suitable if you are a beginner
4. Janome HD3000 Sewing Machine
Like the previous model we discussed, this machine also comes with a hefty duty design and an excellent build quality, which will never pose you in any problem for a long time.
The good thing is, not only does it provide a great body, but it isn't also very bulky.
Being comparatively lightweight than the other models out there, it can also be used as a portable machine, accompanying you wherever you go.
Coming to the stitch quality, it will never fail to work on any fabric no matter what you throw at it, and provide the best stitching possible.
Pros
Best stitching quality
Quiet operation
Can handle any type of fabric
Heavy duty
Cons
Suitable only for intermediate sewers
Doesn't look very fancy
5. REX 6072 Sewing Machine
You might not have heard about this model a lot, but we can assure you that this is also as effective as all the other models, as we have seen.
Coming with an impressive portability factor, it provides a very convenient walking foot along with it, which makes your work quite easier when dealing with the thicker and heavier fabrics in upholstery sewing.
The motor is 900 RPM and doesn't face a single issue while working no matter what fabric you are using.
The machine doesn't look very cool or fancy. However, it surely will get the job done in the best manner possible.
Pros
Very portable
Features a walking foot
Powerful motor
Reverse lever
Cons
6. Consew 206RB-5 Sewing Machine
Are you looking for something which is very simple in looks and while using but wants it to be as efficient as the top heavy-duty models out there?
Well, this machine will make all of it comes true for you. Mostly, it is tagged as being the best model if you want to sew leather.
This will give you an idea of how powerful and effective the machine is. There are all the necessary features in this model, such as high presser foot and thread release finger for the heavy thread.
Moreover, the centralized arm lubrication will make your life further easier.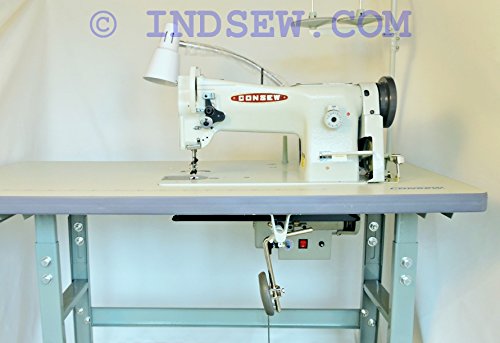 Pros
Looks modern but simple
Centralized arm lubrication
High presser foot
Easy to use and assemble
Affordable
Cons
Noisy
Thread options often make beginners confused
7. Highlead GC0618-1SC Sewing Machine
Coming with an extremely fast sewing speed of up to 2000 stitches per minute, this is one of the best machines if you are looking for a true workhorse that can manage all your work volume without any issue.
Having great sewing features such as a presser foot lift and a very strong feed system.
Moreover, the safety clutch part is great, and the machine provides excellent results when it comes to sewing quality.
It can be used for a variety of tasks and even the ones with tougher fabrics such as leather.
Pros
Versatile
Very powerful and speedy; 2000spm
Bobbin thread capacity is high
Can handle any type of fabric
Cons
Hard to practice on for beginners
8. Juki DDL-8700-Servo Sewing Machine
Juki is another brand that has earned the trust of many customers through the perfect sewing machine models it has to offer.
Just like all other Juki models, this one is also a very reliable pick, and you don't have to worry about either the quality of the work it will deliver or the durability of the machine itself.
The operation of the machine is rather quiet, and it can effectively sew everything ranging from light to medium fabrics with the best quality possible.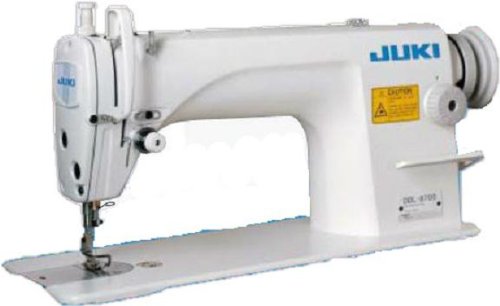 Pros
Not the best for heaviest fabrics
Very high speed of 5500 stitches per minute
Very quiet and vibration-free operation
Reliable
Cons
Hard to assemble initially
9. Consew CP206R Sewing Machine
If you really want a good-quality machine that can effectively handle any task while being completely portable and having a modern look, this is your way to go.
Coming with a walking foot, this model will make sewing upholstery a very delightful task for you.
You can take it along anywhere you want and use great features such as drop feed or walking foot to make your work easy and get excellent sewing results.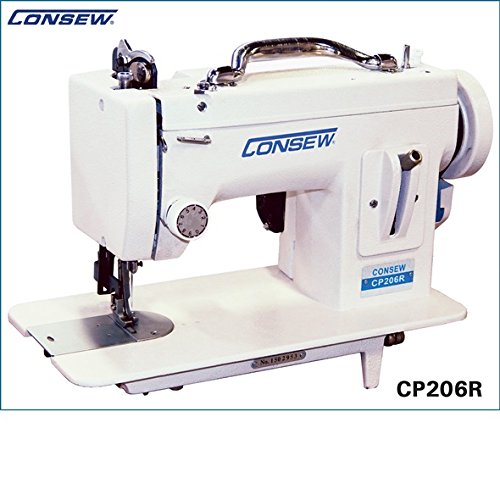 Pros
Deluxe foot control
Walking foot
Portable
Drop feed
Cons
Carrying case could be a lot better
Frequently Asked Questions
Now, let's look at some of the most frequently asked questions by the customers who are new to upholstery sewing.
Do you need a special sewing machine for upholstery?
No, it is not a necessity, but you do need industrial-grade needles and high power sewing machines for upholstery as it includes very thick fabrics.
All the regular sewing machines are not capable of upholstery.
What kind of thread is used for auto upholstery?
There are many options that you could pick from; however, most experts recommend using polyester threads.
How do you sew thick fabric?
Thick fabrics are sewn pretty much the same way you sew anything.
However, you will need a tougher needle, a heavy-duty sewing machine, along with an industrial-grade thread for that.
What kind of needle do I need for thick fabrics?
Thick needles, having a firm shaft, and a very sharp tip are recommended for thick fabrics. They will go through many layers of fabrics without breaking them.
Can I sew leather with a usual sewing machine?
Yes, if you have a powerful sewing machine, you can sew leather with it as well; however, you will need a Teflon foot. Otherwise, it will slide across easily.
Is Janome better than Singer?
When it comes to heavy-duty machinery and very reliable build quality, Janome is preferred over Singer by many people, but Singer still remains the leader in providing the most affordable machines with the most features out there.
Conclusion
So, we have seen a nice list of the top sewing machines for upholstery, along with their pros and cons.
I hope that these models would be enough for you to make your choice.
However, please make sure you go through the buyer's guide before making the final choice as you don't want to miss those points if you genuinely want the best product for yourself.
Read Also: