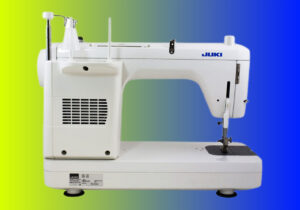 Lockstitch is used to refer to a specific type of stitching, i.e., threads passing over one another and confining the fabric in between.
Since it's a widespread kind of stitching, you need a great machine at lock stitching, specifically.
So, in today's article, I will be going through the top picks for the best sewing machine for lockstitch, along with their pros and cons.
All of them are the top ones picked carefully after reviewing them thoroughly. So, make sure you go through them all before choosing any specific one.
So, let's start without any further ado.
Top 6 Sewing Machines for Lockstitch
The products listed below were chosen carefully after personally reviewing them and going through their respective customer ratings.
So, please sit back and choose anyone from them without any worry.
1. Vevor DDL8700 Lockstitch Sewing Machine
Coming in as the top pick, this is certainly a great machine, no matter if you want to use it commercially in your home. It's a heavy-duty sewing machine that can easily handle heavy workloads.
There's a table stand also provided with it to make working further easy. A great thing about this is the body, 3D designed to minimalize the vibrations and noise.
The stitching quality is extremely good, and working with it is also as easy, and it could get.
It's a low-tension sewing machine that doesn't get you tired out even after working for long hours.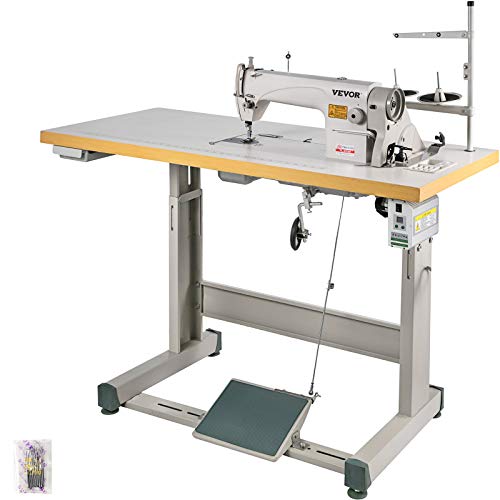 Pros
Low vibrations and noise
Can handle a heavy workload
Comes with a table and mounting seat
Very reliable construction
Cons
Might be a bit tricky to set up initially
Some claims that it arrived with parts missing
2. Juki TL-2010Q Lockstitch Sewing Machine
If you're someone who is always moving around while working and doesn't have a permanent work area, this could be a great fit for you.
While it doesn't compromise on the stitching quality, it's extremely portable and lightweight as well. Even though the price tag is quite aggressive, it delivers the value you pay for.
The work area is quite large, which makes it easy to do heavy projects, and it also provides all the modern features such as automatic thread trimming.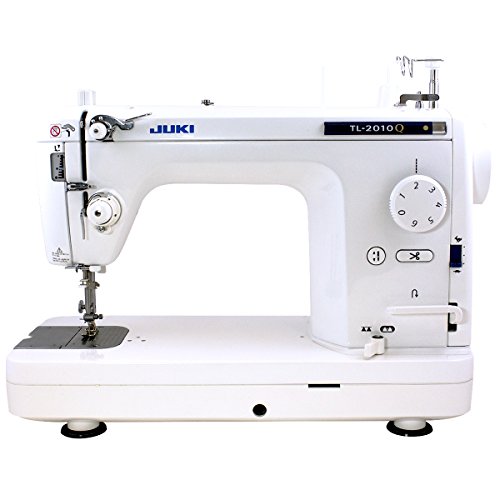 Pros
Great build quality
Automatic thread trimming
Very portable
Large work area
Cons
Expensive
Minor jamming issues for beginners
3. Juki DDL-8700-H Sewing Machine
Yet another top-class machine by the same brand, this one comes with an amazing sewing speed of approximately 5500 stitches per minute.
If you're a professional who knows how to make use of such an efficient machine, do consider it. Also, a major problem is assembling the machine when it's delivered.
If you're a beginner, you might need to call an expert. Other than that, it's extremely powerful and has a very sturdy build quality as well.
So, if you're a professional and need something for commercial use, this is a great powerhouse.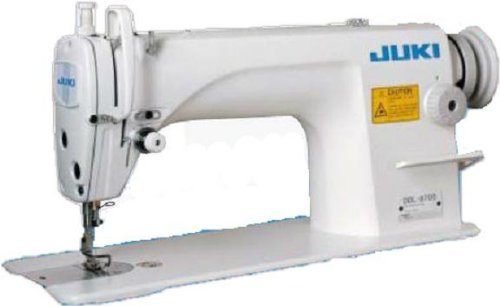 Pros
Very powerful
High build quality
High speed; 5500 stitches per minute
Cons
Needs to be assembled
No LED light as mentioned in the description
4. Yamata FY8700 Lockstitch Sewing Machine
Yamata FY8700 is another great commercial machine that is capable of handling huge workloads.
Moreover, it has various features that may be very beneficial to you, such as a sewing capability of 5500 stitches per minute, a sewing table, and advanced technology to reduce the noise.
All these features and the fact that it comes with extra needles and bobbins make it a very suitable choice.
However, you may face some difficulties while setting up the machine if you're an extreme beginner.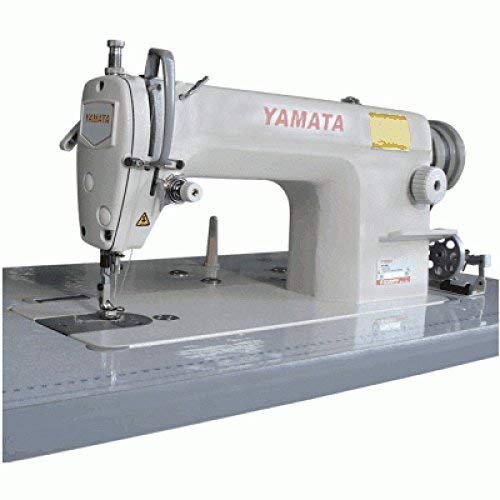 Pros
Very powerful
Comes with a table
5500 stitches per minute
Cons
Hard to assemble initially
Expensive
5. Yamata FY5318 Sewing Machine
Yamata FY5318 is another great workhorse that comes with a table and many accessories, as we saw in the previous one.
This one is also delivered unassembled, so you might have to a little work while assembling it. The features on this thing are amazing, such as automatic oiling, reverse sewing, and foot lifting clearance.
It's another interesting choice if you have the budget and are willing to buy something for commercial use.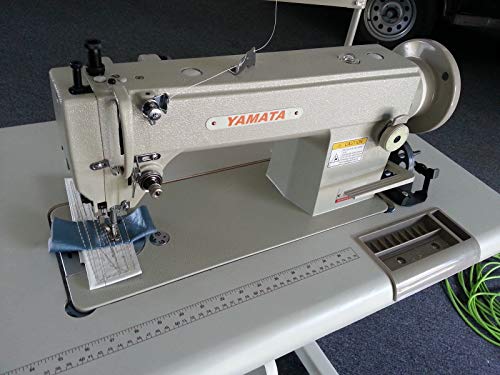 Pros
Comes with a table
Powerful
Automatic oiling
Reverse sewing
Cons
6. Zoje Lockstitch Sewing Machine
If you liked the Juki DDL-8700, take a look at this one as well, since this is a direct competitor of it. Also equipped with high-speed stitching, this one can even use some replacement parts of Juki models.
The interesting thing is that this machine is delivered with a task chair and a table which is adjustable. Not only that but there are some extra accessories provided as well to help you for the first few weeks.
Again, you will have to put in some work initially in the form of its assembly.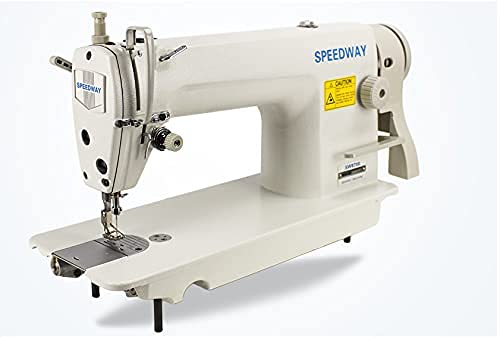 Pros
Great performance
Top-quality stitching
Good value for money
Comes with an adjustable table and chair
Cons
Hard to assemble
Not the best build quality
Buyer's Guide
Before you buy the sewing machine for yourself, there are first some important points which you should always remember while making a choice.
Here I'll list those for you to remember.
Speed
Speed is the factor that determines how fast you can be done with your projects.
If you're an expert and you usually do long sewing projects, a machine with a slow speed will hold you back significantly. So, always check the maximum stitching speed a machine can deliver.
However, if you're not an expert, don't go for high sewing speeds because they make the machine expensive and hard to control.
Power
Power is also as important as speed since it determines what type of fabrics you can deal with.
Heavier fabrics and high workload require the machine to have a more powerful motor, and it'll get stuck now and then. So, analyze what level of projects you're going to be doing and choose a machine accordingly.
Construction
Knowing the build quality before buying it is very important, let alone a sewing machine.
Even if you get something with many features but the build isn't sturdy and starts wearing out after some time, it will be good for nothing.
So, to make sure you're putting your money in the right place, always ensure the machine has a high build quality so you can work with it for a long time.
Features
Finally, the number of features a machine offers is also important to look out for, such as automatic thread cutter and automatic oiling.
These small features may not sound as much initially, but they can be real-time savers when you have a lot of work. So, always compare the machine based on the features they provide before buying.
Frequently Asked Questions
Here, I'll take a look at some of the most frequently asked questions by beginners and try to answer them in the best way possible.
What is a lockstitch sewing machine?
A lockstitch sewing machine is used for lockstitch sewing where essentially a needle and bobbin thread are threaded through every needle.
Both the front and back sides of the fabric are sewn in the same way.
What is a lockstitch sewing machine used for?
They are used to lockstitch the fabrics, where the threads are passed over each other with the fabric being confined in between.
When should I Backstitch my sewing machine?
You can do it whenever a seam is not intersecting another seam later.
How long should a sewing machine last?
It completely depends upon the quality and brand of the sewing machine you buy. While some may even last for more than 20 years if you take proper care, but the average is around 6 to 7 years.
How do you lock a stitch on a sewing machine?
While a lockstitch machine can do it automatically, you can do it manually as well by leaving the thread tail at the end of a seam and then knotting the tail of the thread with the fabric.
What is a high-speed lockstitch sewing machine?
These are the new sewing machines which deliver improved performance in a very quiet and reliable manner.
Conclusion
Lockstitching is an important part of sewing, and you often need to do it while completing your sewing projects, especially if you're a commercial sewer.
So, finding yourself a good lockstitch sewing machine is very important. The article lists down some of the best models you can find around, along with their pros and cons.
Make sure you go through each model before choosing anyone.
And don't forget to read the buyer's guide if you need to choose the most suitable machine for yourself.