Wondering what pinking shears are? They are essentially a kind of scissors that are used to effectively cut the fabrics while preventing them from fraying.
If you buy a good quality one, your clothes won't shred easily, making them very useful.
With that said, choosing good pinking shears from the market is not quite easy nowadays as there are a lot of choices available, but only some of them justify their price.
So, here we will list out our top 10 picks for the best pinking shears so you can make the best choice.
Buyer's Guide
Before you lock on your final choice, you should have minimal knowledge about them in order to make the best choice.
Here are some points to consider before making a choice.
Size
This is definitely the most important feature related to pinking shears. If the size of the body is too large or too small, it will be very hard to use, and your productivity will be decreased a lot as a result.
The size should not only be according to the size of your hand, but it should also be according to the nature of work you do, as larger blades make larger cuts, and if the project is huge, you will need to put in less amount of work.
Material / Sharpness
As we discussed earlier, the fabrics are most likely not to get shredded if and only if the scissors are made from excellent quality materials and have sharp blades.
The blades come directly to the contact of the fabric, only perform well if they are strong and make cuts easily, in the case of otherwise, the fabric could be ruined if the blades are blunt or not sharp, you might not achieve the desired results.
Another important thing to note is as the sharpness of the blades reduces, the work you need to put in increases.
Comfort
Comfort is also another major factor. Although it doesn't really have a huge effect on the quality of the work you are getting done, it makes sure you can go on for long hours of working without any issue.
More comfort, more you will love working with the scissors.
Weight
It may sound weird to you, but heavier weight pinking shears are always placed above the lightweight ones.
Not that you should opt for the heaviest model, which will just make you tired in some time, but you need to choose an appropriate weight.
Choosing a very lightweight model will more chew the fabric than it cuts.
Top 10 Pinking Shears Reviews
After reviewing some of the most used models in the markets and going through their customer reviews one by one, here we present our top picks for the best pinking shears you can get according to your needs.
1. P.LOTOR 9.3 Inches Sewing Pinking Shears for Fabric
These pinking shears by P.LOTOR are undoubtedly one of the most famous choices by the customers in the market.
With a very comfortable handle, which is easy to hold while working, not only does it provide a good grip, but it also doesn't let you tire out quickly.
It comes with the best quality stainless steel blades, which simply could not get better. In short, this scissor provides you excellent professional scale performance with a lot of comforts.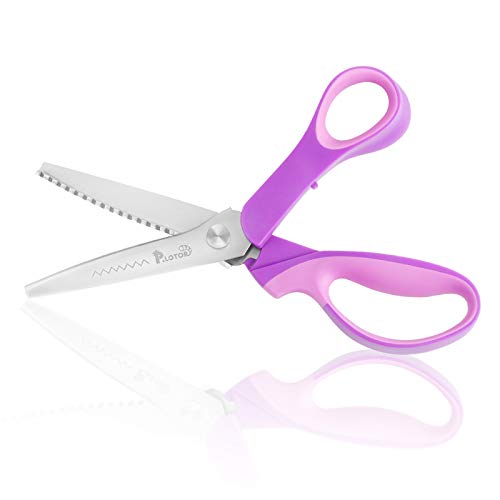 Pros
Very sharp blade
Sturdy build
Suitable for thick fabrics
Affordable
Durable stainless steel build
Cons
Can be heavy for some people
Initially stiff
2. JISTL Professional Dressmaking Pinking Shears
These pinking shears are another great choice if you want to efficiently cut a wide range of fabrics without putting in a lot of effort and while staying in your comfort zone.
It can be used in cutting fabrics, paper, silks, leather, and so on and so forth. Its versatility is one of the best points about it and is responsible for most of its sales.
When it comes to the build quality, it will last your easily for several years, and you won't need to consider some other pinking shears after you buy this.
Lastly, the handle is also very comfortable, and you will have no problems handling this product.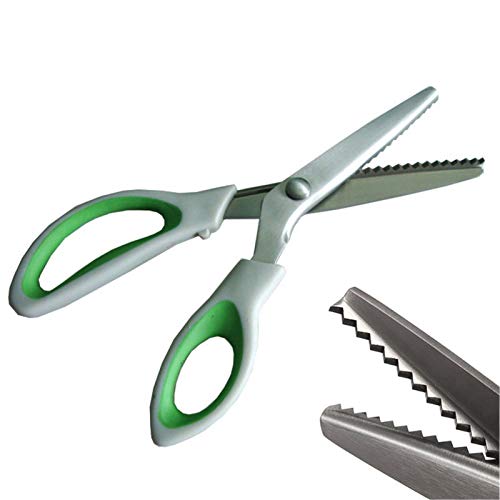 Pros
Very versatile
Good build quality
Affordable
Comfortable
Lightweight
Cons
3. Hui Tong Strire Pinking Shears for Leather
Hui Tong is a major brand when we are talking about professional-grade pinking shears.
With more than 15 years of experience of the company in manufacturing these scissors, they have achieved almost perfection, and this product is not different.
Made from high-quality steel and plastic, these pinking shears are quite durable and will go on for a long time without posing you any issue about their quality.
With their sharp blades, you could go through multiple layers of fabrics at once and use them on different types of materials such as fabrics, leathers, denim, etc.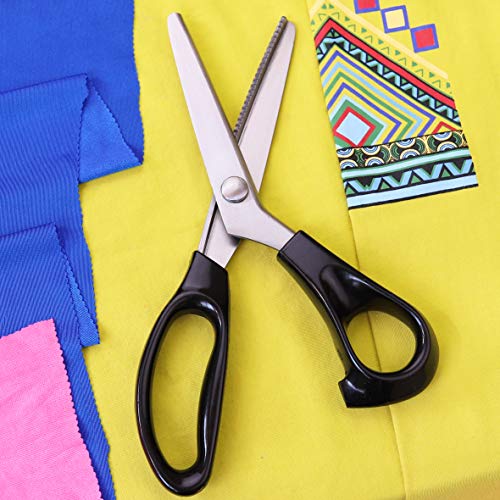 Pros
Good build quality
Versatile
Sharp blade
Ideal weight
Comfortable
Cons
Can fray fabrics sometimes
Can go dull
4. NEJLSD Dressmaking Pinking Shears
Although these scissors are not that famous in the market or used by a lot of customers, it certainly exceeded our standards and forced us to include them in our list of top picks.
Having a very durable build quality and the blades being built from stainless steel, these pinking shears are certainly top quality and have a long life.
However, the pinking shears are somewhat oversized, so you need to consider that in mind.
Other than that, they are quite creative and can be used to do a wide variety of cutting tasks, and are comfortable as well.
Pros
Durable
Stainless steel blades
Serrated blades
Sharp edges
Suitable for larger projects
Cons
Size is difficult to hold for smaller hands
5. Rovtop Stainless Steel Dressmaking Pinking Shears
These professional quality pinking shears offered by Rovtop are another major contender for providing the best quality scissors along with a decent amount of size and weight.
Although the product might be a bit sheer at the start, it gets loosened up with the course of time and becomes easier to use.
The package includes a pair of scissors and a crease ripper, which can be used for daily tasks for someone who stitches regularly.
With a thickness of 2.5 mm, the blades are pretty sharp and durable, providing you excellent quality work.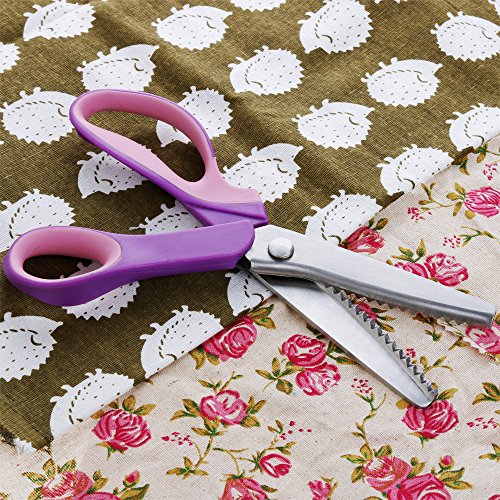 Pros
Durable stainless steel build
Easy to grip and use
Sharp blades
Cons
Stiff in the start
Hard to hold for left-handers
6. Allary Stainless Steel Pinking Shears
Allary pinking shears, as the name suggests, have quite effective sharp blades which are very suitable for heavier and thicker fabrics.
They do not cause even the slightest harm to the fabric while working, let alone with its fraying.
The structure of the handle is designed in an ergonomic way, which makes holding it very easy so you can work for long hours easily.
The blades, however, are not only sharp but long as well, so if you are limited to smaller projects and not really looking for bigger scissors, you might have some better choices.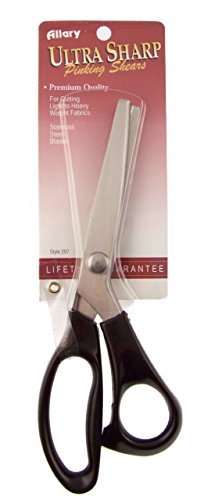 Pros
Lightweight
Features a ball bearing joint
Soft ergonomic grip
Stainless steel durable blades
Cons
Initially stiff
Doesn't cut very good towards the tip and handle
7. KimDaro Professional Dressmaking Pinking Shears
KimDaro is a top brand that has been making top-quality pinking shears for years now. This product by the company is one of their best, not just in performance, but in durability as well.
Coming with stainless steel blades, you will not only get sharp blades to work with, but they will also accompany you for a long time.
The handle is also professional-grade and provides you an ergonomic design, which enhances the comfort in your hand.
Pros
Soft grip handles
Multipurpose
Durable build quality
Lightweight
Sharp stainless steel blades
Cons
Edges can sometimes be left
8. Z-Color Pinking Shears for Denim
Another product which does not entirely apparent in the top picks by many customers but is nonetheless quite a useful product and is second to none.
Having an ergonomic design with an extremely easy to hold grip, you never tire out while working.
The blades are quite sharp and work best with hard materials such as denim or leather. In short, they provide great value for your money.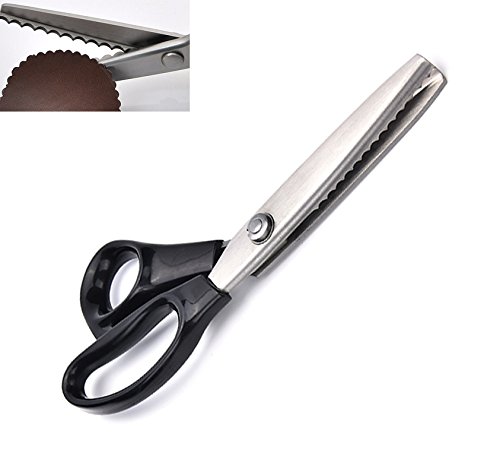 Pros
Best for leather and denim
Affordable
Ergonomic, comfortable handle
Sharp blades
Cons
Not the most durable
Blades can go dull
9. Premax 15276 Pinking Shears
Many people still fantasize about old-school classic design scissors. They were not only known for their durable build quality, but they also had extremely good results when used.
If you are also among such people, this model could be a very good choice for you.
Having a complete nickel layer and made from carbon steel, there is absolutely no question about their quality.
Although it costs a hefty amount, it certainly justifies the value of money both through looks and usage.
Pros
Classical design
Nickel-plated
Durable carbon-steel build
Suitable for small hands
Don't require much effort while cutting
Cons
10. Long Ying Soft Grip Pinking Shears
The company provides you a very good quality material along with top-notch performance.
Long Ying is quite known for its strict policy of product checking before shipping, so rest assured, you don't need to risk your money.
However, the scissors can be somewhat stiff for people with weak hands, but if you have strong hands, these are the best ones you can get.
Pros
Good after-sales service
Affordable
Comfortable
Cons
Stiff
Not suitable for young or very old people
Not the most durable
Frequently Asked Questions
As a beginner, it's completely fine to have some questions revolving around your mind when it comes to pinking shears. Let's answer some of the most frequently asked questions by beginners.
What is a pinking shear?
Pinking shears are essentially a special kind of scissors that only have one major difference, the blade. Unlike the regular blades in the regular scissors, the blades in pinking shears sawtooth blades rather than the straight ones.
Do pinking shears prevent fraying?
Yes, pinking shears prevent the fraying of the fabrics.
However, it depends upon the quality and the model of the product as well. If the blades are not sharp enough, the fabrics could get frayed.
Are pinking shears necessary?
If you need to decorate the trims or do the edges properly, they are almost necessary. So, make sure you have them while dressmaking.
How can you sharpen pinking shears?
There are different sharpening tools available in the market which could be used. Or, if you have aluminum, you can use it too for sharpening if the blades are not serrated.
How do you fix pinking shears?
Pinking shears could have two problems; either their blades are gone dull, or they have got loosened.
If they are full, read the above answer. If they are loosened, there is a screw where blades are connected, use it to tighten the blades again, and you will be good.
How to take care of pinking shears?
The first thing is not to frequently use the pinking shears on surfaces such as paper. Such things are bound to dull the blades of the scissor.
However, if the product you are using explicitly allows you to do so, then it might be okay. Secondly, dust them after each usage to keep the blades sharp.
Conclusion
As we saw, pinking shears are quite necessary if you are a dressmaker.
However, you should choose a suitable product according to your needs if you need to make the most out of it.
The article lists the top 10 picks for the best pinking shears you can get.
They are mostly similar, and all are top-quality ones; however, they differ in some aspects. So, go through them all and prioritize your needs to select the best one.
Read Also: