Whether you're a beginner in the sewing business or a pro, having a good quality iron is a must-have.
It's important simply cannot be argued upon, so if you don't have one, it's better to hurry.
The availability of so many models in the market is what makes choosing the best iron quite hard.
However, here we have our top 12 picks for you, which will save you a lot of time traversing through the models you won't bother buying.
Buyer's Guide
A minimal knowledge about the iron is required, and all its important features should be known in order to make the best choice from all these.
So, if you don't know already, here are all those features.
Weight
Weight matters a lot when you talk about the quality of ironing you get. A heavier iron will certainly get you a better job done.
However, you don't want it so heavy to get you tired in a minute. So, choose wisely according to your needs.
Power Cord
Many irons out there come specially built for people who are left-handed or right-handed, and the cord is positioned according to this.
Make sure you get the right one according to you, or it can become an issue while ironing. There are also cordless irons available, though.
Water Tank
Having a large water tank is very convenient as it can last a couple of days, and you won't have to bother refilling it multiple times.
However, a huge one could increase the weight a lot. So, choose according to your workload, the size which can last you over a day or two.
Heating Time
This is the time it takes the iron to be fully ready by getting all heated up to iron the garment.
A huge heating time could delay your ironing.
Hence, make sure the heating time is what you can afford. Ideally, it should not be any longer than 5 minutes.
Steam
This feature lets you iron heavy fabrics easily. The steam helps in making the creases much more easily than a regular iron would.
However, it's not really necessary if you're not dealing with heavy and tough fabrics.
Auto Turn off
A lot of times, people forget to turn their iron off after usage. It is disastrous, not only from the perspective of energy-saving but also in terms of safety.
As an iron which you didn't know was turned on, it could cause you or your kids a lot of damage.
So, if you're a careless person, buying an iron with this feature is highly recommended.
Top 12 Iron For Sewing Reviews
1. Sunbeam Hot-2-Trot Iron for Sewing
This product by sunbeam has all that it takes to become your everyday iron if you are into sewing.
One of the best features is it's extremely compact and lightweight so you can travel all you want, and it will be very easy to keep along and work.
The dual voltage system doesn't let you worry about low voltage, and the variable temperature setting gives you all control you want.
It is very comfortable to work with and makes your work easy through steam.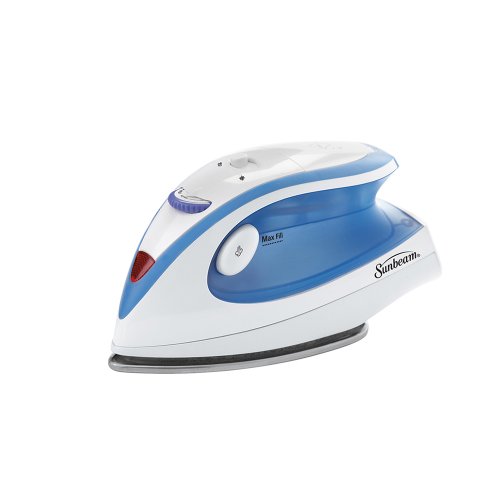 Pros
Dual voltage system
Gets hot quickly
Temperature control setting
Easy to hold and portable
Affordable
Cons
Water could leak sometimes
Can corrode internally
2. PurSteam World's Best Professional Grade Steam Iron
If your work mostly relates to heavy fabrics, which won't be done easily by using lightweight and portable irons, this heavy-duty iron could be a good choice.
With its powerful 1700 watts steam system, there no fabric. It's not effective. The ironing time is greatly reduced with this, and it's extremely safe to work with.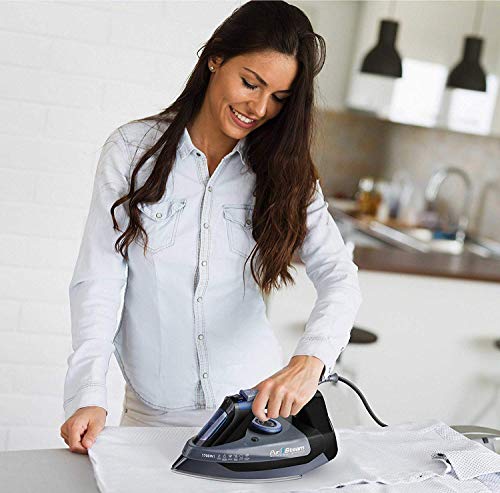 Pros
Very safe 3-way shut off system
Heavy-duty power
Variable temperature and steam control
Stainless steel soleplate
Anti-drip
Could see the water level
Cons
The dial is difficult to turn
3. Black+Decker D2530 Professional Steam Iron
Black+Decker has been known for the high quality it provides in when it comes to irons for years.
This model is no different and offers you matchless performance with a very high steam rate and a stainless-steel soleplate.
The build is heavy and durable, which is perfect for heavy fabrics. Don't worry about energy saving or safety as it has a 3-way shut-off system as well.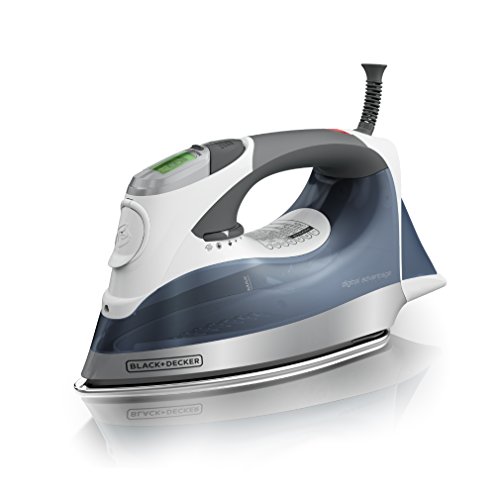 Pros
Variable temperature and steam controls
3-way shut off system
Stainless-steel soleplate
LCD to control; very easy
High steam rate
Cons
4. Shark Steam Iron for Sewing
Shark is another famous brand when it comes to high-quality irons.
This steam iron provides you a heavy-duty steam performance with 1500 watts, which could complete hours of your work in minutes.
The water tank has a lot of capacity, so you won't need to fill it up every other day as well.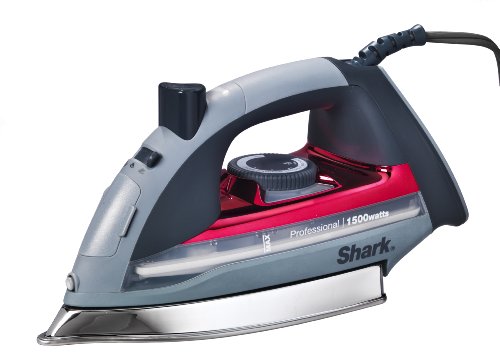 Pros
High-power steam
Huge water tank
Stainless-steel soleplates
Smooth ironing
Auto shut off
Cons
Makes sound while steaming
Could stick, no polish on plate
5. Steamfast SF-717 Mini Steam Iron
With an anti-slip handle that ensures a good grip on the iron and a non-stick soleplate, you can glide through the fabrics ironing them effortlessly in no time.
The build is durable, and the power cord is long enough to iron while being away from power sources. A dual voltage feature is available if you are short on power.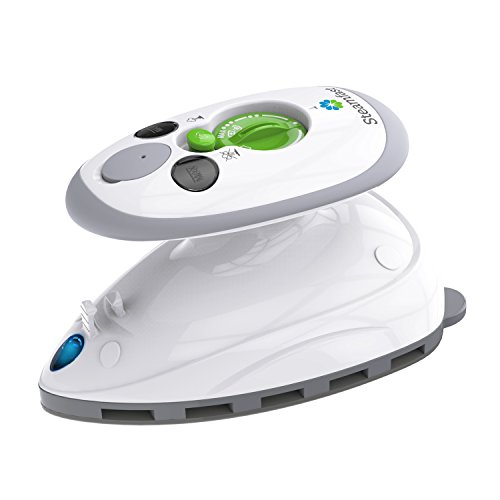 Pros
Non-stick plate
Starts steam in 15 seconds of starting
Dual voltage
Portable
Long power cord
Cons
Only three temperature settings
Makes steam in horizontal position only
Not suitable for heavy fabrics
6. IIMI Mini Steam Iron for Sewing
With quite less time to heat up, this iron will fulfill all your needs without being so heavy to not being able to be carried along when you set out on some journey.
The design is very compact, and the 560 watts steam is enough to eliminate wrinkles on most clothes.
Pros
Dual voltage
Compact and portable
Fast heat uptime
Powerful steam
Cons
Comes with no instructions
Temperature dial hard to use
Not the most durable
7. CHI 13102 Steam Iron for Sewing
This product by Chi is often rated as being the best all-rounder of irons.
With a high power of 1700 watts, it's capable of dealing with the heaviest fabrics without any issue, and the retractable cord is very convenient to use.
The build quality is top-notch, complemented with a really tight grip, which makes the ironing quite easy.
The steam is adjustable, which is quite easy to use, and the tank doesn't require to refill much often.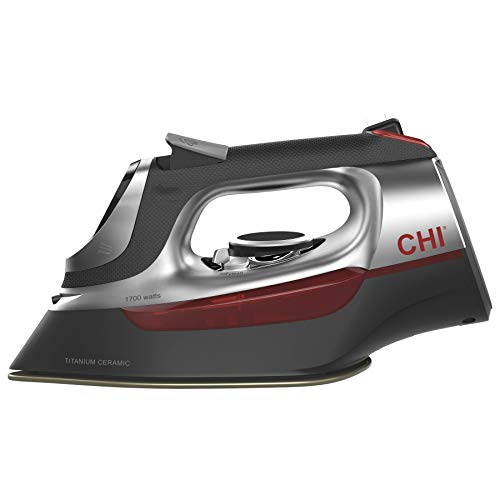 Pros
Retractable cord
Titanium and ceramic soleplate
Tight grip
Temperature and steam easy to control
400 steam holes
Cons
Steam generated is uneven sometimes
8. Oliso Pro TG1600 Smart Iron for Sewing
Having all the important features such as a high-quality soleplate and an automatic shit off, this model has a powerful 1800 watts steamer that doesn't leave any curls in the fabric no matter how tough they are.
Using the iTouch technology, the iron prevents any burns or scorching, so be assured in that matter.
The two-inch tip makes it easy to iron, and you can reach even the tiniest corners.
Pros
No burns or scorching
Chromium finish in the soleplate
Automatic shut off
High power 1800 watts
Sharp tip to reach corners
Cons
Difficult to empty tank
Steam is not as good considering 1800 watts of power
Expensive
9. Singer Expert Finish Iron for Sewing
The singer is a major brand when it comes to such accessories, and this product carries the legacy on.
Being very durable and effective in ironing, it comes with 1700 watts of power and a durable build, which goes on for a long time.
The availability of an LCD makes the setting of temperature and steam really convenient, and the self-cleaning system of the iron protects your fabrics from impurities.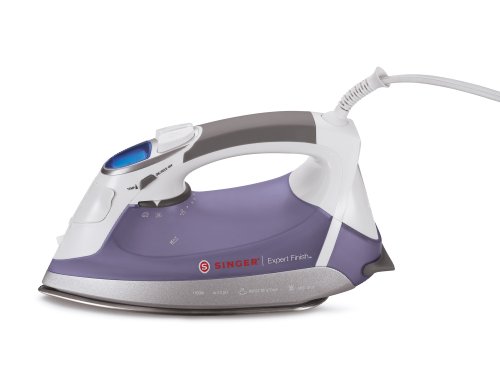 Pros
Easy temperature and steam setting through LCD
Self-cleaning system
Anti-drip
Auto shut off
Powerful heating and steaming
Durable construction
Cons
Only 23 steaming holes
The power cord is short
Could leak sometimes
10. Rowenta DW6080 Eco-Intelligence Steam Iron
While you may expect a high power usage through its 1700 watts rating, it actually preserves energy through its power-saving feature, which gives you heavy-duty performance while not costing you much.
The build is durable, and there are all important features such as auto shut off and a tight grip.
Moreover, you can also iron vertically with this, and the steaming would work just as well.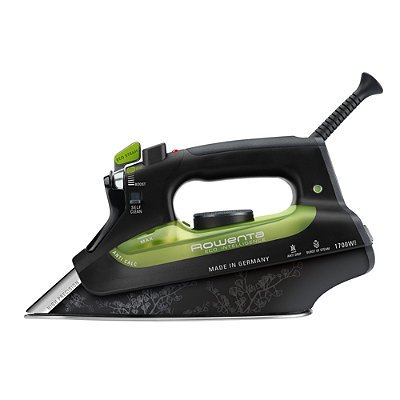 Pros
400 steam holes
Good grip
Energy saving
Anti-drip
Automatic shut off
Vertical steaming
Cons
No polish on the soleplate
Only three steam settings
11. Oliso M2 Pro Mini Project Iron
While being quite compact and easy to carry, this product by Oliso performs just as well as the heavy ones when it comes to ironing.
Having a 1000 watts of power and a fabric selector, you can do your work in a very efficient and effective manner.
Solemate doesn't let your fabrics scorch or burn even if you leave the iron face-down.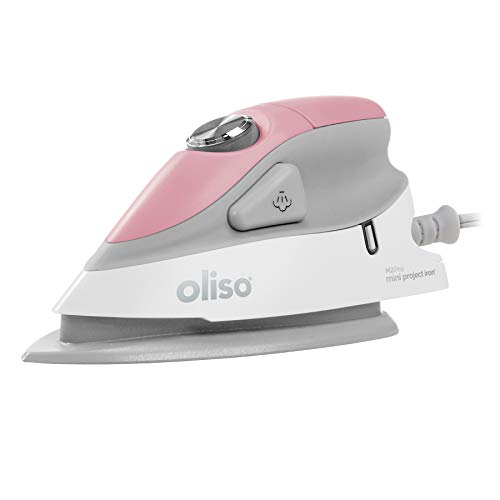 Pros
Diamond-coated ceramic soleplate
360 degrees cord
1000 watts power
No leaking issues
Heats quickly
Fabric selector
Cons
Handle gets hot
Expensive
No steam
12. Smagreho Mini Travel Steam Iron
Heating up in a short time of 15 seconds, this iron is very compact but packs a lot of features.
There is dual voltage, and an anti-slip handle for easy ironing, and the soleplate is made from Teflon, which makes it a complete non-stick, making your work easy.
The company provides good customer support in case you run into any trouble after buying, so don't worry about it.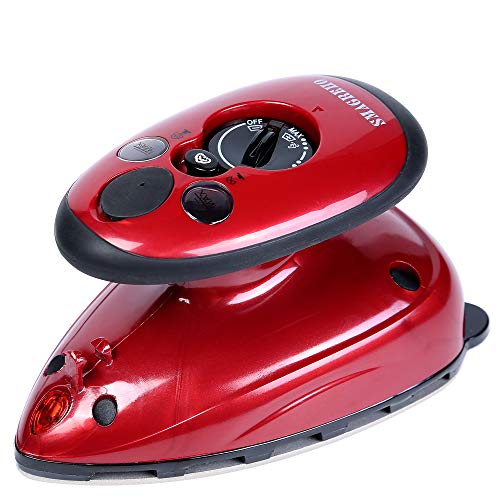 Pros
Fast heat-up
Non-stick Teflon covered soleplate
Dual voltage
Anti-slip handle
Portable
Cons
Three temperature levels only
One steam level only
Not suitable for heavy fabrics
Frequently Asked Questions
Let's see some of the most frequently asked questions by the beginners. They will surely have popped up in your mind at some point in time as well if you're also new to this.
Should I buy an iron with a large water tank?
If you pile up a lot of clothes to be ironed together, having an iron with a large tank is better, so you don't need to bother about filling it up; otherwise, a small tank will do.
Should I prefer an iron with an LCD?
Yes, you should. It makes the control of temperature and steam much easier.
What material Soleplate is best?
Non-stick plates are the best for ironing. Stainless steel plates are also good for durability; however, they may tarnish after some time after they are not polished, so make sure of that.
Why is the tip so important?
The tip is really important in an iron. It helps you reach corners or places that are very thin. Such as small pockets or making tiny creases.
Are portable irons good for heavy fabrics?
Portable irons are usually compact and lightweight and don't come with a lot of power rating. So even if they are pretty effective and make lots of steam, they are not very good for heavy fabrics.
What are the features to get in iron for sewing/quilting?
The iron should be able to handle all types of materials and have a wide range of temperature and steam controls. The tip also needs to be thin.
What is iTouch?
Its feature which prevents scorching or burning of fabrics when left upon them face-down. You can easily lift or make the iron go down with a single touch without much effort.
Can I fill the iron tank up with tap water?
While some models have auto-cleaning where you can add tap water, it's not usually recommended as tap water can contain minerals that could affect your fabrics.
Conclusion
After viewing all of the above-mentioned products, you should now be pretty clear about which iron to buy for sewing, having your personal preferences in mind.
Remember that all of them are top models and differ from each other in minor ways, so whatever you choose, you won't end up regretting it.
Read Also: