Needles are undoubtedly amongst the most important factors you need to focus on if you need to give your fabric the best shape.
Needles are highly underrated, and people do not choose them wisely, resulting in bad quilting.
There are certain factors that need to be taken care of when buying yourself the best hand quilting needles.
However, markets are so flooded by needles that they sometimes become hard to choose the best one.
This article will help you get a start within no time. So, let's get on!
Buyer's Guide
If you're also a novice to hand quilting or have never brought a needle for it, you probably don't have enough knowledge to differentiate between needles.
So, here are some points which you should always consider before buying a needle for hand quilting.
Material
This refers to the material from which the needle is built. They are usually made out of platinum, carbon steel, or some alloys.
There is also a metal coating on the top layer to make the surface smoother while working.
So, make sure the needle is built from either of these materials so that the needle doesn't break often, and the metal coating is present as well.
Shape
There basic shape of needles is all the same. However, there are some features of the body that make some needles different from the others.
Different needles having different shapes are used while doing different types of jobs, so make sure you know your project before buying the needle.
Eye Size
This refers to the hole in the needle in the starting, which is used to attach the needle to the thread. The bigger the hole is, the easier it is to make the thread pass through.
Needles with thicker eye sizes are usually preferred if you are dealing with thick thread.
Needle Length
Surprisingly, the length of the needle is not measured in a straightforward way.
It is rather measured in a backward way, which means that if the length is greater, the needle is smaller.
The usual sizes revolve around 8, which are recommended for beginners. The range, however, is 3 to 12.
Sharpness
This is a very important factor when it comes to hand quilting. The edge of the needle where you push the needle through ranges from blunt to sharp.
Sharper it is, easier it is to make it pass through the fabric. However, it should always be preferred to get a sharp needle for hand quilting to make your work easier.
Number in Pack
There is a huge variety of how many pieces of needles come in a single pack. If you're a beginner, needles may break often, and moreover, needles also go blunt in some time.
So, always compare packs of needles depending upon the pieces in the pack and not just the price.
Top 10 Hand Quilting Needles Reviews
After carefully reviewing a huge number of available needles in the market, and checking each of their features, we have made a list of the top 10 needles according to our review and the customers who had used them before.
1. Colonial Needles 58912 62E Jingle Bells
Colonial Needle is one of the top brands when it comes to top-quality needles.
Although these needles are not cheap and come in quite expensive, they highly justify their price, and customers who have used them mostly referred to them as the best they have ever used.
The pack comes with all the needles of the same size, so for different sizes, you will have to buy multiple packs.
The shape is perfect for easy penetration, and the body is also quite smooth, with a fair-sized eye to make threading easier.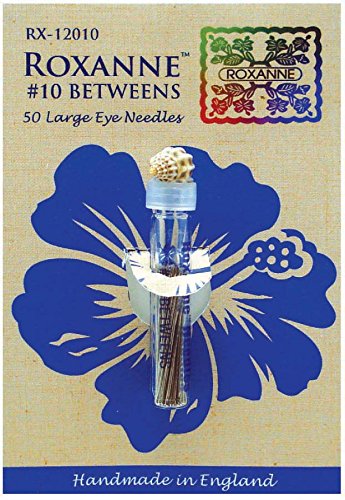 Pros
High-quality material
Smooth coating
Large-sized eye
Very durable
Cons
Expensive
The pack comes with all the same sized needles
2. Big Eye Hand Quilting Needles by Bohin
Amongst one of the lesser-known quilting needles, here we have the big eye needles which are manufactured by Bohin.
Although it's not used by many people, the people who have bought it were extremely satisfied with the quality it provides and the size of the eye, which doesn't let you tire a lot while quilting.
Coming in a size of 10, these needles come as a pack of 20, which are suitable for the beginners as well as amateurs.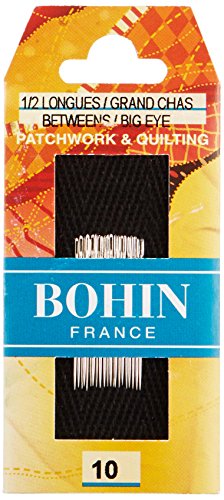 Pros
Very big eye; easy threading
Very easy to sew with these
Sharp
Cons
Though eyes are big, they are not as big as advertised
3. John James Big Eye Needles
Another top-of-the-line product, also coming from Colonial Needle.
Carrying forward the legacy of the manufacturer, this needle also performs flawlessly and comes under the hood of the most premium needles you can find.
Coming with a size of 11 or 10 and 12 pieces per pack, the size is not so much recommended unless you're not a beginner and know what to do.
With a big eye, you can ensure you never run into any problem when threading whatsoever.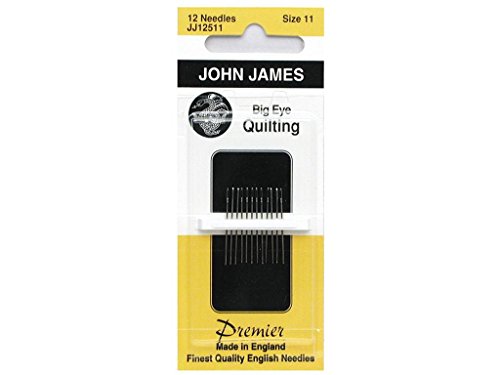 Pros
Big eye
Affordable, relative to Colonial Needle products
Rarely break
Durable
Cons
The packaging is not good; needles can be lost once opened
4. Sewline THN-005E Tulip Quilting Needles
Coming in a package of 6 needles, this is a product of Sewline and is amongst the top-rated needles on Amazon.
Each customer who has used it in the past or is using it currently was extremely satisfied with both the durability and ease of use of this product.
The flexibility makes it last much longer; however, the pack is only six needles are sometimes not enough. The coating makes the needle run through the quilt easily as well.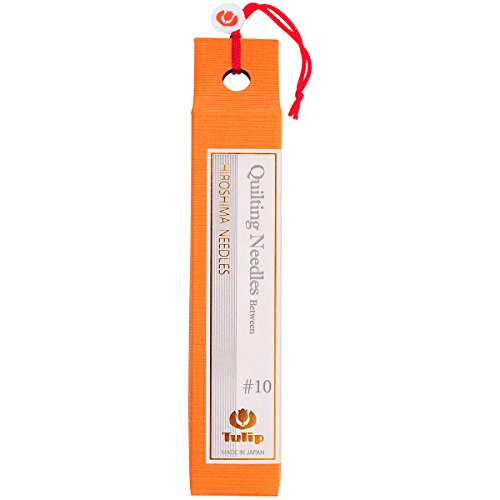 Pros
Flexible
High-quality material
Warp resistant
Durable
Cons
The eye is not very big
The number of needles in the pack is not enough
5. DMC 1766-8 Hand Quilting Needles
Manufactured by the famous brand DMC, which is known for creating high-quality needles, which are cheap as well.
These needles are also no exception and are very fine.
The nickel coating makes the needles durable and easy to use while the size is also quite easy to work with, especially if you are a beginner.
With 20 needles per pack, you don't have to worry about losing a needle and keep quilting without a break.
Pros
20 needles per pack
Nickel coating; smooth and easy to quilt
Reasonable size
Cheap
Very highly rated
Cons
6. Piecemakers Quilting Needles
Piecemakers Betweens needles are specially designed for hand quilting and made in a way that it is very easy to make them go through the fabric without putting in the least effort.
If you want to work for long hours and don't want your needle to break soon, this model can be your best choice as the materials used to design it can withstand quilting for a long period of time.
The eyes do not get clumsy so easily, so you will never have a hard time while threading the needle.
Pros
High-quality material; durable
Very sharp needles
Clean eyes
Cons
Eyes are not very big
There have been reports of deteriorating quality recently
7. Tulip Long Sashiko Needles Assorted
Another product comes from the same maker Sewline. These needles are not only suitable for hand quilting, but they can also be used for yarn embroidery and candle wicking.
The fact that they're multipurpose makes them a great deal, combined with the sharpness and ease they provide in going through the fabric.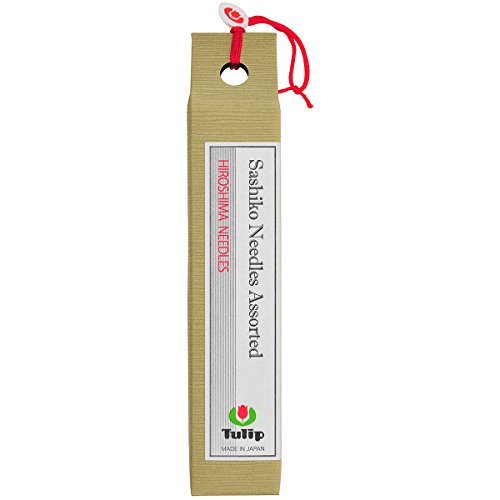 Pros
Very sharp
Multipurpose
Three different sizes in one pack
Don't break easily
Cons
The pack only contains six needles
Small eye
8. Fons & Porter 7746 Hand Quilting Needles
Fons & Porter has manufactured these 7746 hand quilting needles, especially for beginners, as they are extremely easy to use and moreover, have a needle grabber, which makes the work further easy.
Coming in various sizes, it has a total of 20 needles, which are more than enough even if you lose some of them; you will be good to go.
The nickel plating makes the needles more durable, and you get different sizes of needles in each pack.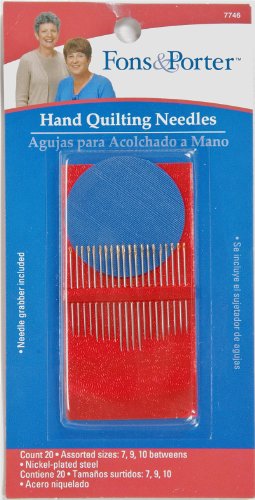 Pros
Different sizes in one pack
20 needles in one pack
Contains a needle grabber
Reliable nickel-plated steel
Cons
Small eye
Not so easy to hold due to size
9. Dritz 56B-7 Between Hand Needles
Just like the previous product we reviewed, these also come in the packaging of 20 needles. However, there is just a single size available in each pack.
These 20 pieces, however, come in with quite an affordable price tag and one of the finest European qualities.
The metallic construction promises durability while the small and sharp structure of the needles make them pass through the fabric effortlessly.
The eye, however, is not very big, so threading might be somewhat difficult.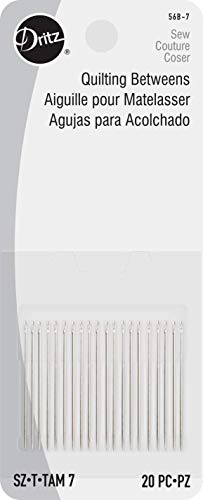 Pros
Cheap
20 pieces per pack
European quality; strong build
Durable
Cons
Only one size per pack
Small eyes
10. Colonial Needle Quilting/Between Hand Needles
Coming in various sizes in just a single pack, this pack carries diversity as well as quality. The brand name, along with promises of high-quality structure and the material used.
The quantity is also more than enough, even if you lose needles frequently.
Featuring metallic construction, these are made in the UK so you can rest assured as they will be very durable.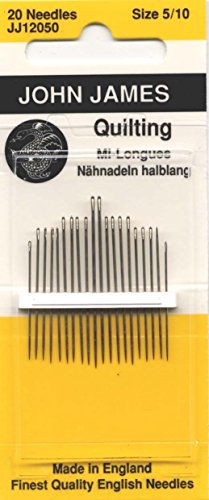 Pros
Sharp hence easy to work with
Different sizes in a single pack
20 needles in one pack
High-quality material
Very durable
Cons
Frequently Asked Questions
Being a beginner, you often are confronted by some questions in your head, which are not very hard but need some research.
So, for your ease, we have collected some of these questions here.
What size needle is best for hand quilting?
This totally depends upon personal preference, and different people are comfortable with different needle sizes.
However, beginners should use a size of around 8, as others are relatively harder to use.
How do you start hand quilting?
First off, you need to have a suitable needle.
Then you will thread the needle by passing it through the eye of the needle, the small hole in the needle. Use a size around eight if you're a beginner as it's easier to use.
Use a firm push of your finger to push the needle through the quilt layer and keep repeating. Remember to push the needle straight, or the needle might bend and break.
Should I quilt by hand or sewing machine?
This entirely depends upon your personal preference, and while using a machine will get the job done in much lesser time, you can be much more creative by doing it with hand.
Can I use any needle for quilting?
Well, you can technically use any needles, but it will be very hard.
So, it's recommended to use sharper and needles with rounded points for quilting. Usual ones will be hard to push through and break very often.
Can you quilt leather with quilting needles too?
Glovers needles are preferred to work with leather, but if you have a minimal amount of expertise, you can also use the usual hand quilt needles to work with leather as well.
Why are some hand quilt needles polished?
The polish done on the surface of the needles are to give them smoothness. This lets them pass through the quilt layers without putting in much effort.
Should the eye of the needle be big?
The size of the eye should be according to the thickness of the thread. If the eye is smaller than the thread's thicker, it will take you ages to pass the thread through the needle.
However, the eye should not be very big to become an obstacle to quilting.
Conclusion
In the article, we have comprehensively discussed our top 10 picks for the best hand quilting needles along with their respective pros and cons.
However, each person has their personal preferences, and it is suggested to make the final choice based on them.
Make sure you study the points to consider before buying as well.
Read Also: