If you are a cosplay enthusiast, you must be aware that your costume's quality, design, and creativity are the most important aspects.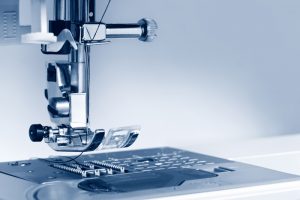 After all, no one will be able to recognize the Joker without his famous purple suit or Elsa without her glittery blue gown.
Attention is in detail, and without a good sewing machine making a high-quality costume can be a tedious task.
No need to worry, however, because you can make such eye-catching cosplay costumes too with the right sewing machine that is and this article will ensure that you find the most suitable option in no time.
I will be dropping my top picks as well as a buyer's guide so you can get your hands on the best sewing machine for cosplay.
Top 9 Sewing Machines for Cosplay Reviews
As promised, here are my top picks that, in my opinion, are possibly the best sewing machines for cosplay in the market.
Each product has been reviewed in detail so you can become aware of any pros and cons so you can have a good experience.
1. Brother XM2701 Seight Sewing Machine for Cosplay
This mechanical sewing machine is truly one of a kind. I doubt you will find a sewing machine with such an outstanding performance at this price point.
You get the best of both worlds in the brother XM2701; it's simple to use yet offers features that make it versatile to quench any expert's thirst for complexly designed cosplay costumes.
It has 27 built-in types of switches, with 20 decorative stitches and an auto-size buttonhole stitch for those costumes that need lots of buttons and details.
The top drop-in bobbin and automatic needle threader make sewing even more convenient. It's difficult to find a fault in this sewing machine; it's just that good.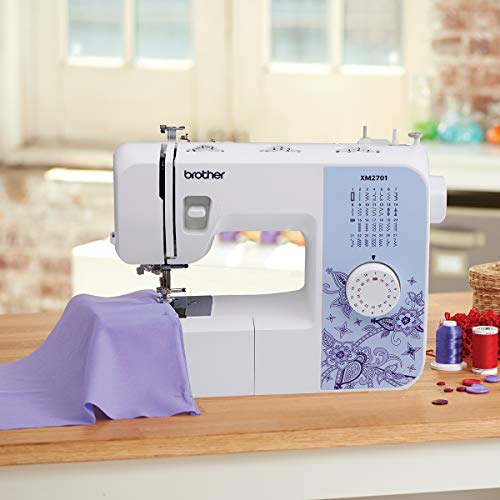 Pros
Lightweight
Easy to use
Versatile
Cons
Dim Led Light
Comparatively noisy
2. SINGER 1304 Cosplay Sewing Machine
Have you recently jumped on the cosplay bandwagon but want to upgrade to a sewing machine from hand sewing? I have the perfect option for you!
The Singer Start 1304 is simple enough for any cosplay tenderfoot whose just starting. It offers six basic stitches, is easy to use, and is durable enough to handle any mistakes.
While you won't be able to do any decorative stitches with this sewing machine, I find that the full metal internal structure and user-friendly design make it ideal for beginners.
On top of that this machine is light in weight and portable so you can take it anywhere you want.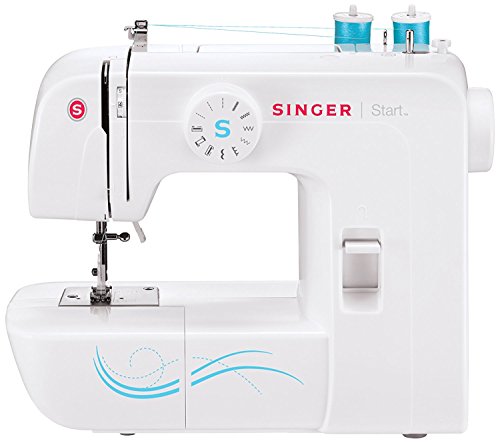 Pros
Simple to use
Durable
Lightweight
Cons
Limited stitch options
Slow speed
3. Brother XR9550PRW Cosplay Sewing Machine
When a sewing machine offers 165 built-in stitches, 110 decorative stitches, and eight styles of auto-sized buttonhole stitches, you can be sure to let your creativity run wild.
This sewing machine won't hold you back, no matter how complex your costume design is.
The drop-in bobbin, automatic needle threader, and built-in LED lights make the task of sewing so much simpler.
This computerized machine may require some getting used to if you're new to using this type; however, the interactive LCD and user manual are going to make things uncomplicated and easy to learn in no time.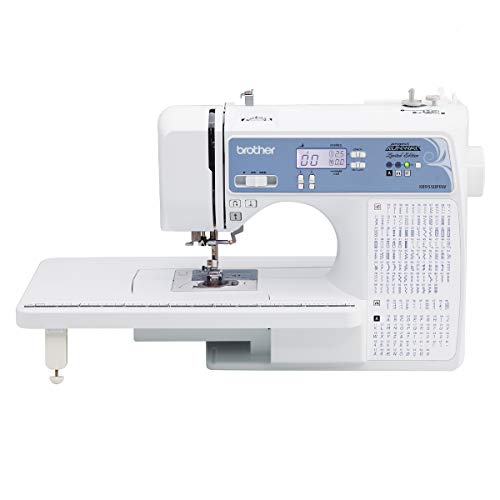 Pros
Versatile
Lightweight
Convenient
Cons
Not for thick fabrics
Difficult to clean
4. SINGER 2277 Sewing Machine
What's not to love about a mechanical sewing machine that offers you a variety of options of stitches and customizable settings that are can be changed with the help of simple knobs.
It has 97 stitch options, an automatic 1-step buttonhole, and the ability to let the user adjust stitch length and width.
The free arm feature lets the user sew hems and cuffs, a staple in almost every costume, with ease. Add a built-in needle threader, and you save yourself a lot of time because you don't have to do it manually.
The storage compartment is an added plus so you can keep all your sewing supplies in one place instead of scrambling to find them at the last minute.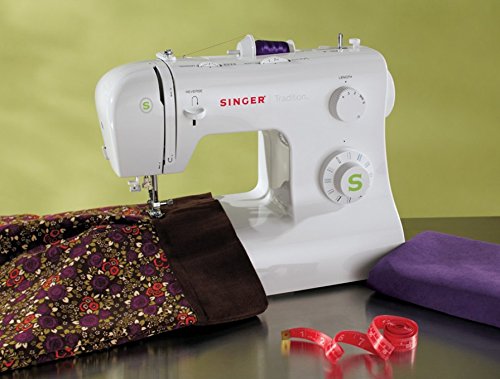 Pros
Easy to use
Heavy-duty
Lightweight
Cons
No written description
No invisible hem option
5. Brother XR9500PRW Project Runway
Imagine what one can do with a machine that can sew 1300 stitches per minute.
This sewing machine isn't just high performance but also has metal framing making it much durable.
The manufacturer's kept the convenience of the user in mind as it comes with a straightforward coded thread guide.
You won't have a problem using this sewing machine if you read all the instructions thoroughly.
Embellishments are a staple for any eye-catching costume; this sewing machine will make these tasks super easy thanks to its built-in features.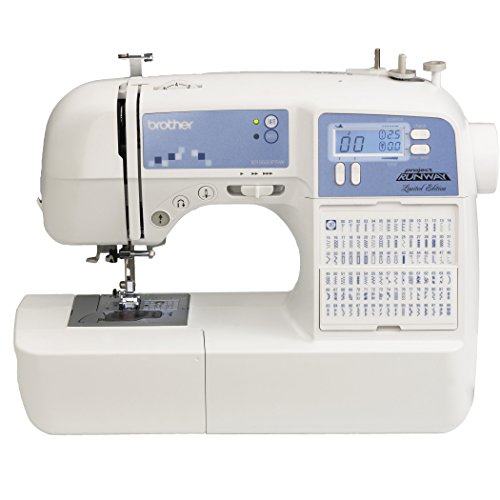 Pros
Heavy duty
Convenient
High speed
Cons
Noisy
Not ideal for multiple sewing layers of thick fabric
6. SINGER 7258 Computerized Sewing Machine
A lot of people prefer Singer sewing machines because of their legacy long high performance and quality sewing machines.
This particular model will not disappoint as it offers the same great performance but with a whole lot of features to make sewing costumes even easier.
The built-in needle threader, see-through top drop-in bobbin, and a bright LED light to make working in low light hassle-free are some of the great controls that make all sewing projects run smoothly.
You may feel like the plastic exterior gives the sewing machine a cheap feel; however, it also makes it lightweight and portable.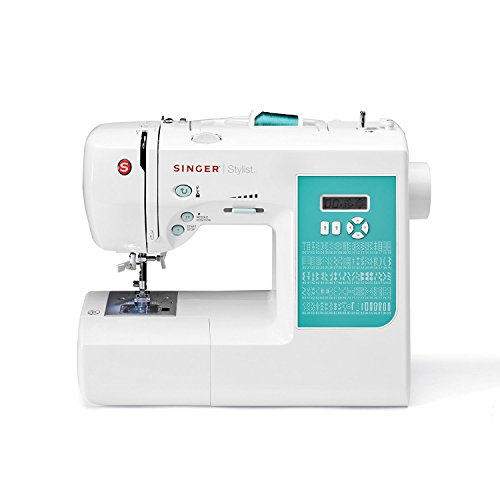 Pros
Multi-purpose
Easy to use
Adjustable speed
Cons
Short pedal cord
Plastic exterior
7. Janome 2212 Sewing Machine
Janome 2212 sewing machine stands out due to its simplicity.
If you are not a fan of computerized sewing machines and prefer an option that has all the basic built-in stitch types along with a user-friendly design, this is the right option for you.
It is economical and lightweight, making it perfect for all those cosplayers that like to travel with their sewing machines and don't like overly complicated sewing machines.
The metal framing makes it durable and worth it. Be warned.
However, you might face some jamming problems, so if you're somebody who doesn't mind getting their hands dirty, this is the option for you.
Pros
User friendly
Adjustable
Lightweight
Cons
Difficult to use the bobbin
Thread gets stuck easily.
8. SINGER 9960 Sewing Machine
Need to make a costume for a cosplay party tomorrow? No issues. This sewing machine with a maximum speed of 850 stitches per minute will make it possible.
This machine can do anything; it has 600 built-in stitches, which include five alphanumeric fonts, and 13 built-in step-1 buttonholes features, and even a stitch elongating feature.
No matter how complicated your costume is, thanks to this sewing machine, even the impossible is possible.
But all of this comes at the cost of you learning how to work it first.
Pros
High-quality stitches
Versatile
Good speed
Cons
Complicated to use
Thread cutter jams
9. Brother CS6000i Sewing Machine for Cosplay
This machine embodies convenience and can be a lifesaver for anyone starting their sewing journey.
It ensures that you have the most comfortable experience, thanks to the drop-in top bobbin and automatic threader. The built-in stitches and a wide table allow for working on projects of all sizes.
The sewing machine produces well-defined stitches that don't pop out easily, which is a must for cosplayers, so you don't have to face any embarrassment later.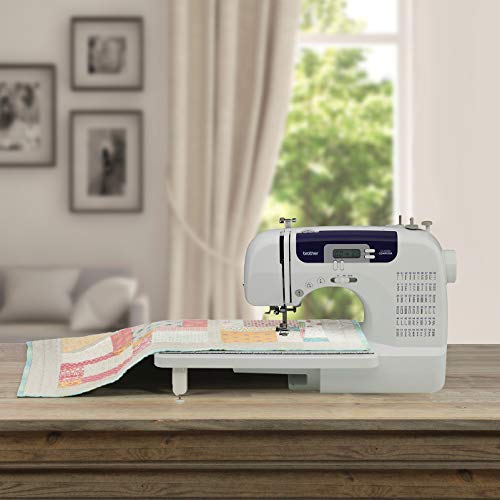 Pros
Easy to use
Portable
Multi-purpose
Cons
Max speed can cause the thread to come out.
Expendable needles
Buyer's Guide
Getting a sewing machine is an investment, so ideally, you should pick an option that will not only last you for a lifetime but also provide you quality performance and time efficiencies.
I have already discussed my top picks but choosing the right sewing machine for your specific needs calls for some key considerations that can ensure that you have a satisfactory experience.
With the help of this buyer's guide, you can choose the sewing machine for cosplay that is catered around your personal preferences and needs best.
Mechanism
Before you even start, decide on what type of sewing machine you want. Think about whether you will be more comfortable using a mechanical or computerized sewing machine.
Each option comes with its own set of benefits and limitations.
The mechanical sewing machines are far more economical and have been on the market for decades, so you will find lots of resources online and in libraries to help you out.
They are simpler to use, and you can choose from a variety of preset stitches by adjusting settings easily.
In comparison, electronic sewing machines are fairly new to the market and have a built-in computer that gives you the advantage of using different types of preloaded stitches, which can also be downloaded if you want more options.
Generally, computerized sewing machines offer better quality sewing and versatility; however, there is a learning curve.
You will need to spend some time getting the hang of the different controls and features.
Speed
Checking the maximum sewing speed is a no-brainer, especially if you tend to work on large projects.
A sewing machine that has a good speed can be a life-saver; you will be surprised just how fast you can work with the right sewing machine.
Maximum speeds can vary from 400 stitches per minute to much higher, like 1150 stitches in a minute.
You should pick an option that has a maximum speed that you are comfortable with according to your level of skill while also increasing your productivity so you can finish making your cosplay outfits way before the deadline.
Size
The size of your sewing machine isn't all that important unless you have storage issues or restricted working space.
If you are someone who likes to visit comic-cons and other cosplay events often and would prefer taking your sewing machine while you're traveling, take into account the size and weight so you don't face any hurdles later.
Additional features
For cosplay and costume-making, having a machine with various types of stitches is pertinent.
Make sure that the sewing machine you pick can work with different materials and types of stitches.
While your focus must be on the basic stitches offered as they are the most commonly used in cosplay making, additional specialized stitches will only make your costume look more professional and high quality.
The number and types of needles used is another factor that you must consider as cosplay making requires using all kinds of fabrics, from leather to synthetics.
Check if you will need to buy separate needles for your sewing machine and their availability before you decide.
Frequently Asked Questions
Do you still have some lingering questions related to the best sewing machines for cosplay?
No worries, here are answers to some of the most frequently asked questions that may clear any left doubts.
Can all sewing machines sew leather?
Most good-quality sewing machines can sew leather; however, you will need to make a few modifications to make the process easier for both your sewing machine and yourself.
Can a regular sewing machine sew vinyl?
You can sew vinyl with a regular sewing machine, but you may risk damaging the machine if it's too thick.
What size needle should I use in my sewing machine?
This is dependent on the weight of the fabric or materials you are using.
For medium-weight fabrics, a universal needle (80/12) will work, whereas for materials like vinyl needle size of 19/40 is better.
Do all needles fit all sewing machines?
While most regular sewing machines can function with all needles, specialized options such as embroidery sewing and overlock machines have specific needles.
What sewing machine do cosplayers use?
The different sewing machine options mentioned above are all cosplayer favorites. Each sewing machine offers versatility, high performance, and productivity, unlike any of the rest.
What kind of thread do you use for vinyl?
All-purpose polyester threads work fantastically well with vinyl.
Conclusion
I hope the buyer's guide and list of reviews provided you with the guidance, advice, and tips you were looking for.
If you still can't decide on a sewing machine for cosplay, you can settle the confusion by testing out the sewing machine yourself or going through the key considerations mentioned in the buyer's guide again.
Remember, the right sewing machine can make your cosplay projects a lot more fun and easy, so pick carefully.
Read Also: