Whether you are into sewing, or you like cross-stitching, or maybe if you just like string arts, you would definitely need a packet of embroidery floss.
But keep one thing in mind, it is not as easy as just going out there and purchasing a string. You need to know a few things before doing that.
That's why we have a guide that talks about the best embroidery floss that you can buy. Enjoy the read!
Buyer's Guide
For the sake of making your purchase right according to your needs, it is very important to know the basic features that are common to all the embroidery flosses out there.
After studying them, you will know which ones you want from your product.
Types of Floss
There are many different types of flosses, and the one that you purchase will depend upon what you want your finished product to look like.
There is cotton floss, variegated floss, light effects, metallic floss, satin floss, silk floss, and pearl cotton.
The kind that you purchase will depend upon the desired effect and the cloth on which you are using it.
Storing Floss
Almost every package comes with hundreds of spools of embroidery floss, and you will definitely need to store them all somewhere.
If you don't store them properly, they will all have knots in them.
It is better that you purchase a set of flosses that offers some way to store your floss, like a package.
Or at least it should have bobbins that you can wrap the floss around. That will save you tons of time.
Number of Skeins
By a number of skeins we mean, how many little strands of thread come together to make one piece of floss. The more the skeins, the thicker the floss will be.
Make sure that the floss you are purchasing has skeins that are tightly intertwined.
Otherwise, the piece is just going to fray, and your work will end up looking really ugly. So make sure you check the quality before purchase.
Color
Some colors are used more than others. But many packages have every color in the same amount.
You can purchase a set that has one color in more than one number of spools. This way, you will have more to go around.
Top 10 Embroidery Floss Reviews
Moving on, we will be analyzing different products available in the open market. As soon as you step inside the market, there will be many options that you would have to choose from.
To make your work easier, we have added the best options available, and their pros and cons have also been mentioned for the sake of easy comparison.
1. Qici Embroidery Multi-Color Floss
Made of polyester, the Qici embroidery floss is smooth, soft, and silky. You will have one hundred different colors that you can use.
Unlike other companies, Qici offers floss that is one hundred percent made of cotton. Moreover, there is a wide range of applications that this floss has to offer.
Not only is the touch soft, but the floss itself is also unbreakable. You will see that the color does not fade, even after lots and lots of washing.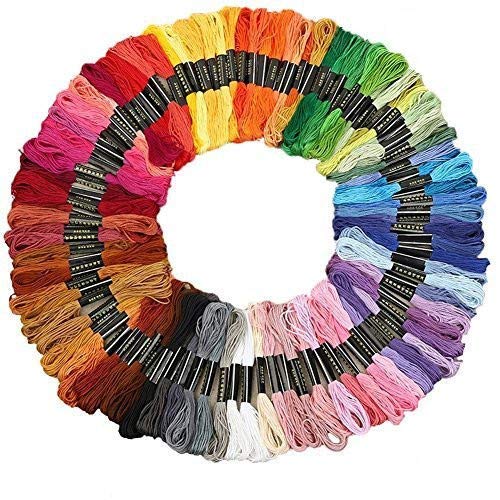 Pros
100% percent cotton
Durable
Color doesn't fade
Soft to touch
Cons
Some colors repeat
Gets tangled easily
2. Le pain Thread Embroidery Floss
With this package, you will be getting 240 pieces of thread.
Also, there are 120 different floors, which means you can have more than one Bunch for every color.
Let me tell you the advantage here, other companies make more impractical colors repeat, but with a pack of 120, you will have every color that you need.
Floss included in this pack can be used for many applications like cross-stitching, tassel, string art, DIY projects, etc.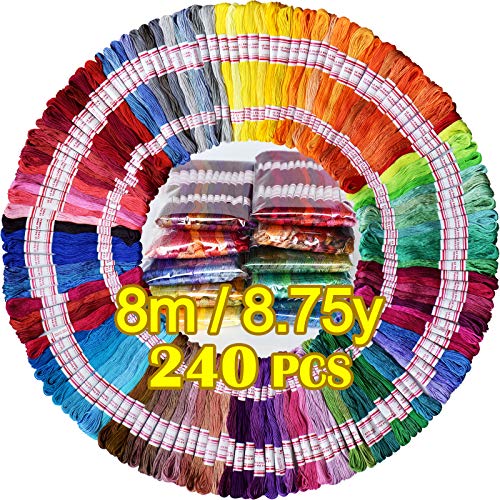 Pros
Wide range of colors
Colors don't repeat
Many applications
Two of each color
Cons
Not very silky
Some colors miss hues
3. Mira Handcrafts Rainbow Colored Embroidery Floss
Are you in love with string arts? And are you also looking for some really creative hobby? Then it is best to purchase the Mira handicrafts embroidery floss.
Use them for yourself or give them a really good gift package. You will get the thickest and most durable string in one package.
The strings are made up of 100% cotton, and they are durable.
Every skein is eight meters long and made out of six strands. Moreover, ten needles and a threader are also included in the package.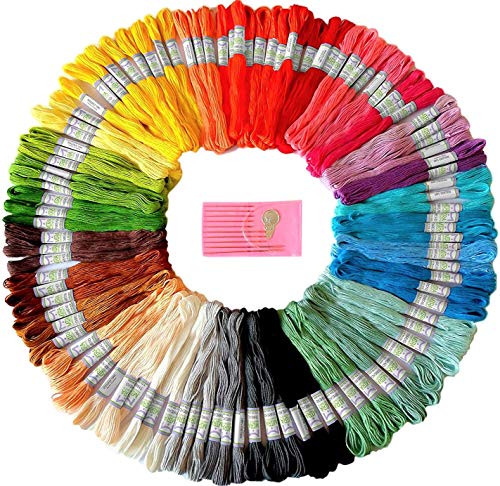 Pros
Needles included
Threader included
100% cotton
Long skeins
Cons
4. Bymore Embroidery Thread Floss
Are you tired of having your floss everywhere? Thank goodness this kit comes with a pack in which you can store every single one of your threads separately!
There are 200 colors, and exactly the same number of compartments in every pack. Moreover, the package includes 30 embroidery needles, four cross-stitch needles, and two thimbles.
The pack is easy to carry, and it is transparent. The flosses are wrapped around bobbins, so they do not go anywhere.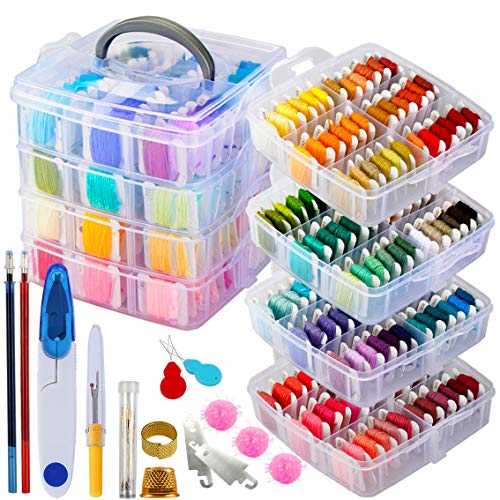 Pros:
Comes with package
Transparent package
Floss has bobbins
Many accessories included
Cons
The plastic case is fragile
Case hard to close
5. Le PAON Rainbow Colored Embroidery Floss
Everywhere else, you will be getting one floss of every color.
What should be understood is that some colors are used more than the others, like black, white, and other transitional ones.
Le pain will solve your problem, as it has fourteen threads that are very useful as the in-between colors. Every strand is 8.18 yards, and six strands are intertwined to make one thread.
Now you can use all these colors for various projects like friendship bracelets, hand embroidery, tassels, or DIY projects.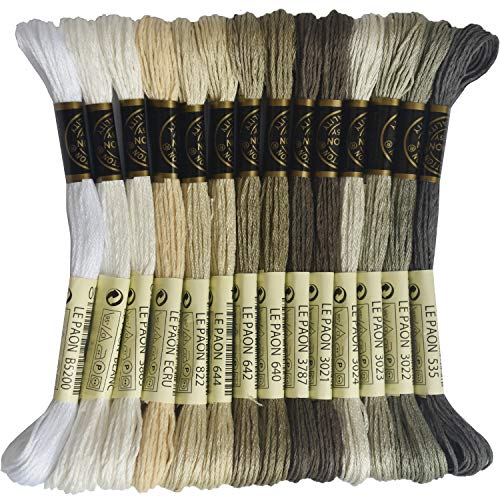 Pros
Includes most used colors
Fourteen threads
Meant for all kinds of projects
All kinds of colors
Cons
Not DMC
Strings have knots
6. LePAON White Embroidery Floss
Sometimes you just need a floss that doesn't have all that fancy stuff. Just a simple white thread will help you get all your jobs done.
Most of the time, these other brands don't even have the colors that you need or the ones that you need to run out soon. You can dye the white floss your way.
Every floss has 12 skeins that you can use, not divisible, and also fray-resistant.
A free set that includes embroidery needles, threader, is also included. The thread is made up of 100% cotton.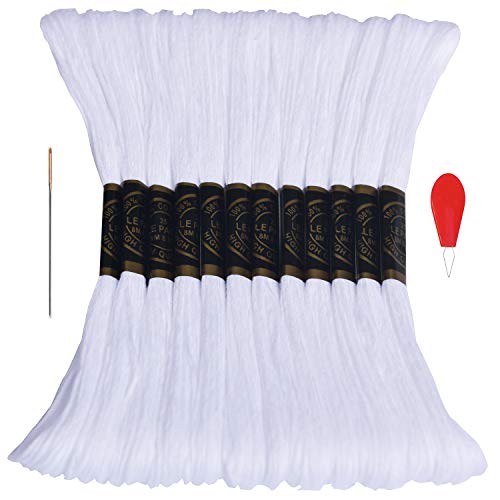 Pros
White floss
12 skeins
Not divisible
Fray resistant
Includes needles and threader
Cons
Thread is breakable
Gets tangled
7. LOVIMAG Premium Rainbow Color Embroidery Floss
Isn't it awful to get slight electric shocks while working with silk? Luckily, the Lovimag embroidery floss has been designed so that you can avoid static electricity.
Bright colors, rich lusters, smooth feel, nonfading color are the particular characteristics of this floss that set it apart from the others.
A variety of rich colors has been included in the package so that you may choose from them.
You can use the floss for a wide range of applications.
Every package has flosses of 136 different colors.
Pros
No static electricity
Bright colors
Smooth feel
Nonfading color
Rich luster
Cons
Sticky label frays the thread
Knot up
8. Peirich Embroidery Floss
To make sure that your floss never gets tangled, every single one of the 110 spools that come with the package is wound on bobbins.
You will be able to save your money and time trying to organize your flosses because of these bobbins. If they aren't there, the floss gets tangled and then unusable.
Moreover, the package arrives with many useful accessories, like 30 embroidery needles, four cross-stitch needles, two thimbles, and one untwist tool.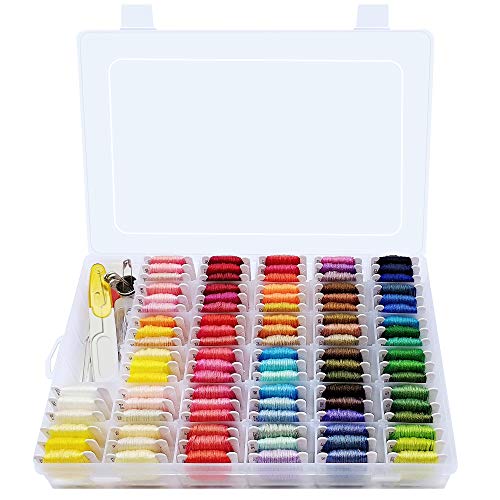 Pros:
Comes with bobbins
110 colors
Comes with many needles
Comes with thimble
Cons:
Box is fragile
Needles are dull
9. Le PAON Embroidery Floss
Here we have yet another rainbow floss set from le PAON that comes with 50 different colors for when you only need enough colors to start with embroidery.
When you don't wish to spend a lot of money on useless colors, you can purchase this kit. Every thread has six strands that you can separate and use.
The colors are vibrant, and the thread gives a smooth feeling. It is easy to use.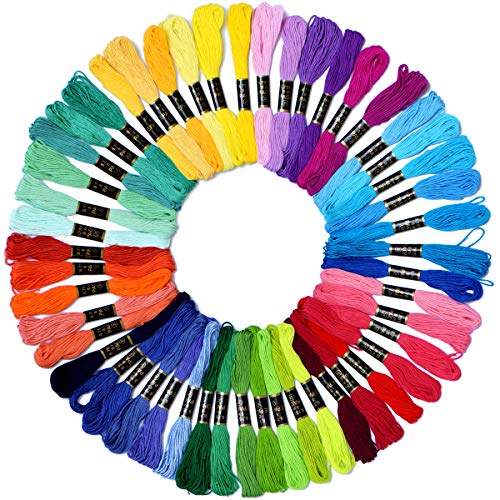 Pros:
Easy to use
Only important colors included
Smooth feel
Six strands
Cons:
Doesn't unwind easily
Basic kit
10. PAXCOO Embroidery Floss
Lastly, we have PAXCOO embroidery floss. You will get 124 colors in every pack, and every pack also has gold eye needles as a bonus.
Every skein will be eight meters long.
You will be able to choose from a wide range of colors for any project. These are made out of polyester cotton, a material that has the advantages of both polyester and cotton.
There are sixteen pieces of golden embroidery needles included in the package.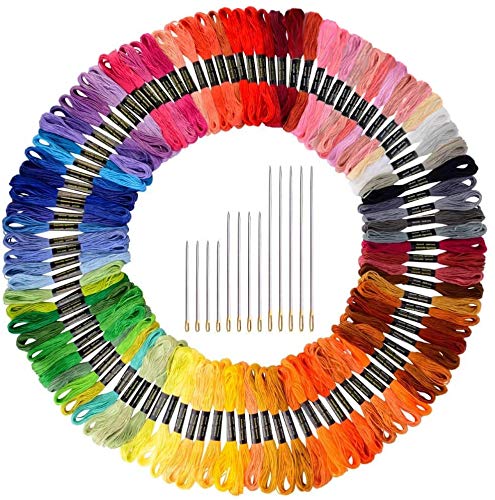 Pros:
124 colors
Eight meters long
Many colors
Made of polyester-cotton
Sixteen golden needles included
Cons:
Doesn't sell colors separately
No numerical identifiers
Frequently Asked Questions
What is the difference between embroidery thread and embroidery floss?
There is one major difference between embroidery floss and embroidery thread. They are both used in different kinds of embroidery.
The floss has six strands of string intertwined together, and they can be separated easily from each other. The thread, however, is crafted out of twisted material.
How many threads of embroidery floss should I use?
There are six cotton strands that are intertwined with each other. You have to separate all of them before you proceed with embroidery.
It is impossible and highly useless to use all strands at the same time in the Needle.
Can you macramé with embroidery floss?
Yes, embroidery floss can be used in macramé projects. Even though there is a special cord called macramé that is meant for such projects, embroidery floss can also do the job well.
Can you wash embroidery floss?
Yes, embroidery floss is pretty much washable. The discoloration happens, though, and the amount of it varies from brand to brand.
The good brands won't let a lot of it happen, while the cheaper branded floss allows much discoloration.
Is embroidery floss stronger than thread?
Since embroidery floss is literally crafted out of many different threads intertwined together, they practically are stronger than thread.
They cannot be broken easily with a jerk as the thread can.
How do you separate embroidery floss?
You just lay it out and try to separate the strands with your fingers. Once you get the starting, the rest of the strands are eventually going to start unfolding.
How do you wrap embroidery floss?
At first, you grab one end of the floss and put it through a slot. Then you keep wrapping the thread around the bobbin till all of it is done and gone.
Then, place the other end in a different slot than the one in which you placed the first end.
What needle do you use for embroidery floss?
You will need a tapestry Needle for embroidery floss. The rounded tip makes sure that you do not split the thread or rip the fiber that you are stitching on.
Does embroidery floss bleed when washed?
The rayon one may bleed a little when it comes to the brightest colors.
However, after the first wash, the bleeding will come to an end. The polyester ones, however, will not bleed much at all.
How do you keep embroidery floss from entangling?
To keep the embroidery floss from entangling, you need to wrap it around something after you are done using it, like around a bobbin or a piece of cardboard, even.
If you leave it just like that, it has more chances of being entangled.
Conclusion
Here was everything that you needed to know about the embroidery floss.
After this guide, you will be able to purchase the best set for yourself for the price that suits you the most.
Read Also: