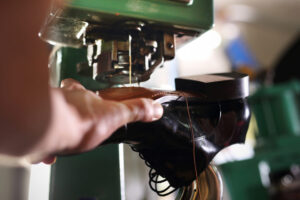 Although there are many other aspects, the stitching of a shoe depicts its class and quality. It also portrays its lifetime.
The best stitching comes with the best sewing machine. A cobbler's skills even matter, but a good sewing machine gives excellent results.
The market is saturated with cobbler sewing machines comprising a variety of features and a range of prices. Thus, it is hard to choose such a cumbersome scenario.
But don't you worry as I am here. In this article, after a good deal of research, I bring you the best shoe sewing machine along with a proper buyer's guide.
Top 10 Cobbler Sewing Machine Reviews
I have mentioned the most intriguing and well-suited models in the form of my top 10 picks.
Each of them comprises distinct features that you would love. It will also make it easier for you to choose from.
So, let's dive right into it.
1. ECO-WORTHY Hand Cobbler Sewing Machine
Let's get it on with this product by Eco-Worthy. It sits in the top spot due to many reasons. Firstly, you can sew many kinds of materials into shoes, like cloth, rubber, leather, sneakers, and much more.
Secondly, it is easy to set this machine up. The assembly is relatively straightforward, so no mess was created.
Finally, the walking foot is rotatable and thus allows you to work in any direction with ease. The wear-resistant full metal body of this machine helps it to last longer.
Now, they have also improved the shock-proof packing and anti-fall at the same time. Thus, you get a protected product.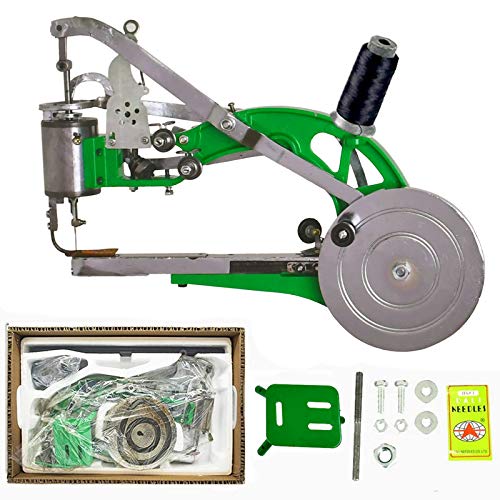 Pros
Reliable
Ergonomics & robustness
Wide range of sewing
Anti-fall packing
Cons
The material can be improved.
Threads included are not of good quality
2. Pumplus Shoe Repair Sewing Machine
On the second spot, this very good machine by Pumplus. Its wide applications allow you to sew cloth, rubber, leather, sneakers, high heal, and many other shoes like these.
With its high working efficiency, you can sew many different kinds of shoes with nylon or cotton wire.
There are around 48 pcs of accessories relevant to leather sewing included with this machine to take your experience to another level and make you try newer things.
Moreover, the machine is straightforward to install, and you don't have to go into knotty procedures for that.
The material is also good, and overall, the machine design is very suitable to work on. In a nutshell, this is the right machine to go for if you find these features suitable.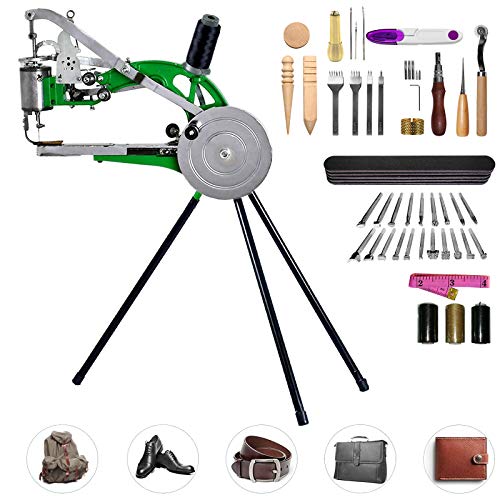 Pros
Wide applications
Extra accessories
Easy installation
Good design
Cons
Thread breaks sometimes
Weighs around 25 pounds
3. YUEWO Heavy Duty Cobbler Sewing Machine
Sewing shoes by YUEWO is such a valuable gift that enhances your swing experience with lots of features. It holds outstanding customer feedback as well.
The sturdy design makes it fantastic to sew reliably. You get great efficiency and a useful lifetime in it. It is effortless to operate, and the installation is too; very easy.
When you ask about the sewing range, get ready for the good news, because you can use it almost on everything.
The easy-to-handle features of this machine make the DIY a lot easier for you. Once you are done with sewing, you will never regret the results.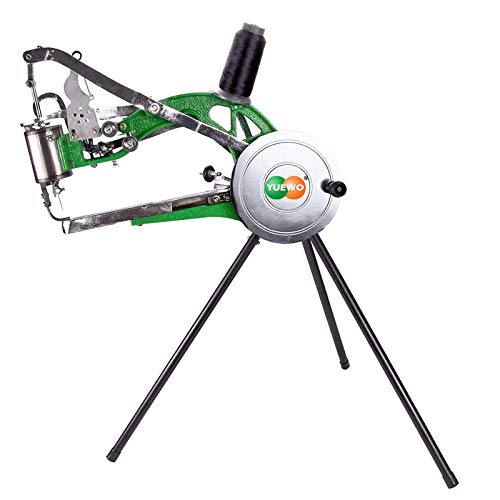 Pros
Good efficiency
Wide range of variety
Easy to setup
Easy DIY sewing
Cons
Packing should be improved
4. YEQIN Hand Cobbler Shoe Repair Machine
This machine by YEQIN is offered to you at a relatively better price. Now let's discuss what do you get at the price.
First, you have a wide variety of materials that can be sewed by it.
Even raincoats can be sewed with it like all the good machines. Secondly, the arm is adjustable that provides flexibility.
Moreover, the walking foot also allows great adjustability and can be operated in any direction.
You would need simple needles in this machine used in sewing machines; thus, no worries. DIY setup makes life easier for you. In a nutshell, you get good value for the price.
Pros 
Great flexibility in the arm and walking foot
Great price
Easy DIY setup
Great adjustability
Cons
Packing should be improved.
Good guide required
5. YaeTek Cobbler Shoe Repair Machine
Next on my list is this simple yet amazing sewing machine for your shoes. You can sew a maximum thickness of up to 5 mm. The threads used are mostly of nylon and cotton.
There is a wide variety of materials that you can sew with it as well. The needle height is also adjustable, and I like this factor as it allows you to adjust the needle according to the need.
Moreover, you get to sew in any direction using the adjustable walking foot.
The customer service of YaeTek is also very good, and you can respond to any queries in no time.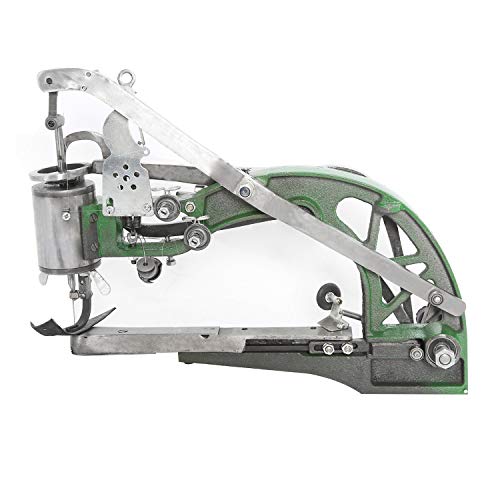 Pros
Adjustable needle
Wide range of variety
Adjustable walking foot
Cons
The stand should be improved.
Packing should be improved
6. ETE ETMATE Cobbler Sewing Repair Machine
Here comes another good machine. This machine can also sew materials of many kinds into shoes, bags, and raincoats. The design is made such to offer you a longer lifespan and make it efficient to sew.
The arm flexibility offers you a good approach, and the walking foot is very convenient to work on. Also, the ergonomics is quite remarkable due to these factors.
Using this machine and nylon or silk yarn thread, you can achieve anything depending on your skills.
In a nutshell, this is quite an impressive machine when it comes to sewing shoes and stuff.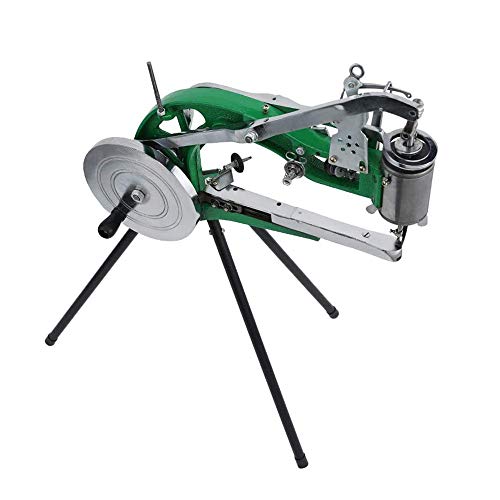 Pros
Value for the money
Ergonomics
Flexibility
Wide range
Cons
Superficial
Finishing can be improved
7. Beamnova Leather Cobbler Sewing Machine
Now comes Beamnova to offer you a heavy-duty shoe repair/sewing machine. It is made up of high-quality material to give a good lifespan.
The ergonomic design is very easy to work with and, at the same time, efficient. The manufacturer also provides a free-standing facility for your ease.
The wide range of sewing that this machine offers takes your experience to another level. You can sew shoes of different kinds, bags of different materials, and even raincoats.
Thus, you get a good package for the price paid.
Pros
Ergonomic
Wide variety
Good design
Cons
Superficial
Finishing can be improved
8. MONIPA Manual Shoe Mending Repair Machine
Let's have a look at this model, as well. Firstly, I have been discussing from the start, it also has a wide range of material to sew into desired shoes.
The machine is very easy to set up, as also claimed by the manufacturer.
The sewing thickness is comparatively low, but within the range, you get good results. The machine is great to work on and serves for longer if you keep it with care.
Let's have a closer look at it by going through the pros and cons.
Pros
Wide variety
Ergonomics
Easy setup
Cons
Superficial quality
Requires tweaking
9. FamYun Hand Cobbler Shoe Repair/Sewing Machine
Now comes the machine that holds very good customer feedback and response rating. It can sew a good thickness of the material. It can provide good efficiency.
It can go on a wide range of materials to sew into shoes, bags, and much more. The needle is also adjustable up to 6mm.
FamYun says that it is hand-made by skilled blacksmiths. Thus, it will surely give a next-level experience to you. The machine is coated with anti-rust oil to prevent rusting.
What else could one ask for? Thus, you get ultimate satisfaction in the end.
Pros
Hand-made model
Anti-rust coating
Variety of sewing
Value for the money 
Cons
Setup is a bit difficult.
No instructions included
10. HYDDNice Hand Cobbler Shoe Sewing Machine
Last but not least, this sewing machine by HYDDNice is great to work on. You can sew even trousers and other clothes with them along with shoes, bags, and even raincoats.
Thus, a wide range of sewing that I love a lot. A good thickness of 5mm can be sewed quite smoothly with it. Moreover, you have an adjustable needle that goes varying through 6mm.
The walking foot makes the machine ergonomic and easy to work on. You can instantly start the sewing once you get it and set it up because setting up is not difficult.
In a nutshell, you get a great machine for the price. So, if these are the features that were in your mind, then go for it!
Pros 
Great adjustability
Ergonomics
Value for the money
Wide variety
Cons
Setting up should be helped.
A bit rough
Buyer's Guide
Now that you have gone through the reviews, if you are a beginner and do not know much about what to look for in a machine before buying, then don't worry as I have got you covered there as well.
Have a look at these important aspects to keep in mind.
Ergonomics
When it comes to machines, especially manual ones, you should never ignore this aspect. Otherwise, you will have to put in a lot of effort to work things out. The machine should be efficient and easy to use.
Flexible Arm
A flexible arm provides a greater approach and lets you go into areas and have a closer relationship with the machine while working. Thus, it is good to have an adjustable or flexible arm.
Adjustable Walking Foot
When it comes to ease and comfort, you can never ignore this feature. A good machine will always have an adjustable walking foot to let you work in any direction.
Sewing height
The sewing height decides for the fact if the machine can sew your thick material. A good height, in my view, is about 5mm. Thus, keep it in mind. Also, don't forget to look for a flexible height needle.
Variety
Your machine should be able to sew a wide variety of materials. So, you don't have to buy another machine for a similar but different job.
Price
Price is an all-time important factor when it comes to buying something. Perform good research and find a well-suited product at an affordable price. Also, remember that a good product doesn't have to be expensive.
Frequently Asked Questions
How do you sew fabric on shoes?
Just find the right fabric and be clear regarding design. Then, you can put the cloth on your shoe and sew it using a cobbler sewing machine.
Is it possible to make your shoes?
Yes, you can make your shoes. It would help if you had a good guide and a cobbler sewing machine.
What kind of threads are used for sewing shoes?
Mostly, nylon and cotton threads are used. But you can also use silk yarn thread for this job.
Can a cobbler sewing machine sew bags?
Yes, depending upon the thickness of the material and your machine's compatibility, you can sew bags on it.
What is a good cobbler sewing machine brand?
Eco-Worthy is a very good brand. You can also go for superior ones like JUKI and Janome.
Conclusion
It is not easy to find the best cobbler sewing machine, and it takes a lot of input. But, after reading this article, I believe that you can decide for yourself quite easily.
Don't forget the important aspects. Also, always settle for what satisfies you. I hope you choose better. Good luck from my side!
Read Also: