Being a novice quilter, you must know how vital the role of a ruler is in cutting the fabrics to meet your precise requirements.
Not that you cannot cut without the ruler, but it's a highly recommended practice.
However, choosing a ruler who will suit your needs and provide the most value for your money is not an easy task.
There are a lot of things you need to consider other than your budget.
Here in this article, we will help you find the best quilting ruler.
Buyer's Guide
Before finalizing your choice, there are certain points that you need to consider. Make sure you go through them all.
Size
Referring to size doesn't mean that you can cut only a single size of length with your ruler, but it means that you should get the size that will be convenient for use.
This depends upon the size of the clothes you usually cut, so choose according to most of the projects you work on.
Measuring a fabric with 5-inches width wouldn't be so easy to measure with a 1-feet wide ruler, right?
Increments
This refers to the distance between each successive mark in the ruler.
The lesser the difference, the more accuracy the ruler will provide you, and you can measure a wider range of readings.
So, if you need very precise readings, choose a ruler that has very small increments.
Cutting Options
Every ruler comes with a different set of cutting options, in case you need to measure the readings in different scenarios.
For example, some rulers have angled marks in addition to the straight ones as well, so you can measure if the marks on the clothes are also in different shapes.
There are a lot of other options with rulers nowadays, which let you do different creative cuttings.
Shapes
All the rulers don't have one single shape in which they are available.
Rather there are many different shapes that can be chosen according to one's personal preferences.
However, don't just buy whatever seems fancy to you as you cannot cut all types with a single shape.
So, you should know the projects you will be working on before you make the choice of shape.
Color (marks)
This doesn't refer to the color of the ruler, but the marks on it.
You will be cutting different types of fabrics with your ruler, so you should have many colors in the readings available in order to see the marks clearly when placed upon the ruler.
Top 12 Quilting Rulers Reviews
Upon researching some of the most famous and frequently used quilting rulers available and checking their reputation through customer reviews.
Here we have our guide of the top 12 picks, which are enough to let you choose.
1. Arteza Acrylic Quilters Ruler
Arteza acrylic ruler one of the best quality quilting rulers available in the market.
With its non-slip rings, it makes sure the grip is as tight as it can be, so cutting the fabrics will be accurate as well as precise.
Designed through laser-cut technology, the marking on the ruler is very precise, and the fact that it's made from acrylic will last you for many years.
There are bi-colored markings on the ruler in case your fabric is odd-colored.
Lastly, it comes in a very handy size, which isn't huge, but it isn't very small as well, so it could fit most fabrics conveniently.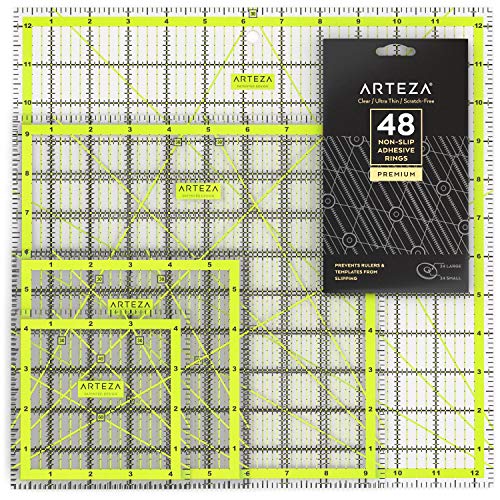 Pros
Two-color marks
The strong quality body; acrylic
Multiple sizes to fit your needs
Comes with non-slip rings
Hole for hanging
Cons
2. Quilter's Rule Original Ruler
Quilter's Rule is one of the best companies when it comes to easy and effective rulers for quilting.
This ruler is no different, and it carries on the legacy of the maker.
With the molded cloths at the ridges, you don't need to buy any non-slip rings as well, and it will hold your cloth very well to get the most accurate readings possible.
With the affordable price tag, they provide excellent value.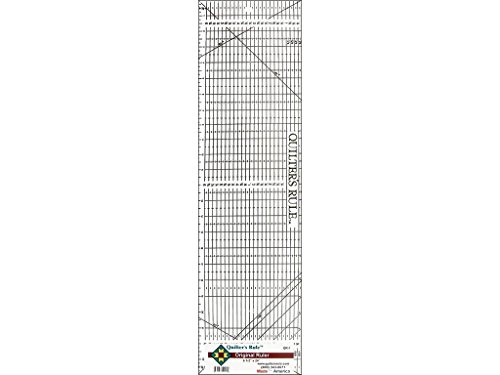 Pros
Affordable
No non-slip rings needed
The design is liked by customers
Markings are very clear
Can be used to make different shapes
Very easy to use
Cons
Gripping is not as strong as using rings
Delivery is not reliable
3. Dritz R641 Omnigrid Ruler
Dritz Omnigrid ruler is made from very strong and reliable acrylic material, so once you buy this set, you won't need to bother about buying more anytime soon.
The markings are placed at very edges, so they are extremely easy to use and marks your clothes for cutting.
The presence of two-shade lines makes them equally effective on dark and light-shaded clothes, which is one of the best features.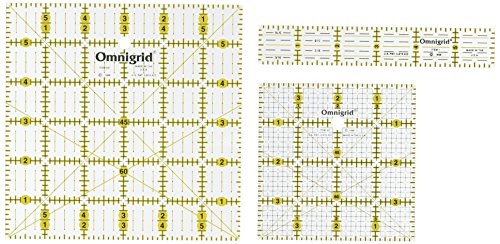 Pros
Markings at edges
Durable
Strong build
Double-sight patented lines
Affordable
Cons
Grid markings are hard to see
4. Imagine Crafts MP230001 Combo Sheet by Omnigrid
Omnigrid is amongst the best brands, and whenever you are talking about the best quality quilting rulers out there, it will be hard to keep their name out.
This product comes in a 10-piece set, and there are a lot of sizes you will have.
There are different angled lines on the rulers to help you if you need to cut from multiple angles.
You also get to enjoy both left-handed and right-handed markings and angles.
Lastly, the grip is also top-notch, and the cloth doesn't slip when working.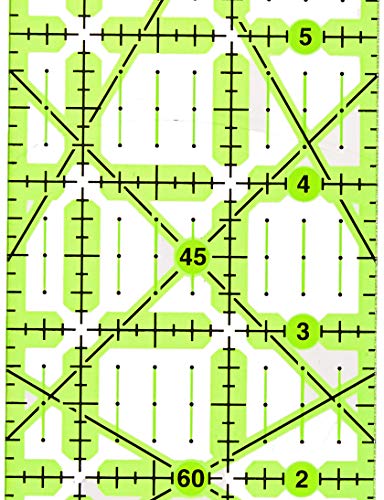 Pros
Multiple angled lines
Can use both rotary cutters of blade
Non-slip action
Right-handed readings available as well as left
Easy to use
Cons
Some customers claimed to have slipping problems
5. Fiskars Acrylic Ruler Set
Made from acrylic, which is 3mm thick, these rulers from Fiskars are as strong in durability as they are efficient in their usage.
They have angled lines as well, which come in very handy when you need to trim blocks or cut angled fabrics.
However, one major disadvantage is that they don't have non-slip rings, which don't let you work conveniently.
You will have to put weight or press yourself for the best results.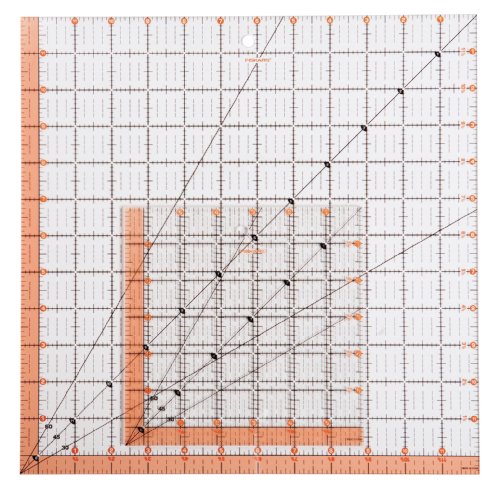 Pros
Made from acrylic; very durable
Come in 2 sizes
Highlighted allowance measurement
Multipurpose
45-degree bias lines
Cons
Don't have non-slip rings
6. Creative Grids Machine Quilting Ruler
You have a lot of quilting rulers available when it comes to manual quilting; however, with machine quilting, there are only a few ones that will suit your needs.
This product by Creative Grids is very effective for machine quilting and can be used for echoing as well.
While the ruler isn't really built for cutting, they come in very handy when you are actually quilting.
The name slim isn't for show, and the ruler is actually so thin letting you use it on every throat size.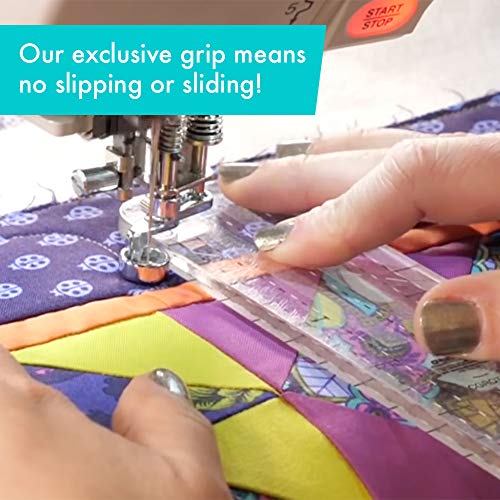 Pros
Non-slip grips
Unique design
Used in quilting
Best for machine quilting
Very thin
Cons
Only comes in a single size
7. Arteza Quilting Ruler
This product by Arteza, just like the previous one we discussed, is made from laser-cutting, which makes them extremely accurate and easy to use.
Having patented bi-colored lines, they are as easy to use on light surfaces as they are on dark ones.
The acrylic building makes them durable and provides you flexibility without breaking.
There are adhesive rings in place of non-slip rings, but they are not as effective as them.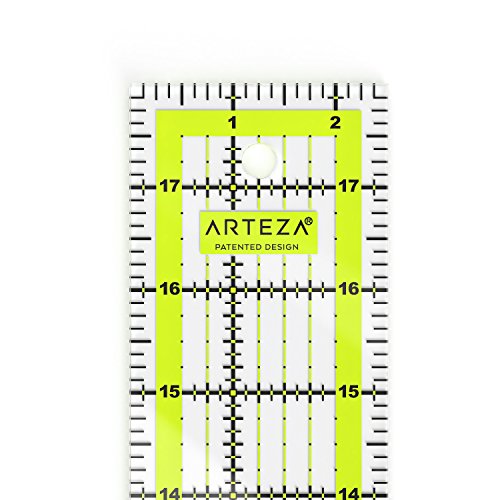 Pros
Very accurate measurements
Double-colored lines
Durable build
Laser-cut
Cons
8. Creative Grids Quilting Ruler Template
Creative grids quilting ruler comes in a rectangle shape and contains two-colored black and white readings.
The readings of these two basic colors make it extremely easy to read the lines on both dark and light-colored surfaces. There are not any non-slip rings.
However, you get to use the gripper dots, which are also very effective and don't let the ruler slip easily.
You can also cut angled fabrics as there are markings for that as well.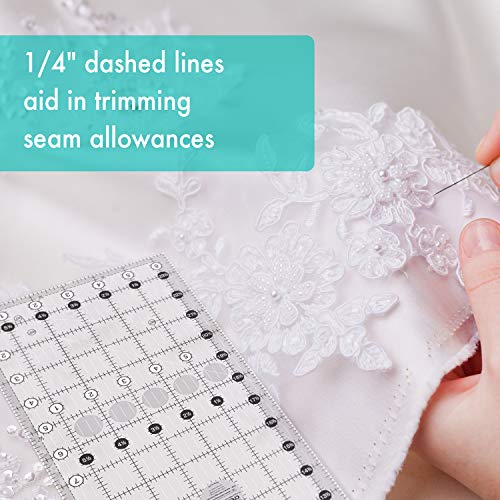 Pros
Angled lines
Easy to read
1/8-inch increments
Can read both dark and light fabrics
Good for rotary cutter
Excellent customer satisfaction
Cons
Expensive
No non-slip rings
9. Creative Grids Stripology Quilting Ruler Template
If you are someone who doesn't have much time on his hand for things like cutting, this ruler can be an excellent pick for you.
Not only does it drastically reduce the time it takes to cut the fabrics, but it also lets you do it in a variety of ways so you can be very creative and perform your own ideas.
You can cut triangles, diamonds, and a lot of other shapes as you like.
White and black marks can be used for measurements in different lighting conditions.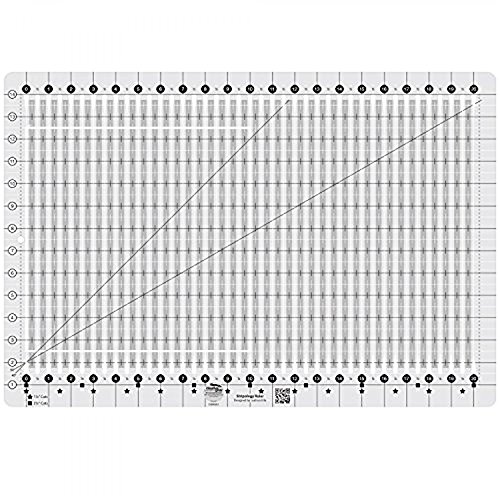 Pros
Two colors' marks
Very efficient
Quite lengthy
Gripper for fabric holding
1/4-inch increments
Cons
Expensive
Do not cut at the beginning or end of strips
Not the best with a rotary cutter
10. Skyhawk Acrylic Quilting Rulers Set
Coming in a 4-piece set of rulers that have different color markings to be used indifferently lit environments, this set by Skyhawk provides you many different options in the set to work on different projects.
The smallest sized ruler has increments of 1/8-inch, which lets you cut the fabrics with a high degree of precision.
The angled cutting option is also available.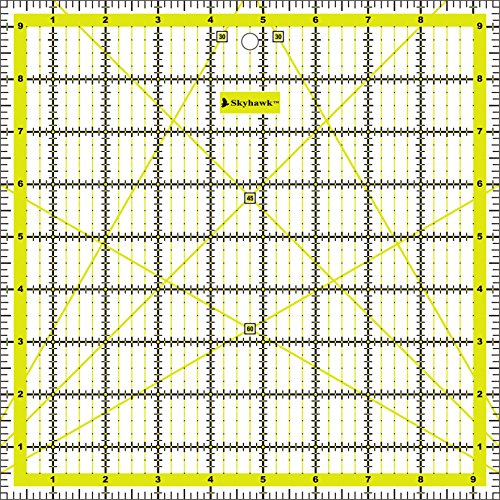 Pros
Made from strong acrylic
Hanging holes
Both right and left-handed rulers
Double colored markings
Very small increments
Cons
Markings are not crisp
No grip
11. Creative Grids 60-Degree Equilateral Triangle
Amongst one of the uniquely shaped quilting rulers, Creative Grids' Equilateral Triangle ruler is probably the best one available.
With its 12.5-inch long sides, you can cut even the larger fabrics.
You can easily like triangle shapes or other shapes as well with 60 or 30-degree angles.
There are gripper dots as well to prevent the ruler from slipping.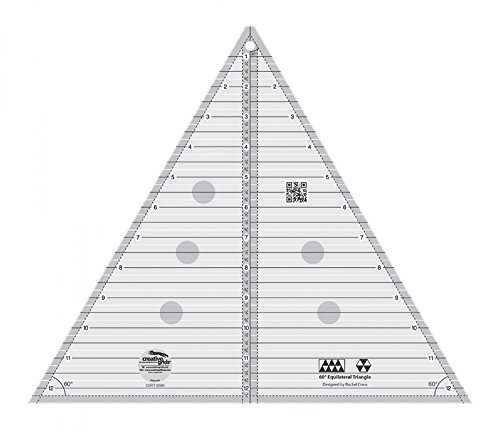 Pros
Efficient for triangles and other shapes
Double-colored markings
Gripper dots
QR code on the body to get instructions
Cons
Gripper dots need to be pressed upon to work
12. Antler Quilt Design AQDR1
Just like the previous ruler from Creative Grids, we discussed, this ruler is also triangle-shaped and works great for most quilters who need to cut the fabric in different shapes.
While making a triangle is a matter of a few moments, you can also create other shapes seamlessly.
However, you need to have a creative mind and know fully how to use it, as playing with different angles could get tricky sometimes.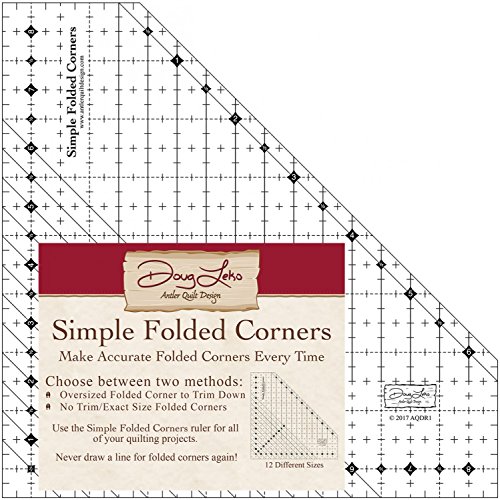 Pros
Making triangles is really fast
Allows to make boxes of different sizes
Clear markings
Excellent customer reviews
Cons
Can be tricky to use for newbies
Frequently Asked Questions
Let's see some of the most frequently asked questions by customers buying quilting rulers.
How do I keep my quilting ruler from slipping?
Quilting rulers usually come with non-slip rings or gripper dots to prevent slipping, but if yours don't have any, you can put a weight upon the ruler or just press it with your fingers.
How do you use a quilt a day square up ruler?
Place a ruler on top of the fabric and align It properly. Make sure the diagonal line is also aligned with precision.
Then start cutting the cloth along the marks your measurement has and follow any angles if you need to.
How far apart should quilting lines be?
It is best to get the quilting lines apart like 1-inch or 3-inch apart. While you can also make them 1/4-inch apart, but anything less than one is known as densely quilted.
Is it necessary to use a ruler when making a quilt?
No, it is not. However, there are some harder quilts that can absolutely not be done without a ruler as they have complex angles and measurements.
How many quilting rulers do I need?
The answer to this lies in the projects you do. More complex tasks could require better rulers with more options; however, if the work is simple, a single general ruler could be enough.
How often during quilting will I be using the ruler?
This entirely depends upon you. Quilting requires high accuracy, so you might be needing to use the ruler multiple times along every step, or if the work is simple, you might need it only at starting and ending.
Conclusion
Quilting is a complex task, and if not done with correct measurements and precision, there is no point in doing it.
Rulers make up an important part of quilting, so they should be chosen correctly.
Hopefully, after giving a read to this article, you have partially made up your mind about which ruler to get next.
Read Also: