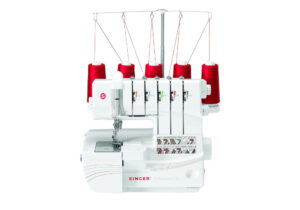 Even though the chain stitch is one of the foundational types of stitches used in both tailoring and embroidery, it is not as simple to master.
So, what should you do if you don't have the patience or skill to make your stitches look like professionals?
Get the best sewing machine for chain stitch.
Thanks to the wonders of technology, the market has lots of suitable options that can enable you with close to zero effort.
You will be able to gain on time, gather much more speed, and work faster with the help of a chain stitch sewing machine, and the results would be just as good as professionals.
Now, if you're wondering why I would recommend getting an intimidating chain stitch sewing machine when you can't even figure out how to hand sew a looping, chain-like stitch that looks super easy to do but are not.
The answer to that is simple; manufacturers today have considered your novice-looking hands and brought out a myriad of options that are user-friendly, so it makes the whole process fairly simple.
Even if you do learn how to manually do this stitch, chances are your hands and fingers are going to feel the fatigue.
Instead, you should save your eyes from the strain of doing such intricate work that might take you months by hand and get a sewing machine that delivers in terms of quality, neatness, and time savings.
Top 9 Sewing Machine for Chain Stitch
To make your market research easier, here's a list of the most well-acclaimed sewing machines for chain stitch available.
1. NKOK A2213 Chainstitch Sewing Machine
If you're looking to get your daughter started on embroidery, there's no better option than to get her excited.
The chain stitch sewing machine comes in a beautiful pink and white design that's simple and easy to use for beginners.
It's battery-operated, so your child can have fun with it anywhere they want.
To make this experience fun and safe, it comes with a protective needle cover, but as the needle is built-in, you might have to replace the whole unit in case it breaks.
It's the perfect present for children who want to try out embroidery.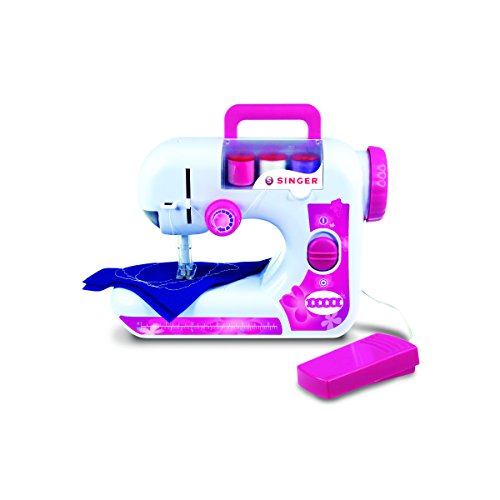 Pros
Easy to use
Safe
Portable
Beautiful Design
Cons
Built-in needle
Difficult to thread
2. Juki MO-735 5-Thread Serger & Cover Hem
With this sewing machine, you don't have to have to be restricted with only the capability to perform a chain stitch; instead, you get the option of performing multiple applications like cover-stitching.
The machine is loved by beginners and professionals due to its durability and high performance.
If you work with knitwear fabrics, I assure you, this machine will make your experience foolproof and fun.
Some users do have difficulty with threading the machine initially; however, once you figure it out, the rest is easy.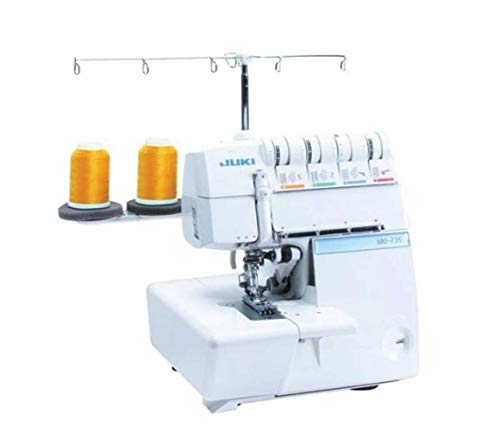 Pros
Durable
High quality
Versatile
Cons
Difficult to thread
Time-consuming to switch stitches
3. CoverPro 900CPX Coverstitch Machine
Imagine your productivity levels to increase by multifold thanks to this machine, which isn't as heavy on the pocket as industrial level machines but performs an equally good job.
If you're in the knitwear business or tend to work on materials with a bit of stretch, you're going to be obsessed with how beautifully it sews in each cross stitch.
While you may face a few missed stitches here and there, it's a great pick because it's quiet and lets you work with much comfort.
Pros
High speed
Durable
Great value for money
Cons
Skips stitches sometimes
No seam Guides
4. Juki MCS-1500 Chain Stitch Sewing Machine
Enhance your stitching with the help of this sewing machine.
Not only can you perform immaculate chain stitches for decorative purposes and embroidery, but it's amazing for seaming as well.
The stitches are taut and secure, which makes them ideal for both stretch and non-stretch materials. The result is a high-quality, professional-looking finish that will leave you awestruck.
Some users do find the manual instructions to be difficult to decipher; however, you will easily find online help since it's a widely used machine.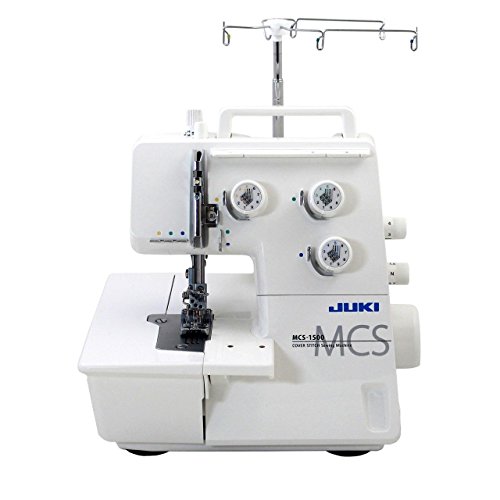 Pros
Secure stitches
Professional finish
Versatile
Cons
Difficult to thread
Difficult to understand manual
5. Juki Pearl Line MO-655 2/3/4/5 Thread Serger by JUKI
This serger is going to last you for a lifetime, and you're going to be happy with the performance even though some users feel that it's not easy to use option and the instructions on the manual are difficult to figure out, you will find that it's just the right combination of heavy-duty and home-based sewing machines.
It is quiet and portable, yet the performance is up to par with heavy-duty options.
It can handle just about anything, so you can have a great experience, whether it's embroidering cross stitches or for inseams.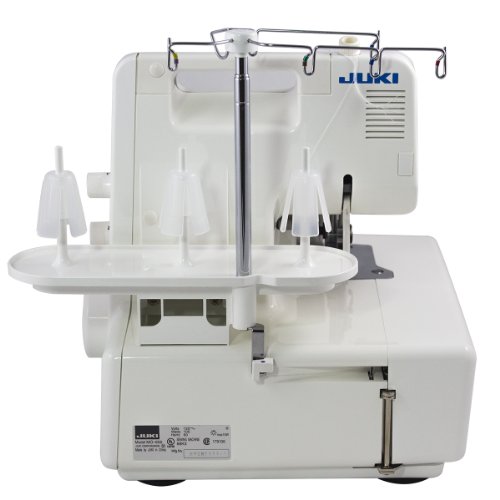 Pros
High performance
Compact
Durable
Cons
Difficult to thread
Tricky instruction manual
6. SINGER Zigzag Chainstitch Sewing Machine
The singer has been in the sewing machine business for decades; however, recently, they have brought around models that can be used for children.
This sewing machine is just the right mixture of fun and functionality.
The pink design is appealing for kids, and the usage is simple to figure out with a little bit of help.
You will not be surprised once you get your hands on this sewing machine as it is loved by children who enjoy using it.
Pros
Lightweight
Attractive design
Easy to use
Cons
Not suitable for kids under 3
Plastic construction
7. Bernette b42 Funlock Coverstitch Machine
This sewing machine will show you how to get things right, the operation is high quality, and the performance is expert level.
It provides for simple and easy threading that can get you started on your cross-stitch in a jiffy.
You can also work in dark spaces without straining your eyes as it had Led lights to illuminate your working space so you can easily see what you're doing and locate any flaws.
It's perfect for stretchy materials and is comparatively silent.
Pros
Quiet
High performance
Professional grade
Easy threading
Cons
Skips a few stitches
Light is super bright
8. Janome Cover Pro 1000CPX Coverstitch Machine
I think this machine is ideal for beginners; not only do you get sufficient space to work comfortably, but it's a multifunctional addition to your workshop.
If you're a home-based DIYer who loves to make crafts, this sewing machine will help you perform various tasks such as quilting, decor, and even garment making.
It's built to give you a superior experience, which makes all the difference thanks to the addition of a one-hand thread cutter, variable stitch width, and length of cross stitches.
Pros
Wide space
Multi-purpose
Professional finish
Cons
Skips stitches
No clear foot
9. Juki MCS-1500 Chain Stitch Machine
Get your hems, necklines, and embroidery looking pristine and flawless with the help of this cross-stitch sewing machine.
The minute you start using this machine, you will understand what it means to have a secure cross stitch that will not pop out easily, especially on stretchy materials.
You won't hear anyone complain about how difficult it is to thread it down because of the addition of a button that lowers the thread looper and make things simple.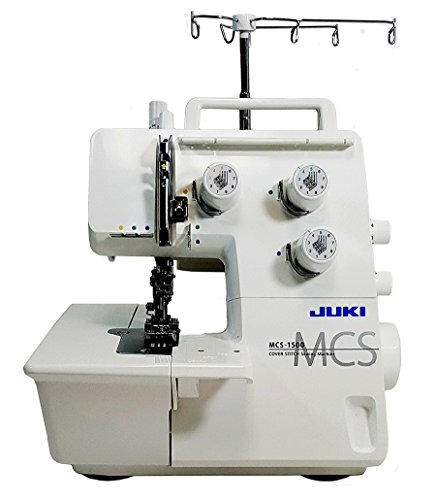 Pros
Easy to set up
No skipped stitches
Compact
Powerful
Cons
Difficult instructions
Thread breakage
Buyer's Guide
If you're starting in the world of stitching and embroidery, it's time to get your hands dirty and get you to explore the world of sewing machines.
Don't feel intimidated about investing in a machine that you have no prior knowledge about because this buyer's guide will serve as a refresher course to help you understand exactly what you need.
Keep the following factors in mind, and the rest should be easy.
Durability
If you intend on using this machine for a long time, then you need to select an option that can easily bear with large-scale projects and is reliable for non-stop work.
A key factor in ensuring that you're not stuck with a machine that gives up on you the minute it has to deal with heavy labor is to pay attention to its construction.
Usually, chain stitch sewing machines that come in metal construction and mechanical engineering tend to perform the best.
With increased durability, however, you do get the downside of a much heavier machine that requires upkeep for an effortless performance.
These options can be heavy on the wallet at times but are worth it, given the amount of added productivity with minimum needs for repairs.
Stability
An easy hack to enhance the quality of your stitches is to invest in a stable machine. After all, there's no point in getting a machine that performs dodgy chain stitches that pop out easily.
Chain stitch embroidery is often used in designs that have curves and are differently shaped, but there's no way you will be able to get your stitches exactly in the right spot with a smooth curve if your machine vibrates during operation.
Look at the internal makeup, test the machine out, and always go for an option that has the least vibration while being used.
Power
Take a quick look at the power of the machine before you invest, as this would give you a sufficient estimate of the kind of materials the sewing machine can perform the chain stitch on.
If you prefer working on thicker or layered materials, it's better to get a high-powered machine.
Number of Needles
As one of the main functions of this needle is to perform chain stitch embroidery, you will come across models with various numbers of needles.
As the type of needle varies with the kind of fabric, you intend to embroider upon making sure that your sewing machine has a sufficient number of needles that can support your choice of fabric to get successful results.
Speed
For my fellow professionals, speed is of the topmost priority as it defines your efficiency and can increase your productivity; hence you should look for high-speed options.
I would command a much slowed down speed machines or those which speed adjustment ability for tenderfoots because the experience is required before one can start working with higher speeds for quality results.
Additional Features
This is the part that you young grasshoppers need to pay attention to. Earlier I talked about easy-to-use machines; it's these additional features that can make your journey a whole lot simpler and less daunting.
Even though a basic chain stitch sewing machine will be able to get you the results you want, but things can pick up the pace if you invest in additional features like an automatic needle threader, automatic thread cutter, and a needle up and down feature.
Not only will these features assist you in making the tasks convenient and simple, but it will also save you lots of time once you start getting the hang of the sewing machine.
Frequently Asked Questions
How does a chain stitch sewing machine work?
Once the needles go through the fabric and form a loop of thread, it rises after the loop is secured by the looper bringing the fabric forward, after which the needle goes back in through the loop to secure the knot, and the process repeats itself to form an endless chain.
Where is the chain stitch used?
These stitches can be used for embroidery as well as for seams.
What is the difference between chain stitch and lock stitch?
While the chain stitch has a looper thread and needle thread to form the stitch, the lock stitch consists of a needle thread and bobbin thread instead.
What are the four types of stitches?
Zigzag stitch, chain stitch, cross-stitch, and running stitch.
How do you secure a chain stitch?
It requires you to wrap your material to get it through the gap between the needle and the machine, keep the fabric aligned according to the notch of your corresponding needle and stitch it right off to the outside borders.
Does a chain stitch stretch?
A chain stitch can provide a fair bit of flexibility and has stretch, so you can use it on jersey materials easily.
Conclusion
I hope the buyer's guide and list of reviews helped you in your search to find the best sewing machine for cross stitch. Always remember to test out the machine before you make buying decisions.
Read Also: