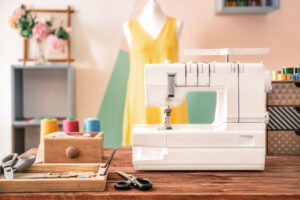 Looking for a sewing machine that goes down to satisfy all your needs is really hard and, at times, can be a little more than overwhelming, especially when you have no clue what to buy or what to look for in a sewing machine.
When you go out to shop for such machinery, you see that these sewing machines come in a bunch of different styles, types, shapes, and designs and also have different price ranges.
But you don't have to worry about it!
I will be giving you a full and thorough guide on how to spot a decent sewing machine when you see one, along with a bunch of reviews of the best intermediate sewing machines & their pros and cons on the line.
Top 10 Intermediate Sewing Machine
You can know exactly what you are buying! Other than that, I will answer some of the most asked questions about intermediate sewing machines. So let's get right into it!
1. Brother CS6000i Intermediate Sewing Machine
The brother company has been delivering its client high-quality and high-class products that are recognized around the globe.
Its new and updated features are something one should be impressed with a built-in system of 60 stitches and auto-size buttonholes.
This sewing machine also has an automatic needle threader that swiftly pushes your thread thru the needle, saving a lot of time.
Another impressive feature of this sewing machine is its jam-resistant system and its rare LED screen, which makes selecting stitches super easy for you!
Not to mention the all-in-one accessory kit it comes with, along with the wide table and a hard-protective case.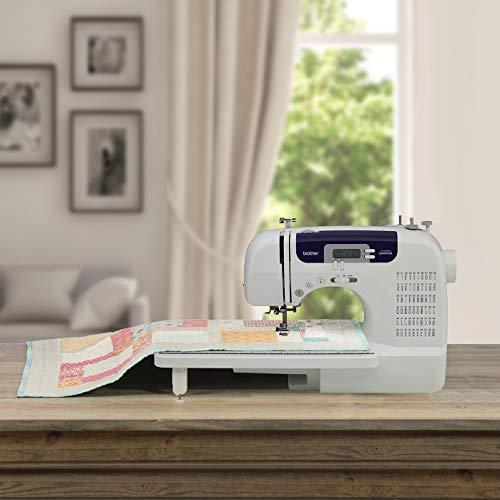 Pros
60 Built-in stitches
Automatic needle threader
Jam resistant system
LCD Screen
Cons 
Not durable
Low-quality LCD screen
2. Janome Jem Gold 660 Sewing Machine
If you are not a new person in the world of machinery, I'm sure you already know the name of Janome, Janome company has served the world for so many years now, it's hard to forget its hard work and quality.
This specific sewing machine from Janome has all the features that you could ask for, like eight different kinds of stitches along with a super-easy stitch select design.
This sewing machine is also built with a compact and lightweight design for better portability and storage services.
Coming in a perfect case with a hard protective cover and a needle threader, you now also get a free arm and a whole accessory kit with full packaging. Including ripper, needles, overedge foot, screwdriver, and so much more!
Pros 
Built-in stitches
Compact and lightweight
Needle threader plus buttonholer
Free arm
Accessory kit included
Cons 
Not highly built
The protection cover is not included
3. Sailrite Heavy-Duty Sewing Machine
With zero to no maintenance, Sailrite has now introduced its heavy-duty sewing machine that will easily sew through bundles of fabrics without having an issue.
Now with this sewing machine by your side, you won't have to worry about not being able to sew denim, upholstery, or even heavy canvas, but for this sewing machine, it'll all be a piece of work!
With an inbuilt power wheel and an extra-wide foot presser along with a built-in piping tunnel, there is nothing that I can think of that is not available in this sewing machine.
Whether it is long stitches or wide ones, this sewing machine will have it all covered for you in no time!
Pros 
Heavy duty
Built-in power wheel
Extra-wide foot presser
Wide and long stitches
Cons 
Not highly constructed
The wheel makes a loud noise when working
4. Brother Sewing Machine XR3774
Another great hit from the same brother company. I honestly found this sewing machine to be lacking nothing while I was reviewing it.
And you soon will share my opinion once you are done reading its features and qualities. Constructed in metal to ensure durability with a very impressive and elegant outlook.
This sewing machine holds a lot more than it seems.
Like its 37 built-in stitches and its rare quilting option alongside, its automatic needle threader and drop-in-top-bobbin wrapped up with an accessory kit that includes all the necessary items that you will need to start and set it up. It also has a versatile free arm for every kind of sewing project.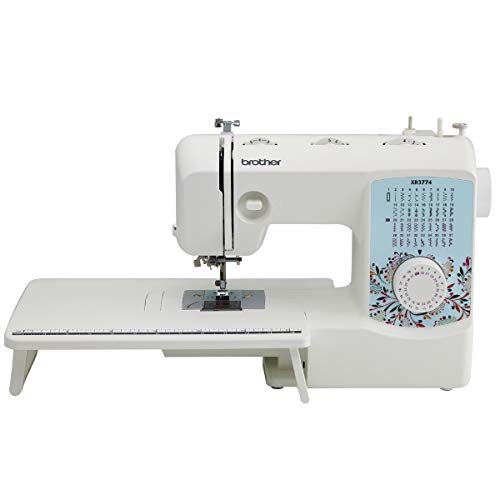 Pros 
Drop-in-top bobbin
Automatic threader & buttonholer
Free arm included
It comes with an accessory kit
37 built-in stitches
Cons 
Skips stitches very often
Not durable nor highly built
5. Janome 3160QDC Computerized Sewing Machine
Once again, we are here to review one of the sewing machines from the Janome company.
But this time is a highly impressive and up-to-date sewing machine with mesmerizing features that left its clients awestruck.
So let's get right into it! Coming in a strong tan metal frame for better portability, storage, and better balance.
This sewing machine now also offers you a total of 60 built-in stitches for you to have full control over.
And with its ergonomic construction and sleek body that comes with a needle threader, you can easily forget all about your backaches and eye strains.
Janome now also has a remarkable jam-proof easy to set up a system that makes controlling it super easy with an LCD panel and super handy buttons!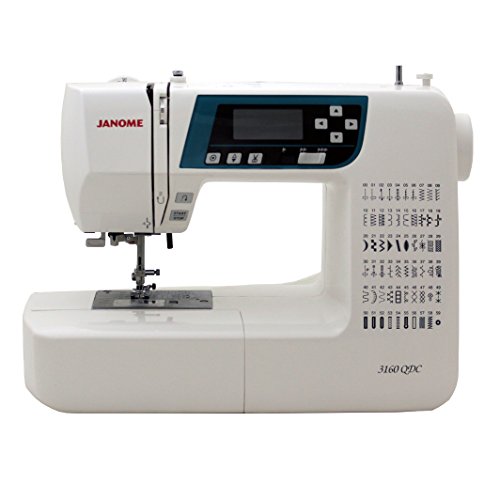 Pros 
60 uilt0in stitches
Automatic needle threader
Easy to use/ set up
LCD panel
Cons 
The top thread never maintains tension
Defective casing
6. Brother PC420PRW Sewing Machine
Reviewing this beast of a sewing machine, I was personally quite impressed.
If you are someone who is into professional sewing work or if you want to switch up from your regular sewing machine to something that is a little more professional and extra, then you should be considering this sewing machine by the brother company.
Having every professional feature and quality with a compact and lightweight body and all that without being extra expensive, this sewing machine is the one you are looking for.
With its professional 294 built-in stitches and a consistent stitch quality and work, this sewing machine sets the bar up high with its hard protective case and an accessory kit that comes with it.
Not to mention its power to deliver 850 stitches per minute with an easy LCD display for stitch selection and lighting system.
Lastly, its foot pressure adjustment and its variable speed control are like the cherry on top!
Pros 
294 stitch styles
850 stitches per minute
Consistent stitching
LCD display
Cons 
Stitching quality is low
No precise sewing
Not smooth flow sewing
7. Singer 4423 sewing machine
The singer has never failed in setting the bar high for the other companies to compete with.
This sewing machine from the singer is no less than the competition in itself with its sleek grey compact body and heavy-duty work mode.
This machine also comes with a variety of stitches, so you can be fully creative while working.
Not to mention it has made a lot of fans with its automatic functions like needle threading and buttonholers.
This high-speed heavy-duty machine is all you need to start up your hobby and make it super fun and easy.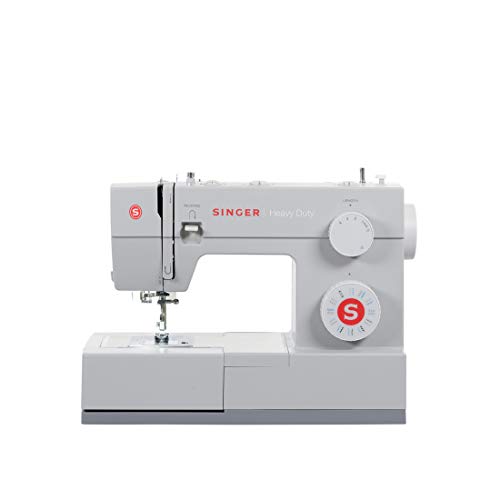 Pros 
Heavy-duty machine
Automatic functions
High-speed work
1,100 stitches per minute
Cons 
Heavy (not very portable)
Not ergonomic
8. Bernette 38 Swiss Design Computerized Sewing Machine
This computerized sewing machine from the Bernette's is a great machine to start your sewing hobby or career.
Since you can buy this high-quality sewing machine without making a huge dent in your pocket, and that too with remarkable features.
It is constructed with a white metal sleek design and a lightweight body for portability. It also has a width stitch design and a drop-in hook system.
With a free arm that will make sewing cuffs and collars super easy.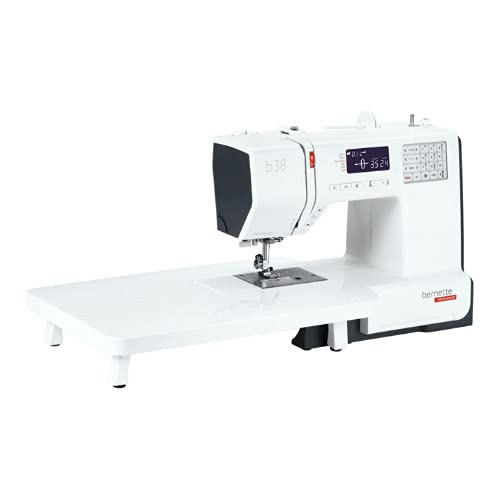 Pros 
Wide stitches
Hook system drop-in
Free arm
Cons
Not durable
Low-quality stitching
9. Eversewn- Sparrow 25- sewing machine
Suppose you are looking for an affordable and budget-friendly sewing machine that will also do all your sewing work for you and that too with proper functions and qualities.
I would suggest you this sewing machine that is also known as a sparrow sewing machine.
With a computerized stitching pattern and a six-piece accessory foot that makes sewing very less time-consuming, this sewing machine is made from metal with a solid body to avoid any breakage or damage.
Pros 
Computerized stitching
6piece accessory foot
High-quality construction
Cons 
Not durable at all
Average stitching
10. Singer Quantum Stylist 9960 Sewing machine
Lastly, sitting on top of the throne is the one and the only singer sewing machine.
With its more than stunning features combined to make a high-end sewing machine, especially for hobbyists and professionals.
Coming with 600 decorative stitches to choose from, it now gives you full access to the control system, which includes speed, power, stitch styles, stitch length, etc., and you even get to personalize the font now! How cool, right!
Apart from this, its automatic functions like threaded needles and buttonholer make your work super easy and stress-free.
With the power to deliver 850 stitches per minute and the accessory kit included, this sewing really wins the hearts of its clients in every way.
Pros
High power 850 stitches per minute
600 decorative stitches
Automatic functions
Mirror imaging
Stitch elongation system
High-speed sewing
Cons 
Not portable
Not easy to store
Buyer's Guide
The focal and foremost goal of a buyer's guide is to make you aware of the features and qualities of a tool that you are about to buy.
Comfort
Comfort is, without an argument, the most important and dominant factor in any working tool, let alone a sewing machine.
A lot of people realize this after they are done buying their tools. To avoid having such problems, you should always buy and look for an ergonomic sewing machine that is designed by prioritizing your comforts.
Construction
If not for high-class construction, your sewing machine can easily fall apart after a few rounds of work.
And most of us don't afford to buy sewing machines more than once, which is why you should observe the construction of the tool that you are about to buy carefully.
Power
What good would it be to bring home your machine to find out it does not supply or has enough power to get your workings done for you.
Having not sufficient power will not only slow down your working process, but it may even cause it to stop. So always give your sewing machine a test run before bringing it home.
Frequently Asked Questions
Is Janome better than Brother?
It entirely depends upon the features and the qualities one prefers.
What is the #1 sewing machine manufacturer in the US?
It is said that the singer is the top manufacturer in us of the sewing machines, but there are a lot of other competitors in the field now.
Can any sewing machine sew denim?
Yes, sewing machines can sew denim easily.
What tension should I use for thick fabric?
If the fabric is too thick, using a higher tension of 2-3 will do the trick for you.
How much should a sewing machine cost?
A decent and good working sewing machine should cost you around 200$-300$.
Is a sewing machine a good investment?
Yes, a sewing machine is definitely a good investment whether you are a hobbyist or someone who is just starting a side business.
Conclusion
Now that we have reached the end of the article, I'm sure by now you know all about the best intermediate sewing machines that are out there. If you still have any questions or if you are confused by anything.
Make sure you give this article another thorough read so you can fully understand and learn from it. Good luck!
Read Also: