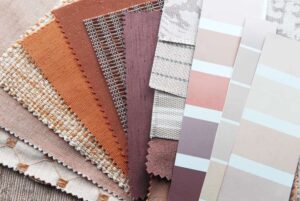 Your choice of upholstery can make or break the look of the entire room, so making sure that you choose the right fabric, pattern and color is of the topmost importance.
If you're thinking of renovating the interior of your house, spicing it up with the right choice of upholstery fabric may be the easiest way to get about it.
However, things can get a bonce you start looking for different fabrics, especially if you're planning on doing it yourself or would rather not splurge by taking professional advice.
I can't stress this enough when I say that choosing the right upholstery fabric options is pertinent for you to have fun and actually like the outcome.
On top of that, if you pick the wrong option, you will probably end up panic searching for ways to get rid of stains that just won't go.
It's always better to get it right the first time, and this article will ensure that you receive the right guidance.
What Is Upholstery Fabric Made Of?
It's not rocket science to figure out that upholstery is made of yarn or thread that is intricately woven together to make up the fabric.
However, it does take a little bit of experience to tell the difference between textiles that are developed from organic fibers such as cotton or wool and synthetic options like nylon, acrylics, and rayon.
You may also come across different textiles that are a combination of both types of fibers.
After the textiles are knitted, they are either made to be sturdier so they can withhold the shape of the furniture by the use of latex or glue.
Such fabrics with backing not only can withstand abrasion but are much more durable.
If you're looking for options that are stretchable or have more movement, look for combinations that do not have any latex or glue backing.
Different Type of Upholstery Fabric and Their Uses
1. Cotton
If you're looking for organic textiles, cotton is among the most popular and widely used options that tend to be easy on the pocket.
Known for its soft and comfortable feel, cotton upholstery tends to a resilient option that is easy to wash; however, it does tend to get wrinkled up.
2. Silk
The perfect option to add a luxurious touch to your furniture, you will be able to find a myriad of colors and patterns in this textile with ease; however, it does put a dent in your wallet.
If you're a family of kids and pets, it's best to steer clear of it as it requires regular upkeep.
3. Wool
This fabric is expensive, yet one of the most durable options for upholstery, and you will find a great variety of options that come in both pure as well as mix blends.
Wool blends are not just durable, but you also don't have to worry about wrinkles and fading. It's a great eco-friendly option that won't catch fire.
4. Leather
You can never go wrong by adding a bit of leather to your furniture.
Not only does it give your furniture a high-end feel that is soft but is also resistant enough to stand roughening up by children or pets.
It is super easy to clean and tends to get much more comfortable with time.
5. Linen
Everybody loves printed upholstery on furniture. If you come across a printed fabric, chances are it's linen, so you do get beautiful, intricate designs in this option.
However, it's best to only use it in areas where adults usually hang out as it wrinkles and can shrink if you try to clean it yourself.
6. Velvet
The epitome of finesse, anything covered in velvet can look pristine and elegant.
Not only is it so plush and soft to feel, but it also has insulation properties that give your furniture a look warm and inviting. Even though it is difficult to clean and requires maintenance, it looks regal.
7. Rayon
If you're looking for cheaper options that can emulate organic textiles easily, Rayon can be a great addition. It is soft to touch and comfortable to sit on.
However, you must remember that it is not water-resistant so getting it back into its original state is impossible. If you're considering getting this fabric, it's better to look for blends as they are more durable.
8. Nylon
Most upholstery options that are made of nylon come in the form of blends, and you will rarely find a pure option.
It's either combined with synthetic or organic fibers to form textiles that look similar to velvet or chenille, but if your furniture is constantly exposed to sunlight, it might fade or nap with time.
9. Acrylic
It is the ideal fabric for your outdoor furniture because it can handle the sun without any damage to itself.
On top of that, it is quick and easy to clean, looks much like woolen blends, and you don't even have to worry about it getting wet as it dries up in no time.
The only downside is that it might melt if exposed to heat.
10. Olefin
This fabric will last you ages thanks to its durable nature that can withstand fading. In terms of look and feel, it's a close sibling of wool.
You can clean it out with bleach; however, oil stains are an absolute no-go. Even though you might not get a lot of variety, you will find comfort in knowing that the color will not fade.
11. Polyester
You are not going to have trouble finding the right colors in this fabric as it comes in a billion varieties. Overall this fabric is commonly used because of its comfortable feel that also looks expensive.
It's a pretty easy-going fabric, so it doesn't need any maintenance; however, don't smoke around furniture with polyester upholstery.
12. Acetate
If you're looking for a close alternative to silk, Acetate is the way to go as it looks similar in terms of the sheen and luster silk seems to have.
You can get the same kind of elegance and sophistication but at a much lower price, but it does catch stains and wrinkles easily, so I wouldn't recommend it for everyday use.
Conclusion
Choosing the right upholstery isn't just about fabric, but you must keep in mind the color, feel, and structure to achieve the best results.
Read Also: