If you're here, I'm sure you're looking for the best sewing machine for vinyl.
Not only are they handy, but their specialized nature also makes them an excellent choice if you're looking to expand your horizon and pick up a new craft.
So today's goal is to acquaint you with the best of this year. And on that note, let's dive right into it!
Top 8 Sewing Machines for Vinyl
Now, let's get to the main part of this segment.
I have briefly reviewed all the top models that I think deserve a highlight and a mention. To make your choice easier and more helpful, I've also added a few pros and cons that made each model differs from the others.
Without further ado, here are the top 8 sewing machines for vinyl!
1. JUKI MO-6714S Overlock Sewing Machine
My first choice for you is the JUKI MO-6714S Industrial 4-Thread Overlock Sewing Machine. This is a premium-grade heavy-duty model that I would recommend to all professional users.
It's fairly sturdy, gives excellent stitching speed, and can help you tackle vinyl-related jobs.
Although, it's fair to mention that it isn't that versatile and might be hard to operate at first, especially if you're a beginner and are just getting started.
Pros
Sturdy
Professional application
Comfortable use
Cons
Not beginner-friendly
Not versatile
2. Consew 206RB-5 Walking Foot Sewing Machine
Next up, the Consew 206RB-5 Walking Foot Industrial Sewing Machine is my 2nd choice, and just like the first, I would recommend this for professional use. This is because it's quite heavy and requires an elaborate setup, too, in the absence of a manual.
But once you're past that, its performance can't be beaten, and it will reliantly give you good vinyl stitches that you want.
Go for it if you're looking for something for the long run!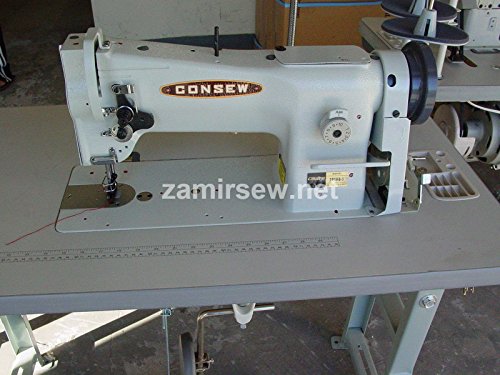 Pros
It comes with a table
Perfect for canvas work
Good aesthetic frame
Cons
3. Brother 2340CV Coverstitch Serger
I would recommend the Brother 2340CV Coverstitch Serger to all types of users, especially if you're looking for a versatile and budget-friendly pick to make your life easier.
Its main feature is that along with the durable and functional frame; it's also good for moving around. This makes it a suitable choice for household use.
However, keep in mind that the learning curve is steep, but I'm sure the manual will help with the process.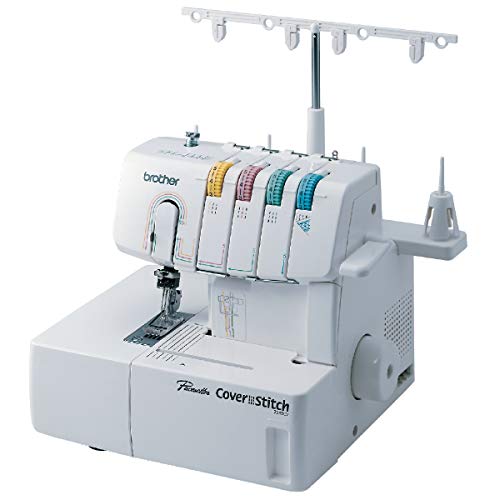 Pros
Good user manual
High RPM stitching
Tri-cover stitching
Durable frame
Cons
Steep learning curve
Expensive accessories
4. Brother PQ1500SL Sewing and Quilting Machine
Giving the benefits of a professional tool but not as large or heavy, the Brother PQ1500SL Sewing and Quilting Machine is another good model for private use.
It comes packed with all the accessories and things you'll need for proper and successful use.
Another good thing is that it allows for precision pin feeding, and the needle threading system is advanced to facilitate precision work.
So you're good to go with this choice!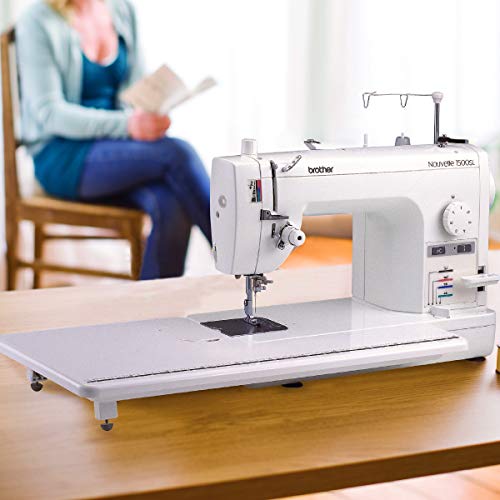 Pros
The advanced needle threading system
Includes accessories
Precision pin feeding
Cons
Thread cutter too short
Bobbin mechanism isn't that good
5. Reliable 7100DB Heavy-Duty Drapery Blindstitch Machine
On number 5, the Reliable 7100DB easily takes the cake. This is one heavy-duty model that will save you the trouble of getting professional help.
This model is relatively easy to get the hang of, but still, I wouldn't say it's my first choice if you're starting. It has all the good features you'll need for precision and reliable stitching, so go for it.
Just make sure to set it properly before starting!
Pros
Adjustable stitch penetration
Needle eye guard
Versatile operation
Allows for precision work
Cons
Quite heavy
Not for beginners
6. TechSew 3650HD Heavy Duty Leather Industrial Sewing Machine
The TechSew 3650HD is one model that deserves a highlight on this list owing to its size and the big punch that it packs with it.
Even though it's fairly small, this model is quite heavy-duty and can help you deal with leather AND vinyl easily.
Another awesome thing is that it has an easy back-track system and comes with an assembled table, so once you're in, you're definitely in.
Pros
Comes with table
Easy back-tracking
Roller edge guide
Cons
7. Sailrite Heavy-Duty Walking Foot Sewing Machine
The Sailrite Premium Walking Foot Sewing Machine is one of the more complicated models out there.
It's good, but I do have my reservations. While performing excellently and having the ability to stitch almost anything, the major letdown is that you'll need additional accessories to reap all the benefits that this model will provide.
So for some of you, it can be a hit or miss. But if you want the strength, then go for it!
Pros
100% power transfer
Can stitch almost anything
Heavy-duty frame
Cons
Some parts aren't durable
Requires additional accessories
8. Janome Cover Pro 1000CPX Coverstitch Machine
Last but not least, my premium choice for you is the Janome Cover Pro Coverstitch Machine.
While definitely not the most economical models on this list, I would still seriously recommend getting this model if you want something that can drive the nail in the coffin.
It provides a good extra-large bed space, and the manual helps as well.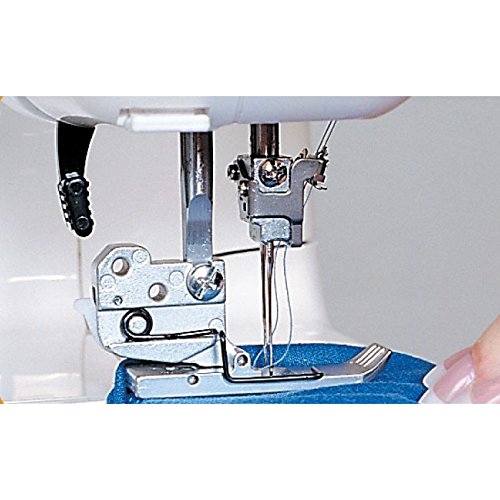 Pros
Helpful instruction manual
Extra-large bed space
One hand thread cutter
Cons
Not budget-friendly
Bonus bundle isn't that good
Buyers Guide
Choosing the right sewing machine is a little challenging, but not after you're done here. I'll be now taking you through the main things that you'll need to keep in mind when choosing the right sewing machine.
Let's dive right into it!
Type
The first thing that you'll need to consider seriously is the type of sewing machine you're getting. Do you think you can better tackle your task with a computerized model, a mechanical one, a serger, or an embellisher?
There are plenty to choose from, so it's best to analyze what would work for you.
Weight
If you need a model for private use, then it's a good idea to get a model that is easier to move around and is hence light.
It wouldn't help to get something heavy unless you're getting it professionally fitted somewhere from where you don't intend to move it.
Skill level
Lastly, it's imperative to keep in mind that different models require different levels of skill. Hence, I would advise you always to make sure to get a model that can best cater to your skill.
It would also help to get a model that comes with a good instruction manual.
Frequently Asked Questions
Can I use a regular sewing machine for vinyl?
In most cases, this won't be possible.
This is because of the type of needle you'll need and the overall strength for the whole thing; it's very different from a sewing machine that is specifically made for vinyl.
What needle should I use for vinyl?
The best type of needle that can help you tackle vinyl-related jobs is a thick one. Make sure that it's something thick enough, something that can handle the stress without breaking or giving away.
How do you sew vinyl upholstery?
Technically, there isn't one specific way to make this happen. The best way to sew vinyl upholstery is to find out what works for you if you'd be comfortable doing it with a proper machine or make-do with what you have. I would recommend looking up a good tutorial online to help you through this.
What is the vinyl fabric?
Vinyl fabric is a nonwoven plastic that is generally made from polyurethane. This type of plastic can be used to describe films, PVCs, and plastic laminates.
Is vinyl more durable than leather?
Vinyl can be most certainly made to look like the weather. However, when it comes to agility and performance, there is no doubt that leather is leagues ahead when it comes to durability.
How long does vinyl fabric last?
Vinyl fabric, if it is properly set up and looked after, can easily last from ten to twenty years. However, it's important to note that it isn't that durable but can still withstand dents and scratches.
Conclusion
A good sewing machine for your vinyl-related projects will make your job easier and also make the whole process quicker. Plus, it will also help you to hone your skill in a manner that is productive and worth the time.
If you liked any of the models above and have feedback, or have any general recommendations or suggestions, do share them in the comment section below!
Read Also: