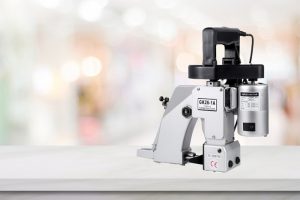 Do you want a robust sewing machine that meets all your bag closing needs?
Are you in search of an option that can handle a wide variety of materials like paper, textiles, and even polybags?
It's only the best closer sewing machines that can give you the functionality of trouble-free continuous operation.
These sewing machines can make your life far more convenient just because of how easy you will be able to close bags which not only saves you time but also increases your productivity.
In this article, I will be mentioning the top 7 products, which in my opinion are the best bag closer sewing machines on the market.
Don't worry about quality because each product has been handpicked after doing extensive research so that you can choose from many options without any worries.
I would recommend giving the buyer's guide a once-over before finalizing your decision, as it will help you narrow down the most relevant option for you.
Top 7 Bag Closer Sewing Machine
Without wasting any time, let's get right into the seven best sewing machines among the available options. Each product has been reviewed in detail with its pros and cons so you can find what you're looking for easily.
1. VEVOR Bag Closer Closing Machine
This bag closer sewing machine is perfect for those who require a compact and lightweight option making it super portable.
It has an efficient speed ranging from 1800-2600 needle stitches per minute, which makes it ideal for small to medium-scale projects.
The interior parts are made up of metal, whereas the plastic handle ensures that you get both durability and a machine that isn't too heavy to lift around.
Pros
Compact
Good speed
Lightweight
Cons
For small scale projects
Frequent restringing
2. Hanchen Mini Bag Closing Machine
The speed on this small sewing machine will give even larger models a run for their money.
You also get the advantage of an option that is very small and compact in design while offering the kind of productivity you would expect from industrial-grade products.
Its construction is also sturdy and requires minimal maintenance for an effortless performance as all you have to do regularly oil it. It can handle a variety of materials ranging from sealing paper bags to burlap.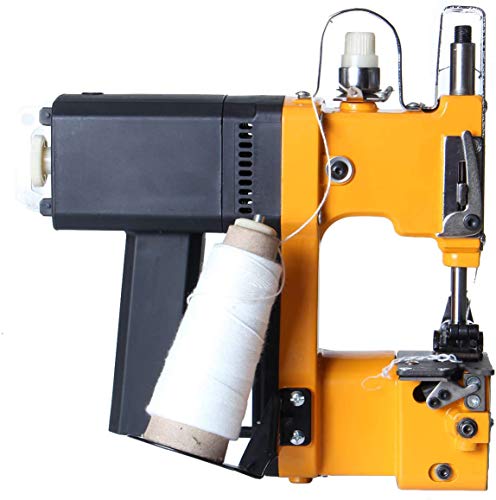 Pros
High speed
Compact
Versatile
Cons
Difficult to control the speed
It comes with only a single spool of thread.
3. GK26-1A Electric Bag Closer Sewing Machine
This is among the higher-end models that are closer to industrial grade.
This machine specializes in closing bags specifically for the agricultural and chemical industry.
It can close down bags of various materials such as cloth, cotton, heavy paper, and even jute.
Despite its high performance, it is surprisingly light in weight as it can be lifted by a single person and does not take much space thanks to its size.
All in All, the construction is made to ensure that the machine lasts for a decade.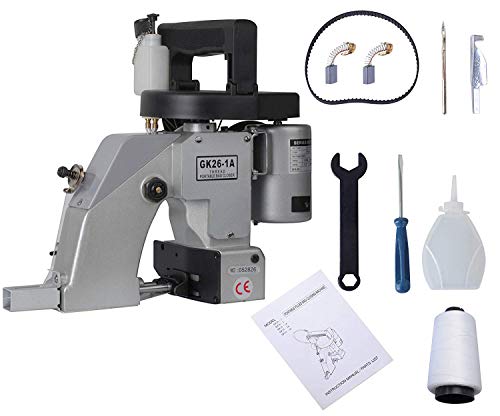 Pros
Heavy duty
High-Quality Construction
Lightweight
Cons
It comes with cotton thread.
Difficult to adjust the speed
4. Yaetek 110V Industrial Portable Bag Closer Sewing Machine
This machine has it all; it's light in weight and portable, so you don't have to do any of the heavy lifting, which can put a strain on your body.
On top of that, it can be used in various industries as you will be able to sew woven, nylon, and even leather bags. The machine has a metal construction which offers good speed and also resistance to wear out.
The additional plastic handle makes for a safe operation, so you don't have to worry about any accidents.
Pros
Heavy duty
Fast speed
Compact
Lightweight
Cons
Manual
Difficult to sew thick materials
5. Hanchen Heavy-duty Bag Sewing Machine
The bag closer sewing machine can be used for a wide variety of applications. You can use this for packaging express, burlap, woven, and even paper bags.
Since the machine comes in metal construction and has dustproof features, you can be sure that it will last a lifetime. While it surely doesn't have the fastest speed, it can still provide you with high performance.
Even though it is heavier than portable options, it outshines them in terms of the ability to sew thick materials.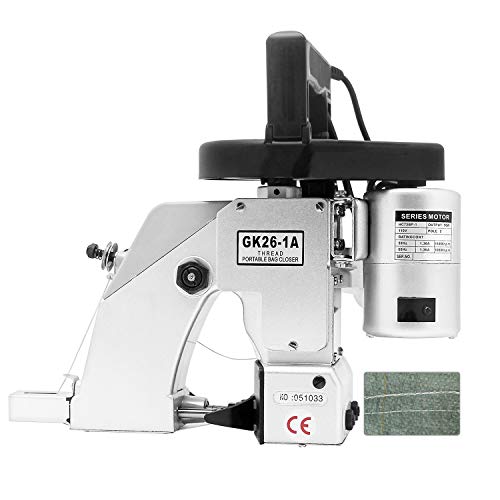 Pros
Can sew thick materials
Heavy duty
Durable
High Quality
Cons
6. BoTaiDaHong Industrial Sewing Machine
The innovative design gives this sewing machine the ability to withstand high pressure, which protects it from deforming. It offers fast speed, reliable operation, and multiple uses in different industries.
It has a full metallic construction, yet it can be carried around easily around the workshop without a sweat.
The additional ten-piece needles are a lifesaver because you won't have to go to the hardware store to find the right match, even if it breaks.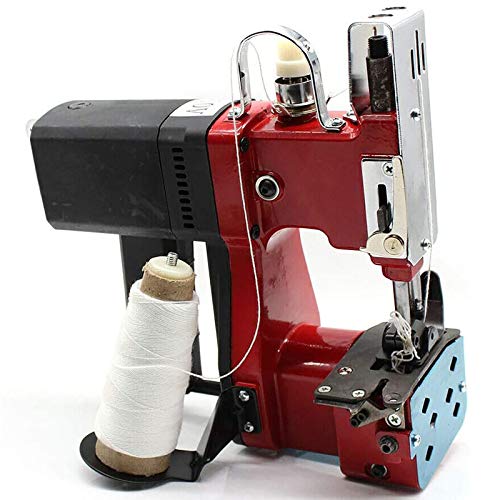 Pros
Portable
Durable
Fast speed
Cons
Not automatic
No built-in thread cutter
7. Consew C10NS Portable Bag Closer Sewing Machine
When it comes to bag closer sewing machines, it is always better to invest in options that have a full metal construction, such as this model, because you will be able to get more work done without worrying about machine wear out due to sturdy construction.
Despite that, this machine is light in weight comparatively and is portable. Another great thing about this machine is that it's industrial-grade, so it will be able to handle thicker materials flawlessly.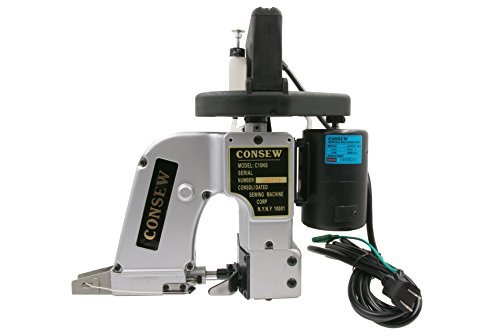 Pros
Handles thicker materials
Sturdy construction
Portable
Cons
Manual
Difficult to adjust the speed
Buyer's Guide
You can't make a well-informed decision without having some prior knowledge on the subject.
If you are a tenderfoot or even an expert, it's probably a good idea to read through the buyer's guide to ensure that you are not overlooking any important factors that could help you find the most perfect bag closer sewing machine, so you don't have any regrets later on.
Construction
The goal is to find a sewing machine that won't give up on you in the middle of work.
So finding a sewing machine that can handle large-scale projects and performs tones of work should be your top priority.
You can judge the reliability of the bag closer sewing machine by taking a look at its construction.
Even though most machines that are commonly available have plastic construction nowadays, it is better to invest in an option that has metal construction and mechanical engineering.
A sewing machine with this combination will prove to be the most durable option and will last you a lifetime. The downside, however, is that they tend to be heavier.
If you want durability and lightweight options, you can always settle for bag closer sewing machines with a plastic body and metal interior.
Portability
The weight and size of your sewing machine will determine how easy it is to transport your bag closer sewing machine.
If you frequently work on projects that require you to move from one or another, it's a smart idea to choose a machine with a lightweight, compact design.
Even if you have minimal storage or lack the workspace, a machine with a smaller size will be more convenient.
However, if you don't face such issues or don't shy away from heavy lifting, then large-sized and heavy machines won't be a problem.
Stitching Speed
Time efficiency is of the utmost importance when it comes to managing orders for your business. High productivity is only possible if you choose a bag closer sewing machine with the right speed.
To figure out how fast your sewing machine can work on the materials, you can refer to the stitches per minute detail of the machine and choose according to your comfort.
Frequently Asked Questions
If you still have doubt, the answers to these frequently asked questions can help provide any further clarifications.
What is a bag closer sewing machine?
These sewing machines are used to close and stitch bags.
What bag closer sewing machines do professionals use?
Professionals usually stick to industrial-grade machines with metal construction and mechanical engineering.
Is a portable sewing machine useful?
Yes, it comes in especially handy if you don't have any storage or workspace.
Is hand sewing better than a machine?
For uses such as bag closure, using a machine saves you time and boosts your productivity.
Can a bag closer sewing machine sew on leather?
Some sewing machines have the capability, so it depends on the model.
Can a bag closer sewing machine stitch a pop-up camper tent?
Depending on the model, most bag closer sewing machines can stitch various materials, including that of a pop-up camper tent.
Conclusion
I hope the buyer's guide and list of reviews helped you in finding the right bag closer sewing machine that fits all your requirements.
Read Also: